I may receive commission if you purchase through links in this post.
This is what happens when crispy pecans, browned butter, and unrefined coconut sugar come together into a soft and chewy cookie that tastes like pecan pie!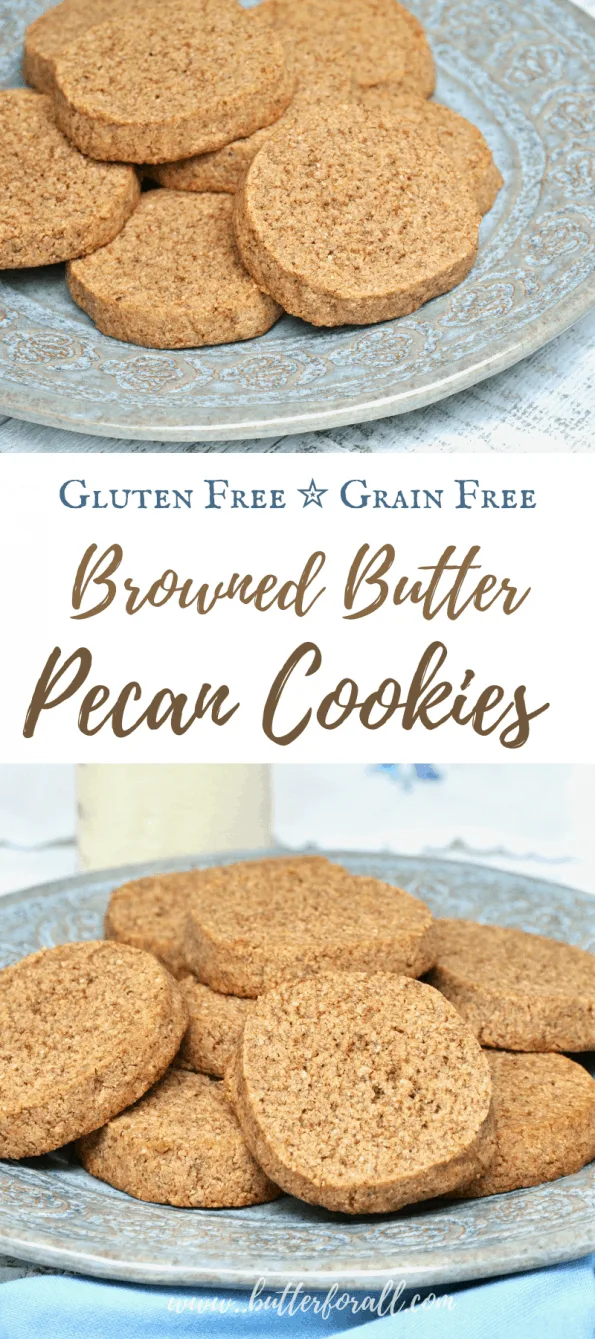 This recipe was inspired by my obsession with the incredible flavor combination of browned butter and pecans. The browned butter accentuates the yummy toasty nuttiness of the pecans and brings out their subtle sweetness in a remarkable way.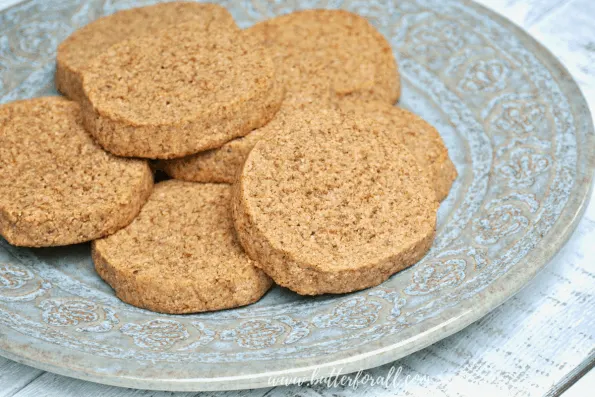 When You Need a Break From Grains, These Cookies Will Be Here for You.
You all know I bake a lot of sourdough. Sometimes even I need a little break from the wheat, and these cookies made with crispy nuts and blanched nut flour always satisfy without compromising.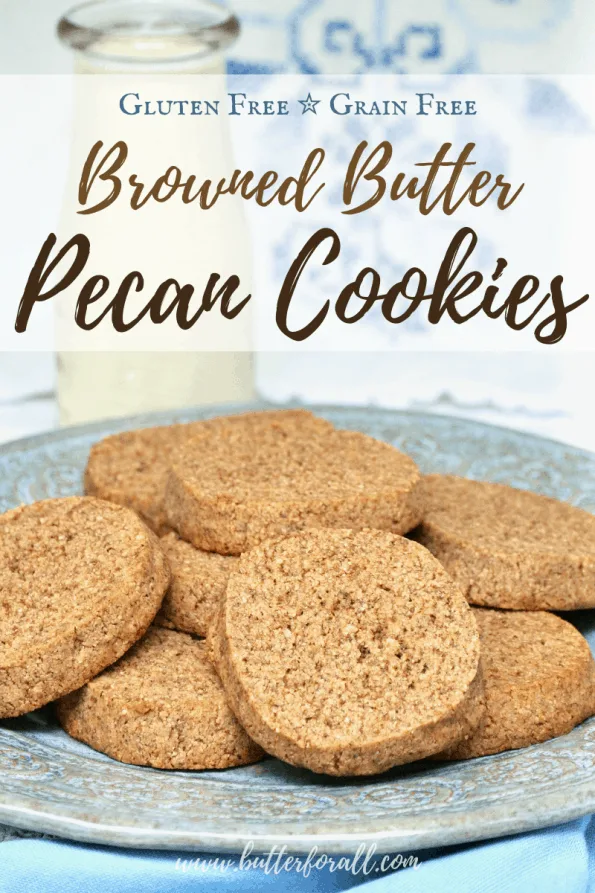 What Are Crispy Nuts?
Crispy nuts are a special way of preparing raw nuts to make them easier to digest and richer in nutrients. This is a traditional technique brought back to our modern kitchens by Sally Fallon Morell, the president of the Weston A. Price Foundation and author of the Nourishing Traditions books. She has given us the knowledge and power to treat our food more thoughtfully. Thanks, Sally!
Did Somebody Say Ice Cream Sandwich?
Well yes, in fact I did! Pair these buttery, nutty cookies with my Raw Vanilla Bean Ice Cream for an out-of-this-world pecan pie à la mode flavor combination.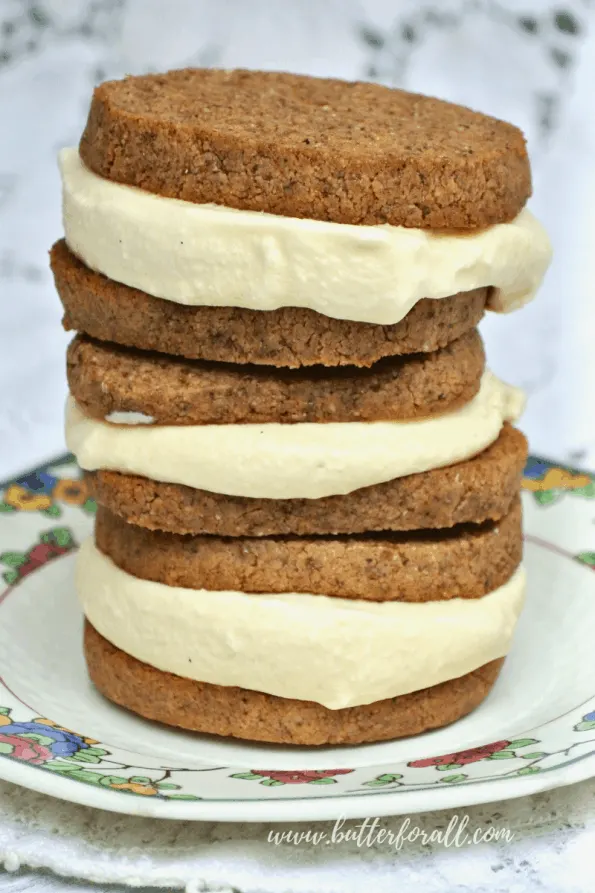 Properly Prepared Pecan Cookie Pro Tip
This recipe requires a few additional days of preparation time due to the soaking and drying time of the nuts. My pro tip is to soak a few pounds of nuts at a time so you have them on hand for future recipes. Use 1 tablespoon of salt per pound of nuts.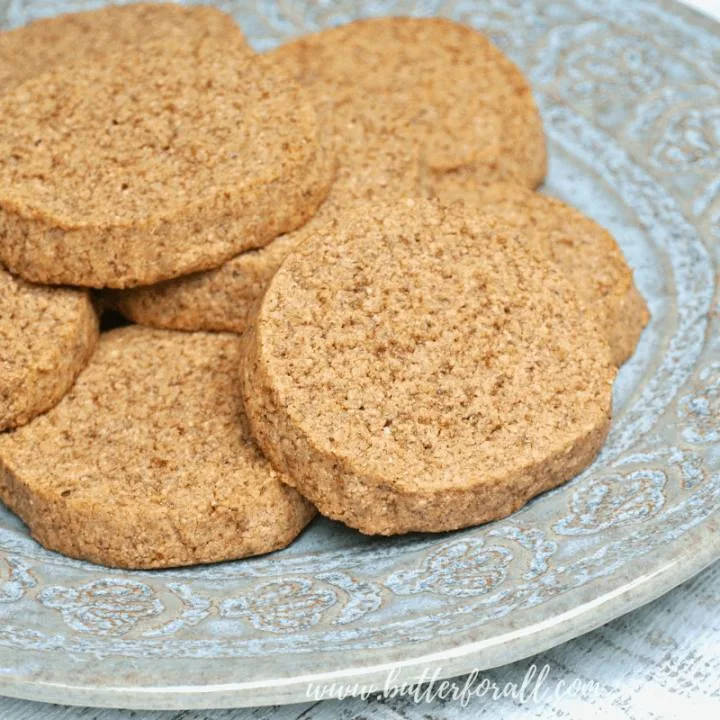 Browned Butter Pecan Cookies
Yield: 24

Prep Time: 2 days 15 minutes

Chilling Time: 2 hours

Total Time: 2 days 2 hours 15 minutes

A soft and chewy cookie that tastes like pecan pie! Gluten free and grain free!
Ingredients
Instructions
For Soaking and Drying the Nuts
Note: Raw or roasted pecans can be substituted for crispy nuts if you are short on time, but my recommendation is to properly prepare them by soaking and drying ahead of time.
Place the raw pecans and salt in a large bowl. Cover the nuts with fresh water and let them soak overnight.
The next day drain the nuts and rinse them well. Spread the nuts on a baking sheet and dry them in the lowest oven temperature setting available. I have a 3-hour warm cycle on my oven that is about 140°F. It takes three to four cycles to completely dry the nuts. If the lowest temperature on your oven is 175°F then watch closely and turn the nuts often for 6 to 8 hours or until completely dry. The nuts can also be dried gently in a food dehydrator.
For the Cookie Dough
Brown the butter over medium-low heat until all the milk solids are a caramelized medium brown color. Remove the butter to a shallow dish and place it in the refrigerator to cool.
Place the nuts, almond flour, coconut flour, coconut sugar, and baking powder in your food processor. ONLY add salt (1/2 teaspoon) if the nuts were NOT soaked or salted.
Pulse the nuts and other dry ingredients together until they are finely ground.
Add the butter and eggs and pulse the dough just until it comes together in a smooth, well-incorporated dough ball.
Cut a long sheet of parchment paper and turn the dough out onto the parchment. Shape the dough into a 12-inch log and roll the parchment around the log. Twist the ends to form a tight cylinder.
Refrigerate the dough until completely chilled, at least 2 hours.
Baking the Cookies
Preheat your oven to 325°F.
Line two baking sheets with parchment paper.
Unroll the dough and cut it into twenty-four 1/2-inch coins. Evenly place 12 coins of dough on each cookie sheet.
Bake the cookies one sheet at a time in the center of the oven for 13 to 15 minutes. 14 minutes was perfect for my oven.
Let the cookies cool on the baking sheet for 5 minutes before removing them to a wire rack to cool completely.
For Ice Cream Sandwiches
Follow the directions for making my raw vanilla bean ice cream.
Cut the cookie dough thinner, into 1/4-inch coins before baking. Cut two coins per sandwich. If you want to make 12 ice cream sandwiches cut 24 coins. Bake them 10 to 12 minutes instead of the full 14 minutes.
Once the cookies are cool, add a 2-ounce scoop of ice cream to the underside of one cookie and top it with a second cookie. Smoosh the cookies together just until the ice cream bulges from the sides. Place the sandwiches into a freezer-safe container and freeze the sandwiches until you are ready to serve them!
Notes
Try not to eat these cookies warm. The texture is one million times better when fully cooled!