I may receive commission if you purchase through links in this post.
Are you ready to delight your senses?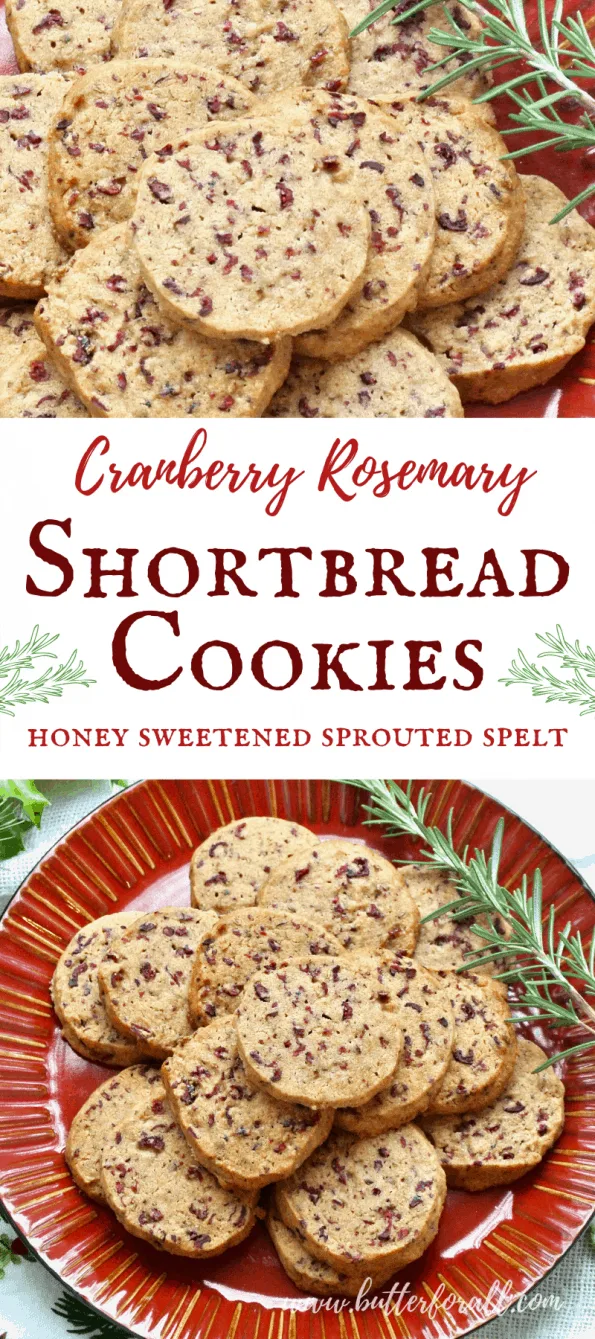 Rosemary takes these chewy cranberry shortbread cookies to the next level! They are made with seven simple, nourishing ingredients, lots of love, and a little herbal magic.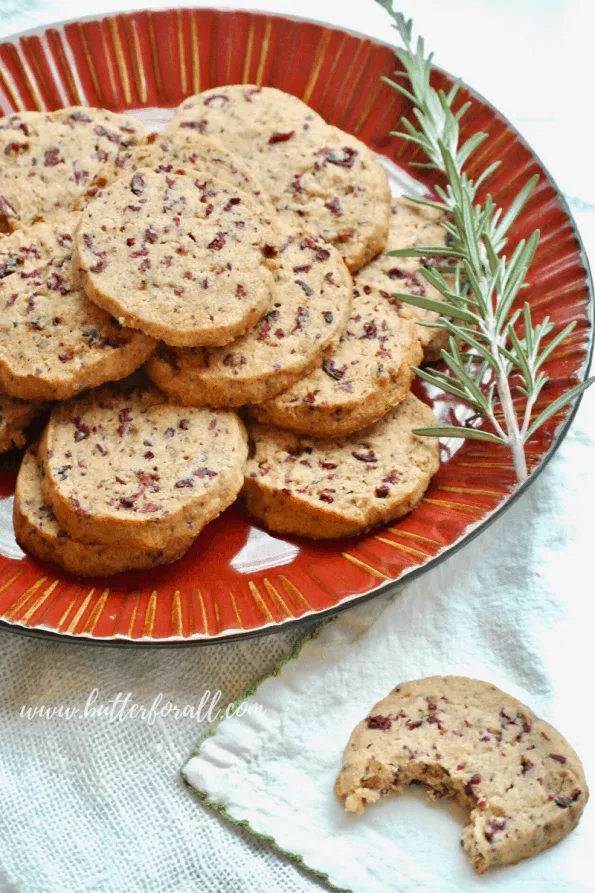 The Ingredients Matter
Spelt or Other Sprouted Grains
Spelt is an ancient grain that is rich in vitamins, minerals, proteins, and fiber. Like the souring I do with sourdough, sprouting the grain berries increases the availability of these nutrients while also making the grain easier to digest!
Real Pastured Butter
Butter is on the top of my superfood list for good reason. Butter has ample amounts of fat-soluble vitamins A, C, D, and K2, plus tons of fatty acids, minerals, conjugated linoleic acid, and cholesterol.
Local Honey
Seek out and support a local farm for buying your raw unfiltered honey. This not only supports your local environment but also the dedicated farmers who are committed to keeping bees. Honey is a perfect sweetener for this recipe and adds a touch of earthy floral flavor and a nice chewiness!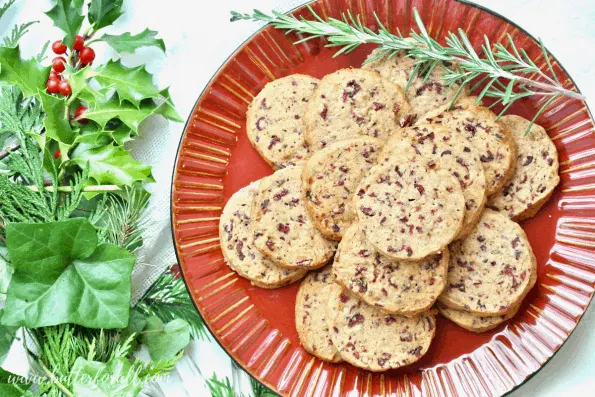 Rosemary
Rosemary is a wonderful culinary, medicinal, and magical herb that has a spicy sweet piney flavor. It is a relatively strong herb that has notes of mint and ginger and is best used sparingly.
Medicinally, rosemary has been used to uplift people suffering from depression and relieve headaches and muscle spasms. Topically it has antibacterial effects and has traditionally been burned to ward off sickness and disease. Rosemary also aids in digestion, making these cookies a great way to end a heavy holiday meal!
Rosemary magic has its roots in medieval lore and was used as protection from evil spirits. It is said that by placing fresh sprigs under your pillow at night you can protect your dreams from demons. Rosemary was traditionally used in weddings, festivals, and funeral ceremonies as a symbol of remembrance, friendship, and love.
To get the most culinary magic out of this recipe please make these cookies with those three qualities in mind.
Cranberries
Cranberries are a great source of vitamin C and antioxidants. Eating plenty of cranberries either fermented, as a sauce, or in baked goods and treats is part of my winter health regime.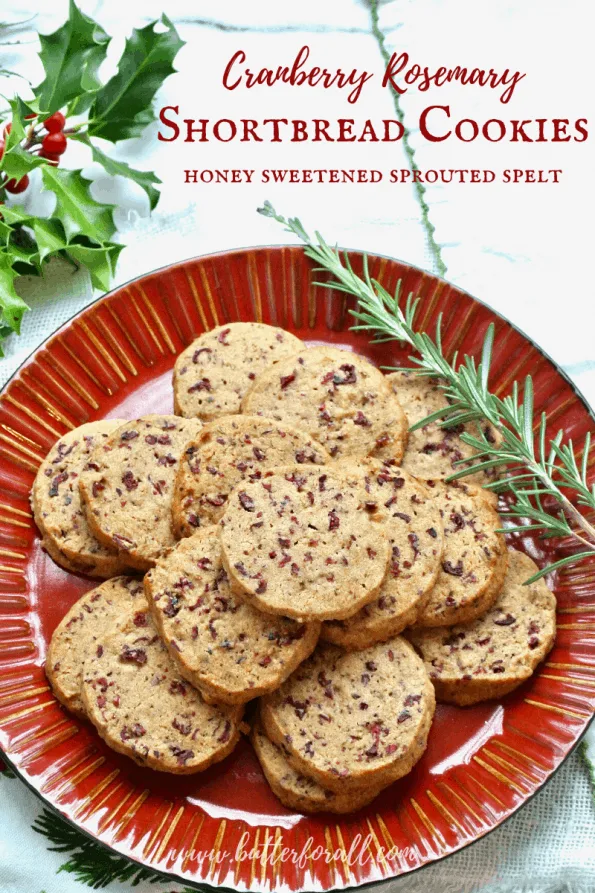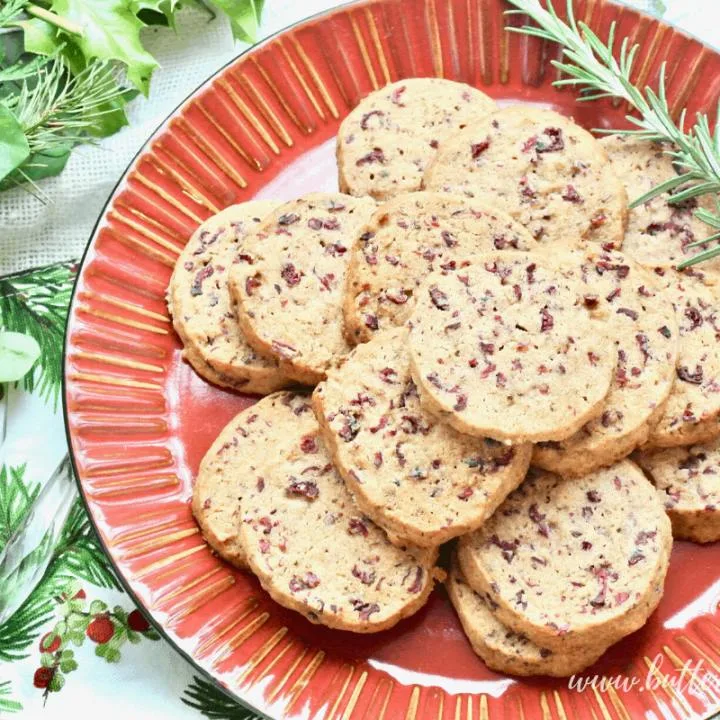 Cranberry Rosemary Shortbread Cookies
Yield: 26 Cookies

Prep Time: 15 minutes

Cook Time: 15 minutes

Chilling Time: 1 hour

Total Time: 1 hour 30 minutes

This nourishing shortbread recipe blends the sweet-tart taste of cranberry with spicy herbaceous rosemary for a delightfully uplifting treat.
Ingredients
2 cups sprouted spelt (or sprouted wheat) flour
1/4 cup fresh rosemary leaves, loosely packed
Instructions
Combine the flour, salt, and baking powder in your food processor. (This recipe can also be made by hand; see notes.) Pulse to combine well.
Cut the butter into cubes and add them into the flour. Pulse again until just combined.
Add the rosemary leaves and pulse them in until they are fully minced but not mush.
Pulse in the cranberries and honey until the dough comes together in a solid ball.
Remove the dough from the food processor and shape it into a 2-inch diameter log on a sheet of parchment paper. Roll the parchment tightly around the dough and twist the ends to help form a tight log.
Refrigerate the dough for at least 1 hour.
Preheat your oven to 350°F.
Unroll the parchment and cut the cookies into 1/2-inch slices. Arrange the cookies on parchment-lined baking sheets with plenty of room around each cookie.
Bake the sheets one at a time for 13 to 15 minutes or just until beginning to golden on the edges.
Let the cookies cool completely before serving!
Notes
To make these cookies by hand, mince the rosemary and cranberries well. Cut the butter into the flour mixture before adding the berries, rosemary, and honey to the dough. Mix the dough with a wooden spoon until smooth.

References:
Carr et al. (1987). Rodale's Illustrated Encyclopedia of Herbs Emmaus, Pennsylvania: Rodale Press