I may receive commission if you purchase through links in this post.
The holidays bring us many reasons to celebrate and indulge.
This raw chocolate bark is made with the purest ingredients available. The bark itself is just three simple raw ingredients: raw cacao, raw coconut, and raw honey. There are no fillers, no refined sugars, no chemicals, no soy, and no junk! This is a holiday sweet that you can feel good about gifting to your loved ones, teachers, mentors, and friends!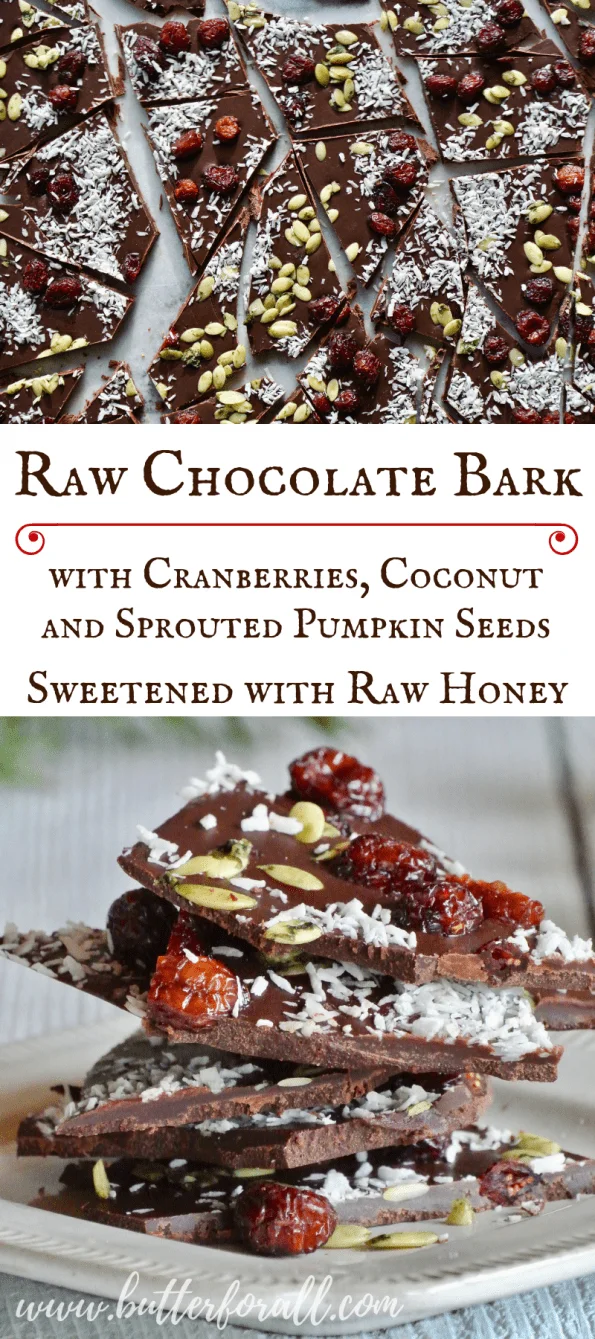 I hope this recipe will help you replace some of the refined sugar snacks with treats made using natural sweeteners like pure raw honey.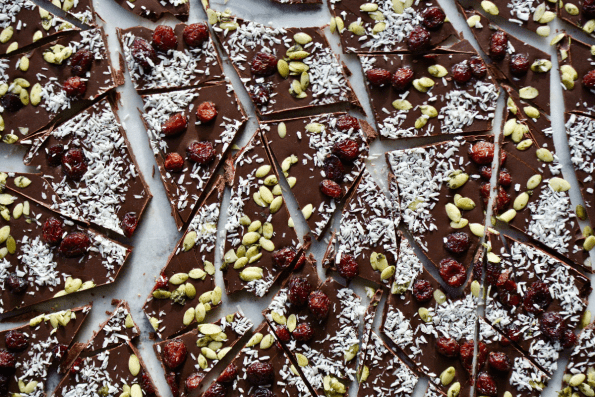 Raw Chocolate (Cacao)
Raw cacao has more antioxidants, flavonoids, and enzymes, making it much healthier and easier to digest than roasted cocoa beans. It also has a whole slew of vitamins and minerals like magnesium, calcium, zinc, iron, copper, and potassium. Raw cacao uses a low-temperature processing of fermented chocolate beans, keeping all these important health benefits intact. Please shop responsibly and look for raw cacao that is certified Fair Trade!
This is the brand I use:
Raw Coconut Butter
Raw coconut butter is also sometimes called creamed coconut. It is the raw flesh of the coconut ground into a smooth paste similar to nut butter. Coconuts contain protein, vitamin E, and manganese. Coconuts are low carb but high in fiber and fats, making them a great source of healthy saturated fats and energy. Coconut oil is very rich in lauric acid. Lauric acid is a 12-carbon, saturated, medium-chain fatty acid only found in small amounts in milk fat and in high levels in coconut oil and palm kernel oil. Lauric acid is anti-viral, anti-microbial, anti-fungal, and anti-tumor, while also being hormone- and immune-supporting. Coconut oil is also a stable oil, meaning it does not go rancid easily.
To learn more about healthy saturated fats like coconut oil and butter, please read this book:
Raw Honey
Real raw honey that is not heated over 117℉ will still have a lot of enzymes that help you digest carbohydrates, protein, and fats by initiating digestion in the mouth and stomach.
An equally important reason to buy local raw honey is to support bees and beekeepers. Most people are aware of the crisis we have created by using harmful pesticides on the majority of our crops and that honey bees have taken the brunt of this poisoning. Supporting any local beekeeper who is practicing healthy hive management is ensuring a market for local honey and the preservation and expansion of bee colonies in your community.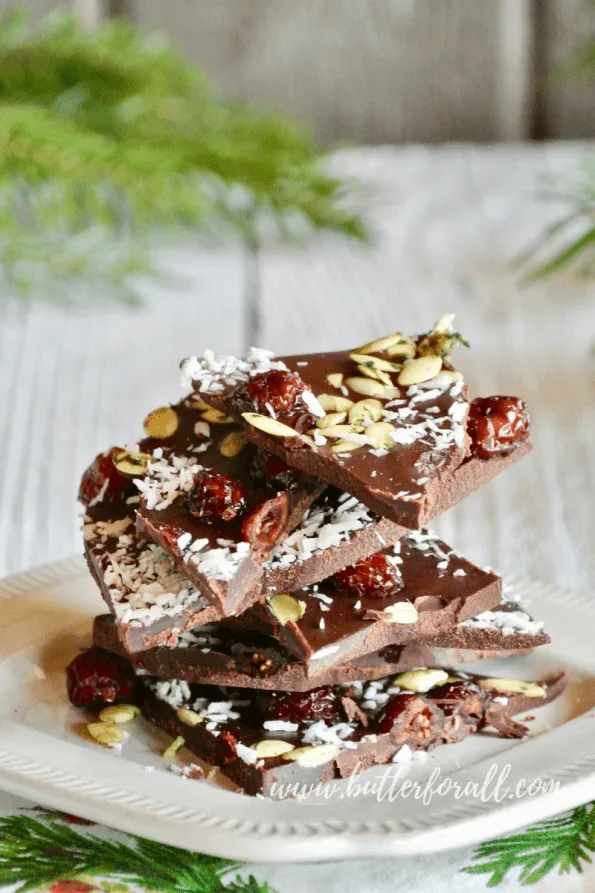 Toppings for Your Raw Chocolate Bark
Tart dried cranberries sweetened with apple juice add just the right amount of chewiness to this delicious raw chocolate.
Unsweetened shredded coconut brings a nutty flavor and delightful texture.
Properly prepared sprouted pumpkin seeds are just slightly salted to add depth of flavor and a super crunch to your chocolate.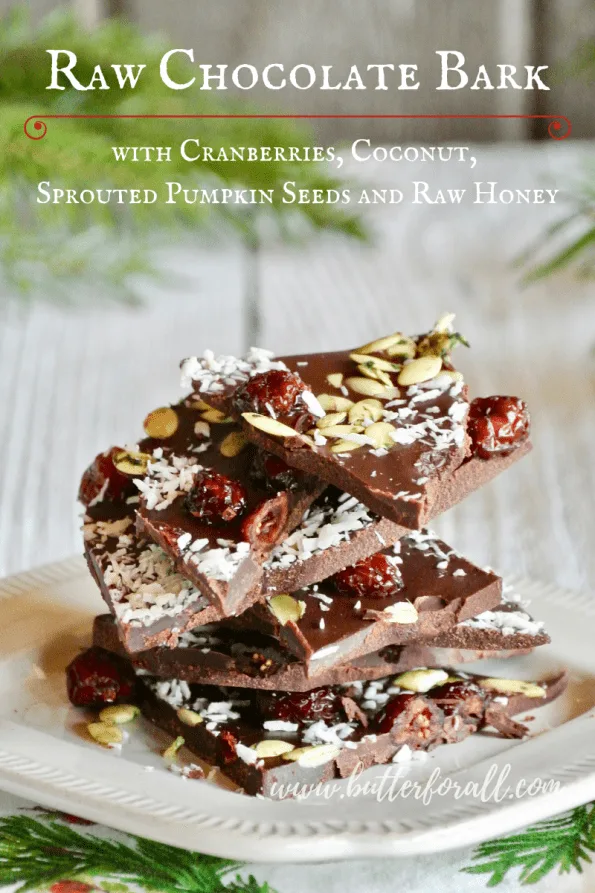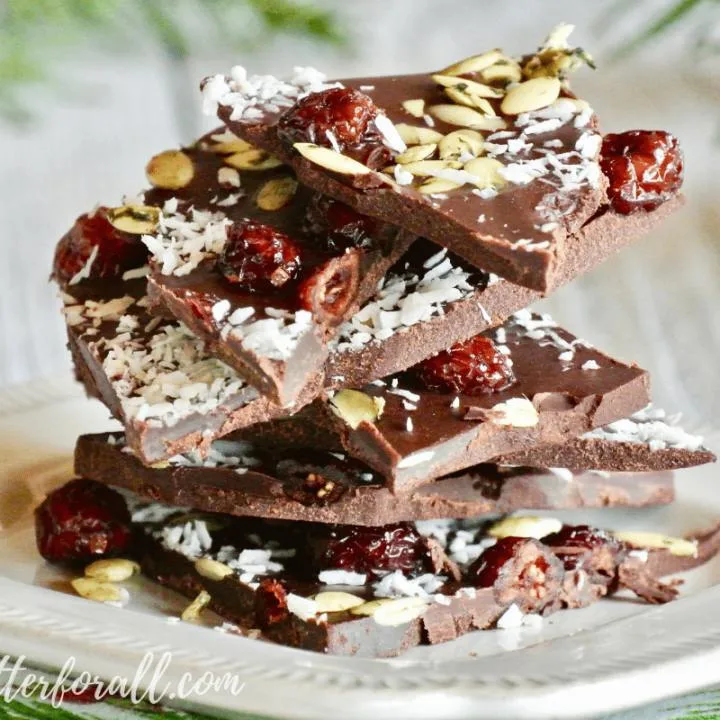 Raw Chocolate Bark
Top this raw chocolate bark with tart dried cranberries, nutty coconut, and salty sprouted pumpkin seeds for a divine holiday treat!
Ingredients
1 cup (8 ounces) raw cacao paste
3/4 cup raw coconut butter
1/4 cup sprouted pumpkin seeds
Instructions
In a small heavy-bottomed sauce pan combine the raw cacao paste and coconut butter. Slowly melt this combination over very low heat. Stir the mixture until smooth.
Once the mixture is smooth add the honey and salt and stir until combined.
Cut a piece of parchment paper to fit a large baking sheet. Use two smaller baking sheets if you don't have the "half sheet pan" (13 by 18-inch) size.
Pour the chocolate mixture onto the parchment paper and smooth it into an even single layer.
Top the chocolate with the cranberries, coconut, and pumpkin seeds. Press them in gently to make sure they adhere to the chocolate.
Freeze the pan of chocolate until it is brittle. Use a knife to cut and break chunks of your desired size.
Store the raw chocolate bark in the refrigerator until you serve it.