I may receive commission if you purchase through links in this post.
I have a weakness for crunchy snacks, as do most people.
These super easy cheesy crackers are a perfect way to have that crunchy snack and satisfying cheesy goodness in an easily digestible real sourdough cracker.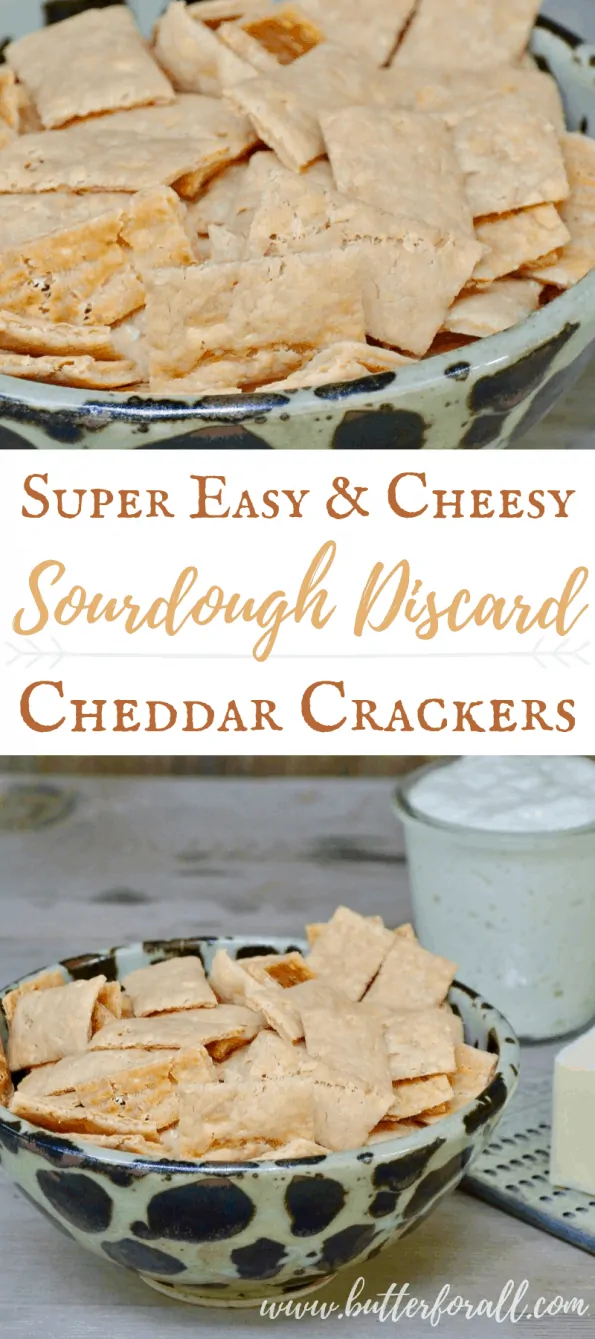 Ever since I started making my classic Sourdough Discard Crackers With Rosemary and Olive Oil I have been dreaming of a cheesy version. I came up with my Buttery Parmesan Sourdough Discard Crackers and they are amazing but they don't have the classic cheddar flavor I was after. So this is my third discard cracker recipe and just like the other two it is a winner!
Just take a look at that crispy cheesy goodness!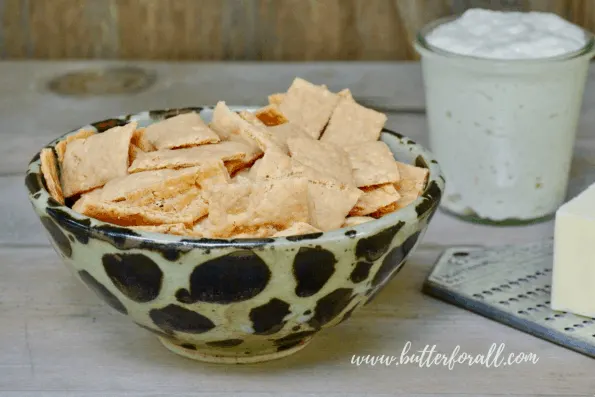 Watch the Cracker Making Process
The Cheddar You Use Makes a Difference
I used a nice quality raw organic sharp white cheddar. The cheese doesn't have to be raw for this recipe but the quality of the cheese does make a difference. You want to use a high-quality, dry-aged cheddar. I would personally avoid anything with artificial color or suspect ingredients.
If you know someone who makes real aged cheddar that would be even better! Or maybe you are super adventurous and want to try your hand at making your own cheese? If so, this recipe for Farmhouse Cheddar comes from the inspirational blogger Ashley Adamant, founder of Practical Self Reliance.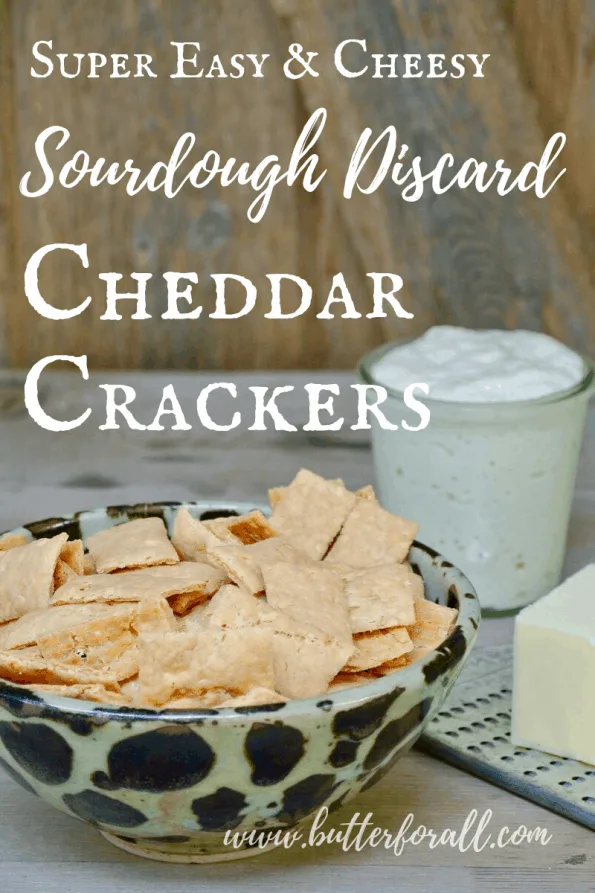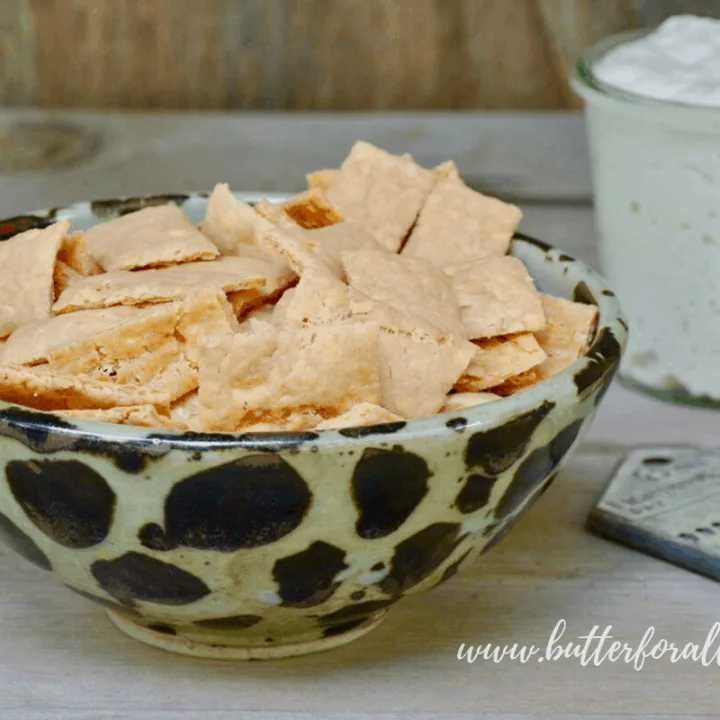 Sourdough Discard Cheddar Crackers
These easy four-ingredient sourdough cheddar crackers are the perfect answer to your snack cravings! Whip up a batch in as little as 1 hour, no extra fermentation required!
Ingredients
340 grams sourdough starter discard, 100% hydration
4 ounces sharp cheddar, grated
Instructions
Preheat your oven to 300°F.
Using a whisk mix the sourdough starter, cooled butter, and salt together until no oiliness remains. Make sure the butter is completely emulsified!
Whisk in the cheese.
Spread parchment paper over an 18 by 13-inch (half sheet pan) baking sheet. The size of the baking sheet is extremely important. Two smaller baking sheets can be used but don't spread the batter too thickly on a smaller sheet or it will not get crispy.
Using a rubber spatula spread the cracker batter in an even layer all the way to the sides of the baking sheet.
Bake the crackers for 30 minutes. Remove the crackers from the oven and cut them into small squares using a pizza cutter or knife.
Return the crackers to the oven and continue baking for 20 to 25 minutes, just until golden brown.
Turn the oven off and crack the door. To thoroughly dry the crackers, allow them to cool completely in the oven.
Store them in an airtight container.
Looking for a Fluffier Fermented Cracker?
Try either of the two versions of my overnight sourdough crackers.
Rustic Sourdough Butter Crackers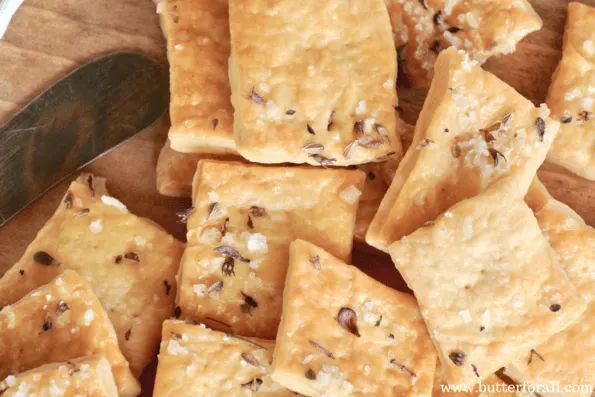 Sourdough Cheddar Crackers – Tummy Friendly Fermented Grain and Real Cheddar Cheese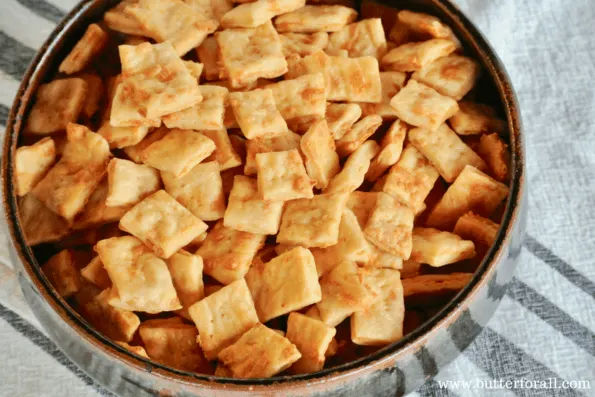 Want To Learn Everything About Sourdough?
Start with this free guide:
Demystifying Sourdough – Everything You've Ever Wanted To Know About Sourdough Starter – Why It's Better For You – And How To Start One