I may receive commission if you purchase through links in this post.
Harvest season is upon us and there is no better way to honor the bounty than with these loaded stuffed peppers!
The late summer/early fall produce is so colorful, fresh, and fun that hitting up the farm stand and creating this dish was a delight.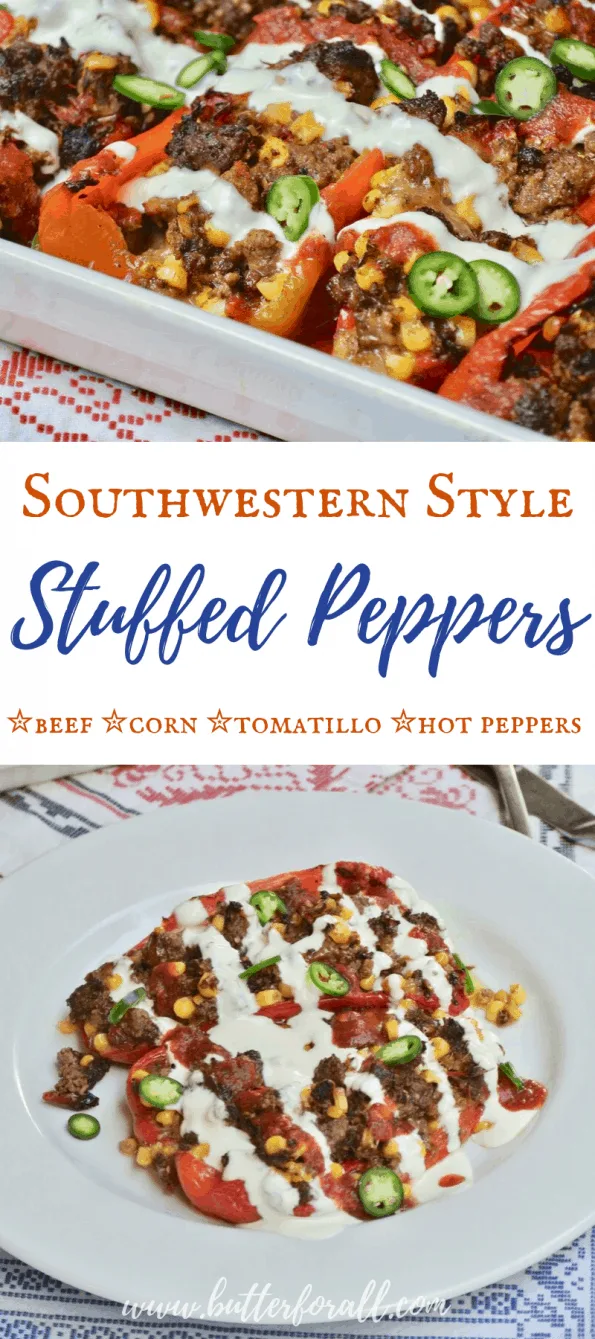 To fill the huge red sweet peppers I used super sweet local corn, firm ripe tomatillos, fresh hot chili peppers, local grass-fed ground beef, and organic raw jack cheese. I topped them with tangy sour cream, spicy salsa, and more hot peppers to complete the feast!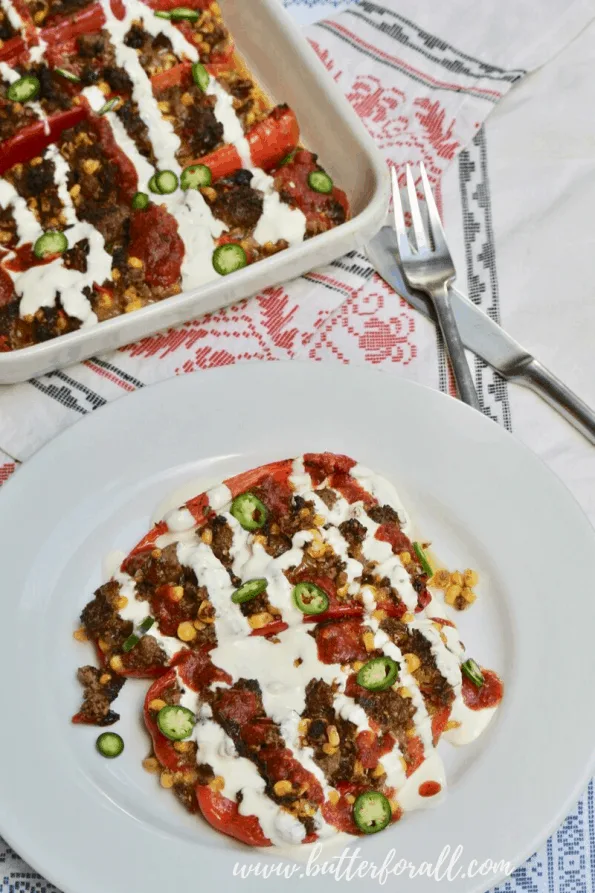 Clearly I Have a Thing for Stuffed Peppers.
It could be that they are super easy to make, and that they are low carb and grain free. But most importantly they are a delicious way to serve a complete dinner in a nice tidy package. They are easy to make ahead of time and cook to order when having company. They are also so delicious as leftovers and make a perfect weekday lunch!
Try my other stuffed pepper recipes too!
Ricotta, Mozzarella, and Herbed Tomato Sauce Stuffed Bell Peppers – Low Carb and Keto Friendly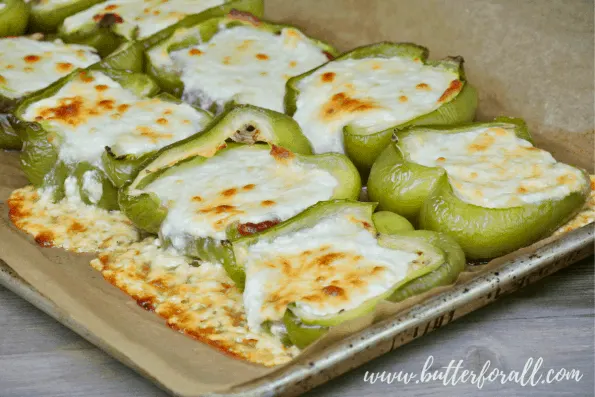 Homemade Sausage, Chard, and Cheddar Stuffed Bell Pepper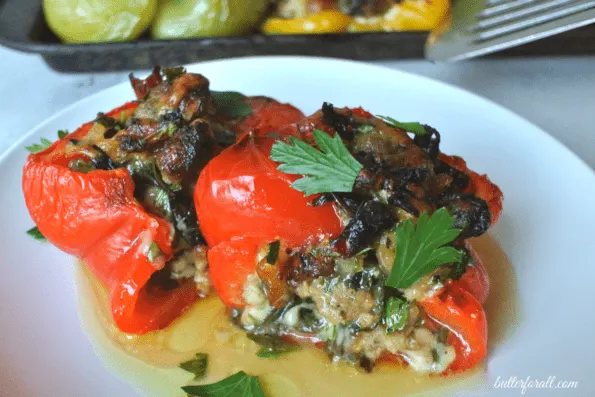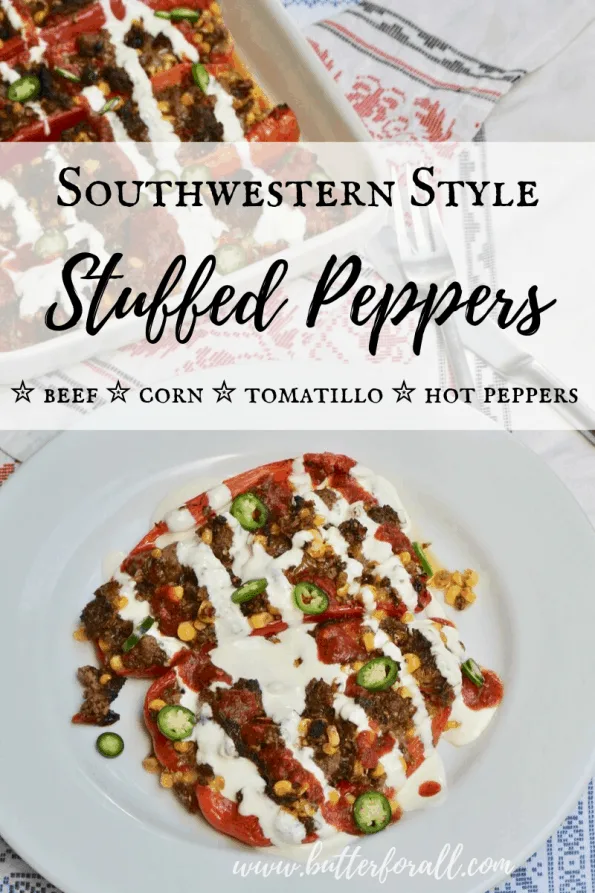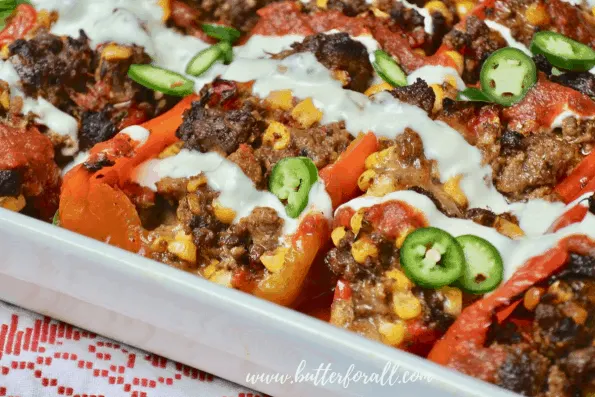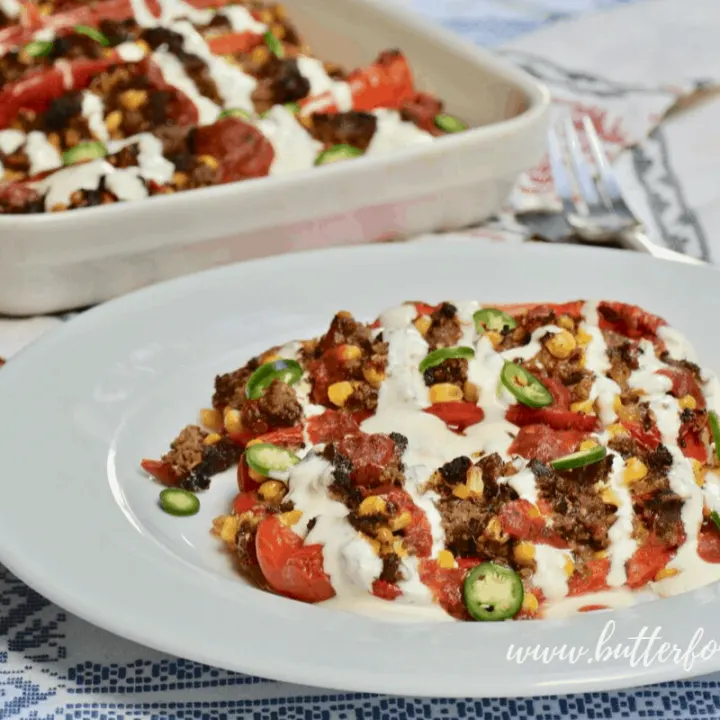 Southwestern-Style Stuffed Peppers
Yield: 8

Prep Time: 45 minutes

Cook Time: 45 minutes

Total Time: 1 hour 30 minutes

Sweet peppers are stuffed to the brim with grass-fed ground beef, sweet corn, tomatillos, hot peppers, and Jack cheese creating a perfect late summer or early fall meal!
Ingredients
8 large mild peppers (bell peppers, Italian peppers, or poblanos work well)
1/4 cup tallow, lard, ghee, or avocado oil
2 pounds grass-fed ground beef
1 teaspoon freshly ground black pepper
1 large sweet onion
4 to 5 cobs fresh corn
3/4 pound fresh or canned tomatillos
8 ounces raw Jack cheese
3 jalapeño peppers
2 serrano peppers
1/2 cup sour cream
1/2 cup spicy salsa
Instructions
Start by preparing the peppers by slicing off one side (about 1/3 of the pepper, reserve this portion for later) leaving a deep boat for filling. Remove the seeds and stem carefully, leaving the pepper intact. Place the cleaned peppers in a baking dish.
Dice the reserved pepper and the onion.
In a large skillet add the cooking oil and heat it over medium-high heat.
Crumble the ground beef into the hot pan, season it with the salt and pepper and cook it until starting to brown.
Add the diced onion and a diced reserved pepper. Stir this mixture occasionally while cooking.
Meanwhile cut the corn from the cob and set it aside.
Peel and dice the tomatillos and set them aside.
Slice the jalapeño peppers lengthwise and remove the seeds if desired. Leaving the seeds in the peppers will make a very spicy dish. I always try a small bite of the pepper to decide if I want to leave the seeds in because some jalapeños are very mild. Dice the peppers and add them to the cooking beef.
Add the tomatillos to the beef and let them cook down (if using canned tomatillos add them whole with juice).
While the tomatillo beef is cooking, dice the Jack cheese into small squares and set it aside.
Once the beef and tomatillos are fully cooked and the juice from the tomatillos is reduced into a nice thick sauce, remove the pan from the heat and add the corn. Stir the corn in completely. Taste this mixture at this point and adjust the salt if needed.
Preheat your oven to 350°F.
Mix the cheese into the beef mixture and scoop it into the peppers, filling them completely. If there is extra filling reserve it for topping nachos or filling quesadillas!
Bake the peppers for 45 minutes or until the peppers are tender and the cheese is bubbly.
Once out of the oven garnish the peppers with sour cream, spicy salsa, and serranos if desired!