I may receive commission if you purchase through links in this post.
Need a sourdough side dish? This extra-flavorful savory sourdough bread pudding won't let you down.
Serve it alongside grilled meats, soups, salads, or as a phenomenal twist to Thanksgiving stuffing!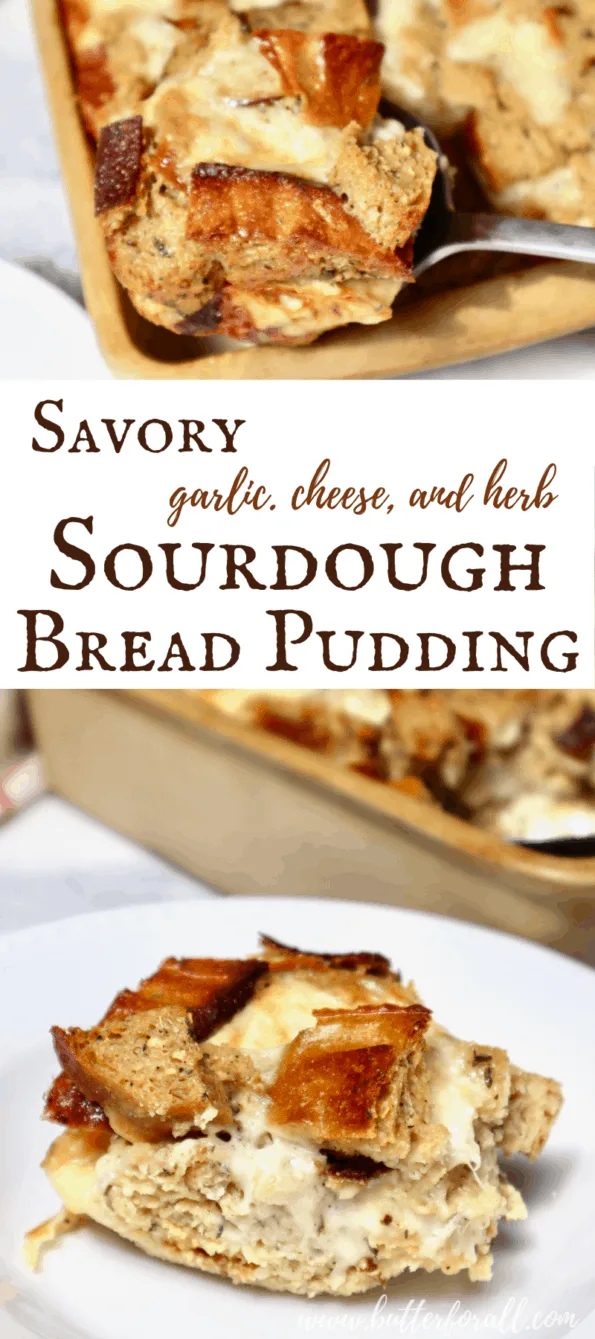 Bakers Gonna Bake Sourdough
If you are like me, then you might occasionally (like every week) be baking up loaves of delicious sourdough. Sometimes even before the old loaves have been eaten. If you find yourself with extra bread this is a great way to use it up. But I've also been known to make additional bread specifically for this amazing side dish.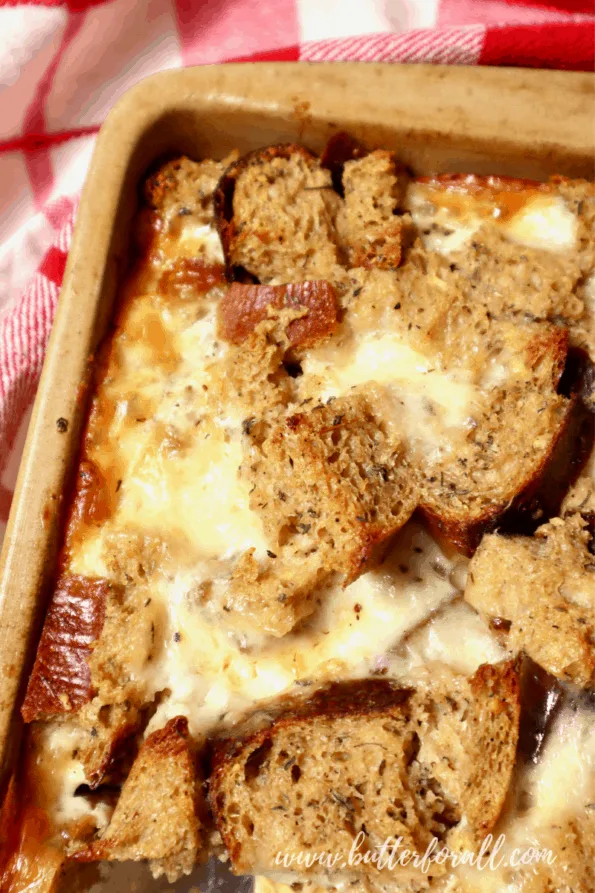 Here you see my Kamut sourdough boule (coming) tossed with a versatile egg batter and baked to perfection.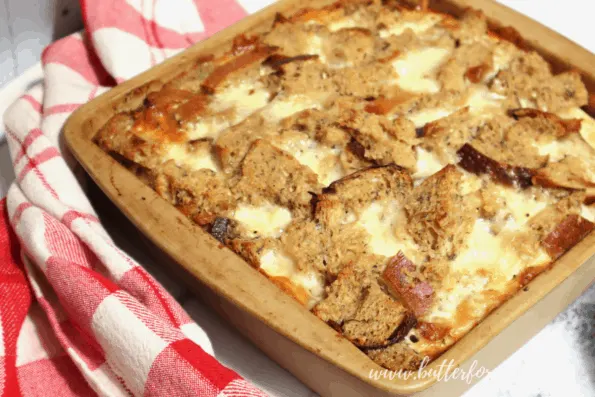 Do you have to bake your own sourdough for this dish? Of course not! A large loaf of sourdough from a local bakery will work just as well!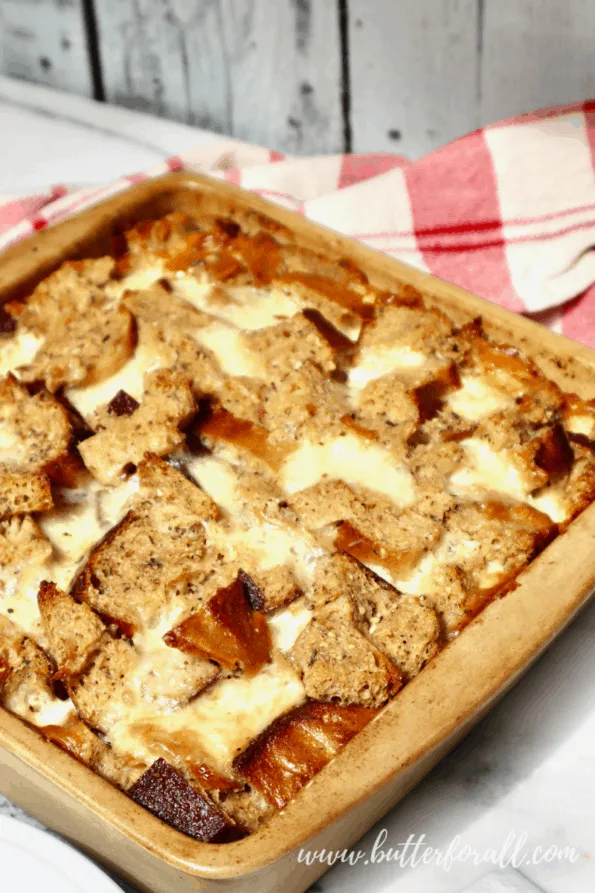 Savory Sourdough Bread Pudding Toppings and Flavorings
This version of savory bread pudding is studded with chunks of melty cheese, flavorful dried herbs, and a pop of spicy garlic.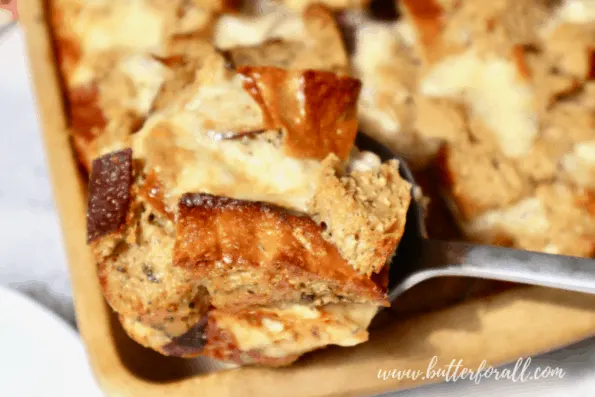 Once you've tried it, feel free to play around with additions. I can imagine a brie, fig, and toasted almond rendition, or sun-dried tomatoes, feta, and artichoke hearts. I think you'll have a lot of fun with this recipe!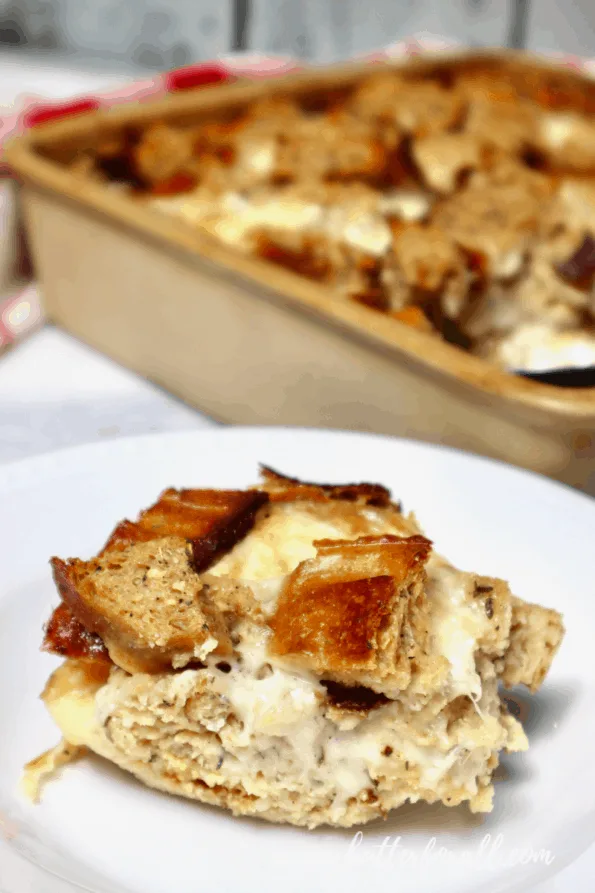 My husband commented that it was like "an even more savory focaccia bread." In fact, my Soft Sourdough Focaccia or my Perfect Sourdough Boule would be great homemade bread choices for this dish.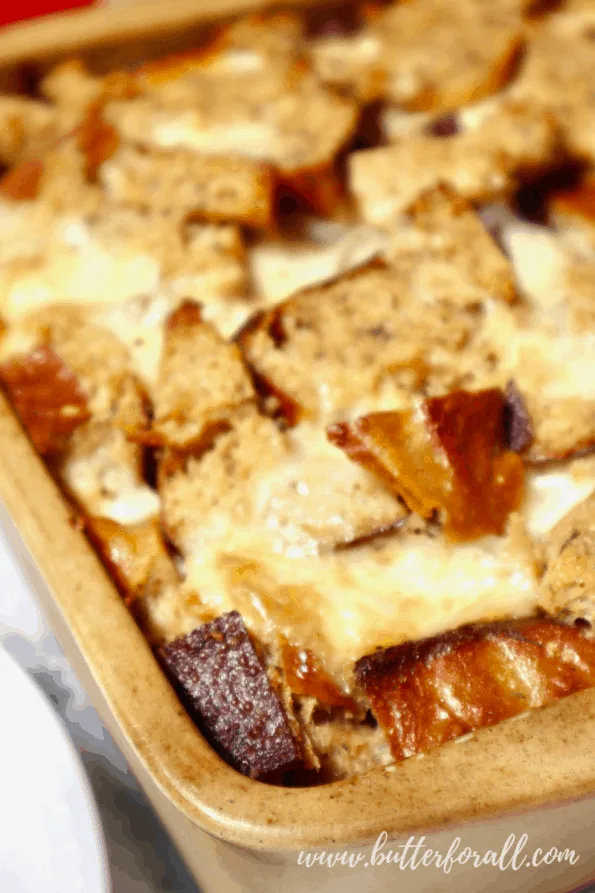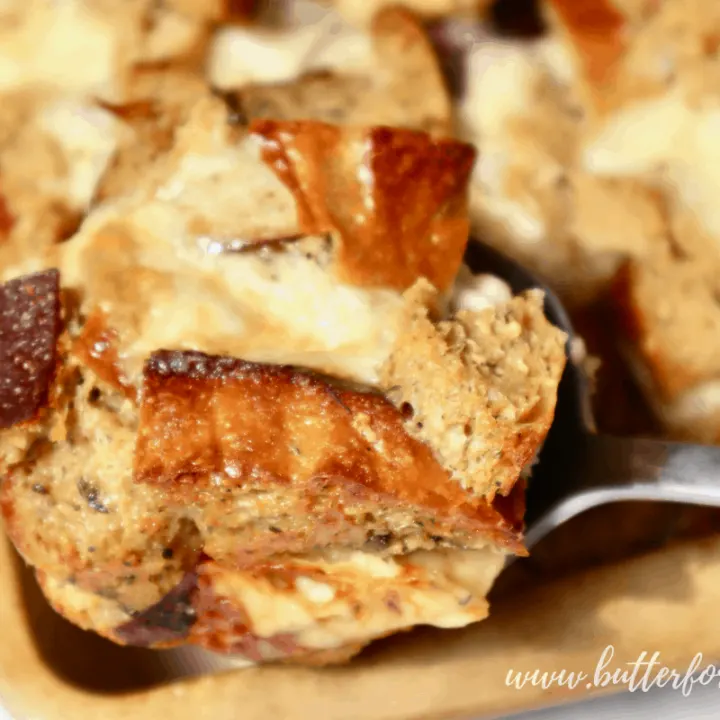 Savory Sourdough Bread Pudding
Yield: 12-16 servings

Prep Time: 20 minutes

Cook Time: 45 minutes

Total Time: 1 hour 5 minutes

This savory sourdough bread pudding is studded with tons of melted cheese, herbs, and garlic, making it the perfect accompaniment to any meal.
Ingredients
1 tablespoon butter, for greasing
1 1/2 pounds (680 grams) sourdough bread
8 eggs
2 cups whole milk
1 tablespoon salt
1 teaspoon pepper
1 tablespoon thyme
1 teaspoon ground nutmeg
1 teaspoon onion flakes
1 teaspoon garlic flakes
12 to 14 ounces melting cheese
Instructions
Preheat your oven to 350℉.
Use the butter to grease an 8 by 11-inch (or deep 10 by 10-inch) casserole pan.
Cube the bread into 1-inch cubes and transfer them into a very large mixing bowl.
In a separate large bowl whisk the eggs and milk together until smooth.
Add the salt, pepper, herbs, and spices and whisk well.
Pour the batter over the cubed bread and gently toss it to coat the cubes evenly.
While the batter soaks into the bread cut your cheese into 1/2 to 1-inch cubes.
Add the cheese to the bread mixture and toss gently to distribute the chunks.
Pour the bread pudding mixture into your prepared pan.
Top the pan loosely with a sheet of parchment paper.
Bake 35 minutes.
Remove the parchment paper and continue to bake the bread pudding for an additional 10 to 15 minutes, or until the top is golden brown.
Notes
While I choose to use dried garlic and onion in this recipe, a great substitute would be fresh garlic, onion, or shallot, diced and sauteed in butter before adding.