I may receive commission if you purchase through links in this post.
The color of this cranberry sauce is simply stunning. But it's the flavors that will have your guests asking for the recipe!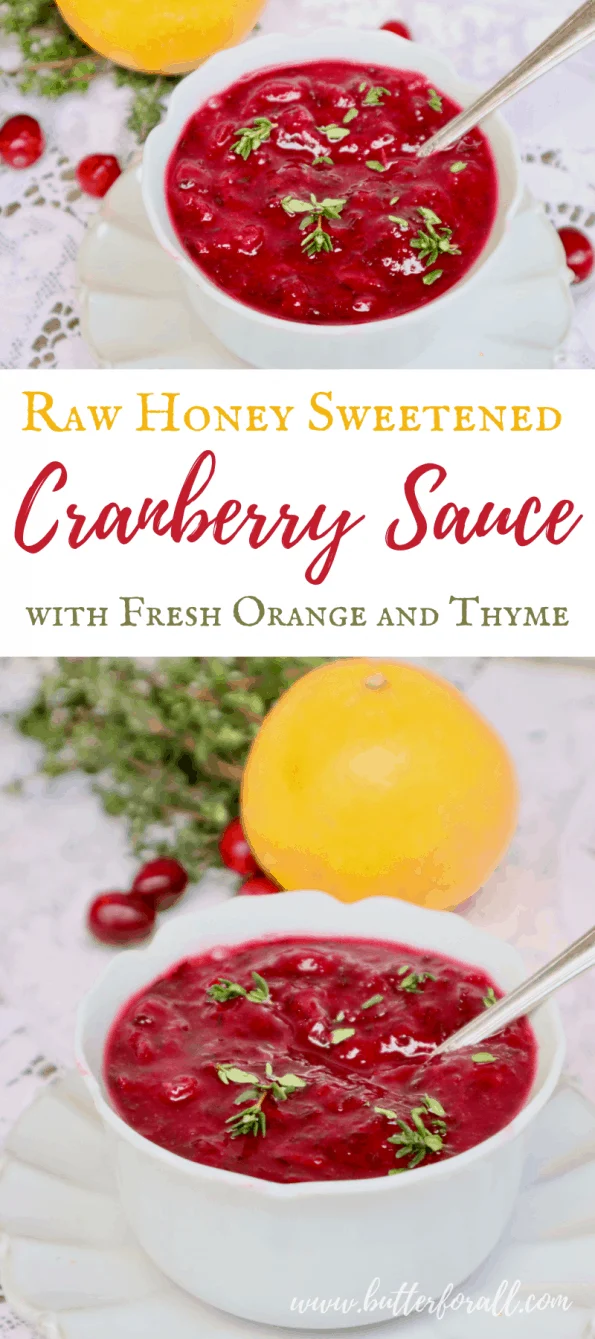 I take a few of the best ingredients of the season and combine them in an organic and thoughtful way to create a sauce that has a bright, zippy, herbaceous flavor that will complement any dish!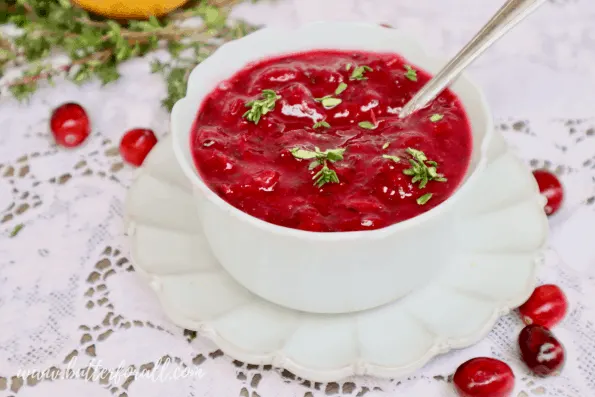 Raw-Honey-Sweetened Cranberry Sauce — The Perfect Healthy Condiment!
I like my food beautiful, slow, and almost medicinal. This cranberry sauce hits all the marks.
Fresh organic cranberries, fresh thyme, and fresh orange are simmered together into a thick sauce packed with vitamin C and antiviral compounds.
Once cooled, the sauce is sweetened to taste with raw honey, bringing out the bursting flavors and adding beneficial enzymes!
Not only does this sauce make a beautiful presentation, it deeply nourishes your body and soul!
Cranberry Sauce Is for More Than Just Turkey!
Will this sauce elevate your turkey dinner? YES! It will be delicious as a side dish with your lovely roasted turkey but it's also amazing spread liberally on fresh pumpkin sourdough rolls, eaten with roasted venison, duck, or rabbit, used in thumbprint cookies, served on a charcuterie platter, or drizzled as a topping for ice cream or yogurt parfait!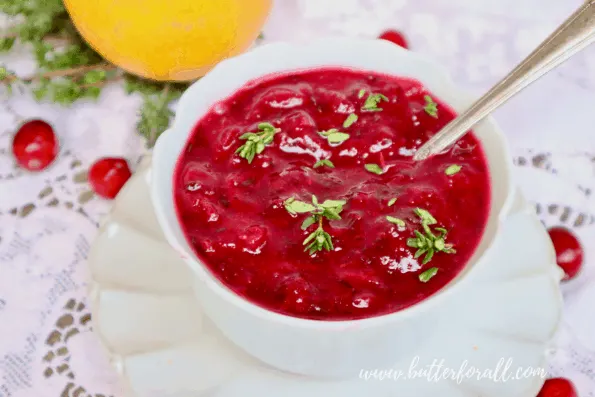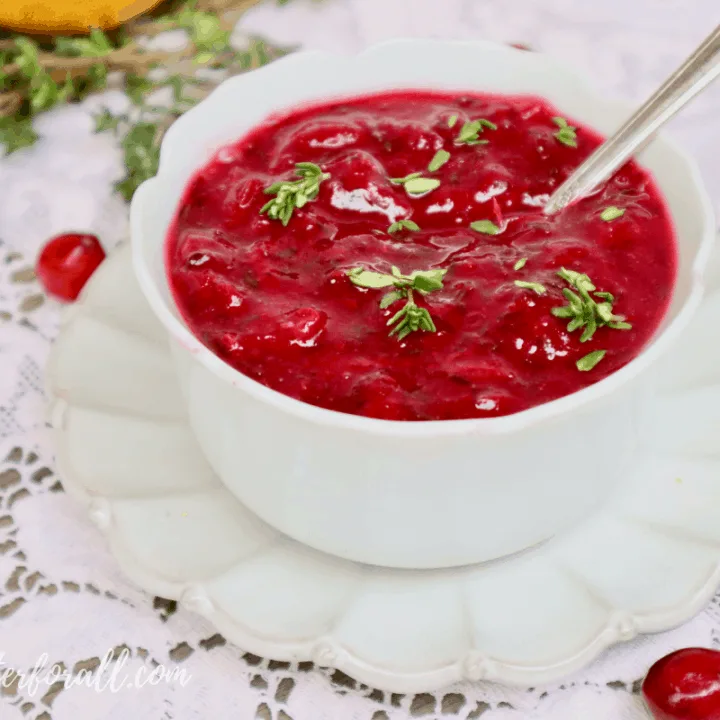 Raw-Honey-Sweetened Cranberry Sauce With Fresh Orange and Thyme
Yield: 3 Cups

Prep Time: 10 minutes

Cook Time: 30 minutes

Additional Time: 30 minutes

Total Time: 1 hour 10 minutes

This honey-sweetened cranberry sauce will be the star condiment of your holiday dinner! It's fresh, bright, and pungent with the tart zest of real orange and the spicy, herbaceous, earthy notes of thyme.
Ingredients
12 to 16 ounces fresh cranberries
2 cups fresh orange juice (6 to 8 large oranges)
2 tablespoons fresh thyme leaves
1 to 2 tablespoons fresh orange zest (1 to 2 oranges)
1/4 to 1/2 cup raw honey (sweeten to taste)
Instructions
Start by zesting 1 to 2 of your fresh oranges and setting the zest aside.
Next juice your oranges until you have 2 full cups of fresh-squeezed orange juice.
Clean and destem your thyme.
Combine the cranberries, orange juice, zest, and thyme leaves in a medium-sized (2-quart) sauce pot.
Cook this mixture over medium heat, stirring often, until all the cranberries have popped and the sauce thickens.
Remove the sauce from the heat and let it cool completely.
Once cool, stir in the raw honey until you reach the desired sweetness.
Transfer the sauce to your serving dish and refrigerate covered until needed.
Use or freeze the sauce within one week.
Recommended Products
As an Amazon Associate and member of other affiliate programs, I earn from qualifying purchases.