I may receive commission if you purchase through links in this post.
An apple galette that's easy enough for a weeknight and rustically beautiful enough for a holiday table.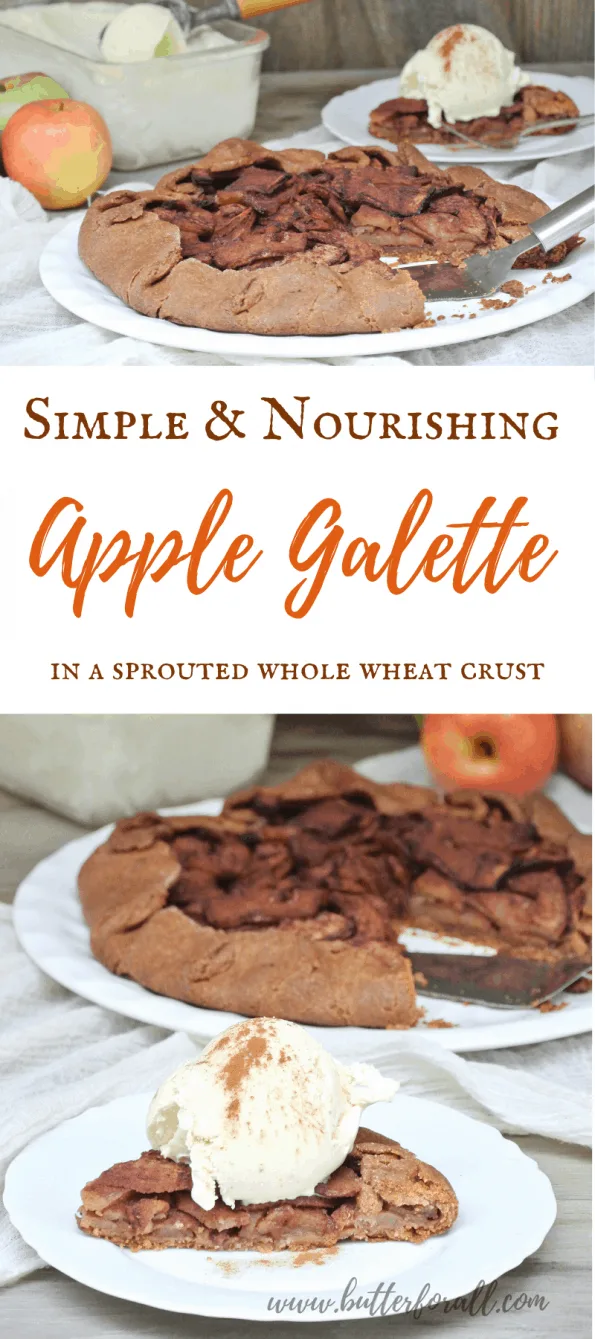 These days I don't have a lot of extra time for making desserts. That's probably a good thing. But with the holidays approaching and all the beautiful fresh apples at the market I couldn't help but whip up one of my favorite easy desserts, apple galette.
Apple Galette Is an Easy Alternative to Pie.
Apple galette is similar to pie in every way, except it's a lot easier. No fussing with a pie plate or crimping edges. The allure of the apple galette is its beautiful rustic appearance.
Start by rolling the dough the way you would for a pie crust. Don't worry if the edges aren't perfect.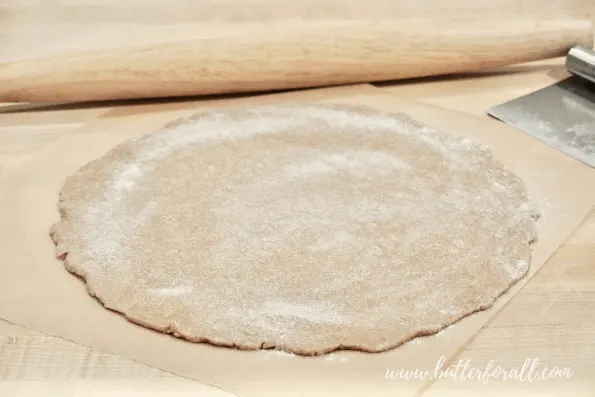 Add your apple filling.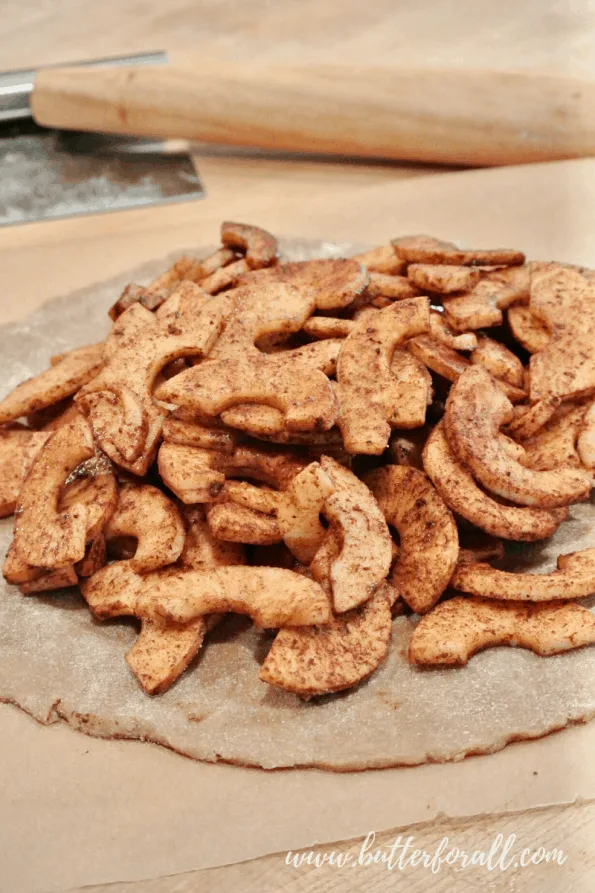 Fold the crust up over the filling.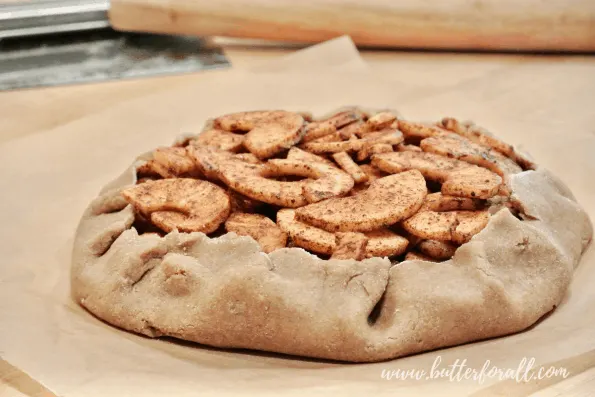 Pour melted butter over the whole galette.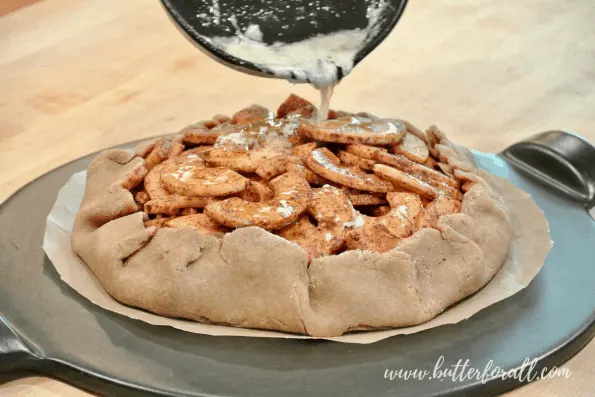 Bake the apple galette as you would a pie, and serve it with fresh Raw Cream Vanilla Bean Ice Cream.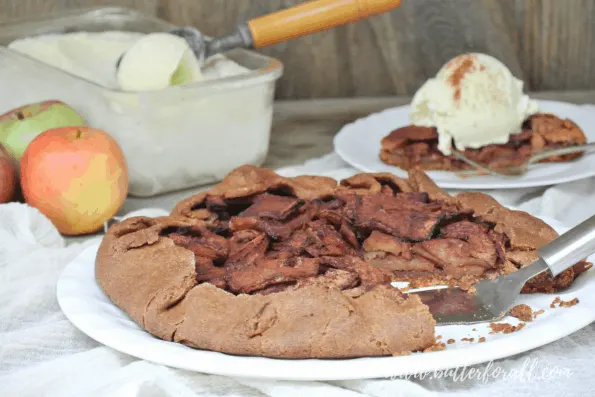 Pastry Crust for Every Occasion and Taste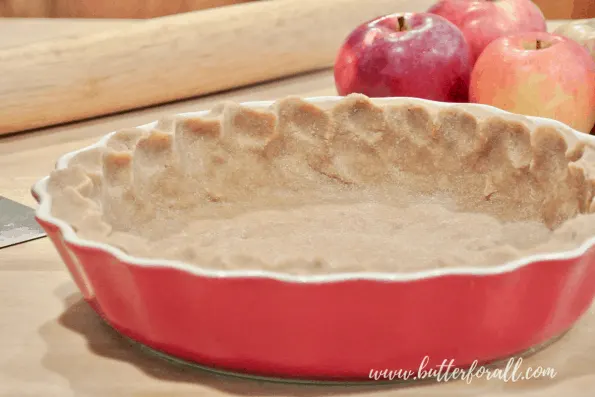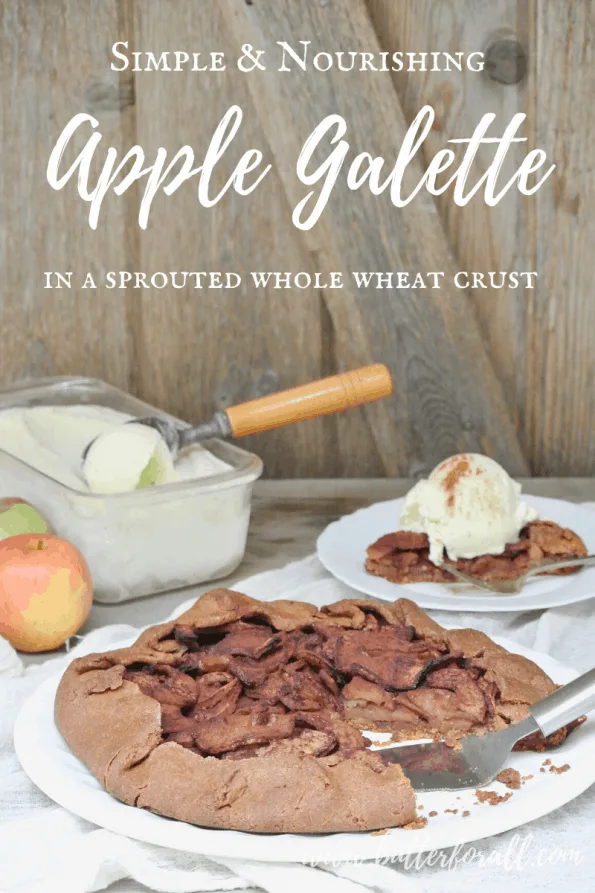 Simple and Nourishing Apple Galette in a Sprouted Whole Wheat Pastry Crust
Prep Time:
1 hour
10 minutes
Total Time:
2 hours
10 minutes
A simple and nourishing apple galette recipe made with low glycemic coconut sugar, pastured butter, and a sprouted whole wheat pastry crust.
Ingredients
6 large baking apples
1 tablespoon cinnamon
1/2 teaspoon nutmeg
1/4 cup pastured butter
Instructions
Peel, core, and slice your apples. Put the sliced apples into a large bowl.
Add the coconut sugar and spices and toss them well.
Preheat your oven to 350°F.
Have your pastry crust at room temperature. Cut two squares of parchment paper. Dust one lightly with sprouted flour and pat out the pastry dough on top into a disk. Dust the top of the dough with flour. Cover the dough with the other sheet of parchment and use a rolling pin to roll it into a large circle about 1/4 inch thick.
Remove the top parchment and add the apples to the center of the dough. Make sure they are in an equal layer that stops about 1 inch from the edges of the crust.
Fold the crust up in sections overlapping the previous fold, all the way around the crust.
Melt the butter and pour it over the apples.
Slide the bottom parchment with the prepared galette on it onto a baking sheet or baking stone.
Bake the galette for 45 to 60 minutes until the apples are fork tender.
Remove the galette from the oven and let it cool at room temperature before serving.
Want To Learn Everything About Sourdough?
Start with this free guide:
Demystifying Sourdough – Everything You've Ever Wanted To Know About Sourdough Starter – Why It's Better For You – And How To Start One