I may receive commission if you purchase through links in this post.
Having a perfect pastry crust recipe is one of my secrets for a successful, less stressful holiday dinner.
I adapted this recipe from my all-time favorite crust recipe, The Ultimate Lard Pie Crust. This new recipe is made with healthy sprouted whole wheat flour instead of white flour and butter instead of lard. It's a little more rustic, but just as manageable, and just as delicious!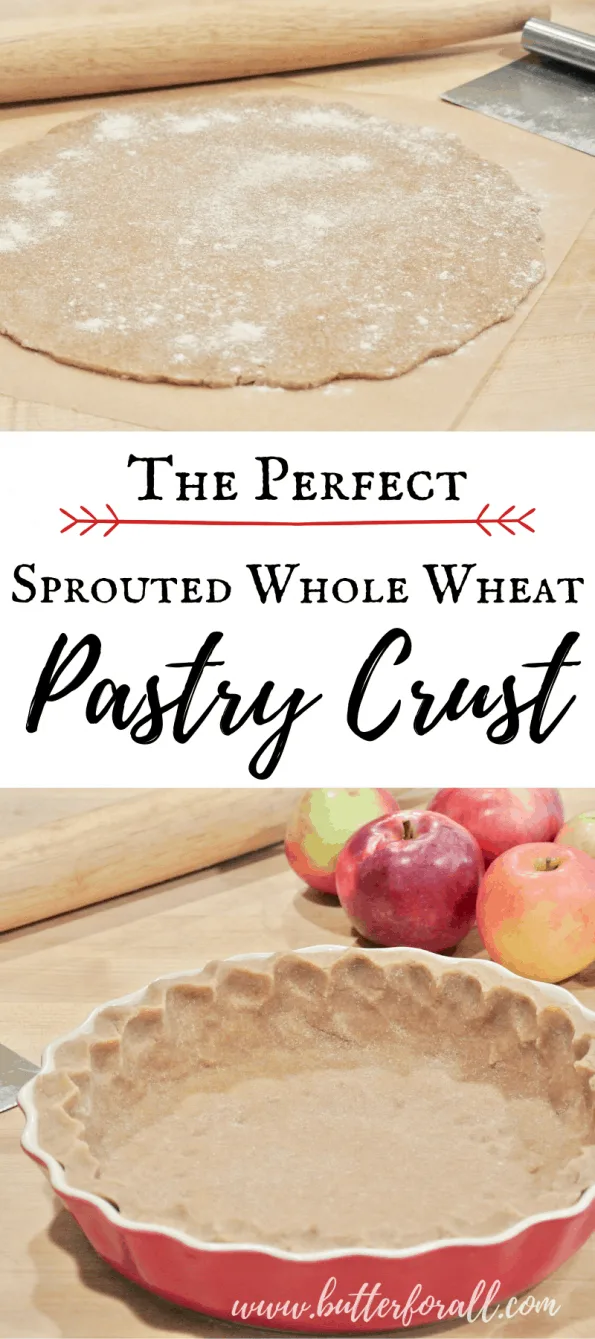 Pastry dough should be easy to make, easy to handle, and easy to store. This perfect sprouted whole wheat pastry crust is all three!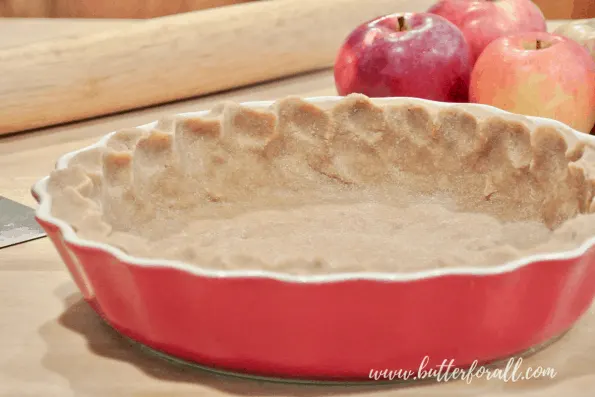 Easy To Make Pastry Crust
Add the ingredients to your food processor in stages and voilà, the perfect pastry crust dough comes together just like that!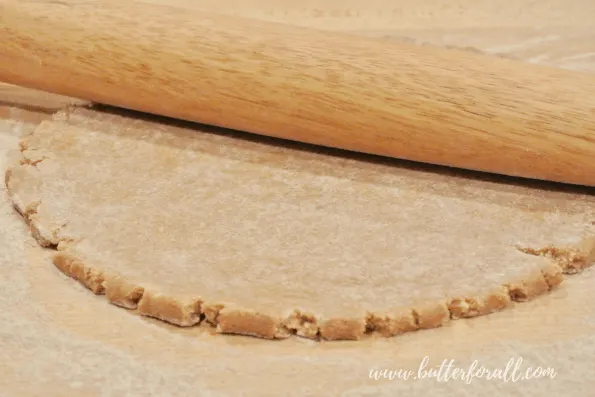 Easy To Handle Pastry Crust
If you've ever wanted to throw the rolling pin through the window while trying to make a perfect crust then I can relate. You will be pleasantly surprised at how easy it is to handle this pastry. No more frustratingly cracky dough. This pastry crust sticks together but not at the cost of being tough. It is still deliciously flaky!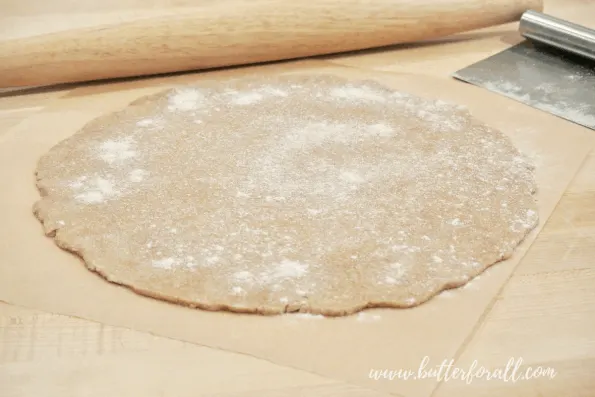 Easy To Store Pastry Crust
Get a head start on your holiday menus!
Once the dough is made, divide it in half and wrap it well before refrigerating it for up to 1 week, or freezing it for up to 3 months!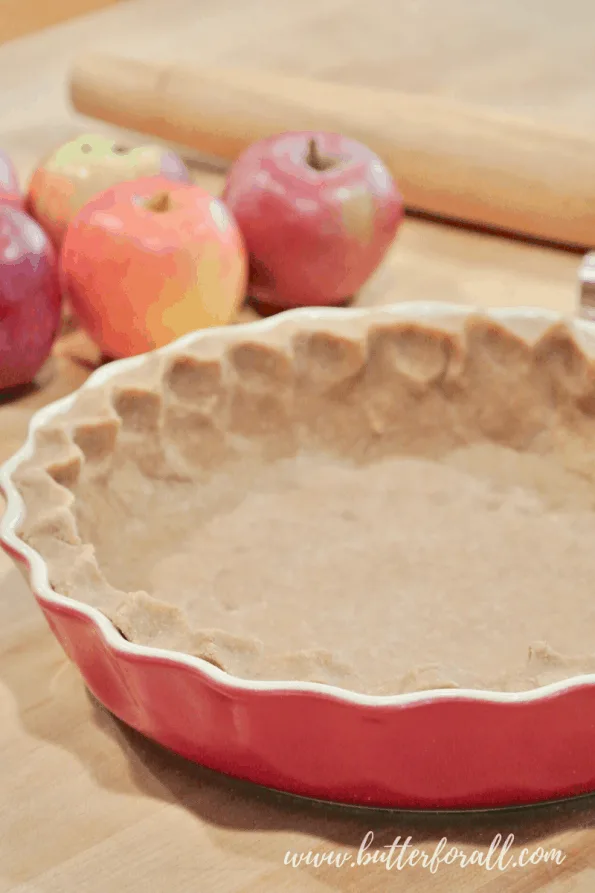 Sprouted Whole Wheat — A Nourishing Choice
When you take the extra step of sprouting wheat it greatly changes the nutritional profile. Vitamin B is increased along with vitamin C. Carotene is also drastically increased.
During germination the enzymes and acids that make grains hard to digest and that rob us of their nutritional value are neutralized, and new digestion helping enzymes are produced.
There is a lot to learn about properly prepared grains and if you are new to the idea I suggest you start with Sally Fallon Morell's book, Nourishing Traditions.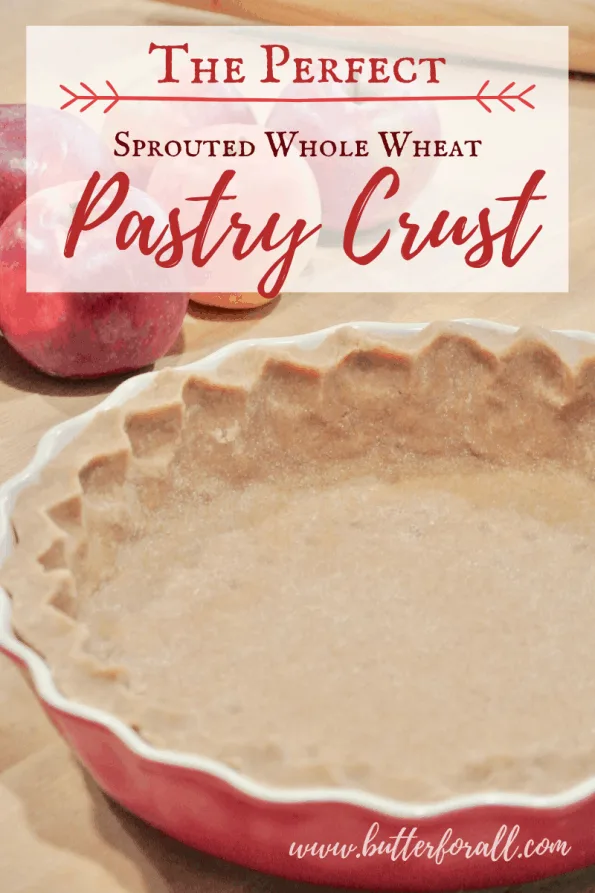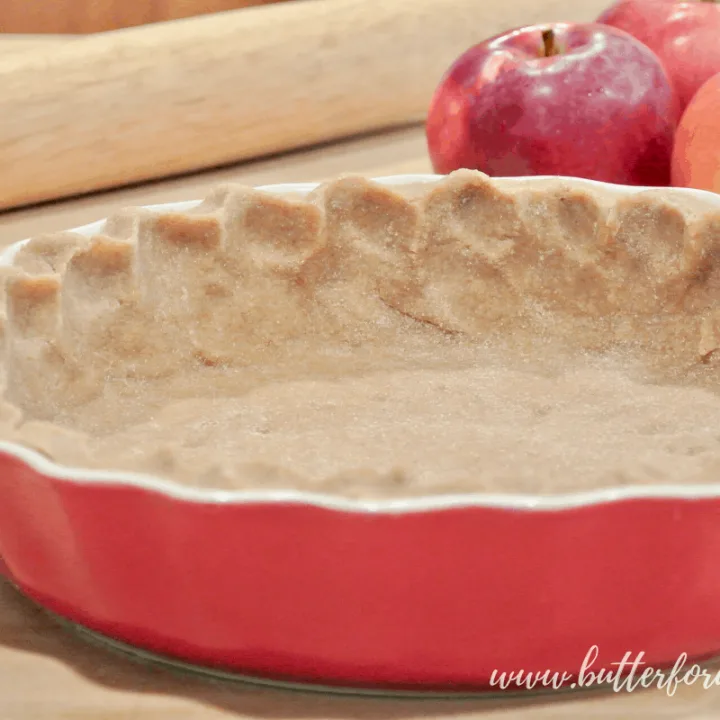 The Perfect Sprouted Whole Wheat Pastry Crust
Yield: 2 Full Size Crusts

Prep Time: 15 minutes

Total Time: 15 minutes

This properly prepared pastry crust is perfect for sweet and savory pies, pastries, shells, quiche, and tarts.
Ingredients
Instructions
Combine the flour, salt, baking powder, and sugar in your food processor. Pulse to incorporate.
Cut the butter into 1-tablespoon chunks and drop them into the flour mixture. Pulse again until the butter is the size of grainy sand.
Add the yogurt and pulse until the dough comes together. Depending on the yogurt you may need a little ice water. If the dough won't stick together at all, add ice water 1 teaspoon at a time until it will just hold together.
Dump the dough out on a work surface and stack it several times to incorporate any dry ingredients. Stacking is different from kneading. To stack, break the dough in half and stack one half on the other before pushing it down. Do this several times until the dough is consistent. Be careful not to overwork the dough or get it too warm with your hands.
Gently gather the dough together. Cut it in half and shape each half into a disk. Wrap each disk well with wax paper, parchment, or plastic wrap. Keep the dough in the refrigerator for up to 1 week or store it in the freezer for future use. To use the pastry dough the same day, refrigerate it for at least 1 hour.
Remove the pastry dough from the refrigerator 30 minutes before rolling and shaping as desired.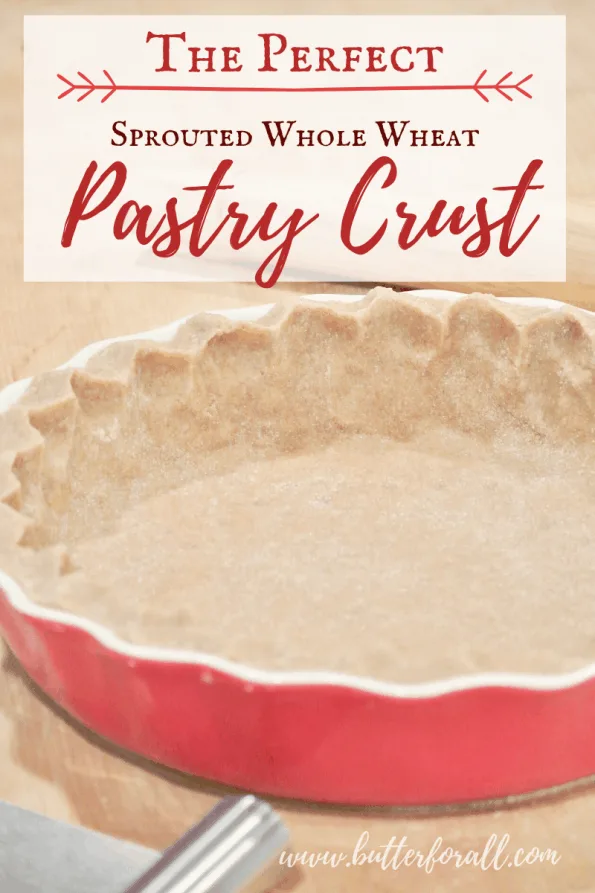 Want To Learn Everything About Sourdough?
Start with this free guide:
Demystifying Sourdough – Everything You've Ever Wanted To Know About Sourdough Starter – Why It's Better For You – And How To Start One