I may receive commission if you purchase through links in this post.
The weather is improving and it's time to fire up the grill. These grilled baby vegetables with garlic chive oil dressing will be your summer go-to side dish.
There are many things that I really love about grilling — the most important thing is that it's a lot fewer dishes! You know that's a good thing! Second, you get to cook outside, and that brings you closer to nature. And last but not least, let's face it, it's fun! It's always fun to gather with your friends and family and cook a meal while relaxing and enjoying the sunshine. Good times!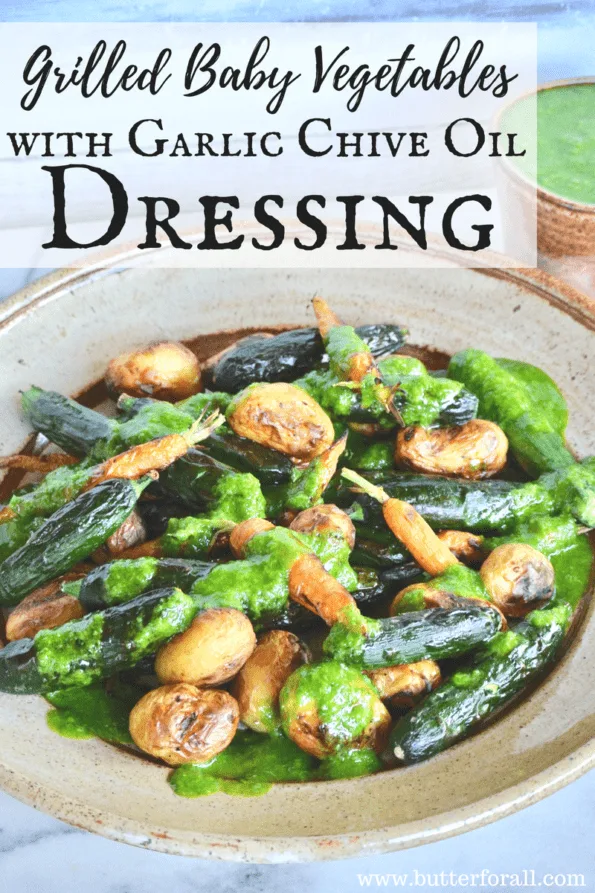 Charcoal or Gas?
We choose to cook over charcoal or a wood fire. There's something enchanting about cooking over an open flame fueled by wood. You can just imagine the countless generations of cooks who have done exactly that same thing before you. Not to mention the deep caramelized flavor you can achieve with a smoky barbecue. Now if you choose to grill over gas, I won't judge you. It's extremely convenient and it's still a great way to get outside.
Garlic Chive Oil Dressing, Simplicity at Its Finest.
Food doesn't have to be complicated to be gourmet and delicious. In fact, sometimes a handful of the simplest ingredients will have a more profound effect than 10 or 15 extravagant ingredients. This garlic chive oil dressing is just four fresh ingredients that will heighten and enliven even a simple mix of grilled baby vegetables.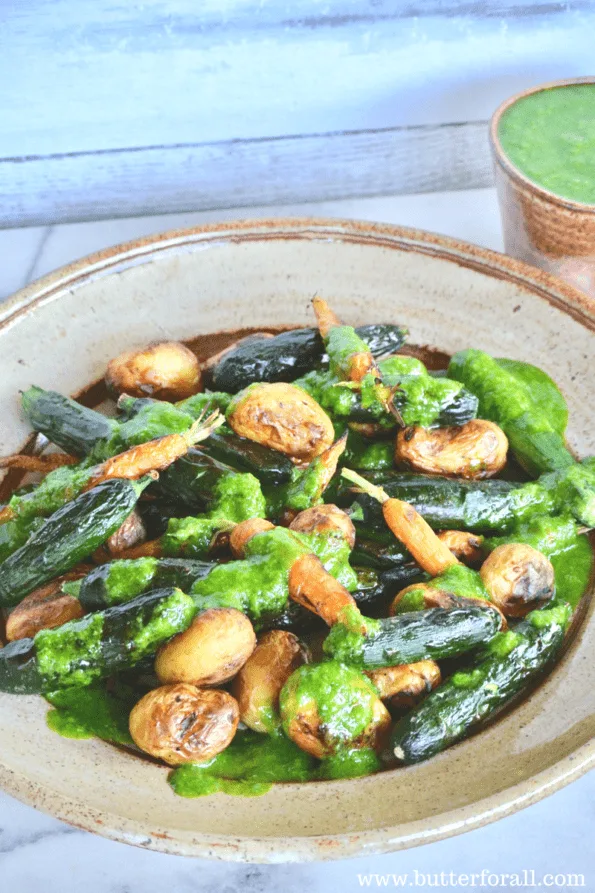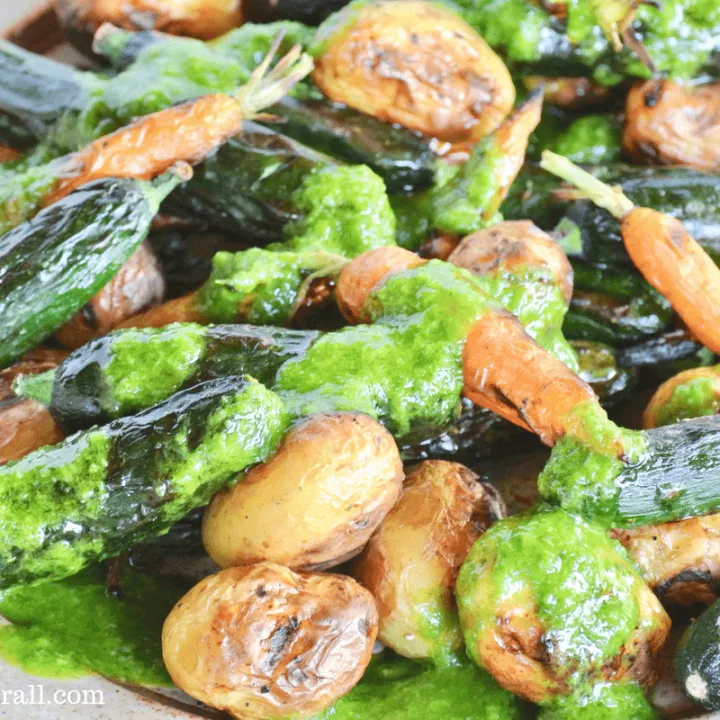 Grilled Baby Vegetables With Garlic Chive Oil Dressing
A mix of your favorite baby veggies, grilled to perfection and dressed with a simple and spicy garlic chive oil.
Ingredients
Baby Vegetables
1 pound baby potatoes
1 pound baby carrots
1 pound baby summer squash
Garlic Chive Oil
1 cup chopped chives
1 to 2 cloves garlic, or one stalk of spring garlic
Instructions
Making the Garlic Chive Oil
Rough chop enough chives to fill up a cup.
Place the chives, garlic, olive oil, and salt into your blender.
Blend until smooth. The garlic chive oil will be as thick as a dressing and have a vibrant green color.
Set the garlic chive oil aside to increase in flavor.
Grilling the Baby Vegetables
Prepare the veggies by washing them and letting them air dry or patting them dry. Place them in a large bowl and toss them with the avocado oil. Avocado oil has a high smoke point, making it an excellent choice for the grill.
Prepare your grill for cooking. Once hot, place the veggies on the grill and cook them until just starting to get tender. Rotate the veggies often to prevent scorching.
Once the veggies are cooked, place them on a large serving platter and dress them liberally with the garlic chive oil. The heat from the veggies will release an intoxicating green garlic aroma.
Notes
Please feel free to use whatever combination of vegetables you prefer or that are in their peak season. This is a very adaptable recipe and can be doubled or tripled easily. Leftover garlic chive oil can be frozen in ice cube trays for easily adding flavor to anything you are cooking. I added some to a creamy ranch style dressing and it was wonderful! The garlic chive oil can be used on grilled meats and is especially good used like a chimichurri sauce on grilled steaks.