I may receive commission if you purchase through links in this post.
Get away from the processed boxed breakfast cereals and start making your own healthy coconut macadamia granola.
This recipe is made with traditionally soaked oatmeal, macadamia nuts, and coconut and has the healthful addition of coconut butter for extra satiating fat. Chia seeds are also added for their amazing absorption qualities and for their powerhouse of omega-3 fatty acids, fiber, and antioxidants. This granola is also sweetened with raw honey but can be customized easily to use maple sugar or syrup, coconut sugar, stevia, monk fruit, or your favorite sweetener.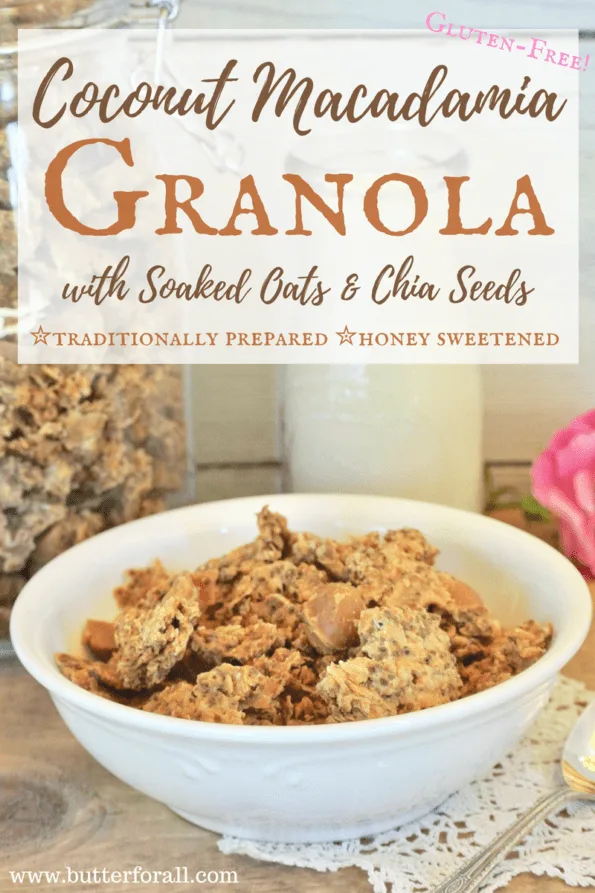 Inspiration Makes the World Go 'Round.
There are a few bloggers that I REALLY admire for their work and commitment to nourishment. Renee from Raising Generation Nourished is one of them. She published a Honey Rhubarb Granola made with soaked oats last year that got my wheels spinning like mad. Because I'm creative (to a fault), I didn't follow her recipe exactly (or really at all) but it did inspire me to write my own soaked oat granola recipe with the ingredients that I typically have on hand. Let's just say that this method is the bomb and totally worth the extra effort!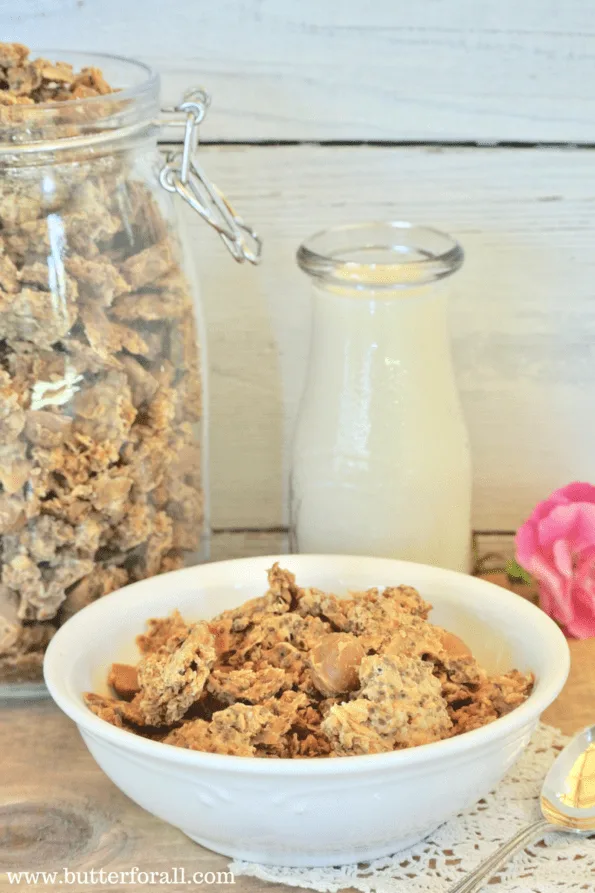 Slow Food Just Got Slower!
I'm not kidding, this recipe is so slow that you might forget you are even making it! It requires a 12-hour soak, a further 4-hour soak, and then a long slow dehydration that takes between 12 to 16 hours. Why would you go to all this extra trouble, you ask? Because real traditional ways of cooking that reduce anti-nutrients like phytic acid in oats and enzyme inhibitors in nuts are essential skills to master if you are going to fully take control of your whole-body health. From the gut to the brain, this is real fuel for a nourished life!
Learn More About How To Take Control of Your Health With These Nourishing Traditions Books.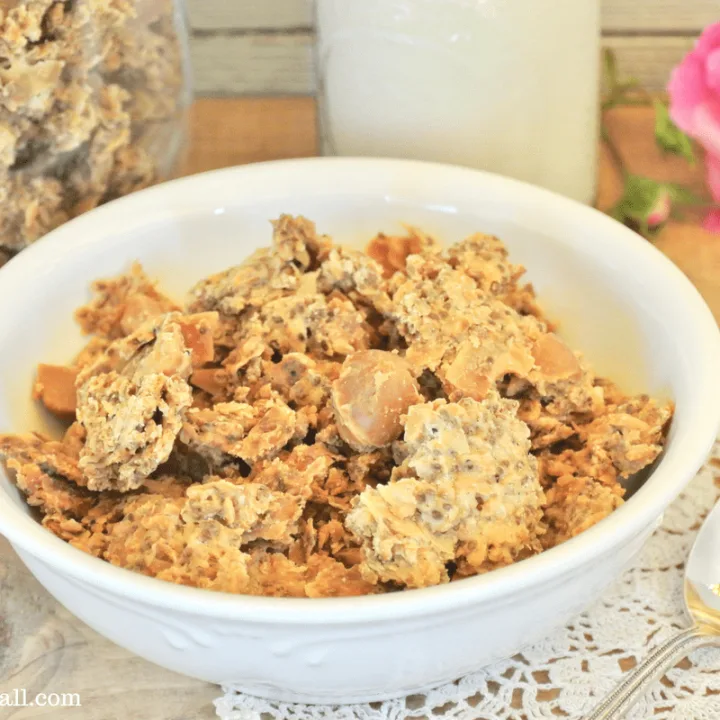 Coconut Macadamia Granola With Soaked Oats and Chia Seeds
Total Time:
1 day
5 minutes
A crunchy, perfectly sweet soaked granola that is full of healthy fats and real ingredients.
Ingredients
First Soak
Second Soak
Instructions
The Night Before:
Mix all the ingredients in the first soaking in a large ceramic or glass bowl and let them sit covered overnight on the counter.
The Next Morning:
Mix in the second set of ingredients and allow the mixture to continue to soak for around 4 hours. The mixture will be thick and spreadable when it's ready to dry.
Dehydrating or Baking:
Spread the granola mixture on dehydrator trays or on baking sheets as thin as possible. Dehydrate the granola at 155°F for 12 to 16 hours or bake at the lowest temperature for your oven (175°F) for around 12 hours or until completely dry. If using an oven to dry the granola, make sure to break up the granola after about 6 hours so it will dry completely. The dehydrator is my favorite method; the granola will be light and crispy but the color will be much lighter and less toasted.