I may receive commission if you purchase through links in this post.
A few years ago in my recipe group on Facebook I posted a picture of myself eating a bowl of hot apple sauce with lots of butter.
The comment went something like this, "If you aren't eating your apple sauce hot with butter and cinnamon then you aren't living!"
I was pretty shocked at the responses I got…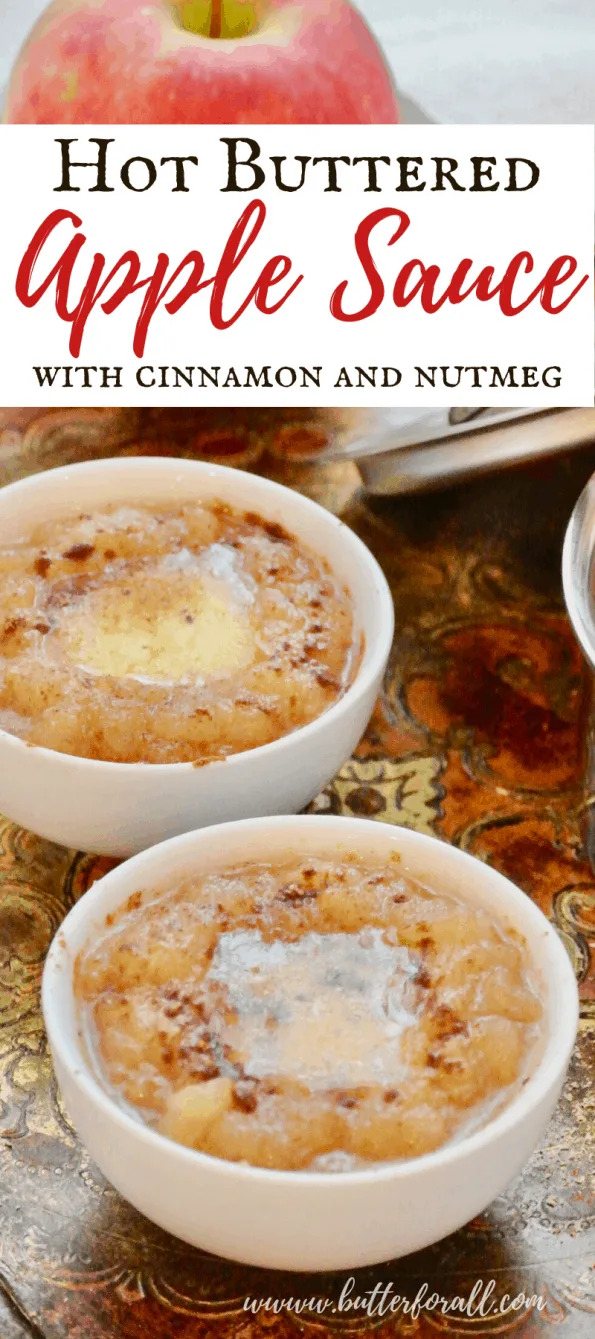 So many people were missing out on this amazingly easy delicacy. They had simply never heard of eating apple sauce with butter.
I think I blew some minds that day!
I hope trying this easy preparation has the same effect on you!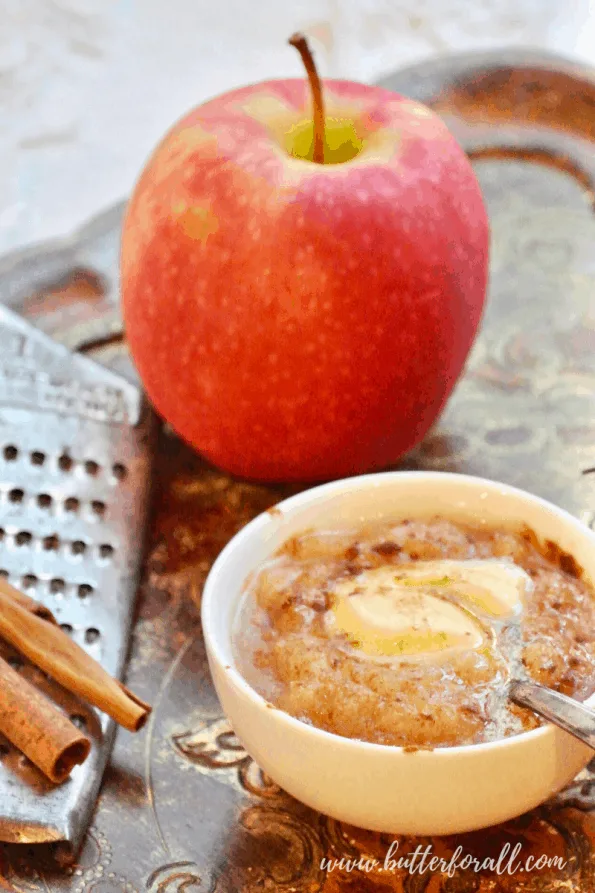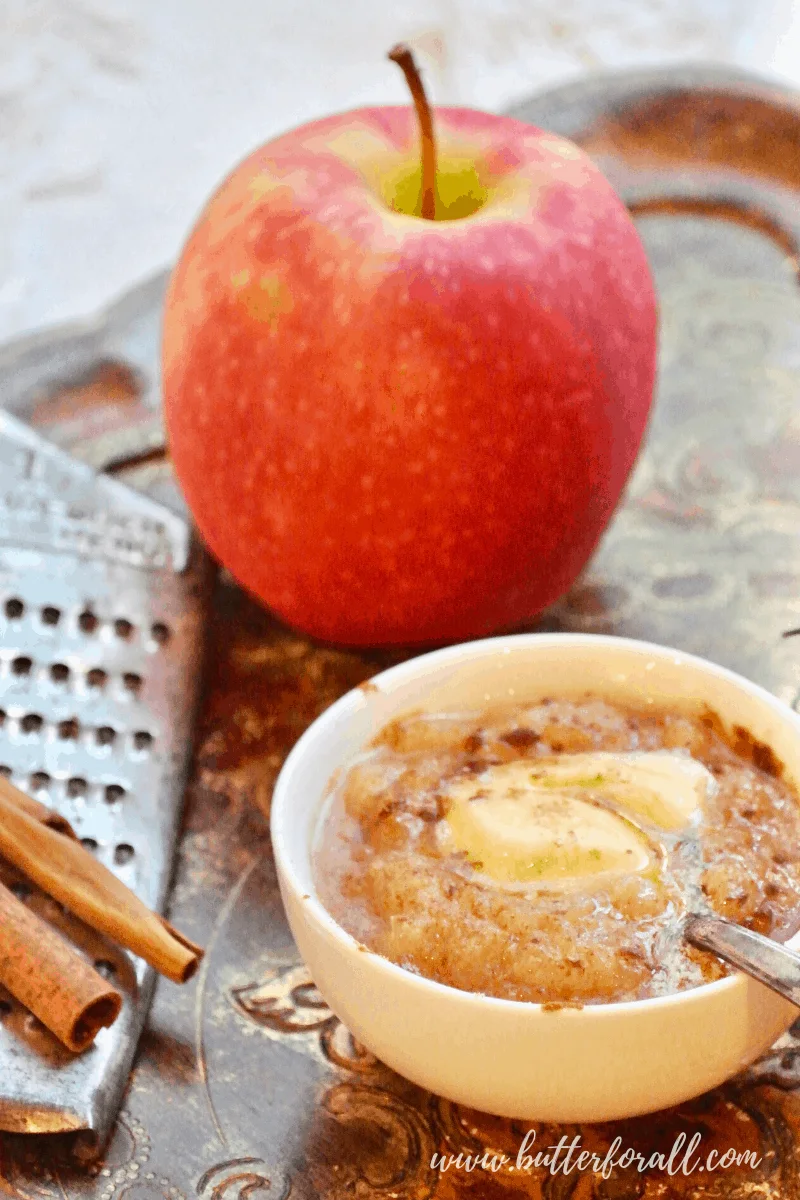 My Obsession With Hot Buttered Apple Sauce Grew From the Love I Have for My Little One.
When she was just starting to explore finger foods I would dice apples in small cubes and cook them slowly in butter with a touch of cinnamon. This made the perfect soft and easy-to-gum first food for her little hands.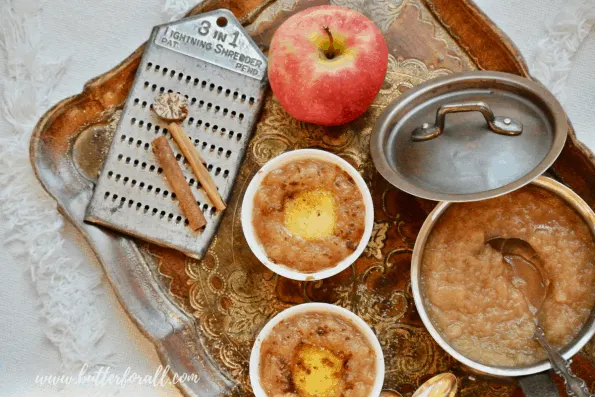 Simple Ingredients Carefully Prepared
It's pretty incredible that something as simple as apples stewed in water can taste like a bite of hot apple pie with the addition of real pastured butter and a few spices.
I choose cinnamon and nutmeg, they are so comforting and warming, to top my bowls. But feel free to play around with flavors like clove, cardamom, allspice, or five-spice.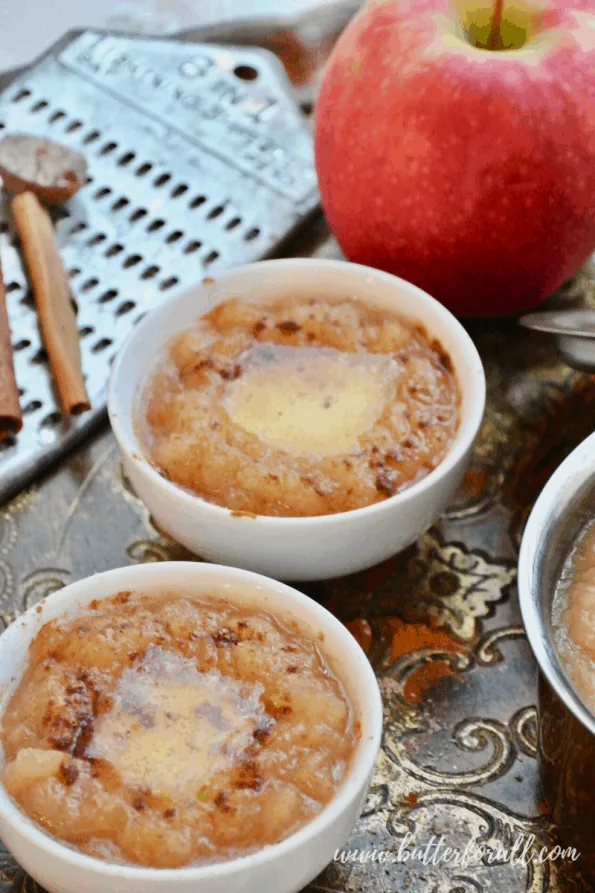 The process for making this delicious and healthy treat is so simple.
Cook the apples low and slow.
Top a bowl of the hot apple sauce with plenty of butter and spices.
Enjoy what tastes like a bowl of hot apple pie!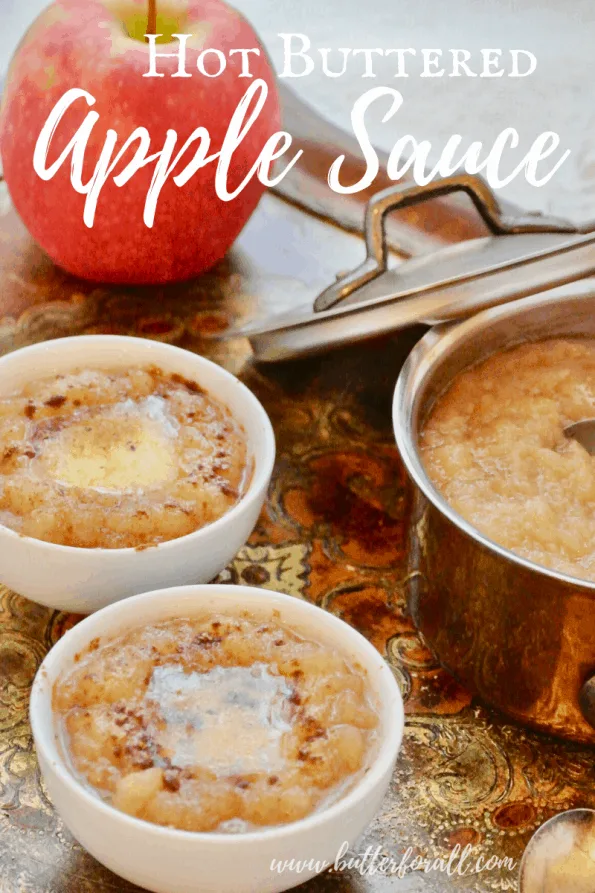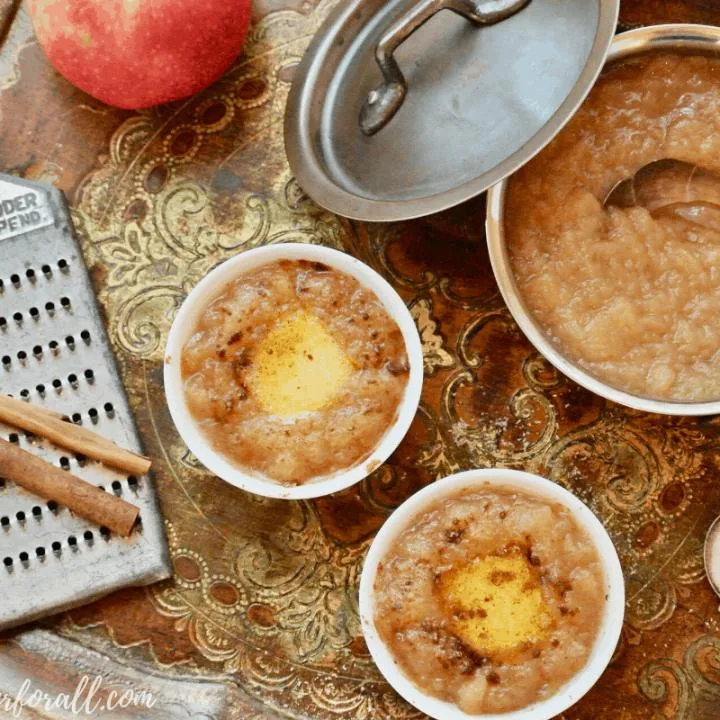 Hot Buttered Apple Sauce
Total Time:
1 hour
15 minutes
A warm and comforting four-ingredient dish that tastes like a bowl of hot apple pie!
Ingredients
For Topping
1 to 2 tablespoons pastured butter
1 pinch ground nutmeg
Instructions
Peel and cut the apples into chunks.
Put them in a large pot with a tight-fitting lid and add the water.
Bring them to a slow simmer over medium heat. Turn the heat down to low and cover the pot.
Cook the apples covered, low and slow, for about 1 hour, stirring occasionally.
Once the majority of the water has evaporated the apples should be darkening into a caramel-like color. Stir more often now and keep cooking until the sauce is thick and completely tender. Break up any large chunks with the back of your spoon.
Serve the sauce hot in small bowls topped with a large dollop of butter and ground spices.
Notes
Leftover apple sauce can be refrigerated for later eating either cold or reheated!
Try This Hot Buttered Apple Sauce Over Real Sourdough Waffles or Inside Sourdough Crepes for a Special Brunch Treat!