I may receive commission if you purchase through links in this post.
If you have ever had real pralines then you know how sinfully good they are.
I've added that incredible flavor to the crispy topping on my buttery maple praline coffee cake!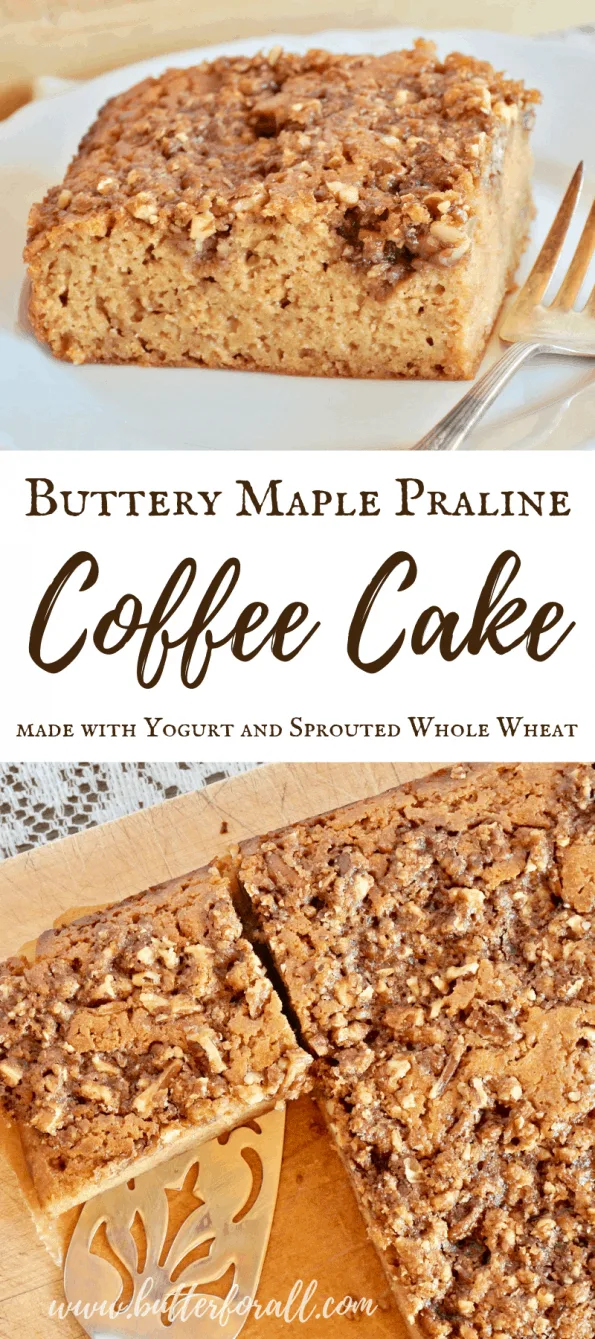 Pralines are a crumbly, buttery caramel candy studded with pecans. Since I stopped eating white sugar I haven't made them but the topping on this cake is as close as I can get without the refined sugar!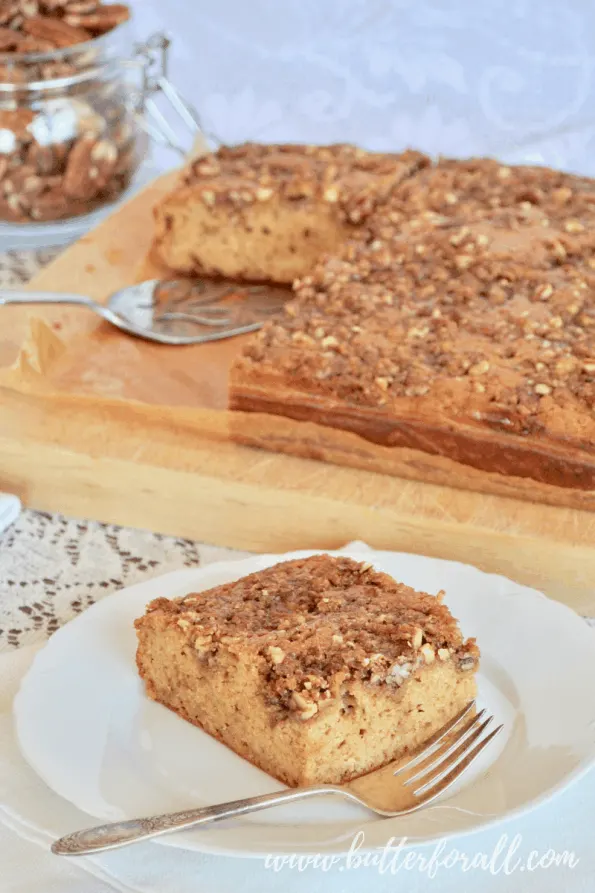 In this recipe I use real maple sugar in both the cake and in the topping. Even though the cake is made with whole wheat flour it is rich and moist with a delicate texture and just the right amount of sweetness.
The topping is made with maple sugar, butter, and crushed pecans. When baked, the topping melts and turns into a crispy praline layer!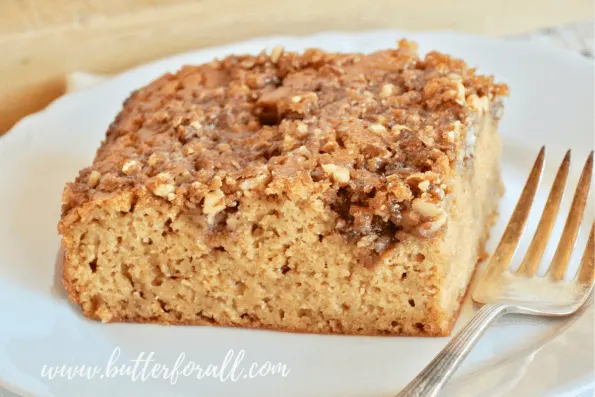 Sprouted Wheat Needs No Further Preparation
I've started using sprouted wheat in a lot of my cake and cookie recipes. Sprouting reduces nutrient-blocking acids and increases enzymes, making wheat more nutrient-dense and much easier to digest. Sprouted whole wheat is sold already sprouted, dried, and ground into flour, making nutrient-dense treats a lot easier and more convenient!
Maple Sugar
One of my favorite alternative sugars, maple sugar has a rich caramel flavor perfect for baked goods.
Try this carrot cake recipe that also uses sprouted flour and maple sugar!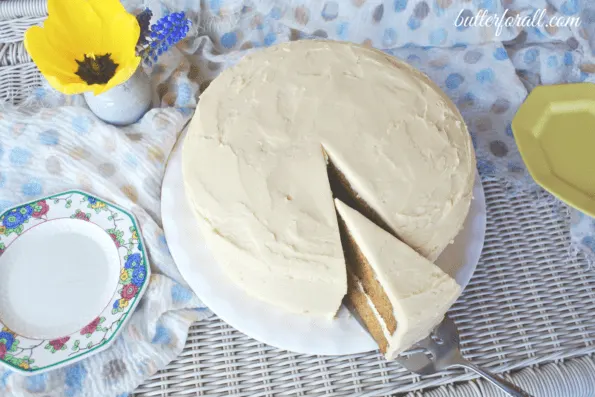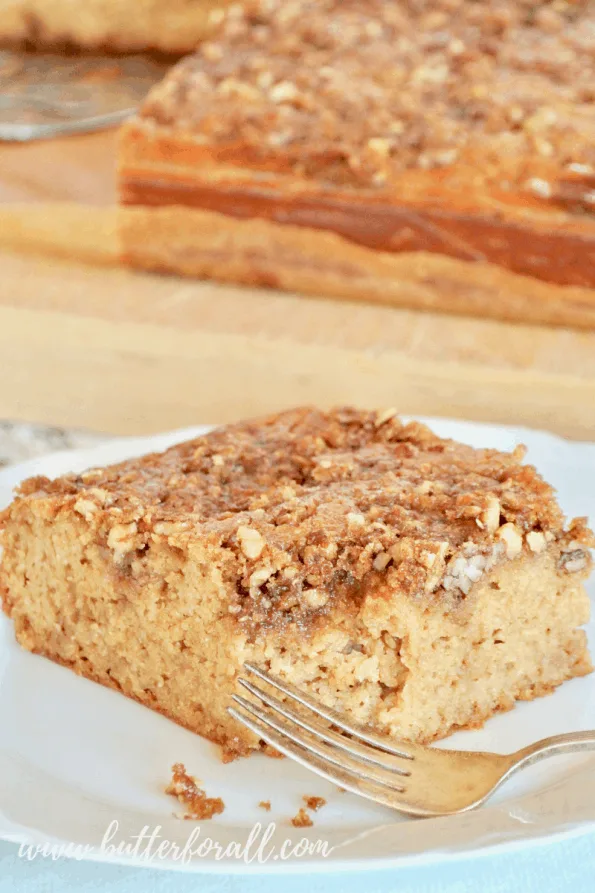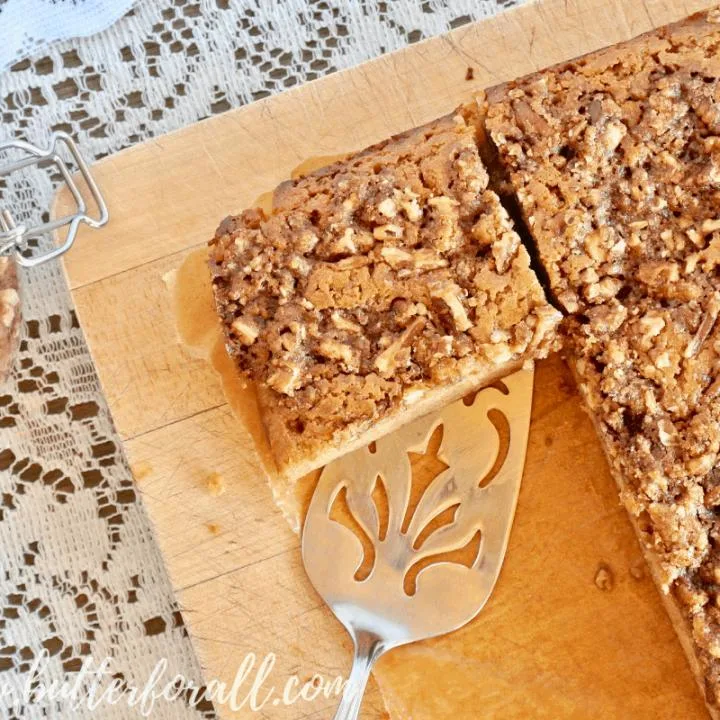 Buttery Maple Praline Coffee Cake
Yield: 16

Prep Time: 15 minutes

Cook Time: 45 minutes

Total Time: 1 hour

This rich cake has a crispy praline topping and is perfect for serving with coffee or tea!
Ingredients
Cake
4 eggs
1/2 teaspoon baking soda
2 cups whole milk yogurt
Topping
Instructions
Preheat your oven to 350°F.
Have all ingredients at room temperature.
Starting with the cake ingredients, beat the butter and maple sugar together until light and fluffy.
Beat the eggs into the mixture one at a time. Scrape down the sides of the bowl between each addition.
Add the maple flavor and beat until smooth.
In a separate bowl mix the flour, baking soda, and salt until well combined.
Measure out the yogurt and have it ready to add as well.
Alternate adding the yogurt and dry mix to the butter mixture. Add half the yogurt and stir well, then add half the dry mix and stir well. Repeat with the remaining ingredients.
Butter or line with parchment paper a 9 by 18-inch pan. Pour mixture into pan and smooth to the edges.
In a small bowl combine the topping ingredients. Stir them well until combined. Sprinkle them evenly over the top of the unbaked cake.
Bake the cake in the center of the oven for 45 minutes or until a skewer inserted into the middle comes away clean.
Cool the cake completely before slicing!