I may receive commission if you purchase through links in this post.
This isn't my first rodeo with sourdough starter batter crackers.
I started making them back in the winter of 2018. I had been experimenting with drying Sourdough Crepes in the oven to get a slightly sweet cracker when the idea for a batter-style cracker hit me. I have to admit, it's been one of my best, time-saving, super easy, and incredibly versatile ideas!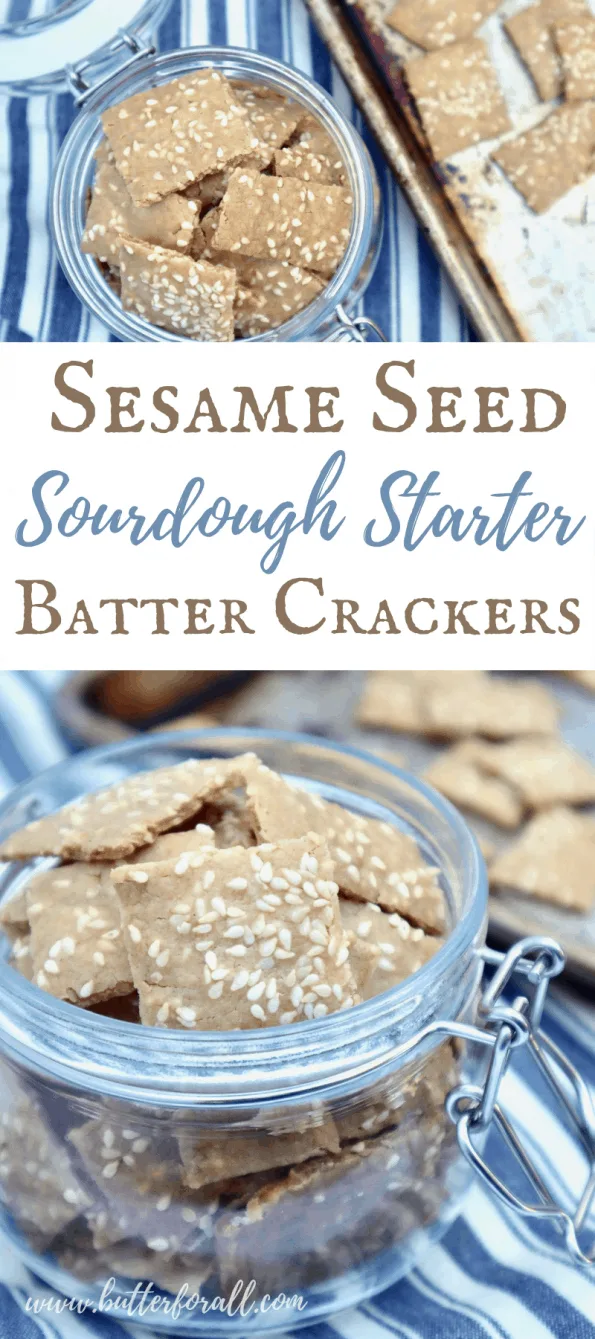 The original sourdough batter cracker is my Sourdough Discard Crackers With Rosemary and Olive Oil. They will always hold a special place in my list of culinary accomplishments. They were an innovation to sourdough crackers around the world!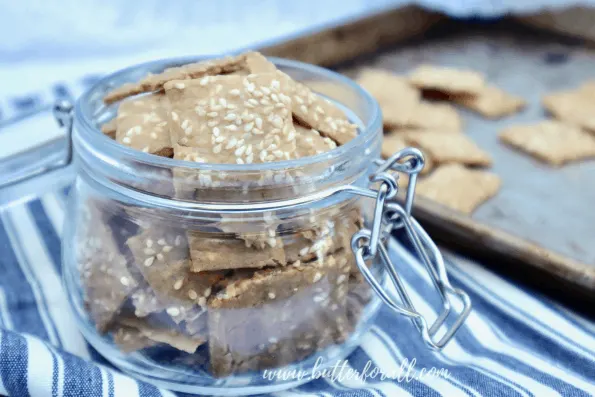 Since publishing that recipe many other sourdough bakers have adapted it to suit their own style. And I have published other versions myself, including Buttery Parmesan Sourdough Discard Crackers and Sourdough Discard Cheddar Crackers. With all these options you are guaranteed to find one you love!
The idea to add sesame seeds to my crackers actually came from two separate readers who added sesame seeds, among other things, to their crackers. Once I tried it I knew I had to publish the recipe so you could all try it as well! So here is a huge shout-out to Mark and Marie! Thanks for taking the time to comment on my website and leave valuable feedback. I loved your suggestions!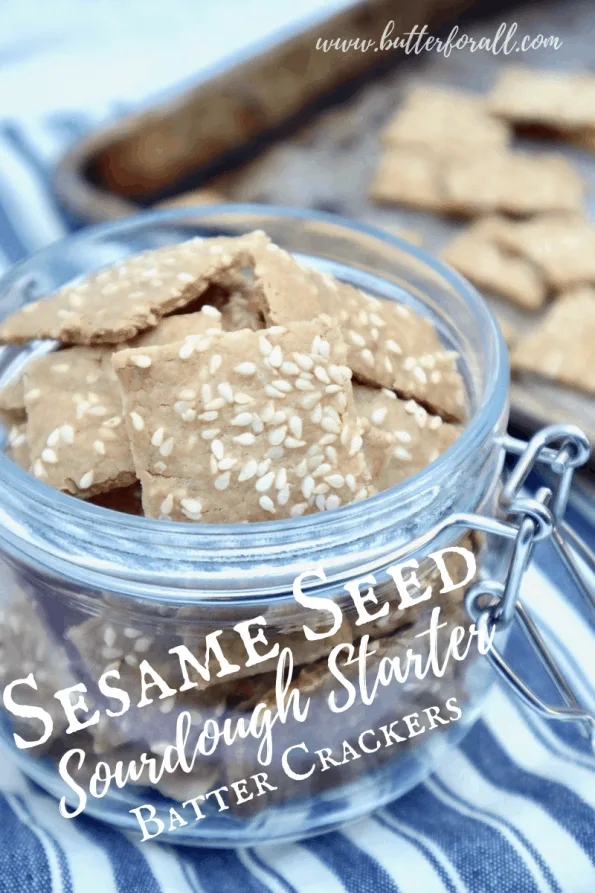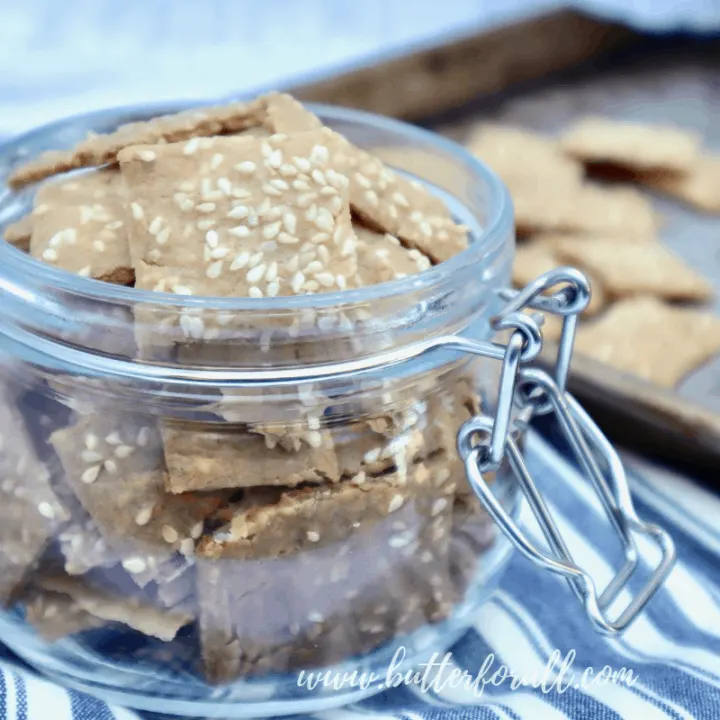 Sesame Seed Sourdough Starter Batter Crackers
Prep Time: 5 minutes

Cook Time: 1 hour

Additional Time: 30 minutes

Total Time: 1 hour 35 minutes

These four-ingredient batter-style crackers are light and crisp with the perfect hint of toasted sesame seed flavor.
Ingredients
340 grams active sourdough starter or discard, 100% hydration
60 grams avocado oil
30 grams sesame seeds (plus more for topping)
7 grams salt
Instructions
Preheat your oven to 325°F.
Weigh all ingredients into a bowl and whisk them well. The oil needs to be fully incorporated into the batter. It should not look oily at all!
Line a 13 by 18-inch baking sheet (half sheet pan size) with quality parchment paper.
Spread the batter onto the parchment in a thin even layer all the way out to the edges of the pan. If you don't have a 13 by 18-inch pan, use two smaller pans. Do not try to fit all the batter on one smaller pan, or the crackers will be too thick.
Sprinkle the top of the batter with extra sesame seeds.
Bake the crackers on the middle rack of your oven for 30 minutes.
Remove the crackers and use a pizza cutter or knife to score the half-cooked batter into cracker shapes.
Return the pan to the oven and continue baking for 30 more minutes. Watch the crackers carefully during the last 15 minutes. Once the crackers are golden brown, turn off the oven and crack the door. Let the crackers cool completely in the oven, if you can!
Store the crackers in an airtight container.

Notes
While discard works for all my batter-style crackers I would encourage you to use starter that is still semi-active. Starter that has not completely deflated and turned overly sour works best in all my cracker recipes. I like to use sleepy starter taken from the refrigerator or starter that has been specifically made and fermented overnight for this recipe.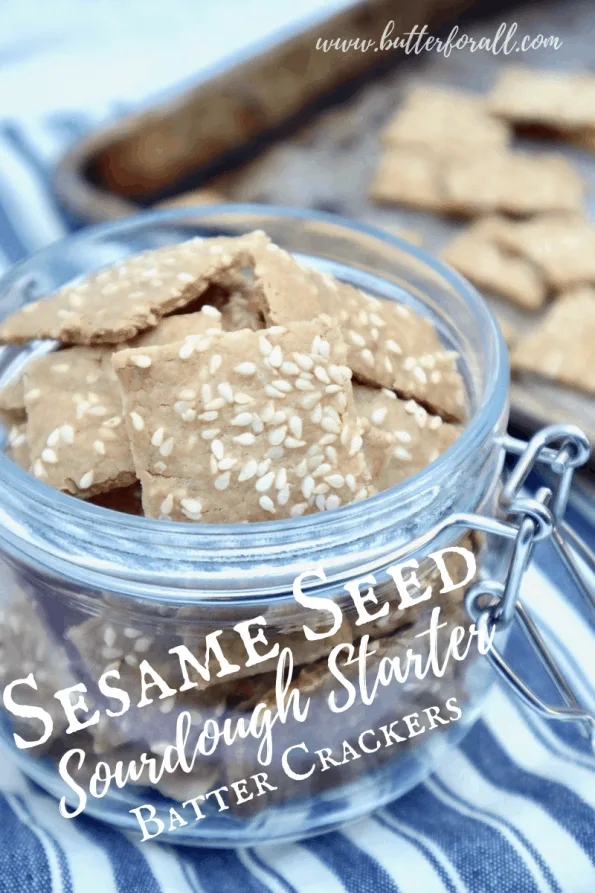 Want To Learn Everything About Sourdough?
Start with this free guide:
Demystifying Sourdough – Everything You've Ever Wanted To Know About Sourdough Starter – Why It's Better For You – And How To Start One