I may receive commission if you purchase through links in this post.
Learn what tools, equipment, and resources I recommend to make the very best sourdough bread and other sourdough goods like pasta, cookies, muffins, tortillas, and more.
Whether you are shopping for yourself or as a gift for someone special, you are guaranteed to find the perfect accompaniment to the sourdough baking journey.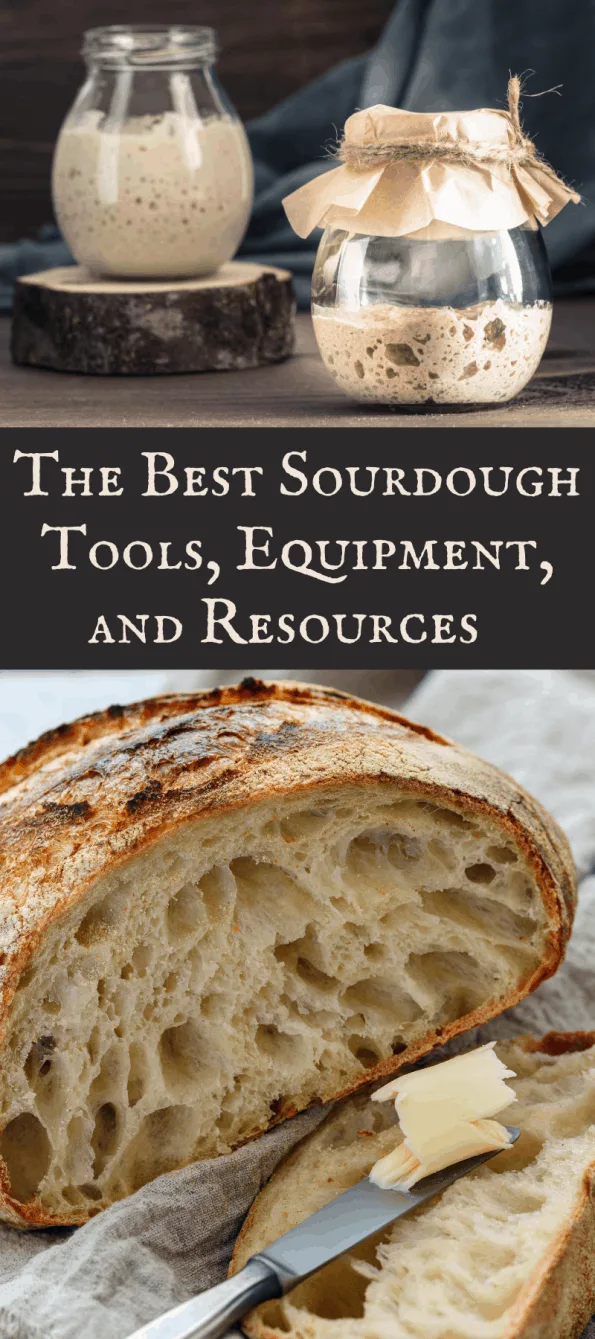 The Best Tools for Sourdough Baking
Cultures For Health Starters
Breadtopia Live Starter

Precision Scale
Flour Storage
Flour Scoop
Glass Mixing Bowls With Lids
Long Handled Wooden Spoon
Danish Dough Whisk
Stainless Steel Bench Scraper

Large Locking Lid Jars
Round Bannetons
Oval Bannetons
5 qt Dutch Oven
Emile Henry Cloche
Emile Henry Oval Bread Baker
Emile Henry Pizza Stone
Cast Iron Griddle
Pizza Stone

Glass Loaf Pans
Bread Lame
Parchment Paper
Large Silicone Working Mat
Wooden Rolling Pin
The Best Equipment for Sourdough Baking
Berkey Water Filtration System
Professional Stand Mixer
Pasta Attachment
Grain Mill Attachment
Pasta Press Attachment
Grain Mills
The Best Sourdough Bread Making Resources

Want To Learn Everything About Sourdough?
Start with this free guide:
Demystifying Sourdough – Everything You've Ever Wanted To Know About Sourdough Starter – Why It's Better For You – And How To Start One