I may receive commission if you purchase through links in this post.
The beloved Monte Cristo, always and forever my favorite sandwich.
If you've never had one, let me explain. The Monte Cristo is America's version of the French Croque Monsieur. Basically it's melty cheese, ham, and turkey sandwiched between two gloriously fried pieces of French toast. If that wasn't already amazing enough, you get to eat this special sandwich dipped in jam or jelly (strawberry has always been my favorite).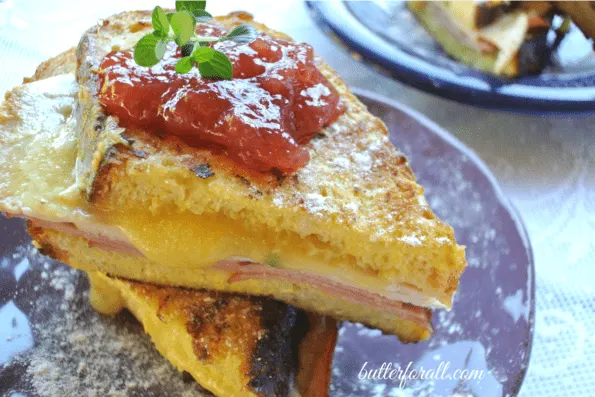 This sandwich used to be common at roadside diners, and I'm pretty sure that's where I had my first Monte Cristo. My mom has always been a big fan of this fried masterpiece and would order them whenever we were on road trips. And although I cherish the memories of those greasy spoon restaurants with their little white plastic containers of ultra-sweet jelly stacked so neatly on the table, I absolutely upstaged them with my version of this traditional American diner sandwich.
So Now You Want To Learn How To Make One, Right?!
Good, I'm going to walk you through the steps right now!
This recipe will yield 2 large sandwiches.
3 eggs
1/2 cup milk
1/2 teaspoon vanilla
1 teaspoon coconut sugar
Pinch salt
3 tablespoons butter
3 to 4 ounces thin-sliced turkey breast
3 to 4 ounces thin-sliced ham
4 ounces sharp cheddar
2 tablespoons mayonnaise
6 fresh thyme sprigs
4 slices sourdough bread (preferably from a country-style round loaf)
Strawberry jam to taste (or your favorite fruit preserve)
1 teaspoon powdered sugar (optional)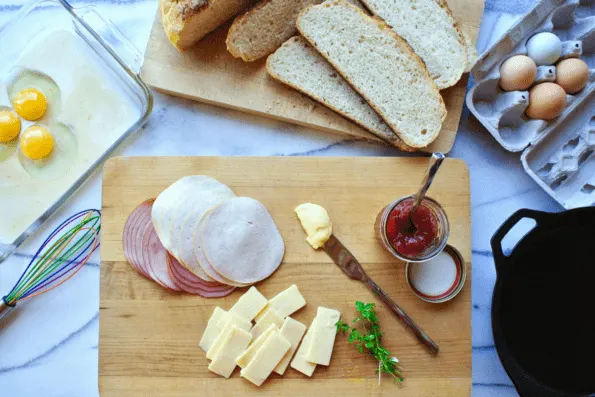 In a shallow baking dish whisk the eggs, milk, vanilla, coconut sugar, and salt together. This will be the batter for the bread. On a cutting board assemble the ham, turkey, cheese, and thyme as pictured. Make the stack long enough to fit your bread with even layers of each ingredient.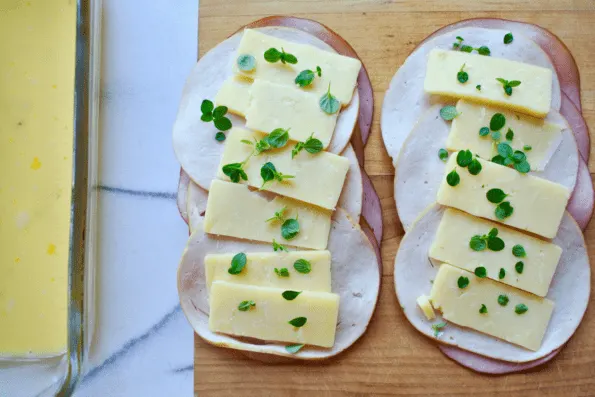 Melt the butter over medium heat in a large cast-iron skillet or frying pan.
Spread the inside of each bread with mayonnaise. Lay two of the bread slices mayo side up in the egg batter and let them soak until about half of the egg is absorbed.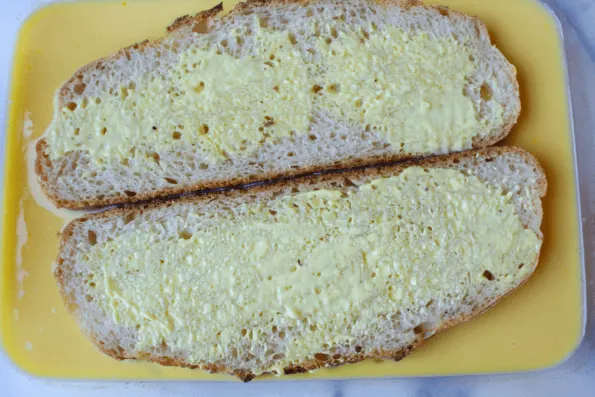 Place the soaked bread into the preheated, buttered pan egg side down. Turn the heat down to medium-low.
Move your assembled stacks of meat and cheese to the bread in the pan.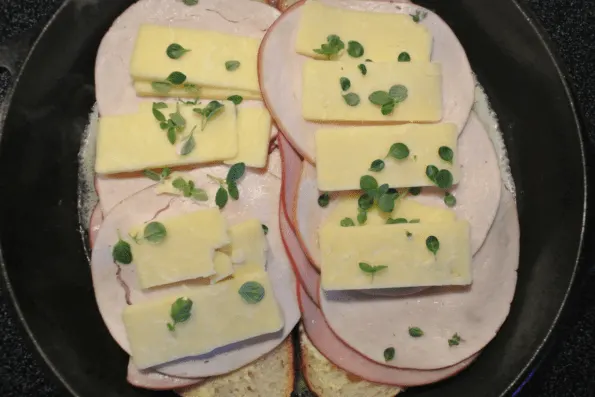 Spread mayonnaise on and soak the other two slices of bread as you did before until most or all of the batter is absorbed. Place the slices of bread mayo side down on top of the meat and cheese. The egged side will be up.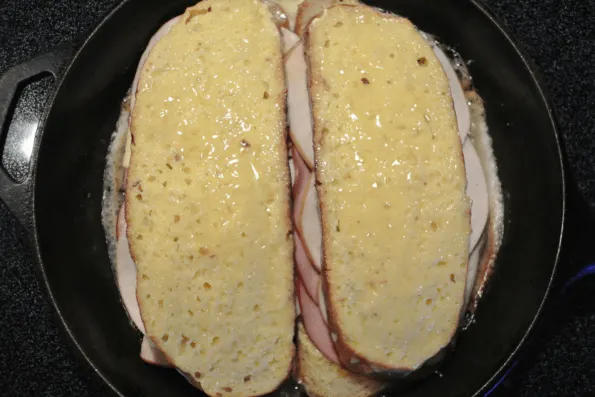 Cook the sandwich on the first side for 5 to 8 minutes until it is golden brown. Carefully flip the sandwich and gently press it with the spatula to help seal it together. Cook the sandwich another 5 to 8 minutes.
When the sandwich is done the cheese will be melting and the bread will be nicely toasted. Cut the sandwich diagonally in half and plate it stacked atop each other. Sprinkle each plate and sandwich with powdered sugar. Serve the Monte Cristo with your favorite jam.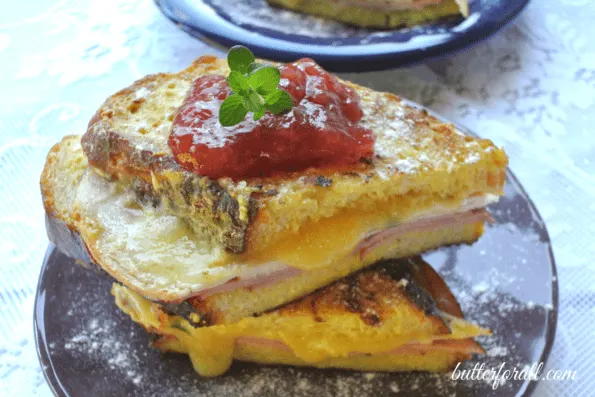 Want To Learn Everything About Sourdough?
Start with this free guide:
Demystifying Sourdough – Everything You've Ever Wanted To Know About Sourdough Starter – Why It's Better For You – And How To Start One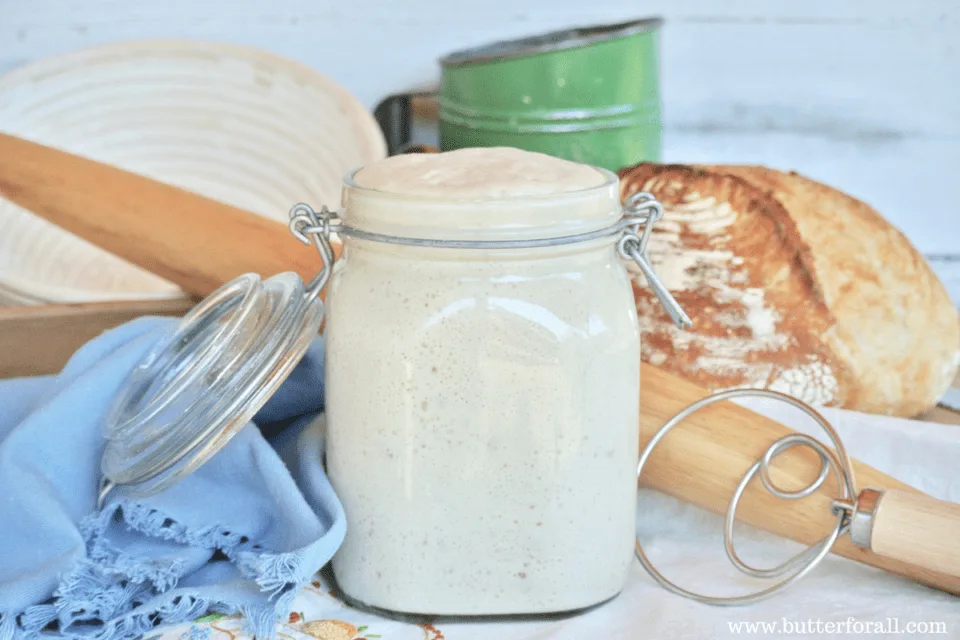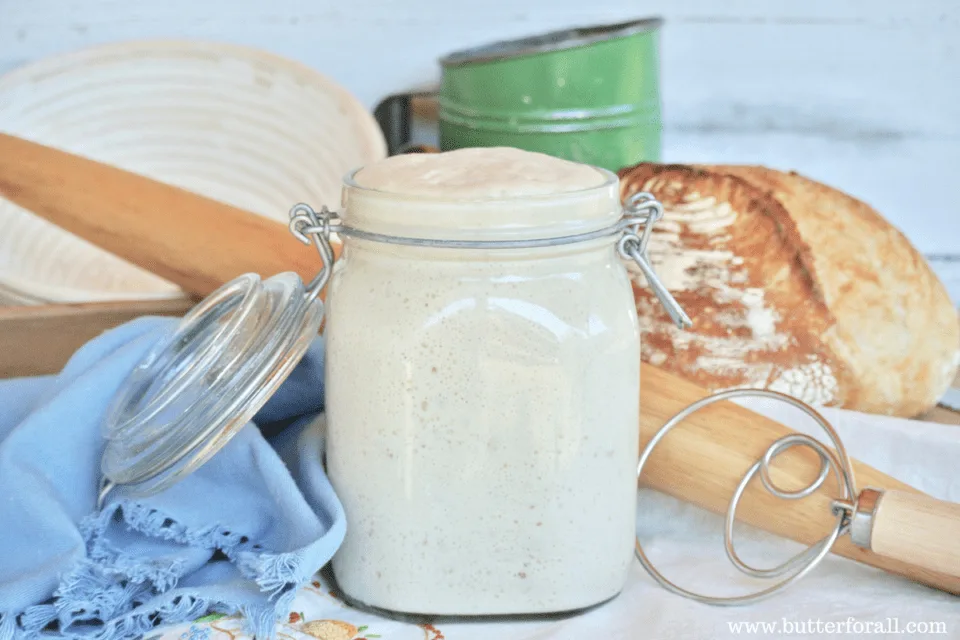 Want to make a more traditional Monte Cristo? Use French bread instead of sourdough and Swiss cheese instead of cheddar. The variations can be endless!