I may receive commission if you purchase through links in this post.
When life gives you lard, make sourdough tortillas!
I have always used a really nice sourdough tortilla recipe that a friend passed on to me. It calls for flour, starter, butter, lard, salt, water, and baking soda. While I like this recipe, it does not call for proper fermentation of the flour. So I set out to design a recipe that uses only sourdough starter as a leavening agent and is fully fermented for proper digestion and nutrient absorption.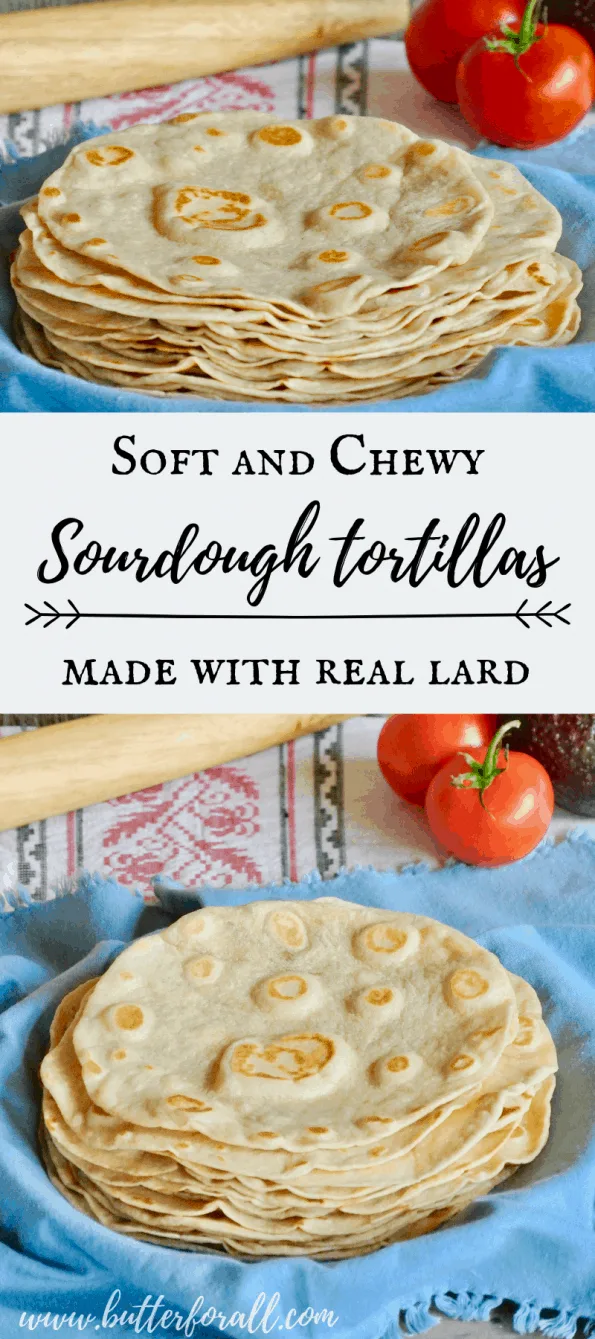 This is the exceptional result. A soft and chewy sourdough tortilla!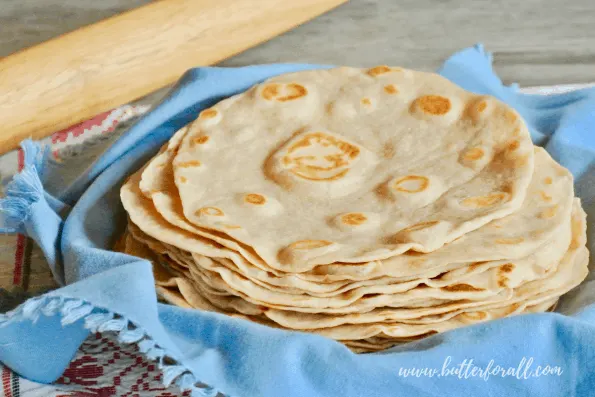 These real lard sourdough tortillas are soft, chewy, rich, and flaky! Use them to wrap your favorite burrito ingredients, make killer quesadillas, or eat them warm spread with butter, honey, and cinnamon.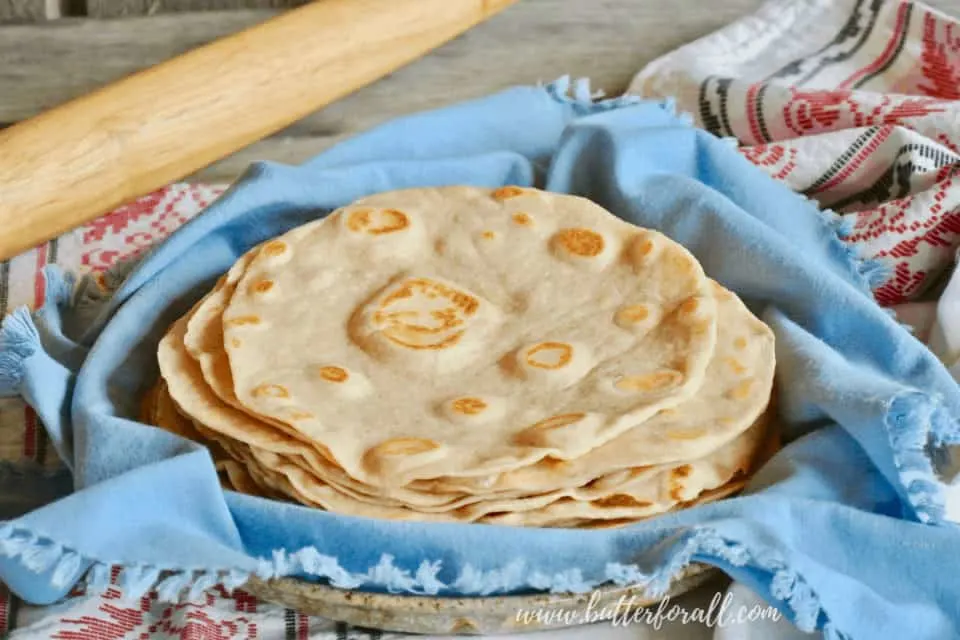 Enough Tortillas for an Army
If you have read any of my recipes then you know I cook in large batches. I do this to be more efficient in the kitchen. Often I will freeze a portion of whatever I make so I have an easy meal later. This works really well for me but might not work in a household with one or two. Please feel free to halve this recipe if needed.

Helpful Tools and the Right Ingredients
Making tortillas is pretty straight forward but having the proper equipment and ingredients will give you the best results. The following are links to the exact tools and ingredients that I use in my own kitchen!
Feeling Inspired To Render Lard Yourself?
Find out everything you need to know about rendering lard from my colleague Ashley at Practical Self Reliance!
Find the T200 Organic Whole Wheat Flour that I used in the recipe by visiting Camas Country Mill. Yes, they ship!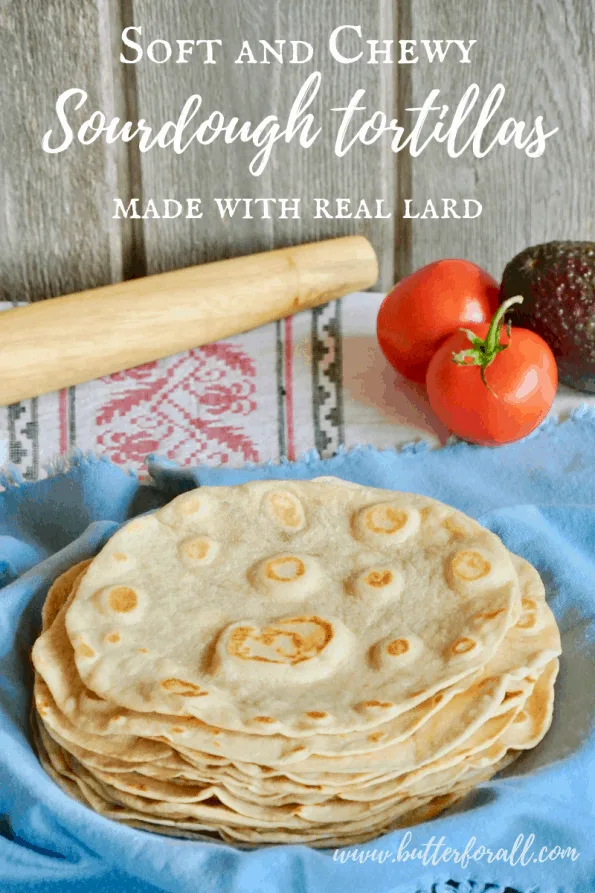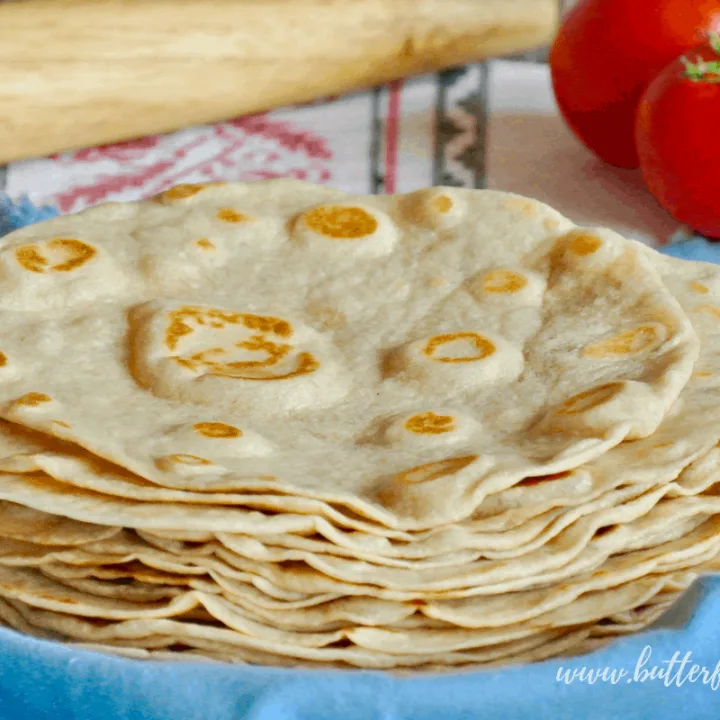 Soft and Chewy Sourdough Tortillas Made With Real Lard
Fermenting Time:
12 hours
These authentic-style flour tortillas use traditional lard and sourdough fermentation to achieve the perfect balance of healthy fats and digestibility.
Ingredients
208 grams (1 cup) pastured lard, melted
250 grams (about 1 cup stirred down) active sourdough starter at 100% hydration
117 grams (1/2 cup) hot 110℉ water (not boiling)
Instructions
The Night Before
Mix the flour with the melted lard.
Add the starter, hot water, and salt and mix into a dough.
Knead the dough on a smooth surface until it is smooth and elastic. No need to add extra flour while kneading. The lard keeps this dough from sticking.
Form the dough into a tight ball and place it in a covered bowl to proof overnight. Do not use a towel to cover the dough or it will dry out. I use a glass bowl with a lid like this.
The Next Day
Working on a large clean surface, pull the dough from the bowl and divide it into 20 equal pieces weighing around 50 grams each.
Shape each piece of dough into a round ball by pulling the sides in toward the middle and pressing to seal. You can see an example of how to shape dough into a tight ball in this recipe.
Place the formed balls seam side down on the surface. Once all the dough is formed, cover the dough balls with a towel and let them rest for 1 hour.
Preheat a cast-iron griddle over medium heat and then turn it down to medium-low.
Using a rolling pin, roll one dough ball at a time out into an 8-inch circle. Make sure to keep the seam side down and the top side up. The wetter seam side will stick to the work surface just enough to get a really thin tortilla while the drier top side will not stick to your rolling pin!
Carefully peel the tortilla from the work surface and drape it over your hand. Using both hands to hold the edges of the tortilla, gently lay it on the cast-iron griddle. The tortilla should bubble up and cook to golden brown in about 1 minute. Carefully and gently grasp the edge of the tortilla with your fingers and quickly flip it to cook the other side.
Repeat this process with all the dough balls.
Line a plate with a clean cotton napkin and place the cooked tortillas in a stack on the napkin. Fold the corners of the napkin over each new tortilla to keep them warm and soft.
Notes
Tortillas can be made by one person but if you can get a friend to help, the process will be much expedited. Have one person roll tortillas while the other person cooks them. This is a great way to get your friends and family involved!
Want To Learn Everything About Sourdough?
Start with this free guide:
Demystifying Sourdough – Everything You've Ever Wanted To Know About Sourdough Starter – Why It's Better For You – And How To Start One