I may receive commission if you purchase through links in this post.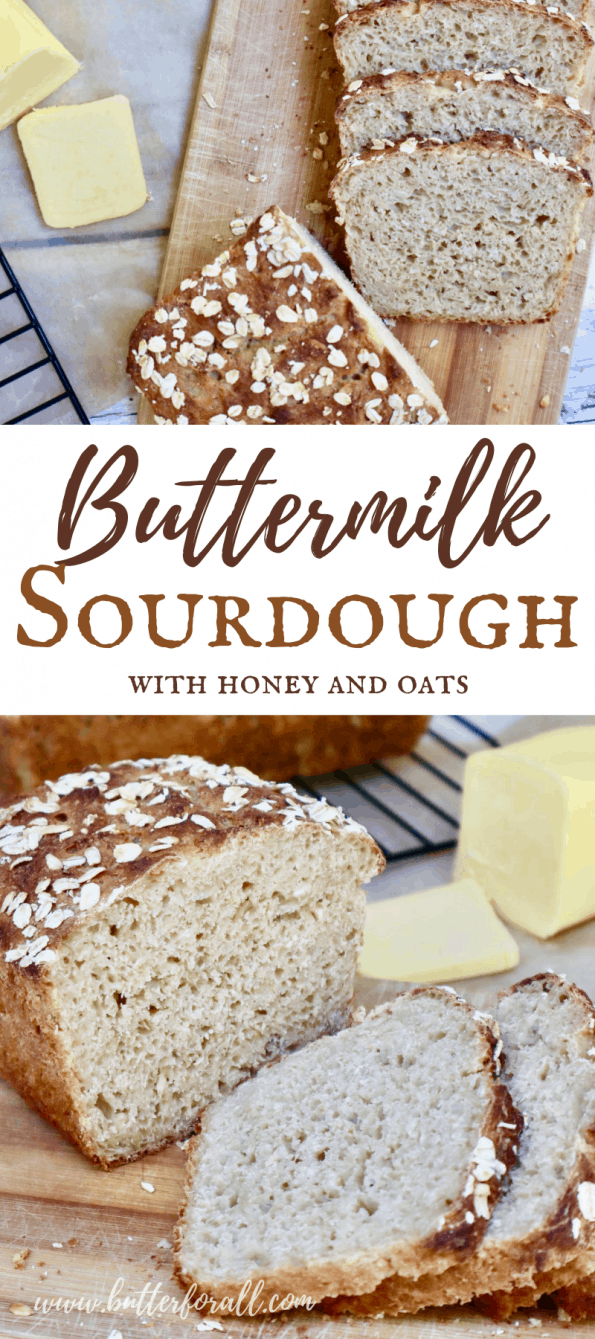 This is the kind of bread that makes a sandwich exceptional.
When I set out to develop this recipe I spent a lot of time testing different shaping techniques. I finally settled on a beautiful and functional sandwich loaf. Baking this rich bread in a loaf pan really supports the hearty oat-filled dough.
The texture is chewy with rolled oats and has a semi-open soft crumb. It slices like a dream for making sandwiches and toast!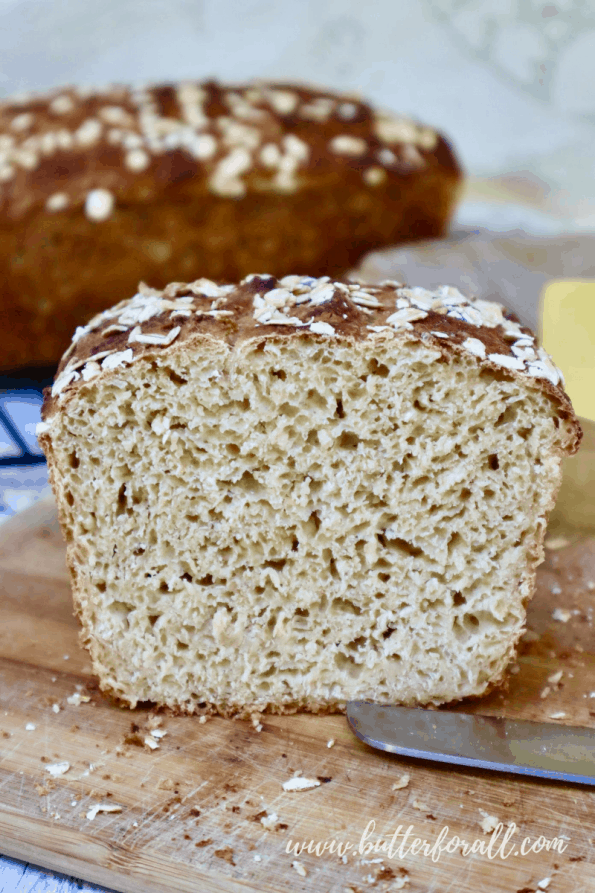 Buttermilk: The Special Ingredient
I really only started making this bread because I was churning so much cultured raw butter that I needed a use for my very tangy and delicious raw buttermilk. Buttermilk is the only hydrator in this recipe, besides the sourdough starter, and it adds a richness, more protein, and a lot more tang to this dough.
The tangy buttermilk flavor is balanced perfectly by the soft mild oats and earthy sweetness of the honey.
Because your buttermilk will undoubtedly be a different consistency than mine, I am including a range of measurements. Please start slowly with 75% of the buttermilk, then if needed, add in more buttermilk a little at a time until all the dry ingredients are moistened sufficiently.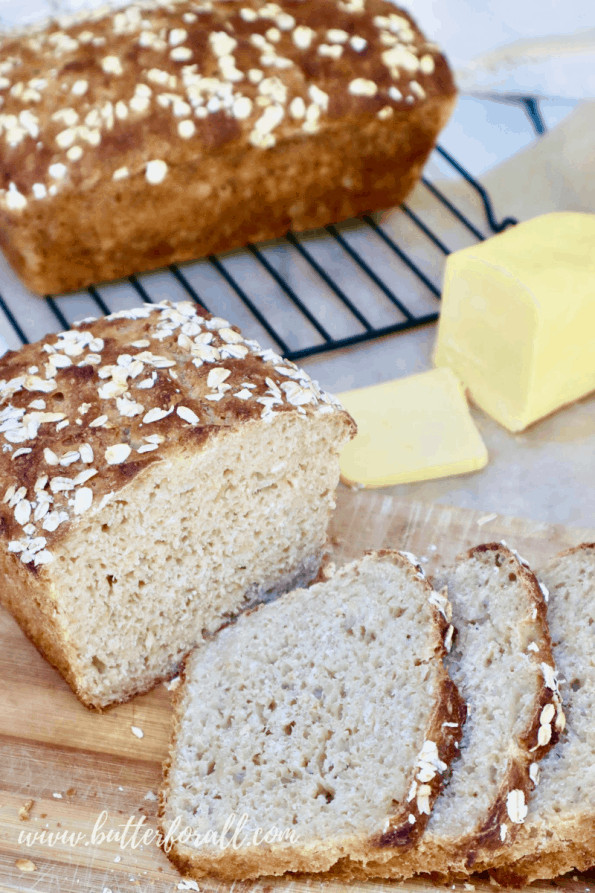 Two Loaves of Buttermilk Sourdough Are Better Than One
This recipe yields two standard sandwich-sized bread loaves. Perfect for the big and busy family who makes a lot of sandwiches, breakfast toast, and French toast. This bread also freezes really well so you can have one prepared in advance, or one for you now and one to give away!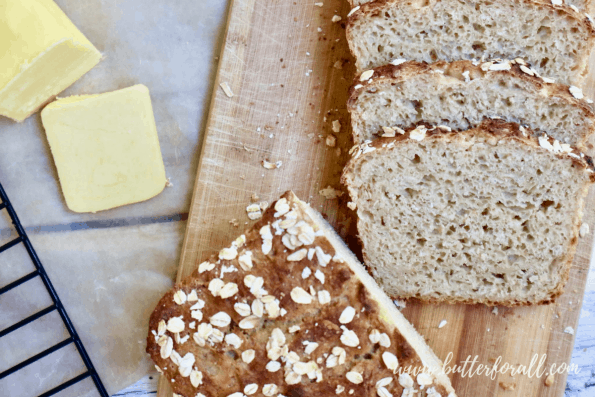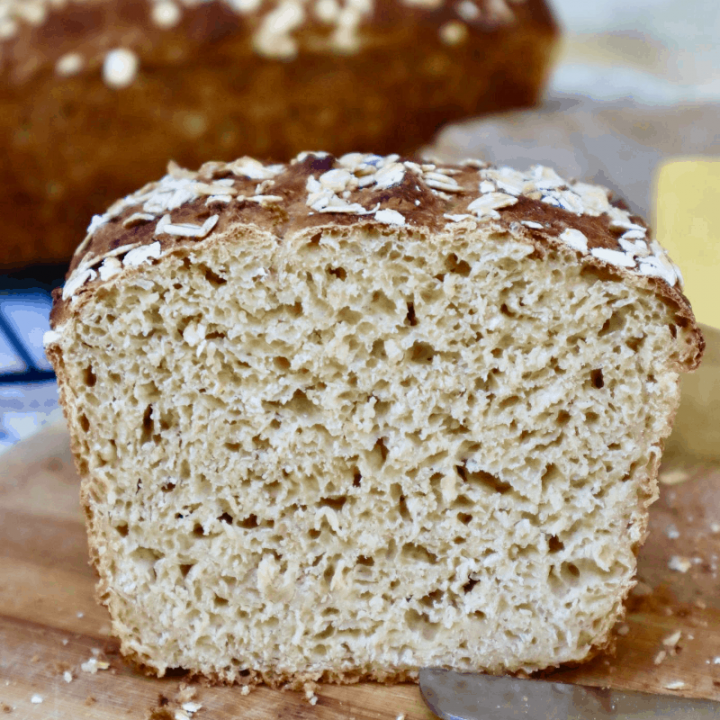 Buttermilk Sourdough Bread with Honey and Oats
Additional Time:
14 hours
Total Time:
15 hours
35 minutes
Sweet and Tangy Buttermilk Sourdough with honey and oats is the sliceable sandwich loaf you've been dreaming about!
Ingredients
250 grams Active Sourdough Starter (1 Cup at 100% hydration)
640 grams Buttermilk (3 cups)
120 grams Honey (6 tablespoons)
18 grams Salt (2 1/2 teaspoons)
200 grams Organic Rolled Oats (1 2/3 cups)
Instructions
The Night Before
In a large mixing bowl add the starter, 75% of the buttermilk, honey, and salt. Stir this mixture together well with a dough whisk or wooden spoon.
Add the flour and oats and stir them in until they are fully incorporated.
Add a little more buttermilk if the dough is too dry. Remember that the oats will absorb some moisture, so it is best to have it on the moist side.
Let the dough rest for 5-10 minutes. Do a series of stretch-and-fold kneading in the bowl.
Let the dough rest again and repeat this process 2-5 more times. Follow the video instructions for stretch-and-fold found here.
Cover the dough and let it ferment at room temperature (65-70℉) overnight.
The Next Morning
Do a series of stretch-and-folds in the bowl to deflate the dough. This is the punch down.
Coat two loaf pans with butter.
Flour your work surface and turn the dough out onto it.
Divide the dough in half. Shape each half into a loaf. My technique follows:
Working one at a time, pat the dough into a rectangle about as wide as the loaf pan. Fold the top third of the rectangle down toward the middle and gently press it down. Then roll the two top thirds over the bottom third. Let the dough rest with the seam side down.
Once both loaves are shaped and rested for a few minutes carefully transfer them to the prepared loaf pans for the final rise.
Spray the top of each loaf with water and sprinkle them with oats if desired!
Cover the loaves and let them double at room temperature.
Preheat your oven to 400℉. Place the loaves side by side in the oven on the center rack.
Bake the loaves for 35-40 minutes.
When done, remove them from the oven, and remove them from the loaf pans to a wire cooling rack.
Let them cool completely before slicing.
Notes
300 grams of Bread Flour and 300 grams of Whole Wheat Flour can be substituted for the Sifted Whole Wheat.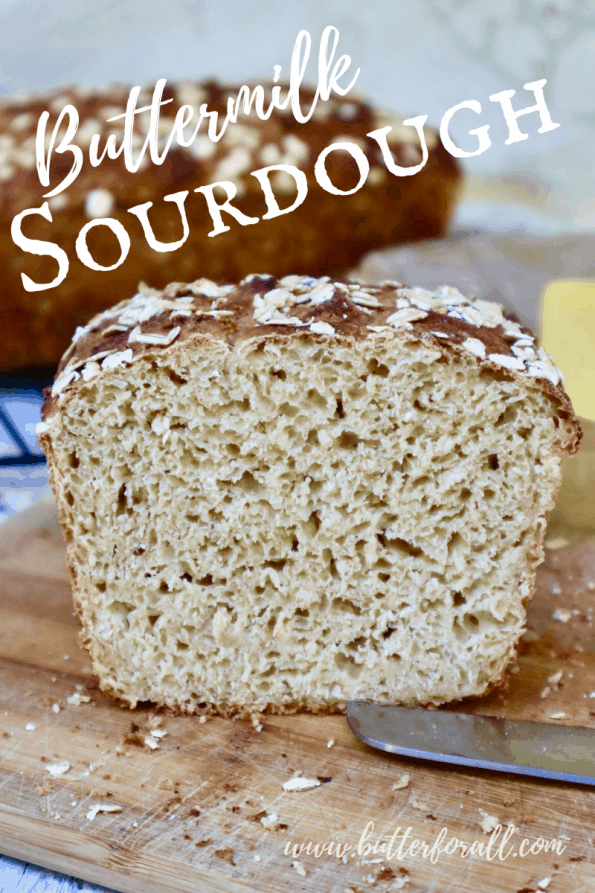 Want To Learn Everything About Sourdough?
Start with this free guide,
Demystifying Sourdough – Everything You've Ever Wanted To Know About Sourdough Starter – Why It's Better For You – And How To Start One