I may receive commission if you purchase through links in this post.
These soft sourdough pumpkin dinner rolls are the perfect way to dress up your holiday table!
Originally published on December 11th, 2020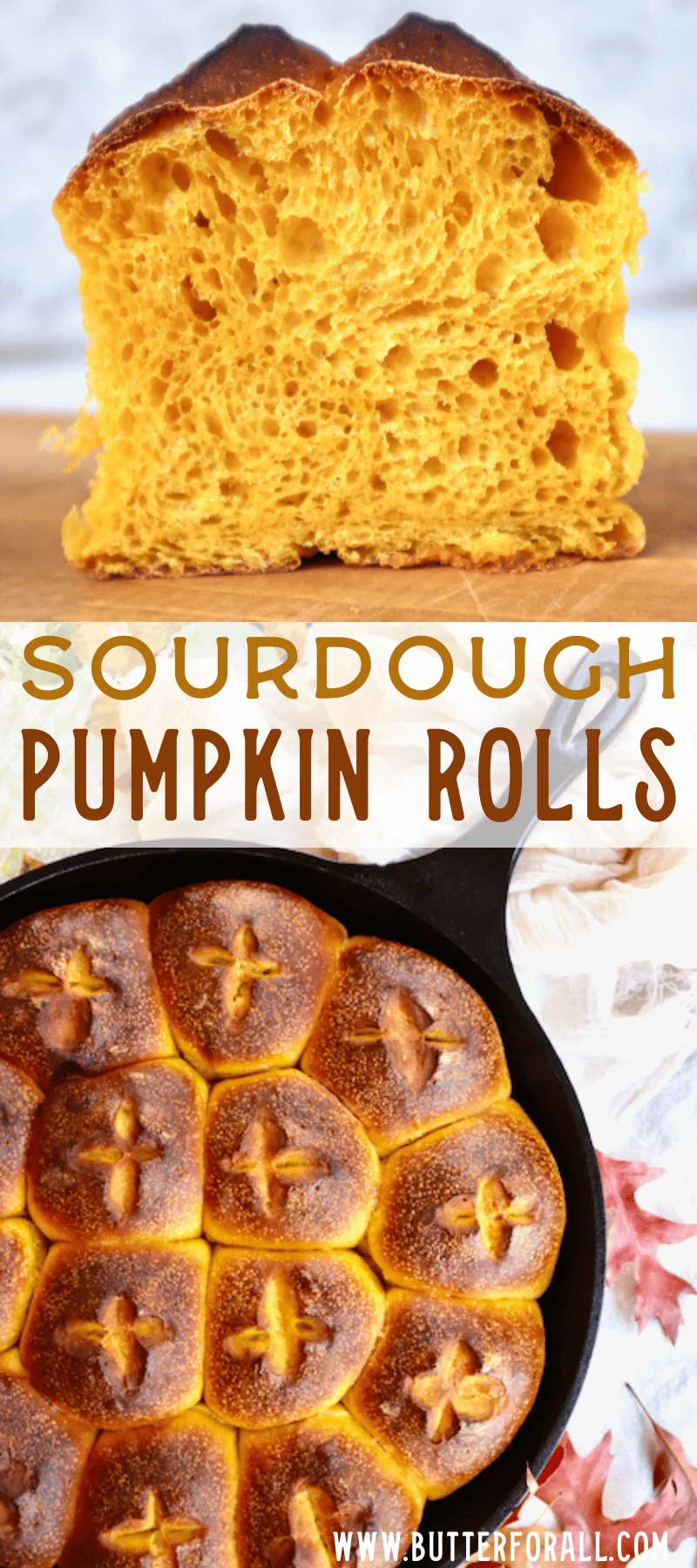 Made with all-natural ingredients like puréed pumpkin or winter squash, eggs, milk, cream, and low-glycemic coconut sugar, this recipe uses my classic overnight fermentation technique for the best flavor, texture, and digestibility.
I don't think you will find a softer, more delicate sourdough pumpkin roll!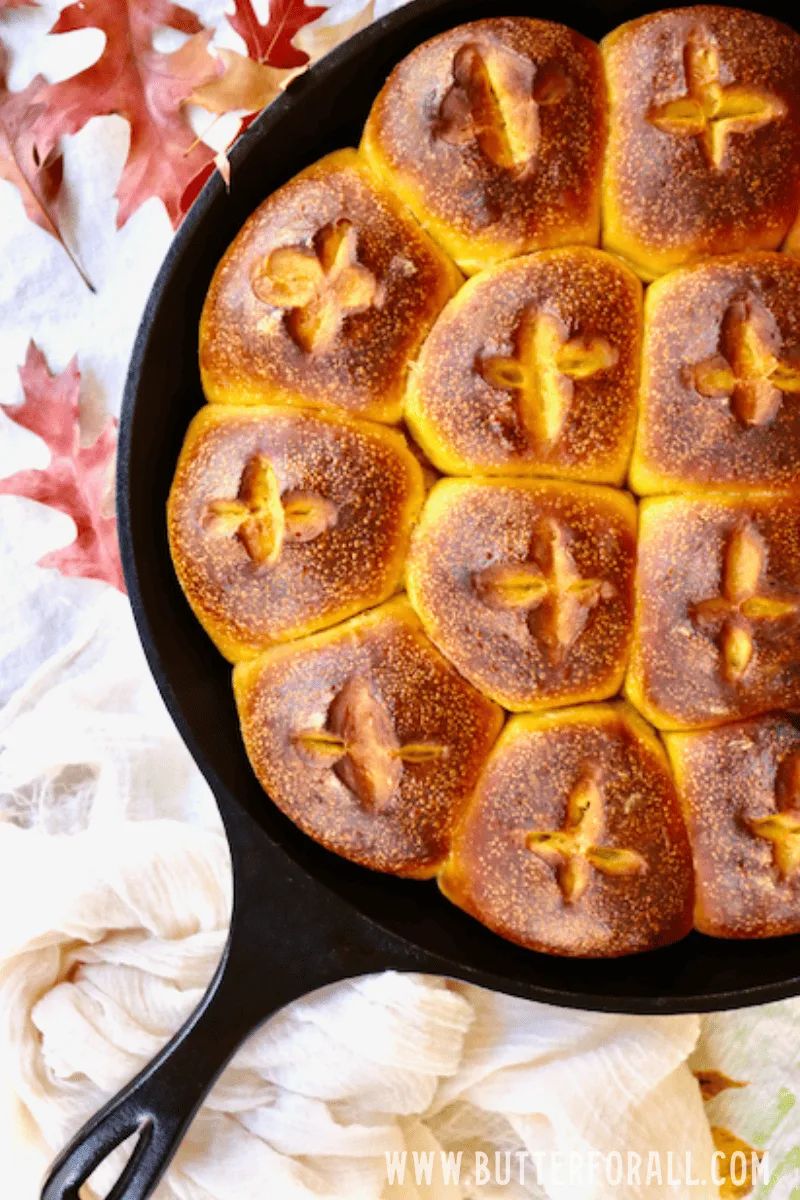 How to Roast Your Own Pumpkin for These Sourdough Pumpkin Dinner Rolls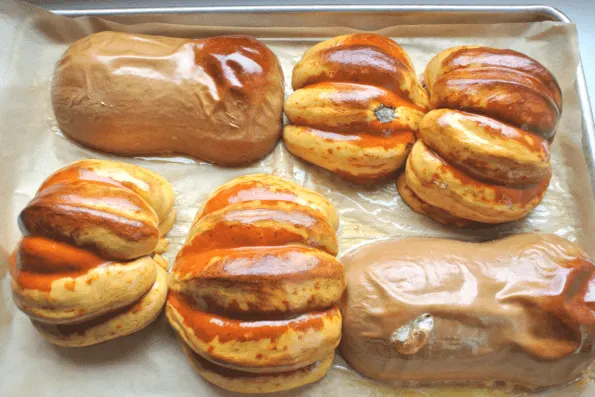 I like to use a variety of winter squash and pumpkin to make my own purée that will last the whole season.
Every 5 pounds of whole squash or pumpkin you roast will yield 5 to 6 cups of purée. I personally like to roast around 10 pounds and freeze the roasted, puréed meat in 2- to 3-cup portions.
Here's how I do it:
Preheat the oven to 350℉.
Halve the squash or pumpkins and scrape out the seeds.
Place them cut side down on a parchment-lined baking sheet.
Bake them until fork tender and well roasted, about 60 to 90 minutes.
Let them cool before scraping the flesh into your food processor.
Purée the squash and pumpkin until smooth.
Use, refrigerate, or freeze for future uses!
Make Plenty of This Purée so You Can Try My Favorite Pie!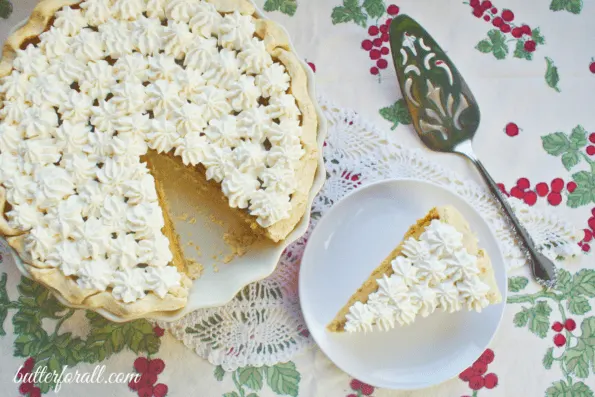 No Time for Roasting Pumpkins?
You can use canned pumpkin purée! I won't tell!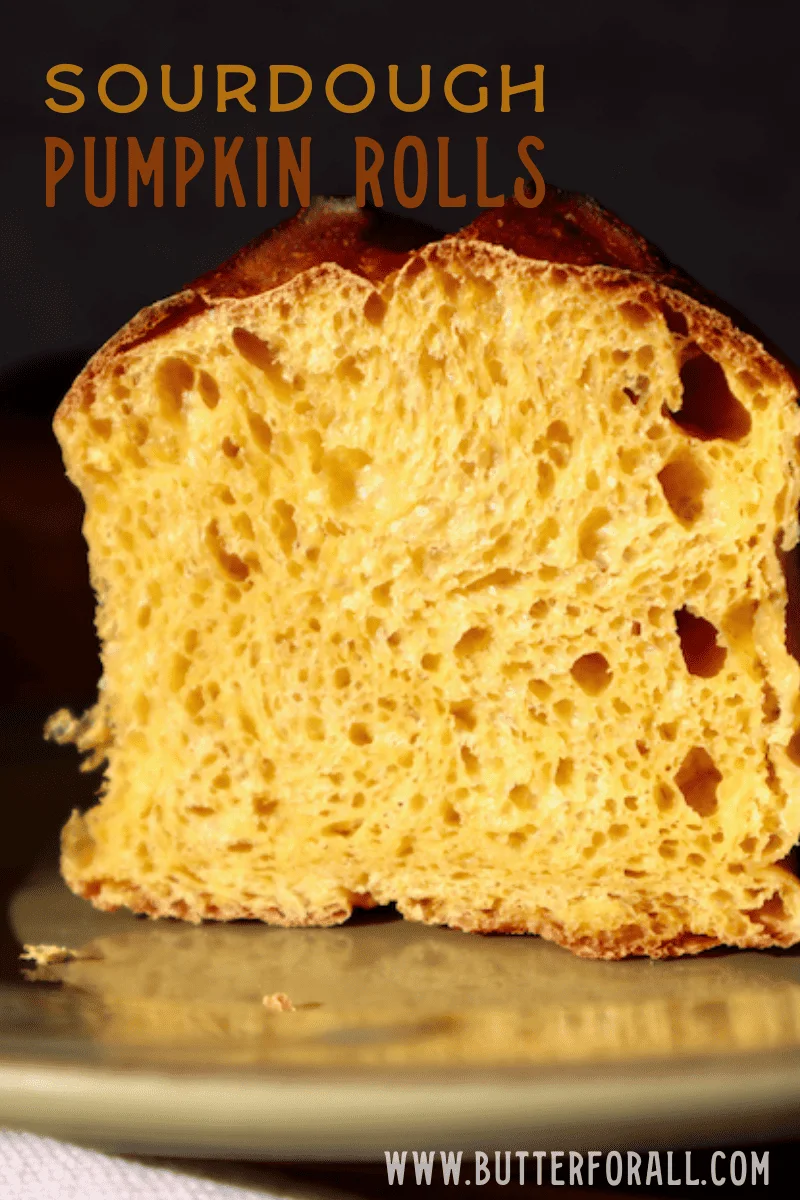 The Softest Sourdough Pumpkin Dinner Rolls Around
This recipe uses a rich dough. It includes milk, cream, eggs, sugar, and pumpkin. All these ingredients contribute to keeping the dough soft and squishy. The result is a light and airy roll with a striking pumpkin color and an earthy sweet flavor.
Because this dough includes eggs, any rolls not eaten the first day should be refrigerated and reheated in a low oven or toaster.
The leftovers make great French toast!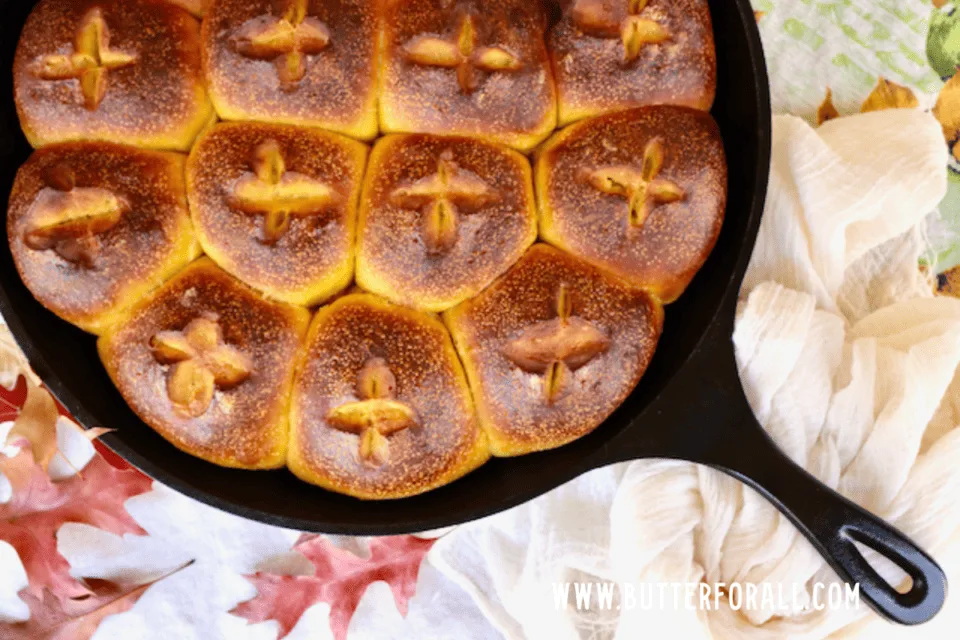 Shaping Sourdough Pumpkin Dinner Rolls
This recipe makes 16 extra-large dinner rolls (130g) or two dozen small rolls (85g) — perfect for sharing with family, friends, and neighbors!
They can be baked in two 10-inch cast-iron skillets, two 8-inch by 11.5-inch by 2-inch standard casserole dishes, or in one large 10 by 15-inch casserole dish or one deep 15-inch skillet (pictured).
These rolls really poof. Make sure you allow plenty of space around each roll for expansion but remember that they will stay softest if they are touching each other after proofing.
The dough can also be shaped and baked as buns for burgers, in muffin tins like cloverleaf rolls, or even in two loaf pans for sliceable bread!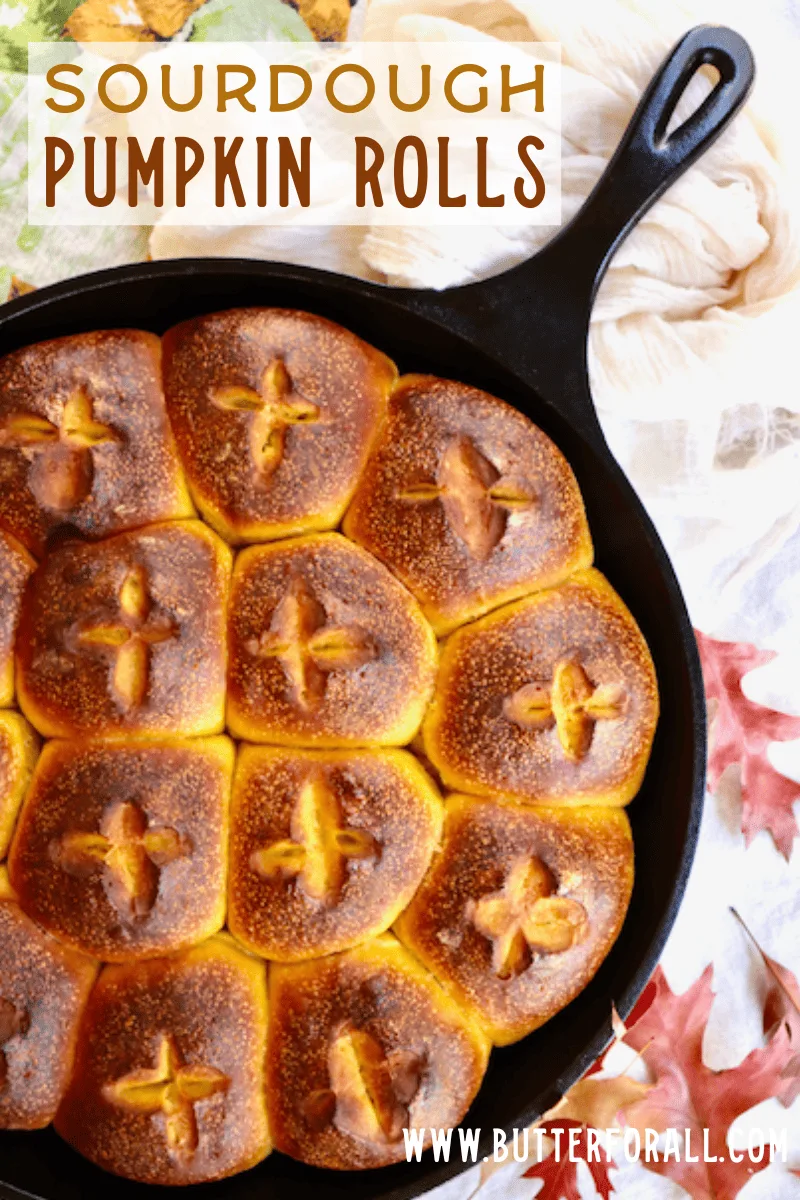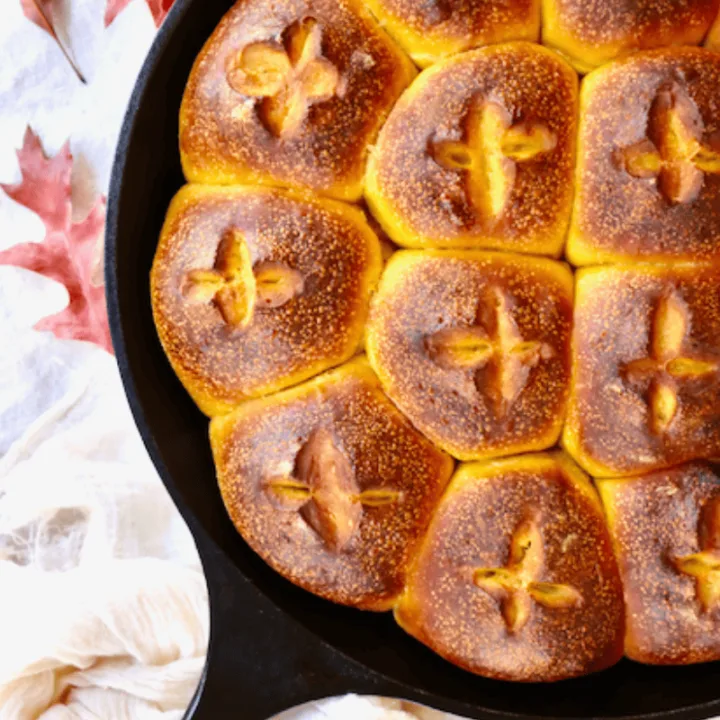 Sourdough Pumpkin Dinner Rolls
Yield:
24 (85g) Rolls or 16 (130g) Rolls
Additional Time:
16 hours
These soft and sweet sourdough pumpkin dinner rolls are the perfect accompaniment to a festive dinner spread!
Ingredients
520 grams (2 cups) roasted winter squash or pumpkin purée
250 grams (1 cup after stirring down) active sourdough starter, 100% hydration
3 eggs (180 grams)
130 grams (1/2 cup) milk
130 grams (1/2 cup) heavy cream
40 grams (1/4 cup) coconut sugar
15 grams (2 teaspoons) salt
420 grams (3 cups) organic sifted whole wheat flour (this is similar to a whole wheat pastry flour)
420 grams (3 cups) organic bread flour
Egg Wash
1 egg yolk
2 tablespoons water
Instructions
The Night Before (Mixing and Bulk Ferment)
In an extra-large bowl combine the pumpkin, starter, eggs, milk, cream, sugar, and salt. Use a dough whisk to combine these ingredients well.
Whisk in the flour until completely combined. The dough will be fairly sticky. Let the dough rest for 5 minutes.
Using the dough whisk, do a modified stretch and fold in the bowl by lifting the dough up on one side with the whisk and folding it back over itself. Repeat this several times, turning the bowl 90 degrees every time. Let the dough rest again for 5 minutes.
Repeat the modified stretch and fold several times, resting between each series, until the dough has become smooth and elastic.
Cover the dough with a lid or plastic wrap and let it ferment for 8 to 10 hours (overnight) at room temperature (65 to 70℉).

The Next Morning (Shaping, Proofing, and Baking)
Prepare your baking pans. Grease two 10-inch cast-iron skillets or one extra large casserole dish with butter.
Generously flour your work surface.
With wet hands gently deflate the fermented dough in the bowl by doing a gentle stretch and fold preshaping. Lift the dough and fold it over itself, turning the bowl after each fold, allowing the dough to gather in a loose ball.
Turn the dough ball out onto the floured surface and let it rest for a few minutes.
Flour the top of the dough lightly and start cutting twenty-four 90-gram portions. Keep each dough portion off to the side on a floured surface.
Once the dough is cut, start shaping the dough into small tight balls. Follow the same shaping technique I demonstrate in my sourdough burger bun recipe.
As you are shaping the rolls, add them to your prepared baking pans. There should be some space around each roll but not too much as you want them to touch each other once proofed!
Once all the rolls have been shaped, cover the baking pans and let the rolls rise at room temperature for 1 to 3 hours or until doubled in size.
Once doubled, preheat your oven to 375℉.
Combine the egg yolk and water and gently brush the top and sides of each roll with egg wash, making sure to coat each roll lightly and evenly.
Using scissors snip a little cross into the top of each roll.
Bake the rolls uncovered for 30 minutes.
Remove the pans to cooling racks. Serve the rolls warm or at room temperature.
The rolls can be rewarmed in a low oven if desired.


Notes
How Do I Store the Rolls?
Because the dough contains eggs, the rolls are best stored in an airtight container in the refrigerator after the first day.
Can the Dough Be Shaped Differently?
Yes! This dough can be shaped into loaves, braids, buns, and more!
Can I Substitute Flours?
Yes! The sifted whole wheat flour in the recipe can be substituted for all-purpose flour or any other whole grain wheat flour. Just make sure you use the full amount of bread flour or the dough will not rise as intended.
Pan sizes:
Use either two 10-inch cast-iron skillets, two 8-inch by 11.5-inch by 2-inch standard casserole dishes, one large 10 by 15-inch casserole dish or one deep 15-inch skillet.
Recommended Products
As an Amazon Associate and member of other affiliate programs, I earn from qualifying purchases.
Want To Learn Everything About Sourdough?
Start with this free guide:
Demystifying Sourdough – Everything You've Ever Wanted To Know About Sourdough Starter – Why It's Better For You – And How To Start One