I may receive commission if you purchase through links in this post.
This easy moo shu beef bowl can be cooked quickly, is packed full of deeply satisfying nutrition, and is completely customizable.
Not to mention the simple yet stunning black garlic plum sauce that is sure to become your new favorite condiment!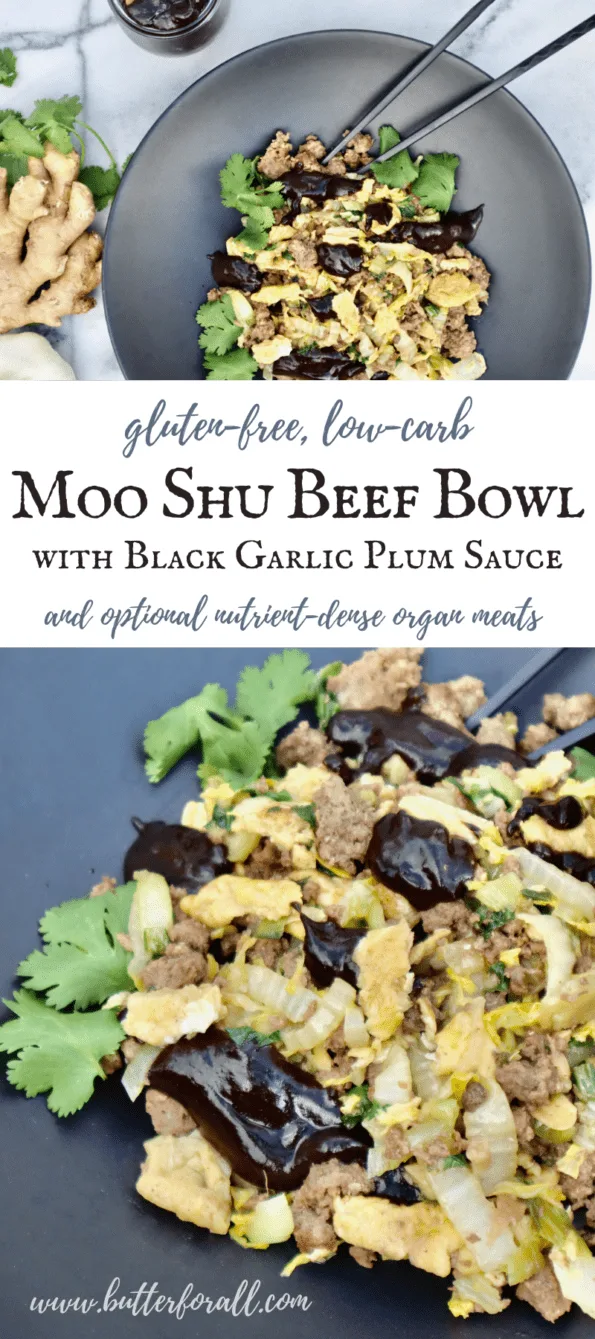 Moo Shu, Everyone's Favorite Chinese Takeout
I grieve for the easy days of ordering Chinese takeout. But that was a long time ago and before I knew better! With all my current food sensitivities and nutritional standards it just isn't a reality anymore, so it's up to me to scratch the itch for Chinese takeout at home.
Enter Moo Shu Beef Bowl Sans Grains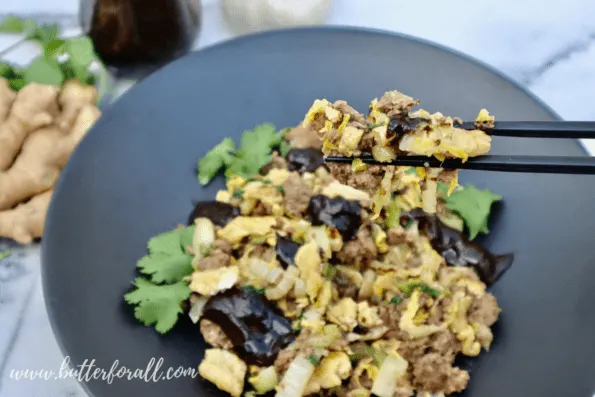 In this recipe I subbed out the more traditional pork for ground grass-fed beef and organ meats, making the whole dish a powerhouse of nutrition. I opted to skip the pancake or any grains but I think a thicker savory (leave out any sweetener) sourdough crepe would work really well if you feel up to making a more traditional version of this classic. I didn't skimp on the plum sauce though, instead I created one of my best sauces to date — Black Garlic Plum Sauce!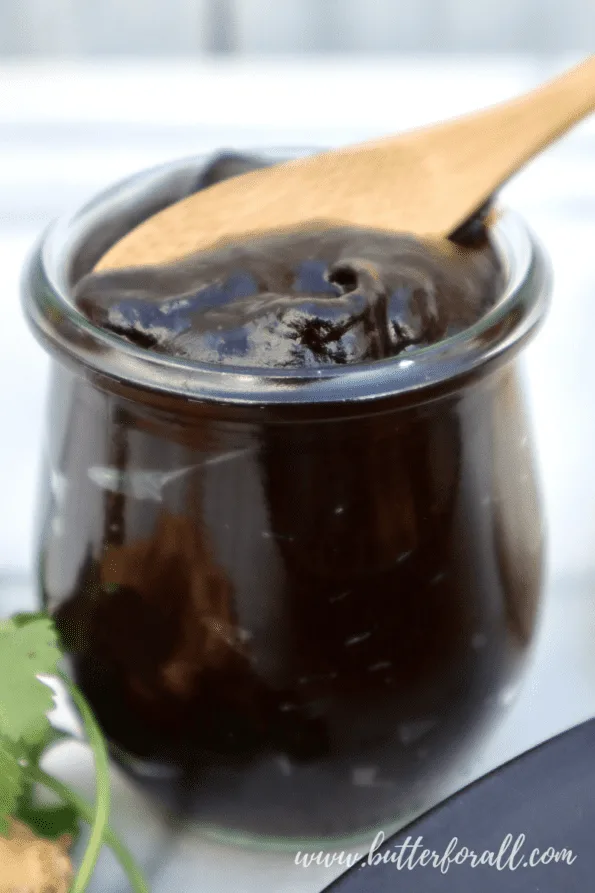 Black Garlic + Dried Plums = Something Freakin' Delicious
This sauce is everything. It's so easy to make (only five ingredients!), naturally sweetened, and loaded with umami-rich black garlic.
Black Garlic
Black garlic is a beautiful fermented food. The garlic itself is preserved through fermentation with careful monitoring of time and temperature. The results are a transformation of the garlic cloves from fresh, spicy, and pungent to deep, dark, and earthy sweet.
Black garlic can be made at home. If you are feeling ambitious, try this recipe.
Dried Plums aka Prunes
Um, yep. Prunes for the win. I love a good dried prune. Quality prunes are as good as any soft gummy candy and so much better for you. The added benefit of prunes… well, you all know what that is!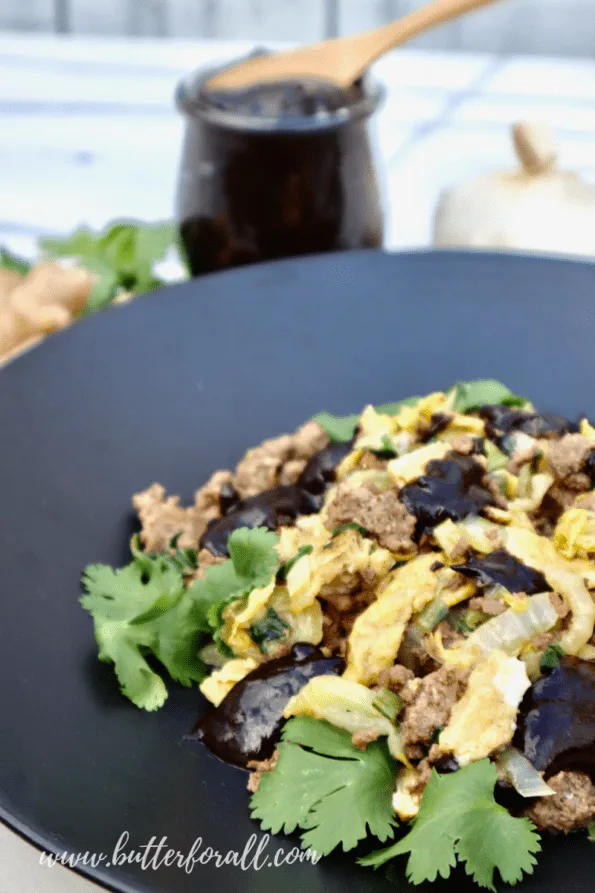 Moo Shu Serving Suggestions
If you are low carb or keto you may want to limit or omit the plum sauce, the coconut sugar from the eggs, and the coconut aminos from the filling.
This moo shu would be excellent served over cauliflower rice or steamed rice, or inside a savory sourdough crepe pancake. If using my crepe recipe make sure to omit the vanilla and sweetener.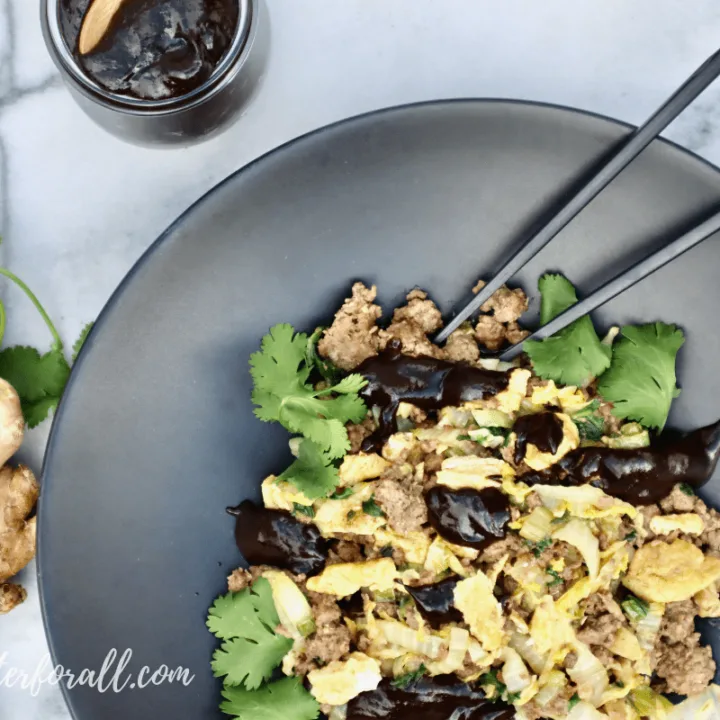 Moo Shu Beef Bowl With Black Garlic Plum Sauce and Optional Nutrient-Dense Organ Meats
Yield: 8 servings

Prep Time: 30 minutes

Cook Time: 30 minutes

Total Time: 1 hour

A nutrient-dense stir fry of grass-fed beef, organ meats, pastured eggs, fresh napa cabbage, enoki mushrooms, and bok choy. All topped with a sweet and savory sauce made of stewed plums and fermented black garlic.
Ingredients
Black Garlic Plum Sauce
4 ounces (about 12) large dried plums (prunes)
2 cups water
1/3 cup black garlic
2 tablespoons apple cider vinegar
2 to 3 teaspoons salt, to taste
Moo Shu Filling
2 pounds grass-fed ground beef
8 ounces beef organ meats, chopped or ground (see notes), optional
2 teaspoons salt
12 cloves garlic, minced
2 tablespoons ginger, minced
4 tablespoons beef tallow, lard, or coconut oil
1 small napa cabbage, shredded
6 individual baby bok choy, shredded
2 ounces enoki, black, or other mushrooms, optional
1/4 cup coconut aminos
6 sprigs cilantro, optional
Moo Shu-Style Scrambled Eggs
6 pastured eggs
1 teaspoon salt
2 teaspoons coconut sugar, optional
2 tablespoons coconut oil
Instructions
Plum Sauce
In a small sauce pan add the prunes and water to start the plum sauce.
Simmer the prunes over medium-low heat until the liquid has reduced by half.
Once reduced, remove the sauce from the heat and let it cool to room temperature.
Add the black garlic, apple cider vinegar, and salt. Puree this mixture with a handheld blender or in a blender cup until thick and smooth.
Remove the sauce to a jar and set aside.
Moo Shu Filling
Mix the ground beef, optional organ meats, minced garlic and ginger, and salt together in a big bowl.
Preheat a large 12-inch wok or frying pan over high heat.
Add the cooking oil and the ground meat mixture in small pieces. Sauté the beef over high heat until it starts to caramelize. Add the mushrooms and cook until tender. Add the napa cabbage and bok choy and sauté just until hot. Do not let the vegetables cook too long and release water.
Deglaze the pan with coconut aminos and set this mixture aside.
Moo Shu Scrambled Eggs
While the moo shu filling is cooking beat the eggs, salt, and coconut sugar together in a bowl until smooth.
Once the moo shu filling is done, preheat a non-stick 8-inch cast iron pan over medium-high heat.
Add the coconut oil and let it melt completely.
Add the eggs in a single layer. Using a silicone spatula quickly push the eggs to one side as they cook allowing the raw egg mixture to flow over the exposed pan. Do this while rotating the pan until all the egg has cooked.
Flip the eggs in the pan to cook the top side briefly. Do not let the eggs color or burn.
Break the eggs up in the pan or for a more professional look slide the eggs onto a cutting board and chop them finely into small strips.
Putting the Bowl Together
Add the eggs to the filling and toss them in well.
Serve the moo shu filling in a large shallow bowl with plenty of black garlic plum sauce drizzled on top.
Add whole cilantro leaves if desired.
Notes
Preparing Organ Meats for Adding to Recipes
Start by sourcing fresh or frozen beef organs like liver, heart, and kidney.
If the organs are fresh, pre-freeze the organs until they are firm. If they are frozen, defrost them until they can be cut with a knife but are still icy.
Trim any tough or sinuous meat away and cut the organ meats into long narrow strips.
Put the organ meat through your meat grinder or chop finely by hand.
Mix all the ground organ meats together.
Use them fresh or freeze them pre-portioned in silicone muffin cups for adding to recipes later.
Recommended Products
As an Amazon Associate and member of other affiliate programs, I earn from qualifying purchases.