I may receive commission if you purchase through links in this post.
Cashew Cookie Dough to the Rescue
It's so hard for me to find a clean snack that satisfies my cravings while conforming to all my special dietary needs. This raw cashew cookie dough checks off all of those boxes and more.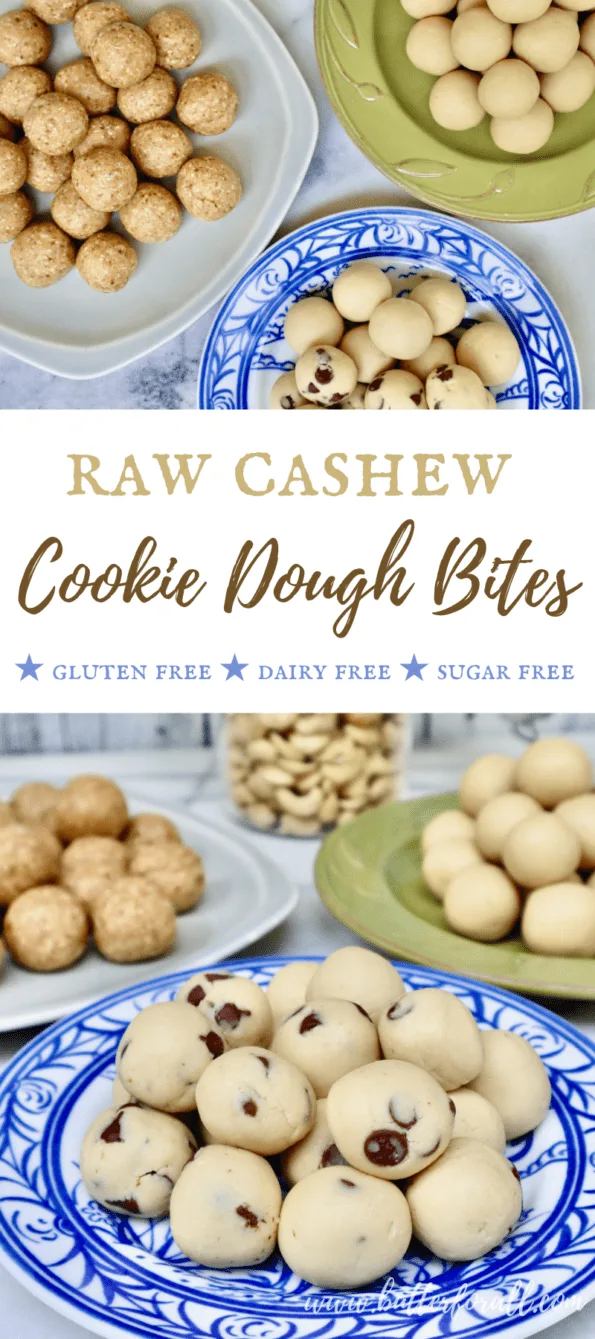 Maybe cashews are your favorite nut, or, like me, one of the only nuts you tolerate. Either way, this four-ingredient cookie dough brings nutrition, packability, and comfort together in an easy-to-execute 10-minute recipe.
You Only Need These Four Ingredients to Make Smooth and Creamy Raw Cookie Dough
Cashews
A funny little nut that is native to the Amazon but now produced mainly in India, cashews are high in protein, healthy fats, magnesium, phosphorus, and potassium. Crazy fact: cashew plants are related to poison ivy!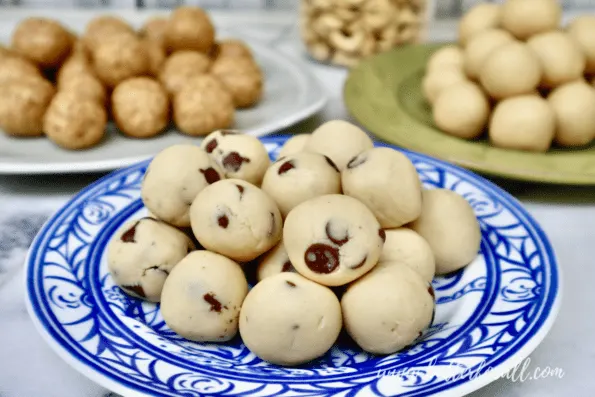 Vanilla Extract
I like to add a splash of real vanilla extract to this recipe. It adds a depth of floral flavor that makes this treat taste like real cookie dough.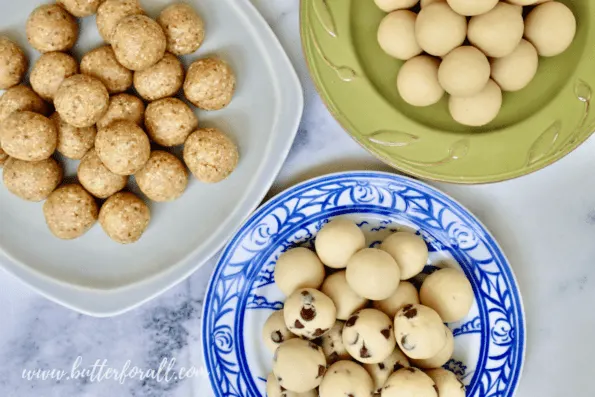 Pure Monk Fruit Powder or Fresh Dates
Pure organic monk fruit has all the sweetness of sugar without any calories, carbohydrates, or effect on blood sugar.
If you prefer an unrefined natural sweetener then dates are a perfect choice. They change the texture of this recipe a little bit but give you the rich flavor and extended energy of this precious fruit.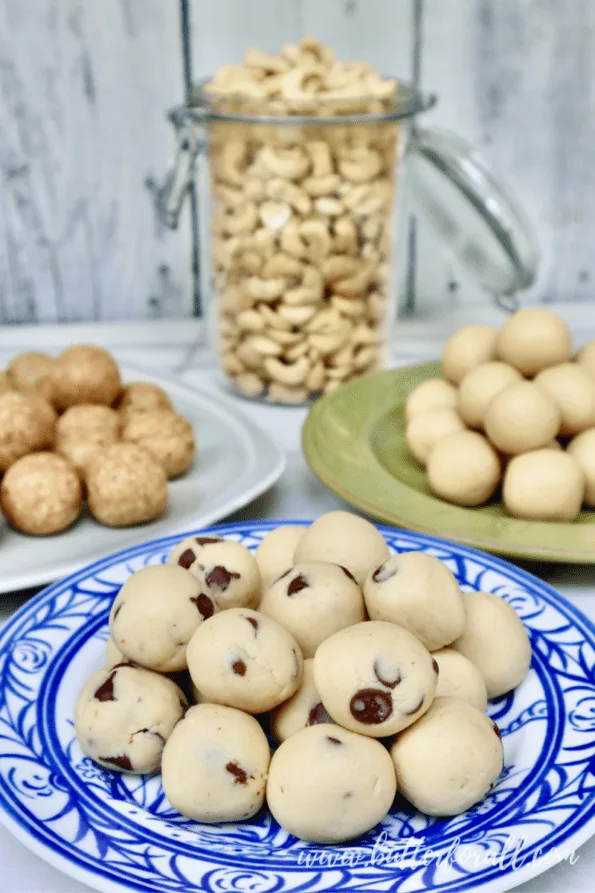 Salt
Salt is used to bring out the nuttiness and round out the flavor of these cashew cookie dough bites. Salting is especially important when using monk fruit powder. It completes the flavor of monk fruit, which can sometimes fall a little flat.
Cashew Cookie Dough Flavor Variations
Ginger Cookie
Adding ground ginger to the recipe results in a cashew cookie dough bite that tastes like ginger cookie dough!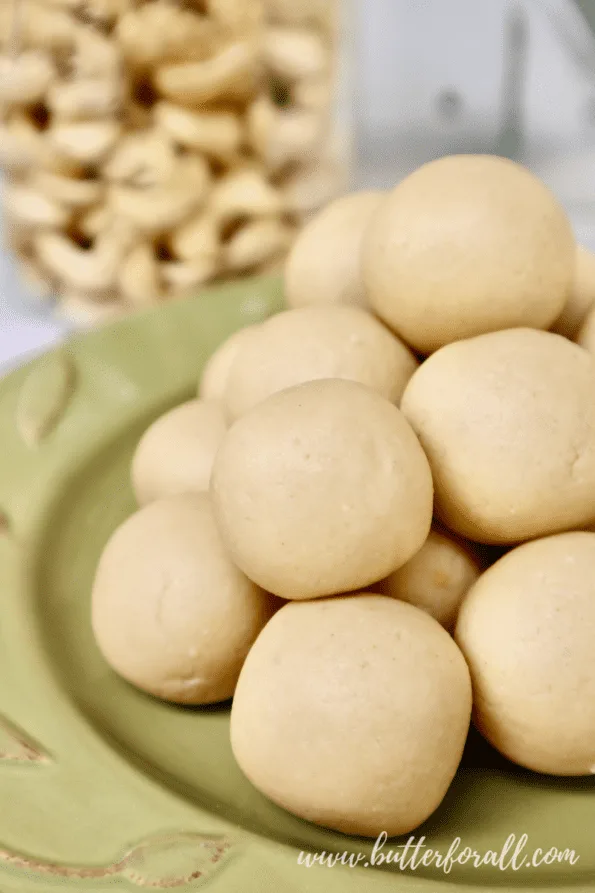 Snickerdoodle Cookie
In this variation I like to use dates and a dash of cinnamon for a cashew cookie dough bite that is soft and chewy, just like a real snickerdoodle cookie!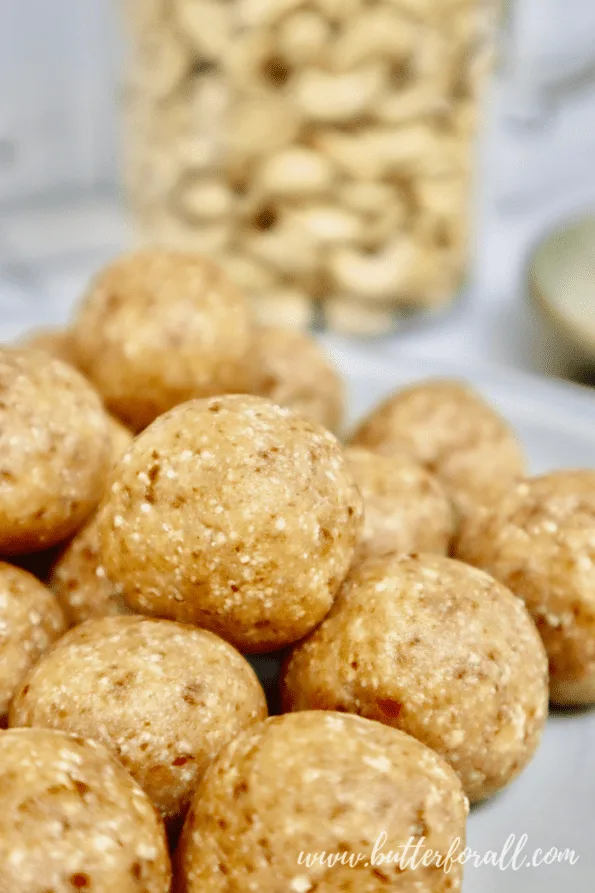 Chocolate Chip
The textural component that chocolate chips provide to this cashew cookie dough is outstanding. The soft cashew cookie dough is studded with crisp chocolate chips that then melt in your mouth. If you have always loved chocolate chip cookie dough you will be thrilled at this gluten-free super-clean version!
Original Vanilla (Base Recipe)
While I love all the flavor variations of this cashew cookie dough, I still think the plain and simple original formula is my favorite. This is where the creaminess and mild flavor of cashews really shine. The base recipe is made by combining raw cashews, vanilla, monk fruit powder, and salt in your food processor and pulsing until smooth! It's easy and so satisfying!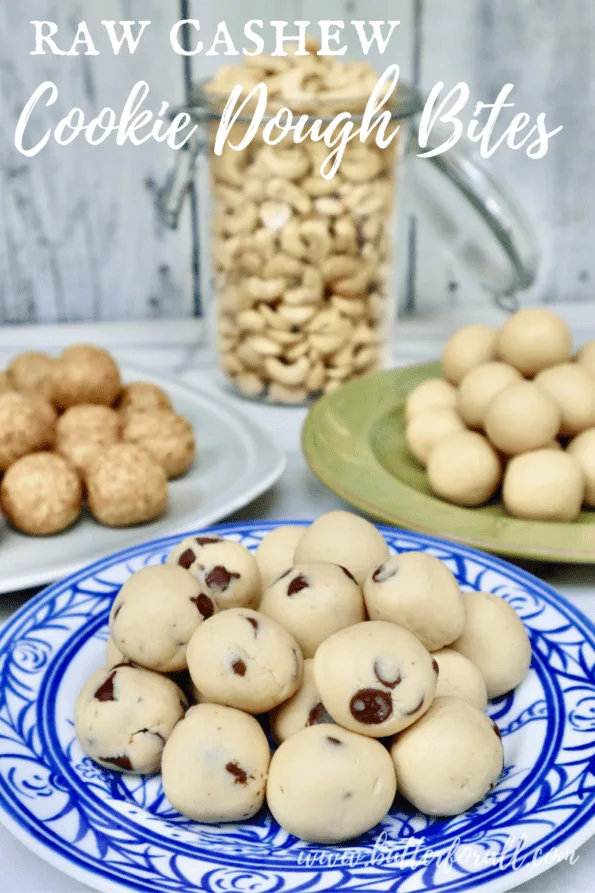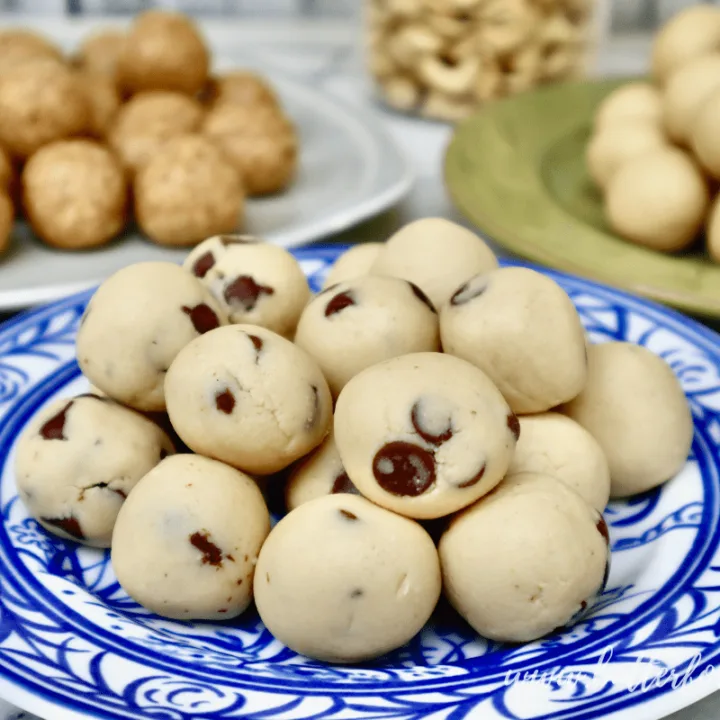 Raw Cashew Cookie Dough Bites – Gluten Free, Dairy Free, Sugar Free
Yield:
24, 0.5-ounce bites
Chilling Time:
30 minutes
Ingredients
Base Recipe
2 cups whole raw cashews
1 1/2 teaspoon vanilla extract
1/8 teaspoon monk fruit powder or 6 pitted medjool dates
1/2 teaspoon salt
For Ginger Cookie
2 teaspoons ground ginger
For Snickerdoodle (best when sweetening with dates)
1 teaspoon ground cinnamon
For Chocolate Chip Cookie Dough
Instructions
Combine all ingredients in the bowl of your food processor, including any spices for the cookie variations. Chocolate chips are the only ingredient not added at this time.
Pulse the nuts and other ingredients together. Continue pulsing the food processor for about 5 minutes. The cashews will go from whole nuts to grainy pieces. Eventually the cashews will become smooth and doughlike. Resist the urge to let the processor run. Pulsing produces the best consistency.
Once the dough is smooth without any graininess it is complete. Stir in chocolate chips now if desired.
Use a 0.5-ounce scoop to measure the dough into your hand. Roll each ball until smooth and place on a plate.
The cookie dough can now be eaten but it is best chilled.
Place the plate, covered, into the refrigerator to chill for 30 minutes. Keep the cashew cookie dough cool.
Recommended Products
As an Amazon Associate and member of other affiliate programs, I earn from qualifying purchases.