I may receive commission if you purchase through links in this post.
Mushroom and carob hot chocolate is the most simple and delicious way to get more antioxidant-rich mushrooms into your diet.
This mushroom hot chocolate recipe is one I turn to when I'm in need of a warm, satisfying mug full of pure love. This is the kind of warm drink that envelops you in silky richness and deep earthy flavors. The kind that hints at sweetness and indulgence without any guilt, derailing of your healthy diet, or crashing from sugar and caffeine. The kind that gives you a peaceful minute in the morning or a moment of respite from a long day. The kind of drink that transports you to somewhere almost ethereal and sublime!
If I'm waxing poetic about this mushroom hot chocolate it's because it's just that good!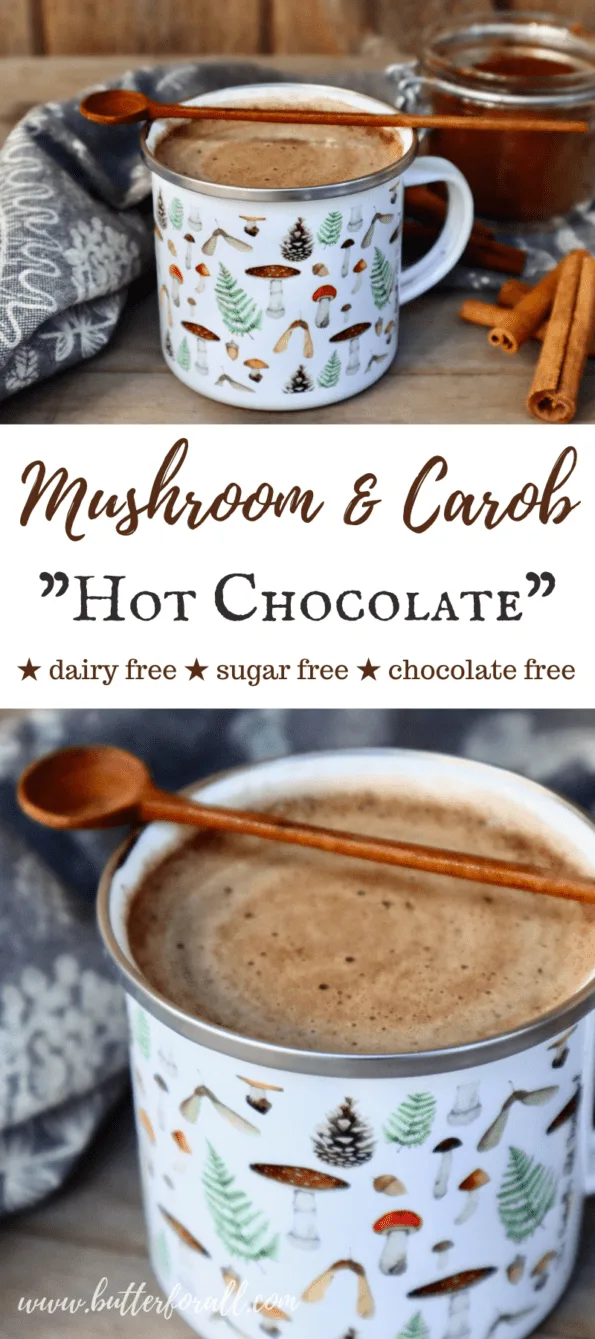 Mushrooms Aren't Just for Savory Dishes Anymore
The health and culinary benefits of mushrooms have been long admired by many cultures around the world. Mushrooms not only add a depth of earthy flavor and meatiness to cooked and raw foods, but they pack a huge punch when it comes to providing immune-boosting and free-radical-scavenging antioxidants. Read more about each mushroom ingredient found in this recipe below.
Shiitake Mushrooms
Shiitakes are one of my favorite culinary mushrooms. Fresh shiitakes are chewy and meaty and bring that valuable texture to soups, stir-fries, braises, and sautés. Dried shiitake mushrooms are great for storing and can add a tremendous amount of flavor to broths and stocks.
Shiitake mushroom powder is versatile and blends well into this hot chocolate. It adds a rich earthiness and subtle mushroom flavor without overpowering the carob and cinnamon.
Shiitake also provides an abundance of immune-supporting properties and free-radical-scavenging beta-glucans!
Lion's Mane Mushrooms
Lion's mane is such an interesting mushroom. They are really unique looking with long, cascading white comb structures. Used fresh they have a texture reminiscent of shrimp or crab so they work really well sautéed in garlic butter!
Lion's mane powder is subtle and buttery with a light flavor of toasted mushroom.
Lion's mane is an important adaptogenic mushroom that can help regulate nervous system function. It is commonly made into tinctures to support digestive health and nerve regeneration.
Similar to most medicinal mushrooms, lion's mane also has a plethora of beta-glucans and complex polysaccharides to support immune health.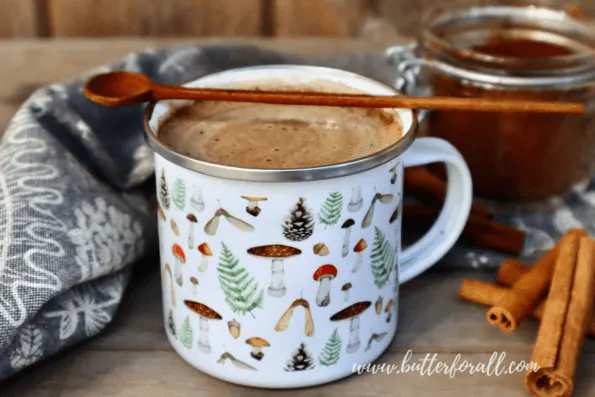 Chaga Mushrooms
Chaga is a parasitic conk-style mushroom that grows primarily on birch trees damaged by wildfire. They are a dark ruddy brown color with an exotic flavor of bitter floral spice.
Chaga mushroom powder adds a deep color and flavor to this mushroom hot chocolate. The bitterness and floral notes of chaga are so similar to chocolate that they play up the chocolate flavor of this rich and creamy brew without actually adding any chocolate!
Chaga is used to the most extent in teas, syrups, tinctures, and decoctions. Chaga is another powerful adaptogenic mushroom that has shown anti-microbial and anti-inflammatory potential.
Like shiitake and lion's mane, chaga also supports immune health and overall wellness.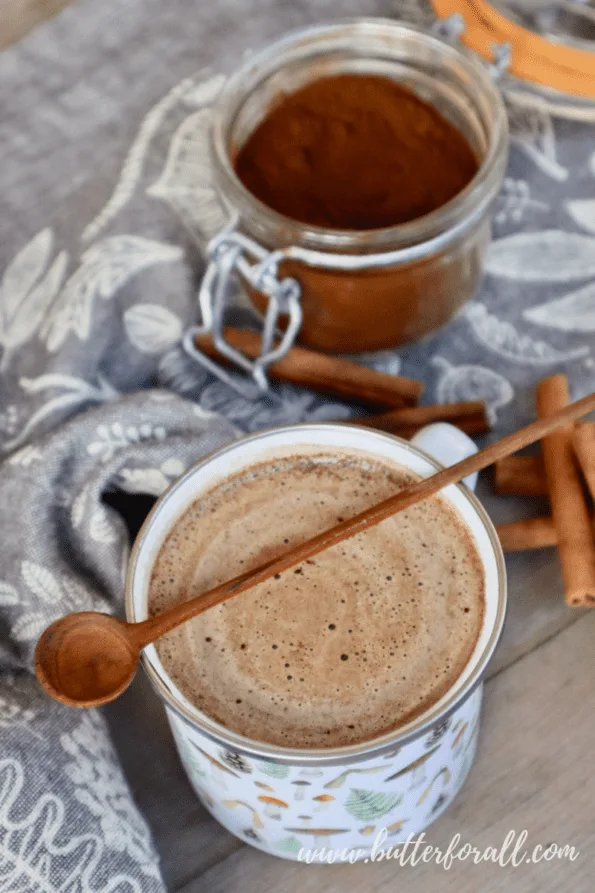 Allergen, Autoimmune, and Keto Ingredient Substitutes
Replacing the chocolate, dairy, and sugar in this rich mushroom hot chocolate led to a really exceptional recipe that is appropriate for keto or AIP (autoimmune protocol) diets.
I used:
Carob Instead of Chocolate
For people who don't tolerate chocolate, roasted carob powder is a great substitute. It has a bold, toasty, sweet flavor and adds bitter notes similar to chocolate. Carob is naturally caffeine free and won't cause sleeplessness like chocolate can.
A note for chocolate lovers:
Quality fair-trade cacao powder can be used in this recipe if tolerated!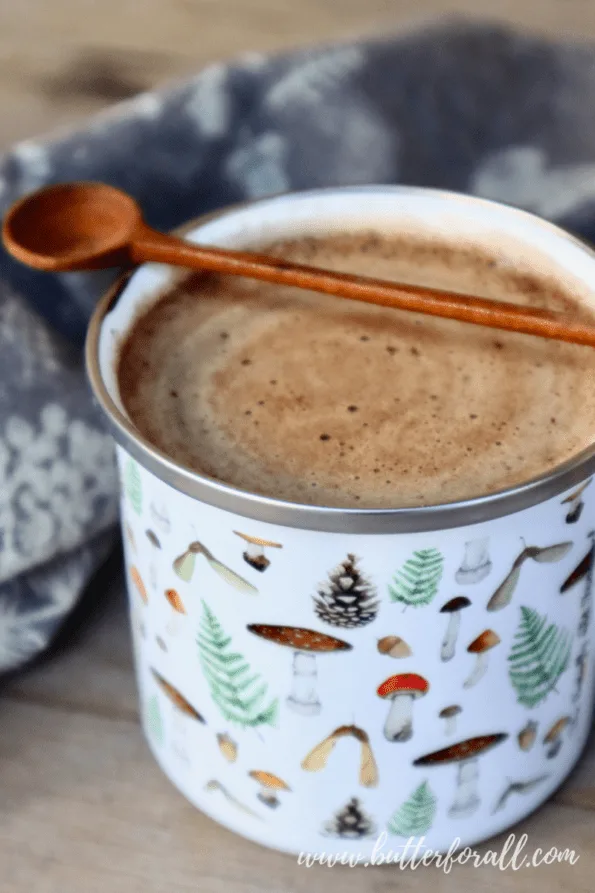 Coconut Milk Instead of Cow's Milk
Dairy is one of the #1 causes of allergies and inflammation. Organic coconut milk is such a great replacement. It is really creamy, low in carbs, full of healthy fats, and even has one of nature's only sources of anti-microbial and anti-viral lauric acid.
Make sure to seek out pure coconut milk that is free of binders and gums. I will link to my favorite brand in the recipe below.
If you tolerate cow's milk feel free to use it in place of the coconut milk and water.
100% Pure Organic Monk Fruit (Keto) or Other Unrefined Natural Sweetener (AIP) Instead of Sugar
Make It Keto
With pure monk fruit, a little goes a LONG way. Monk fruit is an exceptional way to sweeten this mushroom hot chocolate without adding any sugar or carbs. The monk fruit itself originates in China and has compounds that are 300 times sweeter than sugar. It is ground into a powder or made into an alcohol-based drop.
I personally tolerate pure organic monk fruit really well.
Make It AIP Compliant
Use your favorite unrefined sweetener! Honey, coconut sugar, maple syrup, or date syrup can be used as the sweetener in this mushroom hot chocolate. Start with 1 tablespoon and adjust if needed to your desired taste.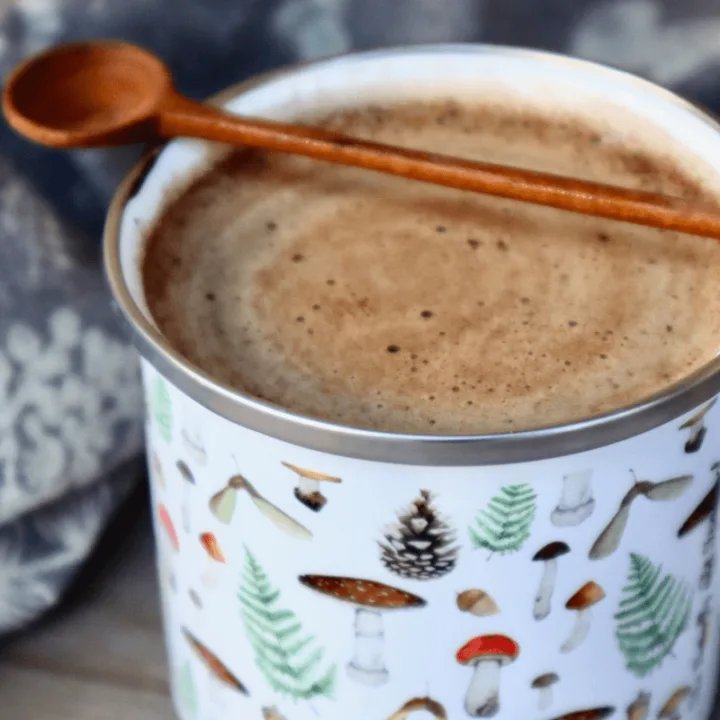 Mushroom and Carob Hot Chocolate – Dairy Free, Sugar Free, and Chocolate Free
Yield: Three 9-ounce servings

Prep Time: 2 minutes

Cook Time: 5 minutes

Total Time: 5 minutes

This rich and creamy mushroom "hot chocolate" will boost your healing, energy, and mental clarity with three superfood mushrooms, toasty carob, stimulating cinnamon, and low-carb high-fat coconut milk!
Ingredients
13.5 ounces (1 can) simple coconut milk
13.5 ounces water (tip: use the coconut milk can to measure)
1 tablespoon roasted carob powder
1/2 teaspoon shiitake mushroom powder
1/2 teaspoon lion's mane mushroom powder
1/2 teaspoon chaga mushroom powder
1/2 teaspoon ground cinnamon
1/4 teaspoon salt
1/8 teaspoon pure monk fruit powder, or start with 1 tablespoon of AIP sweetener of choice
Instructions
Place all ingredients into a small sauce pan over medium heat.
Whisk gently until all ingredients are fully incorporated.
Whisk the hot chocolate occasionally while heating.
Remove the hot chocolate from the heat just as the mixture starts to simmer. Do not boil!
Divide the hot chocolate into mugs and enjoy!
Notes
Do you have a mushroom powder blend that you love, like the 5 Defenders from Real Mushrooms?
You are in luck! Mushroom blends work great in this recipe! Use 1 1/2 teaspoon in place of the other mushroom powders in the recipe.