I may receive commission if you purchase through links in this post.
Rye can be a tricky and sticky flour to work with.
Here I've paired traditional rye flour and classic caraway with protein-rich bread flour and a little whole wheat to give you a light and lofty loaf that is exceptionally easy to work with. If you are new to working with rye flour and you want to make the perfect light rye sourdough boule, then this is the place to start!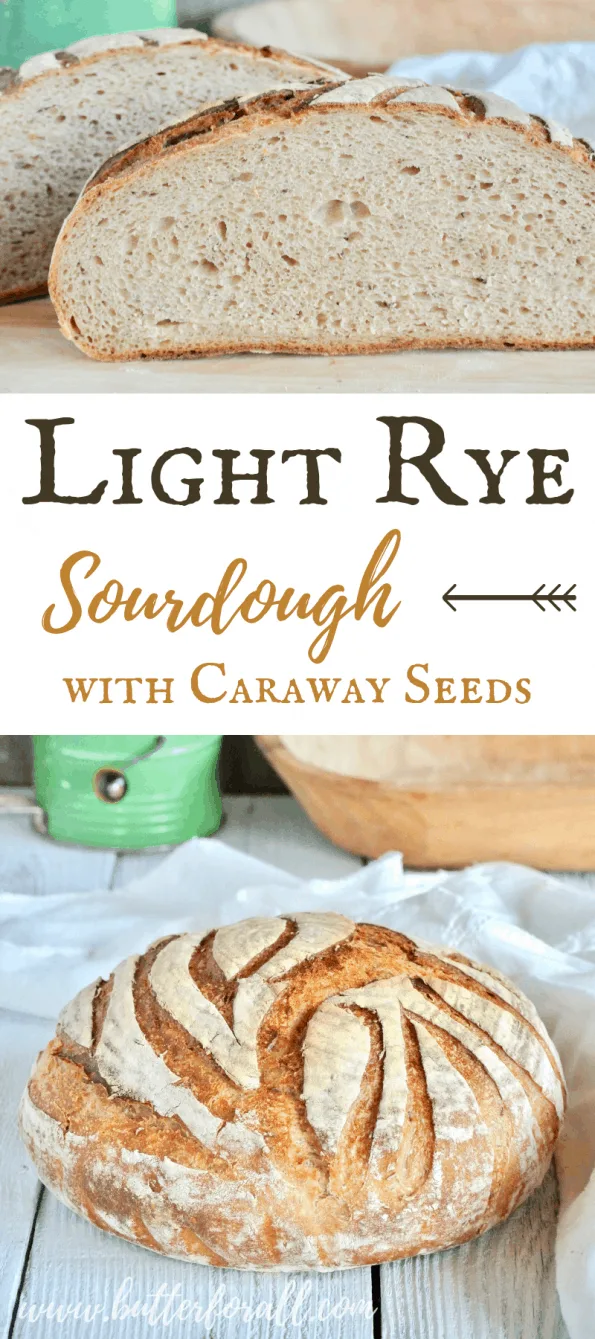 Caraway, a Classic Bread Spice
Caraway seeds have a sweet and spicy flavor and an interesting cultural and culinary history. They have been used in bread for centuries and as a flavoring for sweet or savory cuisine. To get the most from your caraway seeds make sure to toast them lightly in a hot dry frying pan. Remove the seeds from the pan when they become fragrant and let them cool before adding them to your recipes.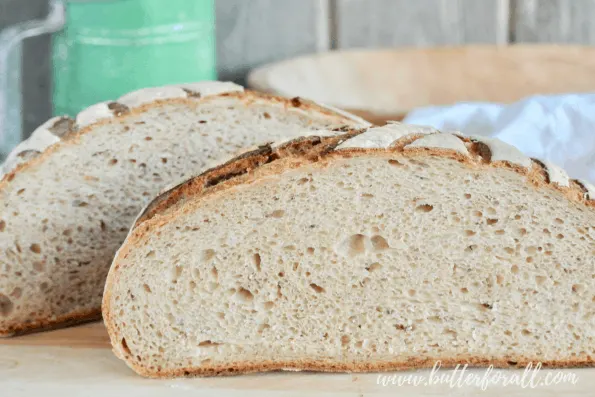 My light rye sourdough boule is a perfect bread for toasting and buttering or holding the irresistible Reuben ingredients — hot corned beef, tangy sauerkraut, Russian dressing, and melty Swiss cheese!
Before you get into this recipe, make sure you are prepared.
Start with my in-depth sourdough guide, Demystifying Sourdough. In this guide you will learn about the history of sourdough, the health benefits of baking with sourdough, popular terminology, my tool recommendations, and how to start your own starter from scratch.
Next, get that starter in tip-top shape by following my feeding directions in How To Feed Your Sourdough Starter for Successful Baking.
And finally, learn how to ferment and shape the perfect sourdough boule by watching the video in my recipe How To Bake the Perfect Sourdough Boule in Your Dutch Oven.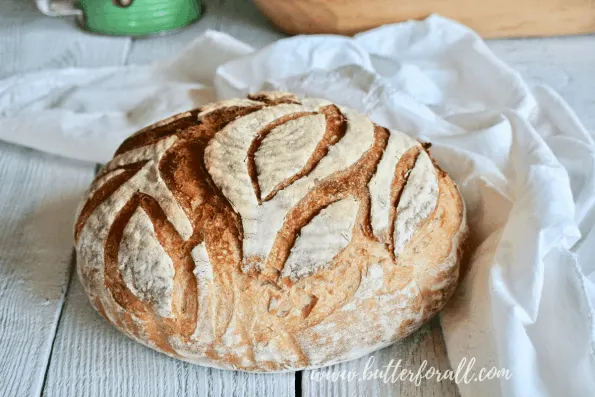 Now the only thing left to do is get the recipe for this delicious light rye sourdough boule!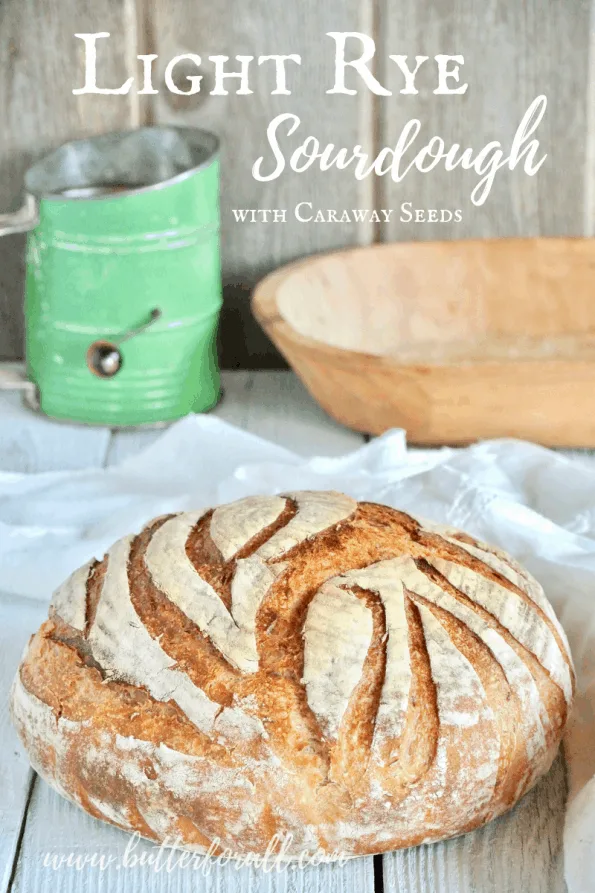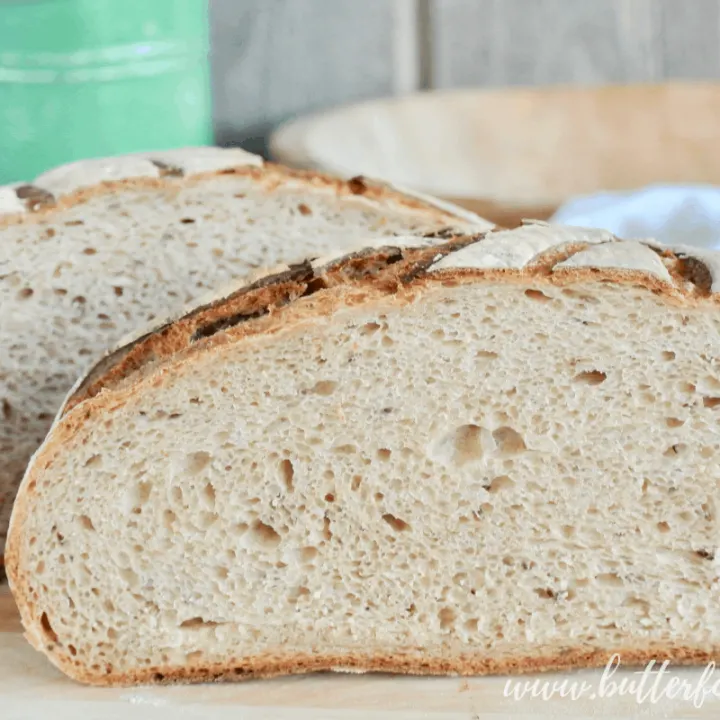 Light Rye Sourdough Boule With Caraway
Total Time:
1 hour
10 minutes
This sourdough rye bread is light and fluffy with the classic sourdough tang and chew!
Ingredients
250 grams (2 cups) organic rye flour
225 grams (1 1/2 cups) organic bread flour
100 grams (3/4 cup) organic whole wheat flour
8 grams (1 tablespoon) caraway seeds, toasted
Instructions
In a large glass or ceramic bowl mix all the ingredients into a shaggy dough. Let the dough rest for a minute or two.
Start the stretch and fold process using a dough whisk or wet hands. Let the dough rest for 10 minutes between each stretch and fold.
Stretch the dough at least five times to build up gluten.
Cover the bowl and let the dough ferment at room temperature (65 to 70℉) overnight (8 to 12 hours) or until at least doubled. I like to let the dough ferment overnight to help break down the whole grain and hard-to-digest proteins.
After the initial fermentation, the dough should be filled with gas and at least doubled if not tripled in the bowl. Using the same stretch and fold technique, deflate the dough in the bowl doing a loose "preshape." Set the dough aside to rest for 5 to 10 minutes before shaping.
Lightly flour your work surface and turn the dough out on the flour. Shape the dough into a nice tight boule as demonstrated in this video. Let the dough rest seam side down on the board.
Place the dough seam side up in a floured banneton for the second rise. Cover the dough and let it double. This step can be done either at room temperature for a quicker turn around or the dough can be retarded in the refrigerator for up to 48 hours for future baking.
Once you are ready to bake, preheat your oven to 450°F with a covered Dutch oven inside. Alternatively you can bake on a baking stone or in an open cast-iron pan.
Cut a piece of parchment that will overhang the circumference of the boule. Turn the shaped and proofed dough out onto the parchment. Score the dough and place it in the hot Dutch oven with the lid on.
Bake covered for 25 minutes. Remove the lid and continue baking for 15 more minutes.
Remove the boule from the oven and let it cool completely on a cooling rack before slicing.
Want To Learn Everything About Sourdough?
Start with this free guide:
Demystifying Sourdough – Everything You've Ever Wanted To Know About Sourdough Starter – Why It's Better For You – And How To Start One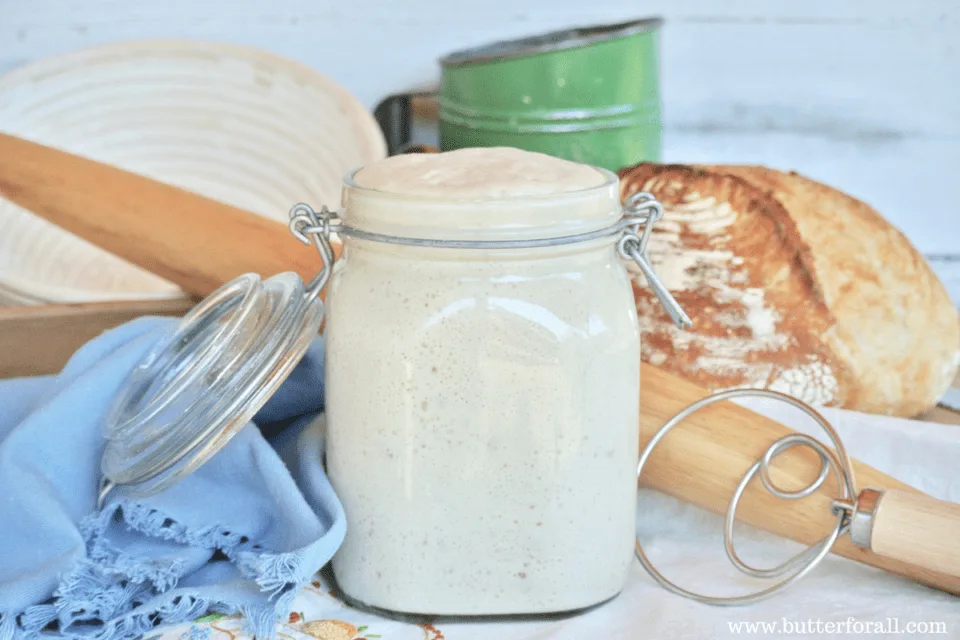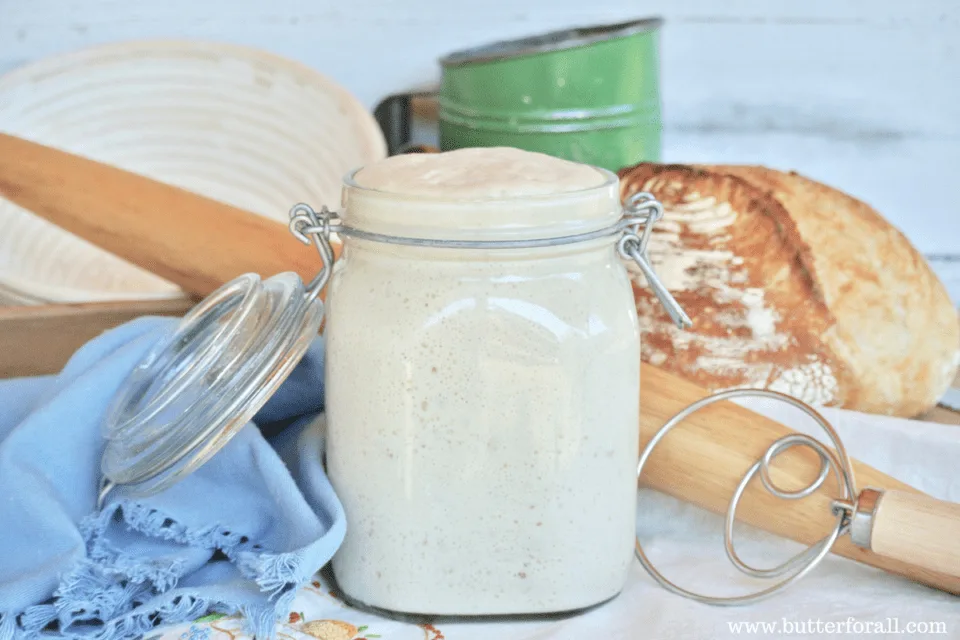 Looking for More Rye Recipes?
Try my Dark Rye Sourdough Bread With Molasses and Caraway!