I may receive commission if you purchase through links in this post.
Raw honey lavender ice cream is more than a treat!
Sometimes we all need to treat ourselves. But, why not take care of yourself at the same time? You can do both with this easy raw ice cream! This recipe is packed with healthy fatty acids, vitamins A, D, B6 and B12, and digestive enzymes from the raw cream, raw egg yolks, and raw honey.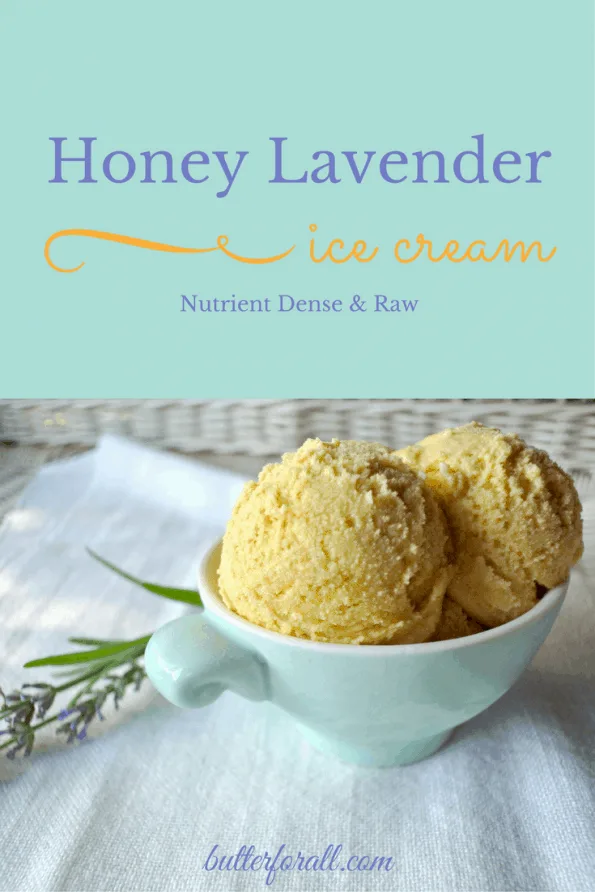 I remember the first time I tried lavender, it was in the form of a little shortbread cookie from a popular bakery in Capitola, California, a quaint beach town very close to where I grew up. When I took the first bite and closed my eyes I was instantly transported to a summer day in a warm lavender field. I've never forgotten that feeling and I love this ice cream for provoking the same calm serenity. It's definitely one to be best enjoyed in the quiet summer breeze of an August evening.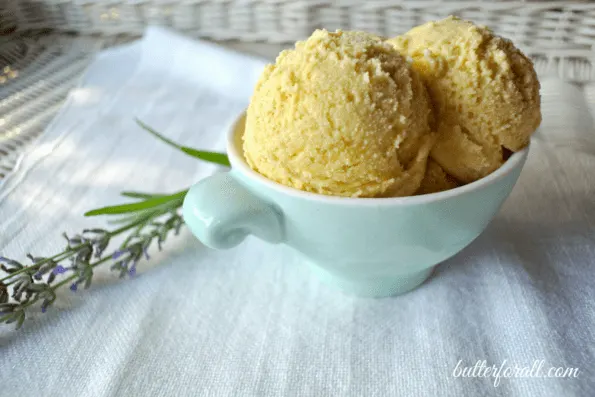 A Few Important Notes About This Recipe:
Raw honey should not be given to infants or children under 1 year old. Please talk with your child's health care provider for more information on this subject.
Only consume raw dairy from legal sources you have visited or who are regulated for cleanliness.
Only use clean, fresh, pastured eggs from a reliable source.
If you are hesitant to eat raw dairy and eggs or you prefer a fully pasteurized product you can follow a few easy steps. But be aware that the health benefits of eating these foods raw will be destroyed in this process. When the ice cream base is completed do not refrigerate it but instead cook it in a double boiler until it is a custard-like consistency and the temperature reaches 160°F. Proceed with the cooling (preferably in an ice bath) and chilling.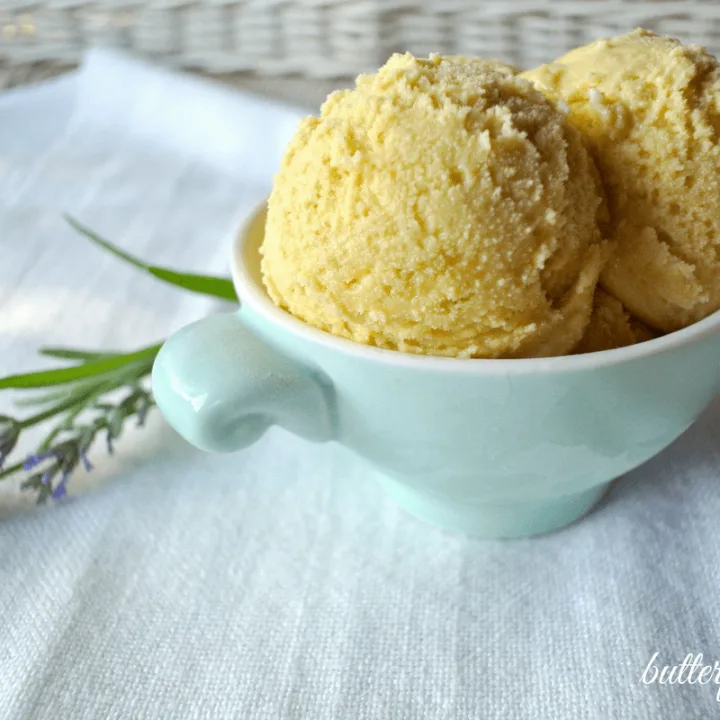 Raw Honey Lavender Ice Cream
Total Time:
2 hours
30 minutes
A silky smooth raw ice cream with the delicate flavor of honey and lavender.
Ingredients
1 1/4 cup whole raw milk
1/4 cup dried lavender flowers
6 raw egg yolks
2 cups raw cream
Pinch sea salt
Instructions
Prepare your ice cream maker according to the manufacturer's specifications. I use a KitchenAid with the ice cream bowl attachment.
In a small sauce pan bring the milk, lavender, and vanilla pod (with seeds scraped and added) to a slow simmer for 15 minutes. Stir occasionally.
When the milk is done simmering strain it through a small mesh sieve into a bowl, making sure to press on the lavender and vanilla to drain all the flavor. Let the milk cool.
In a separate bowl whisk the egg yolks well. When the milk is cool enough to touch, start whisking it into the egg yolks until fully combined. Then whisk in the honey and finally the cream and salt.
Cool the ice cream base in the refrigerator until chilled.
Prepare your ice cream maker for the ice cream base. For the KitchenAid this requires taking the frozen bowl from the freezer and attaching it to the stand base.
Add the chilled ice cream base and process it to the ice cream maker's guidelines. The KitchenAid takes between 25 and 35 minutes to reach a soft-serve ice cream consistency.
When the ice cream is fluffy and thick, remove it to several wide glass storage containers and freeze it for 2 to 3 hours before serving. *TIP Pre-freeze your glass containers for less melt!
This ice cream stays soft and scoop-able!
Try My Other Ice Cream Recipes!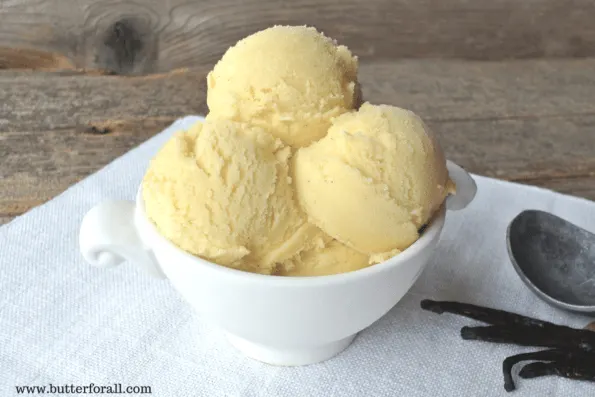 Strawberry Cheesecake Ice Cream – Keto Friendly