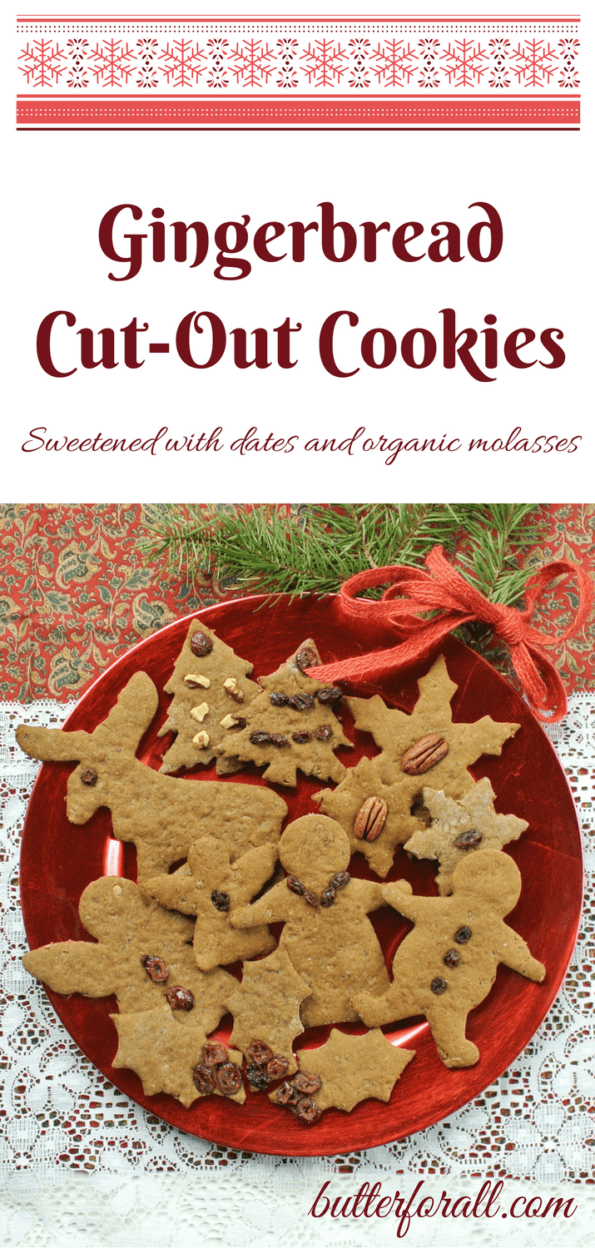 I absolutely love this recipe because baking gingerbread is a family tradition that my daughter, husband and I enjoy doing together every year around the holidays.
And my daughter really got into it this year! It was so sweet to see her little hands rolling and cutting the dough. I watched with admiration as she used her imagination to decorate all her favorite cut-outs. We don't limit ourselves to the traditional gingerbread boy. We like to make women, babies, stars, angels, trees, snowflakes, reindeer, holly and even a moose! Having lots of options makes for a really fun cookie plate! We also avoid the artificial colors and sweeteners opting instead for healthy dried fruit and nuts as wholesome decorations. The whole experience is healthy and fun. I hope you use this recipe to bring a timeless tradition into your own home.
This recipe uses my date sweetening method that you can read about on the Natural Sweeteners page.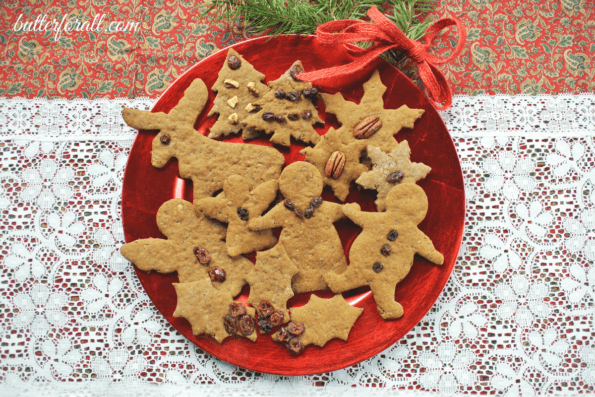 Recipe yields around 30 medium sized cookies.
Preheat your oven to 350°
2 1/2 Cups Organic AP Flour
8 Ounces Pitted Dates (around 2 cups)
1/2 Teaspoon Baking Soda
1/2 Teaspoon Ground Cloves
1/2 Teaspoon Ground Nutmeg
1/2 Teaspoon Salt
1 Tablespoon Cinnamon
2 Tablespoons Ground Ginger
1/2 Cup Organic Pastured Butter
1/3 Cup Organic Molasses
1 Egg
1 Teaspoon Vanilla
1/8 Cup Each -Raisins, Dried Cranberries, Walnuts and Pecans For Decorating
Instructions:
In your food processor bowl combine the flour and dates and process until the dates have become sandy in texture. Add the spices, salt and baking soda and process again until everything is combined.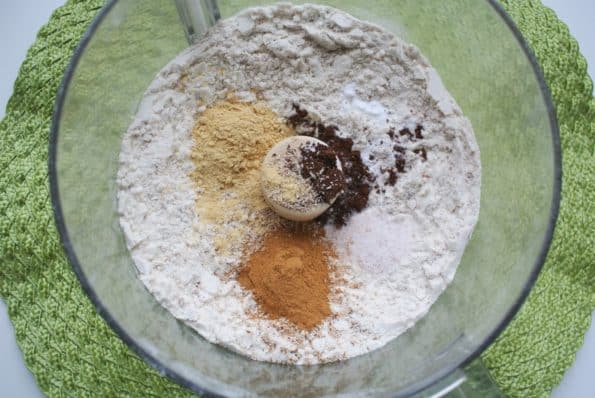 In a large mixing bowl or stand mixer with the paddle attachment combine the butter and molasses and beat them until they are smooth. Add the egg and continue to beat this mixture stopping once to scrape down the sides of the bowl.  When the egg is fully incorporated add the vanilla and beat again to combine. Add the dry flour and spice mixture and mix on low just until the dough pulls together. Divide the dough in two equal parts and shape each half into a round disk.
On a lightly floured surface roll out one disk about 1/3 inch thick and begin to cut out your favorite shapes. Always start at one side of the dough and try to fit the shapes together as closely as possible to avoid waste.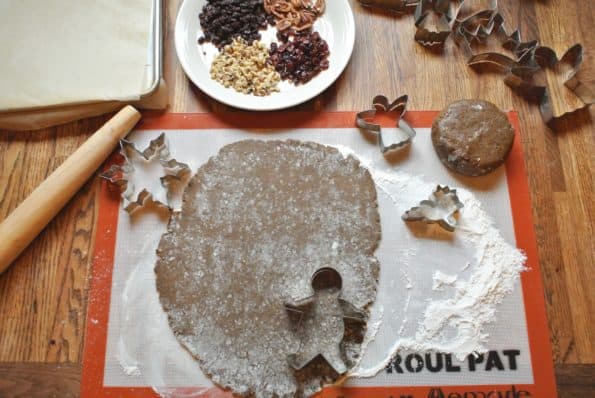 Line a baking sheet with parchment paper and carefully arrange your cut-outs on the pan. Decorate each cookie with fruit and nuts before baking by gently pressing the topping into the soft dough. If you find the toppings won't stick well you may have used too much flour when rolling the dough. Use a little water to wet the fruit or nuts slightly before applying.
Bake each pan for 10-12 minutes. Let the hot cookies rest on the pan for several minutes before removing them to cooling racks to cool completely.
Continue to cut and decorate all of your cookies. Any dough scraps can be set aside. When both disks of dough have been rolled and cut collect the scraps and shape them together to create one final disk. Roll and cut the scraps the same way you did the other disks of dough.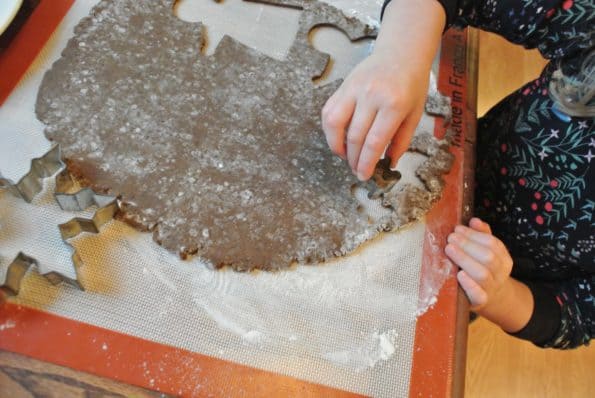 Whether you make these tender delicious cookies for your family, your friends or for Santa, it is sure to be a jolly time for all involved.