I may receive commission if you purchase through links in this post.
When the summer vegetables like new potatoes, squash, and peppers start to show up I get really excited.
It means it's time for one of our favorite vegetable preparations. These easy sheet-pan roasted vegetables will remind you why simply prepared summer vegetables are so special.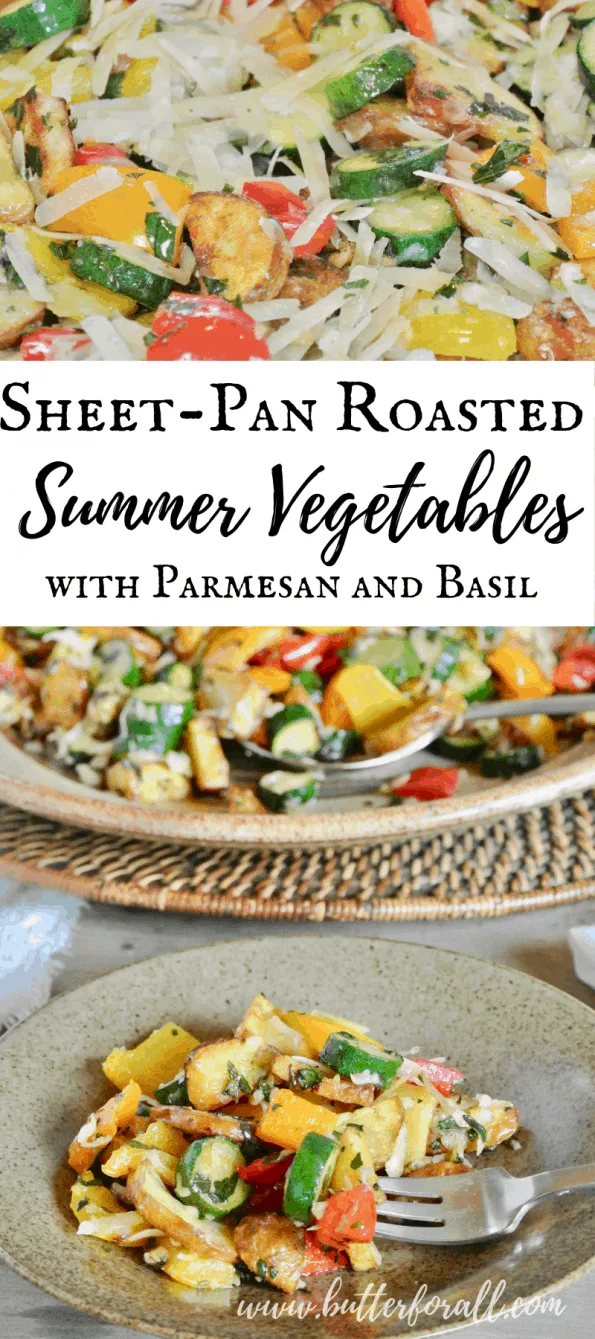 You don't need much to make fresh summer vegetables shine. In this recipe, my farm favorites are tossed with oil, oven roasted, and then salted and topped with grated Parmesan cheese and fresh basil.
The best part of this recipe is it all happens on one pan in the oven, making cleanup a breeze!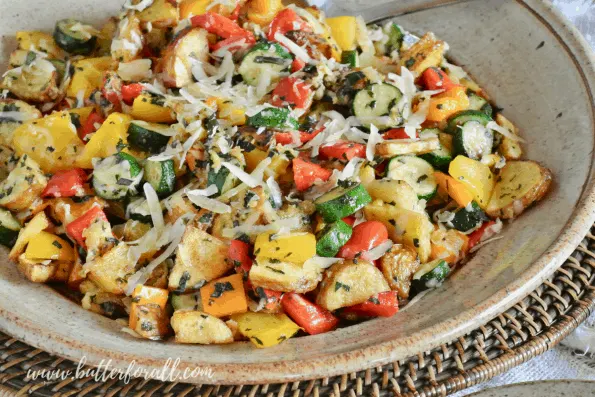 Which Vegetables Should You Choose?
Picking vegetables for this dish is as easy as identifying your favorites! Almost all combinations will work.
Always pick vegetables fresh from your garden, farmer's market, or farmstand that are firm, colorful, and in-season! Here is a list of vegetables that will work well with Parmesan cheese and basil that you can use as a guide.
Summer squash (all varieties)
Bell peppers
Eggplant
New potatoes
Corn
Beans
Onions
Tomatoes
My mixture included summer squash, bell peppers, and new potatoes.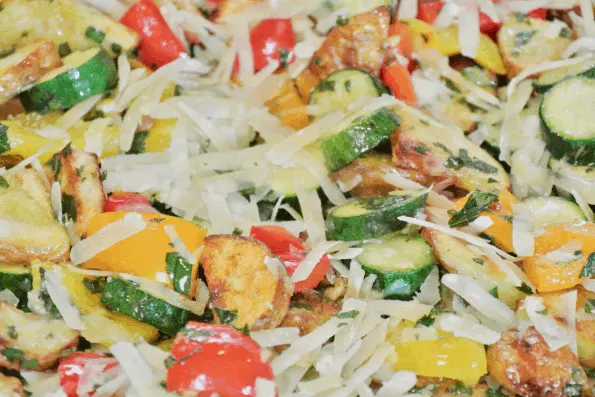 Save the Garnish for Last
This easy and beautiful side dish comes together quickly. After roasting the vegetables to perfection they are tossed with salt, Parmesan cheese, and fresh basil. The heat from the vegetables melts the cheese slightly and releases the minty-spicy-herby-ness of the basil! Delicious!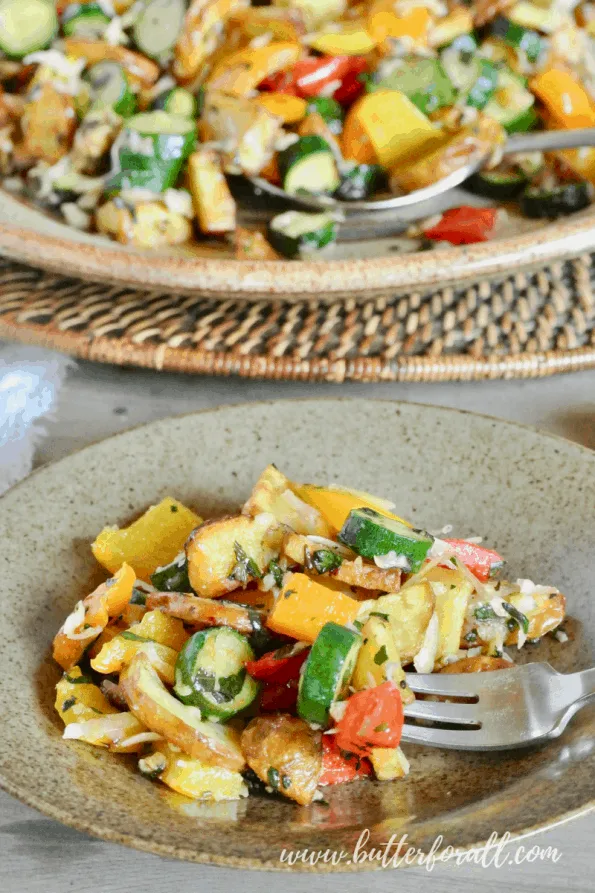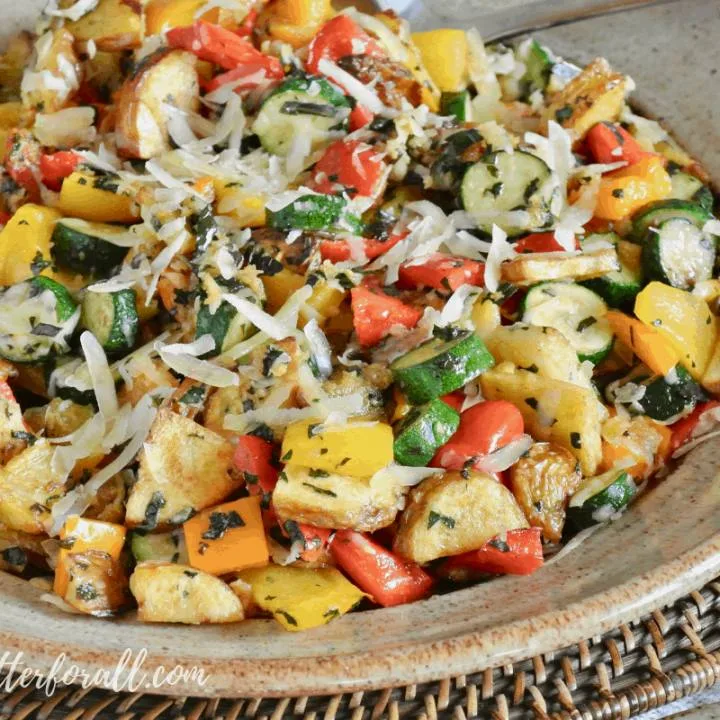 Easy Sheet-Pan Roasted Summer Vegetables With Parmesan Cheese and Basil
The colors and flavors of these easy sheet-pan roasted summer vegetables speak for themselves!
Ingredients
1 to 2 pounds new potatoes
1 to 2 pounds summer squash
1 to 2 pounds colorful bell peppers
1 to 2 cups grated Parmesan cheese
1 bunch fresh basil
Instructions
Preheat your oven to 400°F.
Line a half sheet or full sheet pan with parchment paper.
Starting with potatoes and eggplants (if applicable), cut them into bite-sized slices and toss them with 3 tablespoons of oil.
Lay the potatoes on the sheet pan and bake them for 15 minutes to give them a head start.
Meanwhile, cut all your other vegetables (except tomatoes) into similar sized pieces and toss them with the remaining oil.
Using a spatula, shift the potatoes around so they cook evenly.
Spread the freshly cut vegetables on the sheet pan around the potatoes and bake just until al dente (about 15 to 20 minutes).
If adding fresh tomatoes to this dish wait untl the last 5 to 10 minutes of baking!
Grate the Parmesan and chop the basil.
Test the doneness of the vegetables by sticking them with a fork. Potatoes and eggplant will be very tender, squash, onions, and peppers will be tender but not soft, and tomatoes will be just beginning to wilt and lose some juices.
Pull the sheet pan from the oven and sprinkle the vegetables with salt to taste. Add the grated Parmesan and fresh chopped basil and toss the vegetables gently.
Gently transfer the vegetables to a large platter and serve immediately.