I may receive commission if you purchase through links in this post.
I had so much fun with this DIY upcycled flower basket project that I decided to share it with the world.
Making flower baskets is so easy and doesn't require many tools. It's also a great way to reuse some of the things we commonly discard.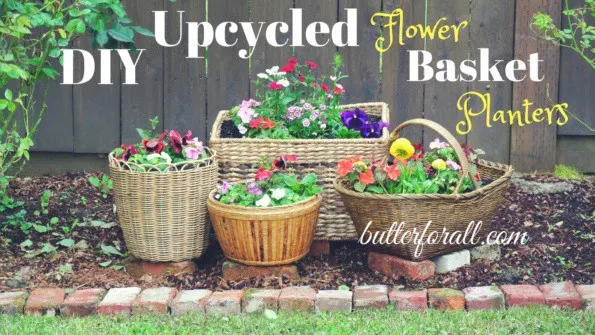 These Are the Supplies You Will Need To Create Your Own Stunning Flower Baskets:
Old baskets: Any shape or size that appeals to you will do. I even have a trick for using baskets with a more open weave.
Saved plastic: This can be old shopping bags, plastic storage bags, old tarps, or drop cloth plastic.
Soil: I chose to use an organic potting soil. Don't throw away that potting soil bag! It can be used to line a basket too!
Flowers: I chose an assortment of pansies, impatiens, dianthus, fuchsias, and lobelia.
Scissors
Staple gun
The Steps Are Really Very Simple.
Collect all the supplies above.
Cut the bags or plastic to fit the baskets.
Cut a small hole in the bottom of the plastic to help the baskets drain.
Staple the plastic into the basket around the top edge.
Fill the baskets with soil, leaving a few inches of space for planting.
Plant your flowers and tuck them in with extra soil.
Select a location appropriate for your flowers and place a few bricks or flat stones for your baskets to sit on. Leave at least a two-inch-wide gap between the bricks to support airflow around the basket bottoms.
Water your basket thoroughly.
Pro Tip: For wider weave baskets use brown tarp or brown plastic so it won't be as noticeable.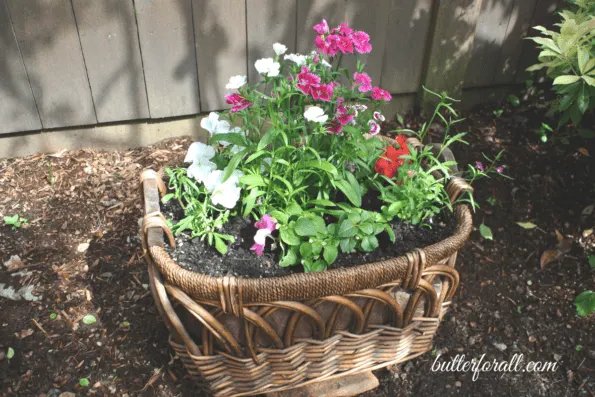 Watch this video to see how it's done!
DIY Upcycled Flower Basket Planters

Put those extra plastic bags and $3 thrift store baskets to good use by creating some beautiful, easy, flower basket planters for your garden.