I may receive commission if you purchase through links in this post.
Sourdough batter crackers are one of the easiest and healthiest snacks you can make with your sourdough starter.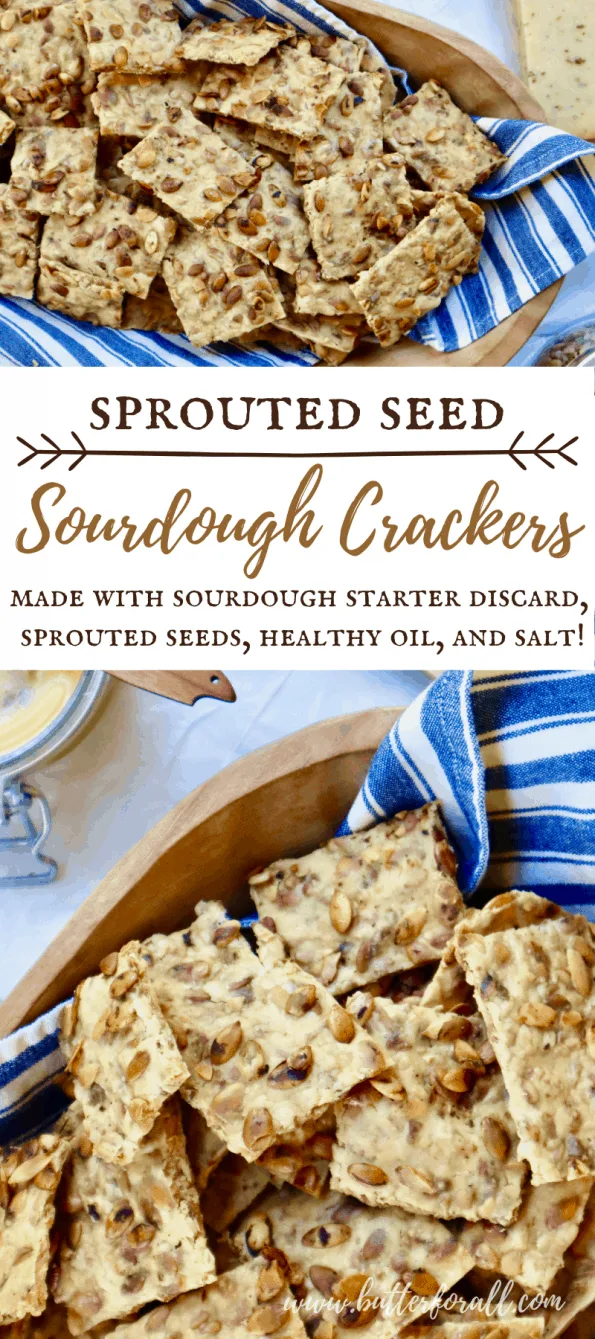 In this version I've increased the nutrition and flavor by adding tons of sprouted pumpkin and sunflower seeds to the fermented batter. The seeds give the crackers a wonderful light and crispy crunch with an extra toasty seedy flavor.
These crackers will become your new favorite for cheese plates, charcuterie boards, picnics, and car rides!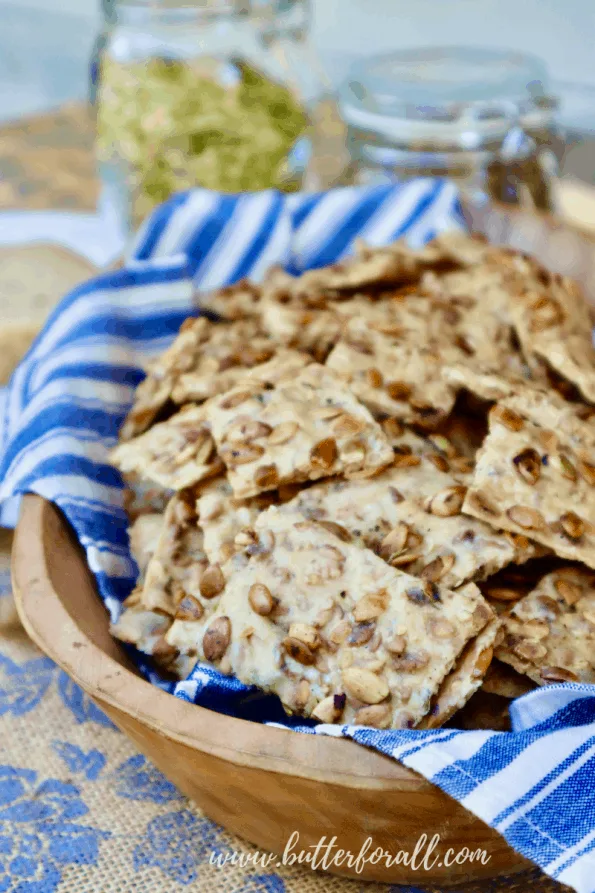 Sprouted Seeds Steal the Show
If you haven't yet experimented with sprouted seeds, this is a great opportunity to add these incredibly nutritious, delicious, thoughtfully prepared foods into your diet.
Sprouting seeds makes them easier to digest, increases their nutritional value, and boosts their flavor. What's not to love?!
Luckily for us busy people, we can buy these properly prepared seeds already sprouted!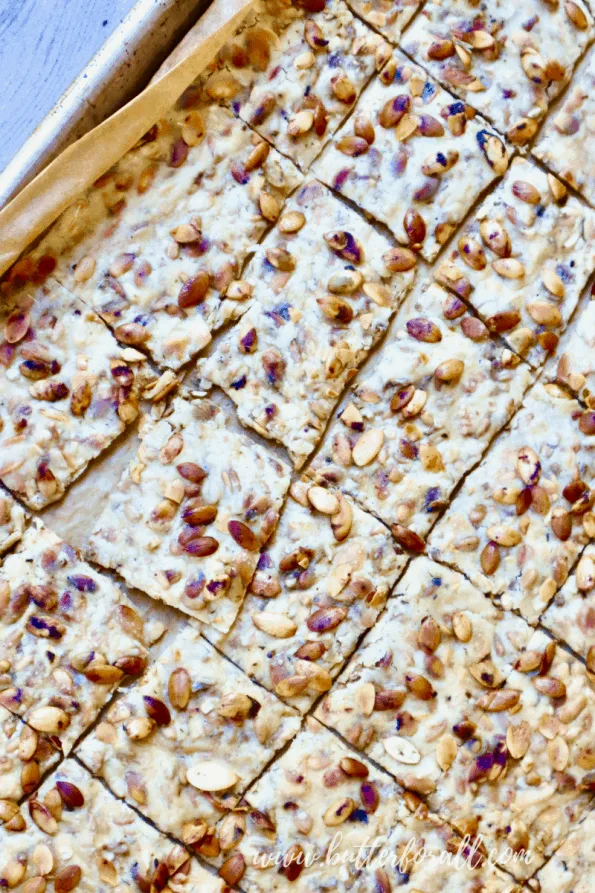 If you are interested in sprouting your own seeds at home you certainly can! Just make sure they are fully dehydrated before adding them to this cracker recipe.
Here are the easy sprouting steps to follow:
Never mix sprouting seeds in the same bowl. Always keep individual varieties separate.
Start by rinsing a few cups of raw hulled sunflower seeds and raw pumpkin seeds in fresh water to remove any dust or debris.
Soak the seeds in fresh water for 8 hours. Use separate bowls for each variety.
Rinse them again and drain them well.
Cover the bowl and let them rest at room temperature for 8 hours.
Rinse the seeds and drain them again.
Cover the bowl and let them rest at room temperature for 8 more hours.
Rinse the seeds really well this time and drain them completely.
Lightly salt the seeds and spread them on baking sheets or dehydrator trays in a single layer.
Dry them for 6 to 10 hours at your lowest oven temperature setting (usually 175°F), or follow your dehydrator manufacturer's instructions.
Once completely dry, store them in an airtight container and use them within 2 weeks.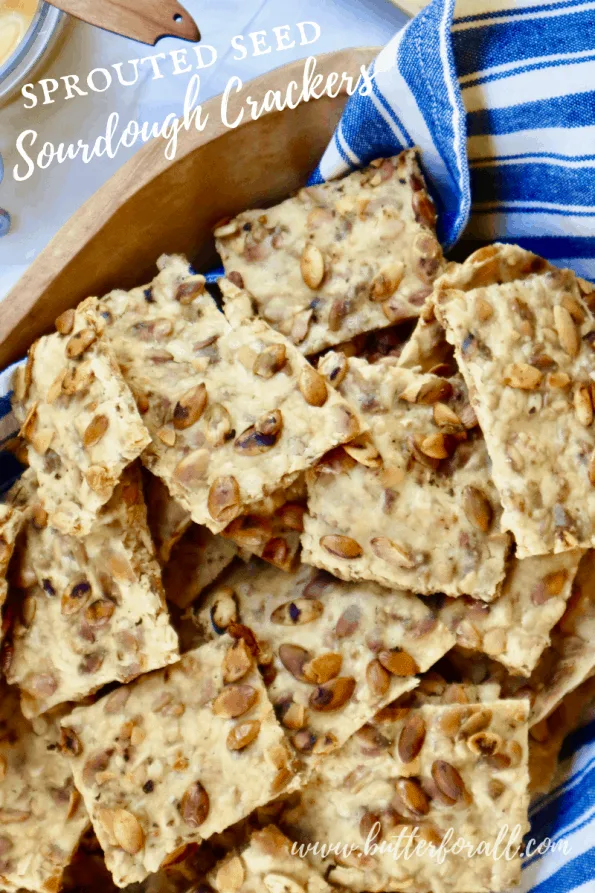 The Best Sourdough Starter for the Job
As with all my sourdough starter batter cracker recipes, you can use your starter in any state. Some examples include: accumulated starter discard, semi-active starter from the fridge, starter that is fed and allowed to fully ferment, or even freshly fed and active starter.
Each variation will produce a slightly different flavor and texture.
Using accumulated discard will produce a very sour, very dense cracker. If you use accumulated discard in any cracker recipe make sure to spread it as thin as possible to avoid a tooth breaking scenario.
Using semi-active starter straight from the fridge is a great choice. The starter still has a little life and will rise a bit in the oven. The crackers will be crunchy and slightly sour. The only downside to this option is that cold starter needs more elbow grease when emulsifying the oil into it. If you have time you can bring the starter to room temperature to avoid this problem.
Using fully fermented starter (a 12+ hour ferment at room temperature) will produce a thinner batter that's easier to spread, with a great sour tang. The crackers will be crisp and crunchy.
Using a freshly fed and active starter (4 to 8-hour ferment at room temperature) will give you the lightest texture cracker with the least sourdough flavor.
Sourdough Starter Batter Crackers
Try some of my other sourdough starter batter cracker recipes!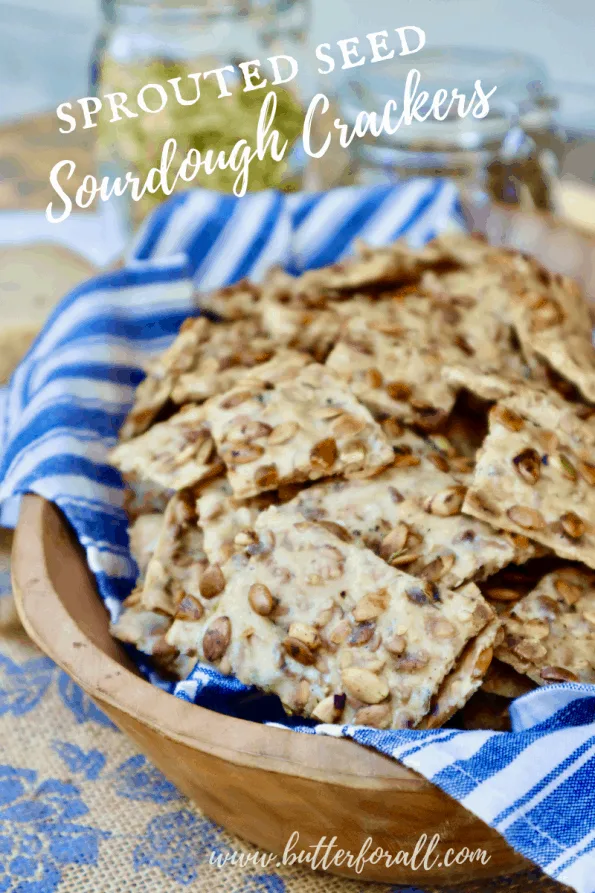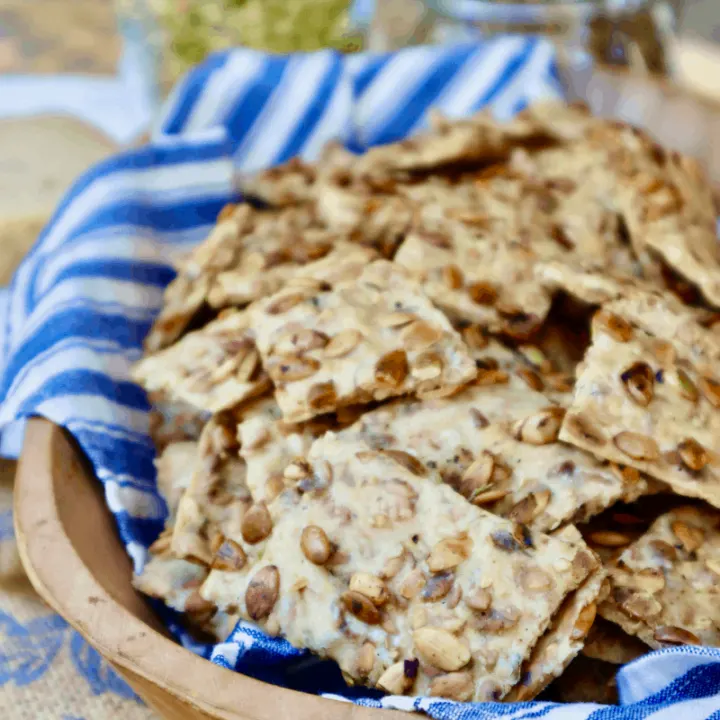 Sprouted Seed Sourdough Crackers
Yield:
(1) 18 by 13-inch Half Sheet Pan
Total Time:
1 hour
10 minutes
A crispy and crunchy sourdough cracker that is loaded with toasted seed flavor and extra healthy proteins and fats!
Ingredients
300 grams (1 1/5 cup after stirring down) sourdough starter, 100% hydration
50 grams (1/4 cup) avocado oil, ghee, or melted coconut oil
5 grams (just shy 1 teaspoon) salt
70 grams (1/2 cup) sprouted and dehydrated pumpkin seeds
70 grams (1/2 cup) sprouted and dehydrated sunflower seeds
Instructions
Preheat your oven to 300℉.
In a large bowl combine the starter and oil.
Using a whisk, stir this mixture until the oil is fully incorporated. The oil needs to be completely emulsified into the starter and no visible oiliness should remain.
Add the salt and seeds and stir well to combine.
Line an 18 by 13-inch (half sheet pan) with parchment and using a rubber spatula spread the batter to the edges of the pan in a single thin layer.
Bake the crackers for 20 minutes and then remove them from the oven.
Using a pizza cutter or knife, score the crackers into squares.
Return the crackers to the oven and continue baking for 40 more minutes.
Watch the crackers closely during the last 15 minutes. If they are becoming too brown too fast, turn off the oven, crack the door slightly, and allow the crackers to dry completely in the oven.
Allowing the crackers to cool and dry in the oven with the door ajar will produce the best results.
Recommended Products
As an Amazon Associate and member of other affiliate programs, I earn from qualifying purchases.
Want To Learn Everything About Sourdough?
Start with this free guide:
Demystifying Sourdough – Everything You've Ever Wanted To Know About Sourdough Starter – Why It's Better For You – And How To Start One