I may receive commission if you purchase through links in this post.
This soaked wild rice salad is a beautiful and nourishing side dish — a perfect accompaniment to your holiday feast.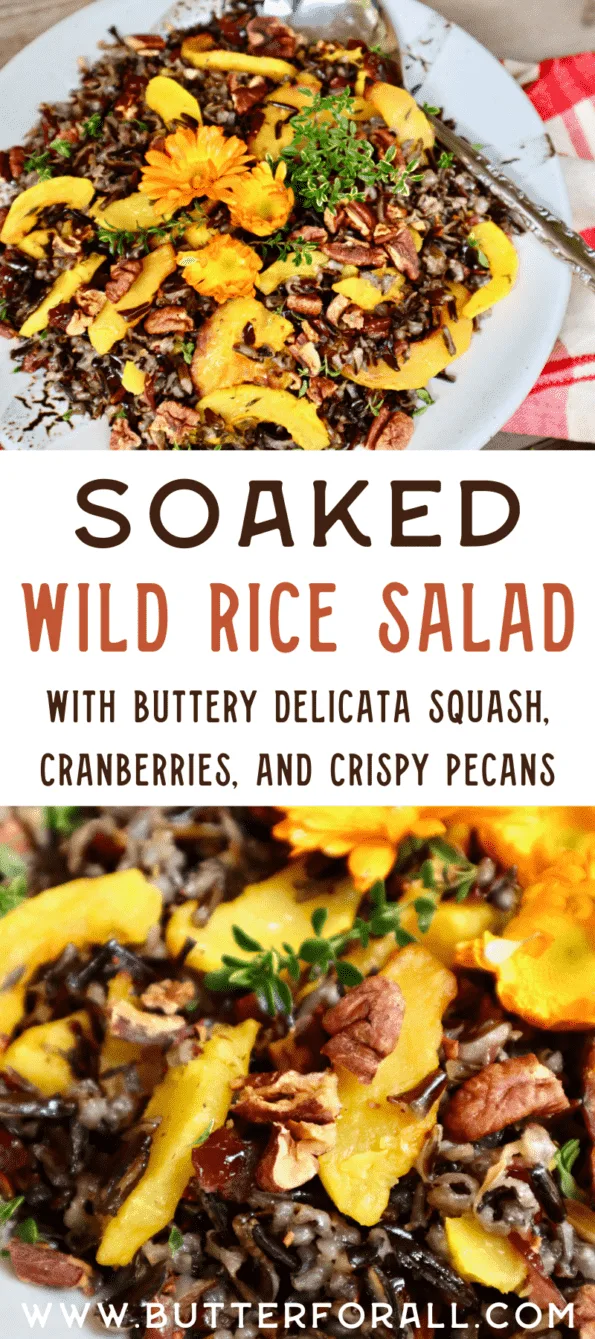 With minimal ingredients and a straightforward recipe, this delicious soaked rice salad will surprise you with its simplicity.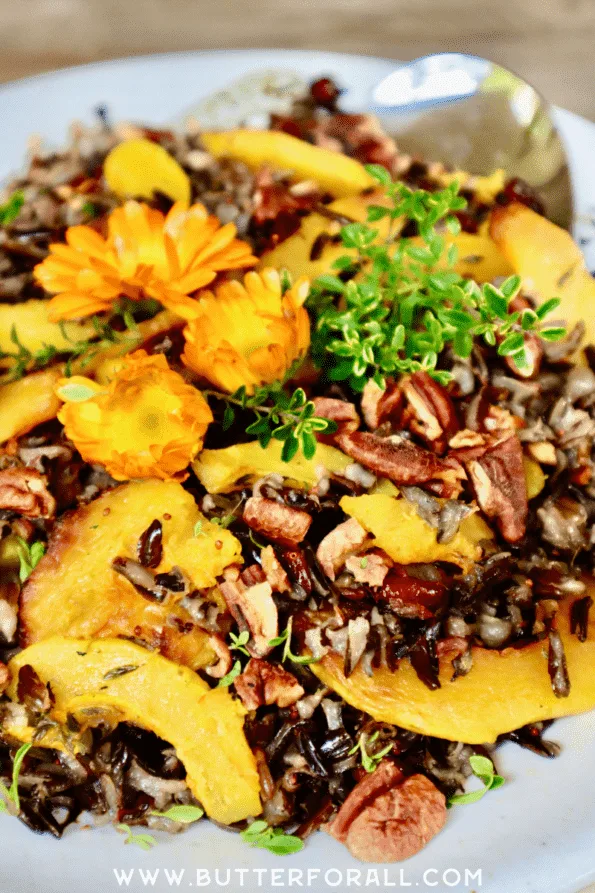 Do It Right! Soaked Wild Rice and Soaked Crispy Nuts
If you aren't familiar with the nutritional benefits of soaking, souring, and sprouting then I'll suggest you get your hands on a copy of this book.
But in the meantime, here is the simplified rundown. Grains, seeds, nuts, and legumes all have protective enzymes in their outer layers. These enzymes keep the seeds from being digested so they can pass through the digestive tract and go on to germinate.
To get the most out of your food it is important to break down these enzymes so that they can actually nourish your body. That's where soaking, souring, and sprouting come in. These three techniques have been used for centuries to make grains, seeds, nuts, and legumes more nutritious and easier to digest.
In this recipe, the rice is soaked in a salt and vinegar brine for 24 hours before cooking. This removes tannins, anti-nutrients, and protective enzymes, and it also softens the grains and allows for easier and faster cooking with a better (fluffier) result.
The raw pecan nuts should also be soaked for up to 48 hours in salted water, rinsed thoroughly, and allowed to dehydrate slowly. If you've never prepared raw nuts this way your mind will be blown! The resulting "crispy nuts" (a term coined by Sally Fallon Morell) are sweet and buttery with no residual astringency from the tannins. Once the nuts are fully dehydrated they can be lightly roasted to bring out an exceptional toasty flavor.
No time for soaking? There are a few companies producing acceptable sprouted and packaged substitutions.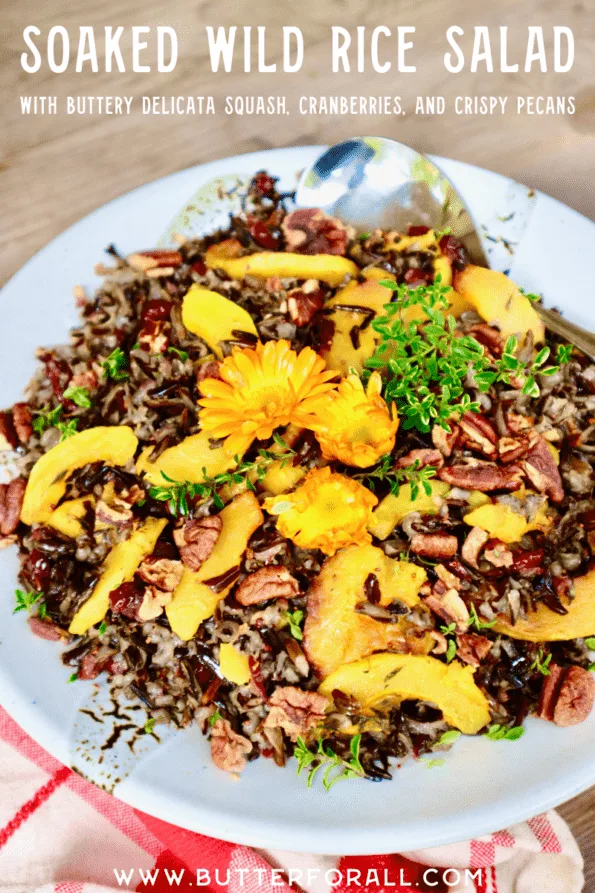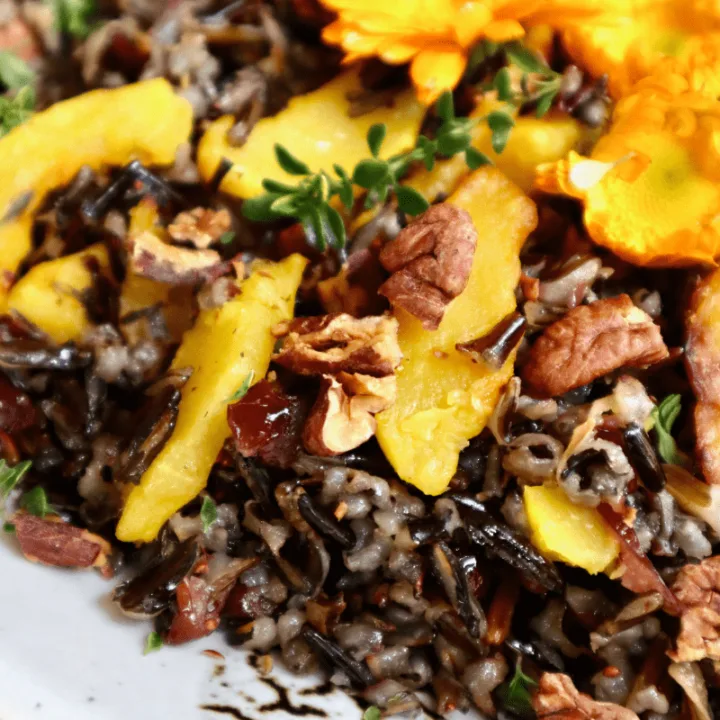 Soaked Wild Rice Salad With Buttery Delicata Squash, Cranberries, and Crispy Pecans
Total Time:
1 day
1 hour
30 minutes
This fluffy wild rice salad hits on flavors like nutty, sweet, roasted, and tart and is complemented by textures like toothy, creamy, buttery, and crunchy! It's a real adventure for your palate!
Ingredients
Soaked Pecans
2 cups raw pecans
2 tablespoons salt
4 cups water
Soaked Rice
3 cups wild rice
2 tablespoons salt
2 tablespoons apple cider vinegar
6 cups water
Salad Ingredients
2 small delicata squash
1/4 cup butter, melted
1 cup dried cranberries
1/4 cup extra-virgin olive oil
2 tablespoons apple cider vinegar
1 tablespoons fresh ginger, grated
1 tablespoon fresh thyme leaves
Salt and pepper to taste
Instructions
Three Days Before (optional)
Add the ingredients for soaked pecans to a bowl and stir gently. Cover the bowl and let soak for at least 24 hours.
Drain the pecans. Rinse them well under cold running water and let them drain well again. Toss the pecans with a few pinches of salt.
Spread the pecans on a baking sheet and dehydrate them at the lowest set temperature of your oven, usually 175°F.
When they are fully dry they will be sweet and crispy.
Please note that drying times vary. It usually takes between 8 to 16 hours to achieve fully crispy nuts. A food dehydrator can also be used.
Store crispy nuts in an airtight storage container.
The Day Before (optional but recommended)
Add the soaked rice ingredients to a large bowl and stir gently. Cover the bowl and let it sit for 24 hours at room temperature.
To Prepare the Salad
Rinse the rice well under cold running water and allow it to drain.
Add the rice and 1 teaspoon of salt to a large cooking pot and cover with 6 cups of water. Stirring occasionally, simmer the rice covered until all the water has been absorbed.
Meanwhile, preheat your oven to 400°F.
Lightly peel your delicata squash. Cut it lengthwise and scoop out the seeds. Slice each half into crescents about 1/3-inch thick. Lightly salt and pepper the cut squash and toss it in the melted butter. Arrange the squash on a baking sheet and bake for 20 minutes or until golden and tender. Remove squash from the oven and allow it to cool on the baking sheet. Turn your oven down to 325°F.
Spread 1 to 2 cups of the pecans on a baking sheet. Lightly toast them for about 5 minutes. Keep a close watch — nuts can burn easily. Remove the nuts from the oven and set them aside.
When the rice has finished cooking add the dried cranberries and stir them in. Cover the pot and allow it to cool to room temperature.
Meanwhile, grate your fresh ginger into a small jar. Add the apple cider vinegar, olive oil, thyme, and salt and pepper to taste. Mix the dressing well.
When all the ingredients are at room temperature add them to a large bowl, toss them gently with the dressing, and season the salad with additional salt and pepper if necessary.
Recommended Products
As an Amazon Associate and member of other affiliate programs, I earn from qualifying purchases.