I may receive commission if you purchase through links in this post.
You know summer is in full swing when the peaches and peppers show up at the farmer's markets!
A sweet and spicy jalapeño peach marinade is the perfect way to take advantage of both. In this recipe I use bavette steaks, but this marinade would be delicious on any cut of beef, lamb, or chicken!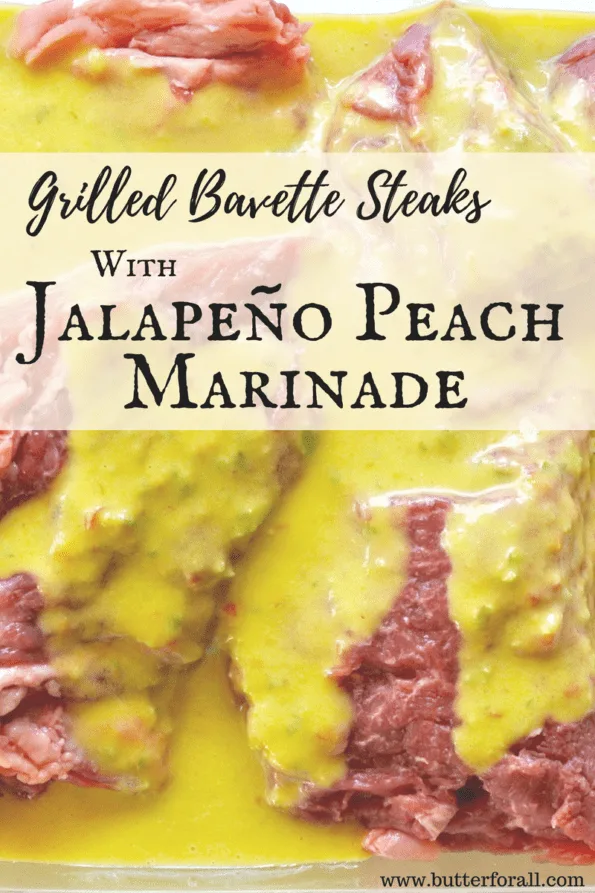 What Is a Bavette Steak?
Bavette steak is a cut of beef that comes from the flank of the cow, close to the sirloin and tri-tip. Bavette steak is tender and flavorful with a long loose grain similar to skirt steak. When thinly sliced across the grain it is incredibly tender.
Bavette is sometimes referred to as sirloin-flap steak or just flap steak. It is an often overlooked cut of beef with a noticeably lower price per pound. Don't let that scare you — bavette is a wonderful choice, especially for high-heat grilling!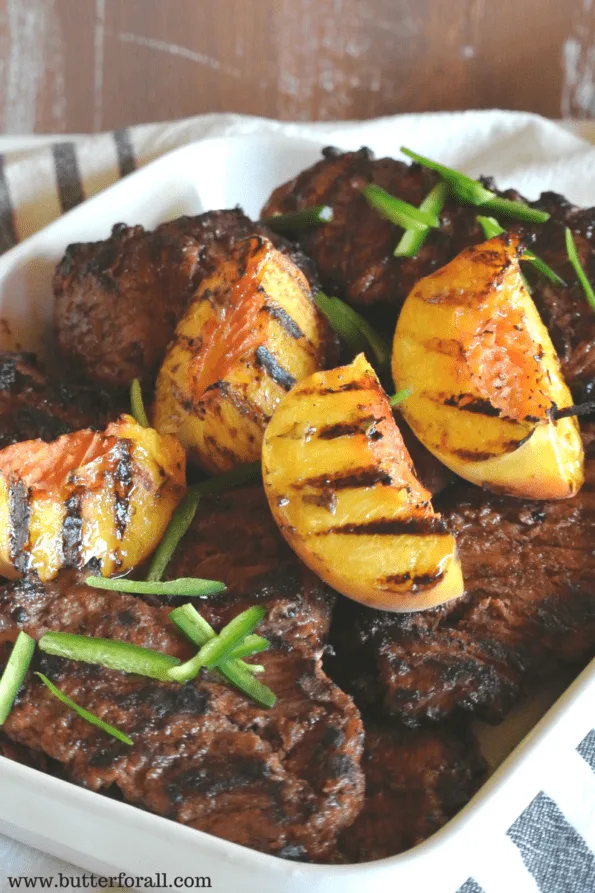 Bavette often comes in one long rectangular steak (sometimes up to 24 inches) of varying thicknesses. You will want to cut the steak down based on the thickness. This will ensure you can cook each individual piece to the perfect temperature.
Use a sharp knife to cut sections of the bavette based on thickness prior to marinating.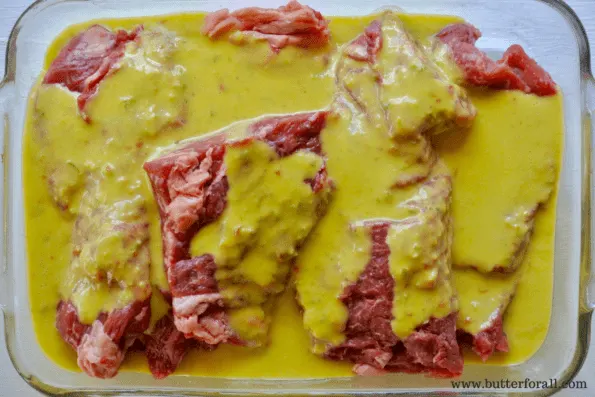 Cook Over a Hot Bed of Coals!
Because of the varying thickness of the bavette steaks, it is optimal to cook them over a hot bed of coals where you can control the placement and cooking time for each piece.
Bavette Steaks are best served medium-rare to medium-well (I opt for straight-up medium, about 150°F). Because of the long grain and connective tissue in this steak it is not the best cut for rare cooking.
Serve Your Steaks With Grilled Peaches!
The combination of sweet and smoky grilled peaches adds such a nice depth of flavor to this barbecue dish. Use ripe peaches halved or quartered and brushed with olive oil. After the bavettes have been cooked and removed from the grill, cook the peaches on each side for 2 to 3 minutes. The bavettes will also benefit from this resting period before serving!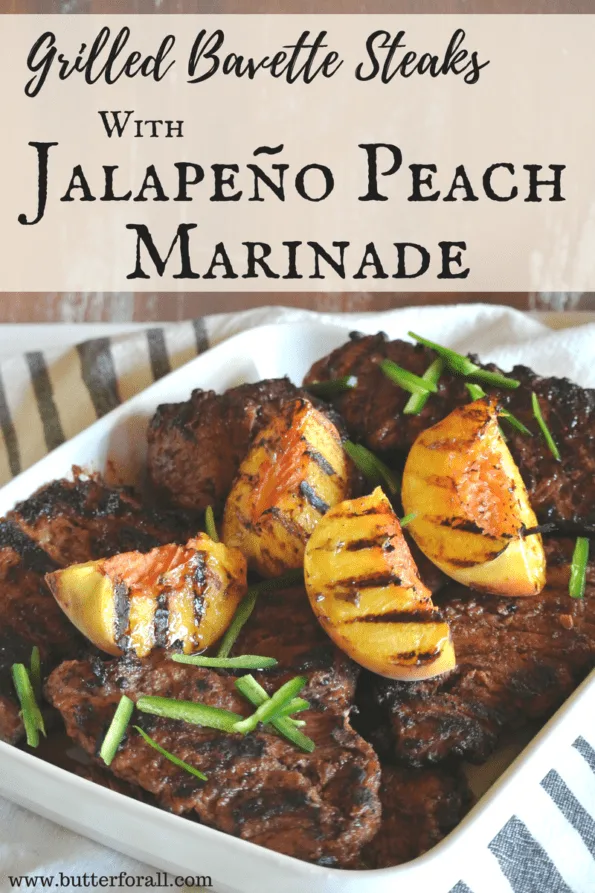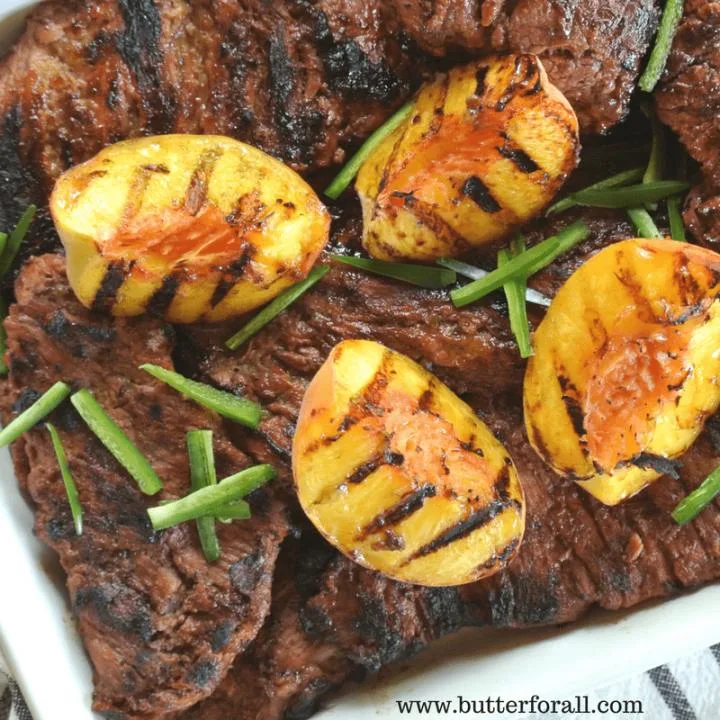 Bavette Steaks With Jalapeño Peach Marinade
Total Time:
1 hour
30 minutes
A sweet and spicy summer marinade perfect for steak, lamb, or chicken.
Ingredients
4 pounds bavette steak or other meat
Marinade
1 whole ripe peach, plus 1 to 2 more for grilling (optional)
2 whole jalapeños, seeded or not depending on spice preference
1 tablespoon apple cider vinegar
Instructions
Cut the bavettes into steaks or individual portions. Place the pieces in a shallow dish.
Pit the peach and seed the jalapeños (if desired, see notes) and place them and all the other marinade ingredients into your blender.
Blend the marinade on low speed until almost smooth.
Pour the marinade over the steaks and refrigerate them for at least 60 minutes. Remove them from the refrigerator 20 minutes prior to cooking.
Heat your barbecue with a full chimney of coals. After dumping the coals let them burn for 10 to 15 minutes before adding the steaks to the grill. Cook the steaks to medium temperature (150°F) while basting them with the remaining marinade from the dish. Remove them to a platter to rest.
Pit, cut, and brush additional peaches with olive oil before grilling. Grill peaches on all sides for 2 to 3 minutes.
Using a sharp knife, slice the steaks against the grain in slices no thicker than a half inch. Serve the steak sliced and topped with grilled peaches and fresh jalapeños.
Notes
How to adjust the spiciness of this marinade:
You can easily adjust the heat of the marinade by including some or all of the seeds from the jalapeños. For an extra-hot marinade, include all the seeds from both peppers. For hot, include the seeds from one pepper. For medium heat, include the seeds from one-half pepper. And for mild, only use the flesh of the peppers without seeds.
Sometimes jalapeño flesh can vary in spiciness so it's always a good idea to taste a small piece of pepper before proceeding.