I may receive commission if you purchase through links in this post.
Fresh plump oysters get a savory topping of buttery sourdough breadcrumbs before being roasted (or barbecued) to perfection.
While this recipe may seem complex it's really very simple. Shucking the oysters is probably the most difficult part!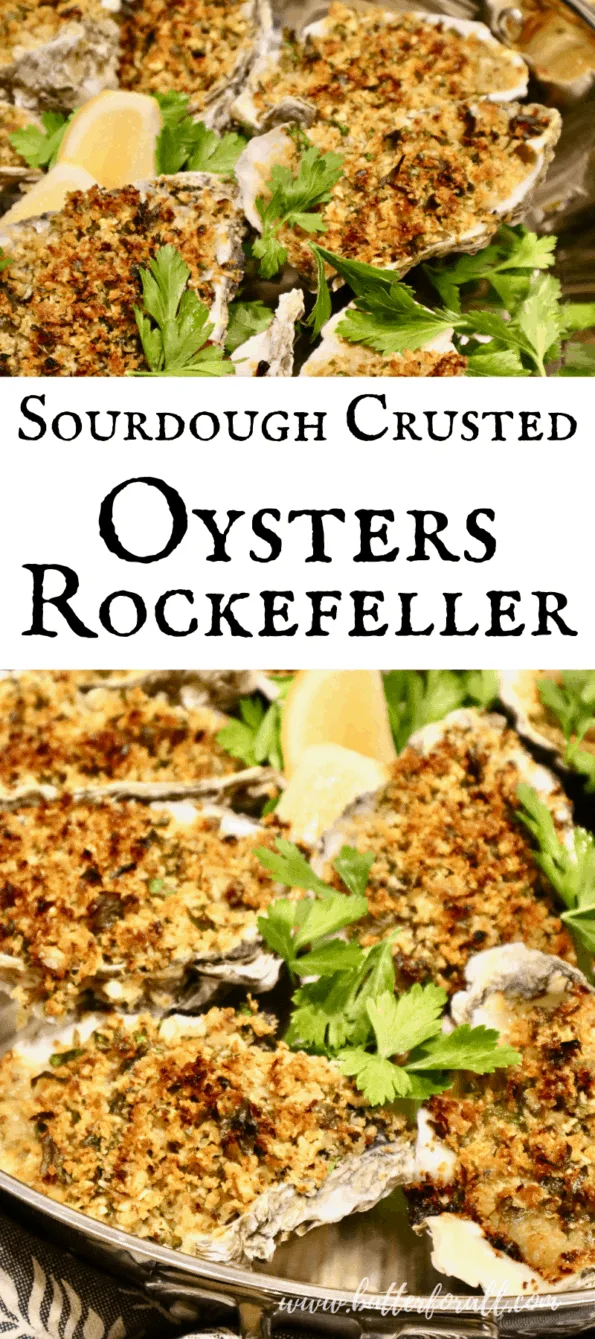 The buttery sourdough breadcrumbs are mixed with other savory ingredients like Parmesan cheese, shallots, garlic, and fresh parsley. This easy breadcrumb mixture can be made ahead of time and reserved for topping the oysters just before baking.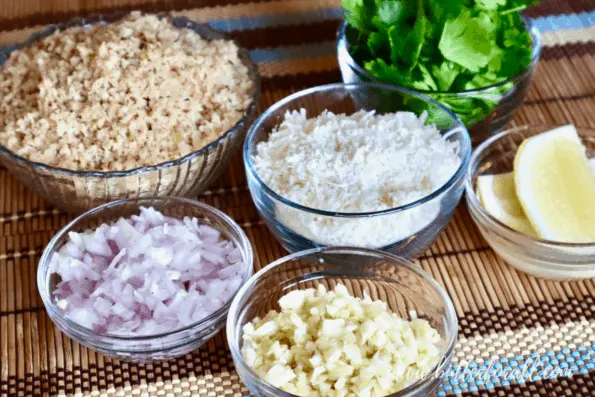 I have even taken this recipe on the road! We picked up a bag of fresh oysters, transported them to a nearby bayside park, shucked them on the spot, topped them with the prepared breadcrumb mixture, and roasted them fresh over our little hibachi charcoal grill.
Sourcing Fresh Oysters
This is a recipe I started making in San Francisco when we were within driving distance of Point Reyes. This peninsula along the California coast creates Tomales Bay, an area famous for its delicious farmed oysters. Driving up the inland side of Tomales Bay you can stop along the waterfront and pick up bags of freshly harvested oysters straight from the water.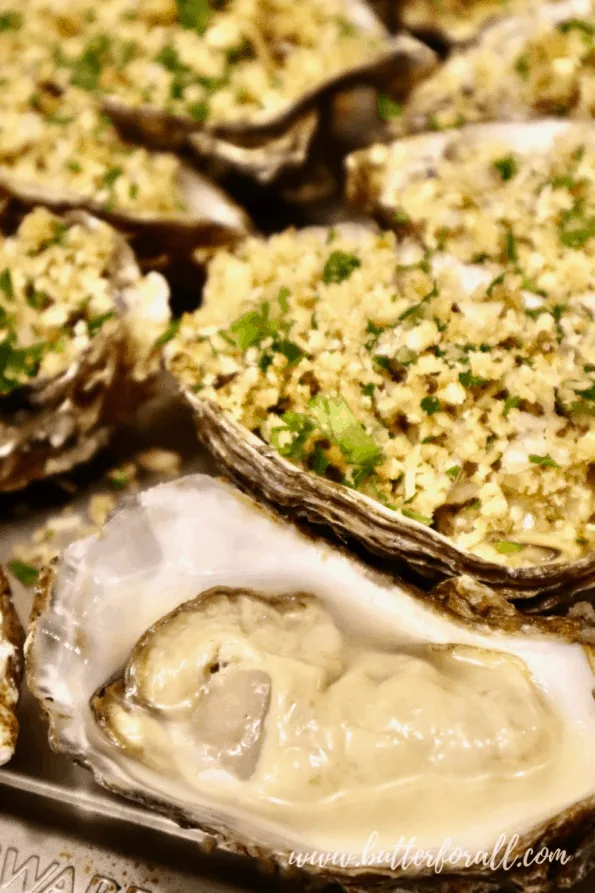 Now I have access to other delicious oysters straight from the brackish bays of the Oregon coast. Taking a drive out to the coastal region, stopping at a little oyster shack, and picking out 5 or 10 pounds of fresh oysters is a delightful experience. Use the Oyster Guide map to find North American oyster farms to visit near you. Shipping options are also available.
Shucking Oysters
It's kinda like riding a bike, once you know how you'll never forget. But it does take some elbow grease and the right tools.
Never shucked an oyster before? Start here.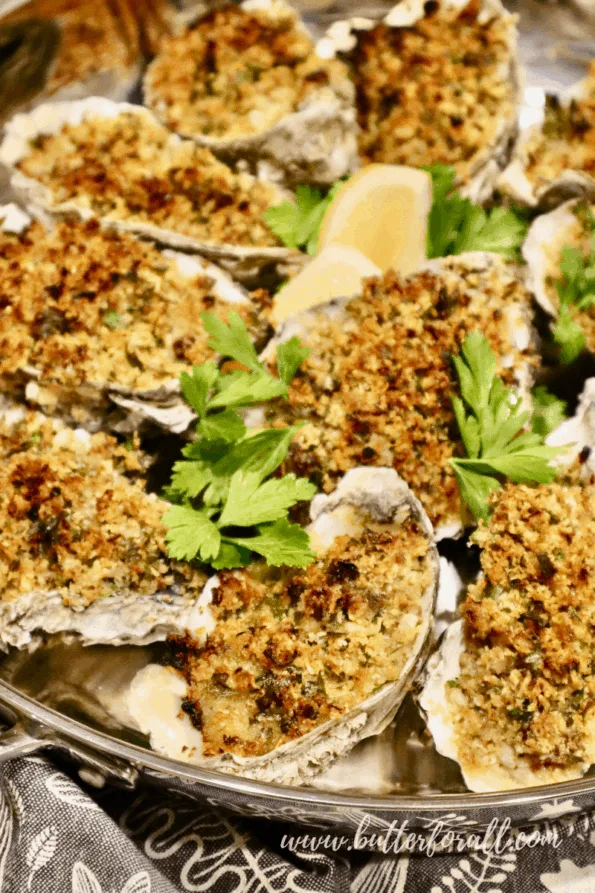 The Perfect Sourdough for the Job
This recipe requires a light and airy sourdough breadcrumb. So the bread you choose really can make a difference in the outcome of this recipe. You want to use a bread made predominantly with white flour and soured completely. A dense whole wheat bread will not work sufficiently.
My recommendations would be my sourdough focaccia or traditional sourdough boule.
Both these recipes produce a light and airy crumb, deep sourdough flavor, and good absorption for the other savory ingredients.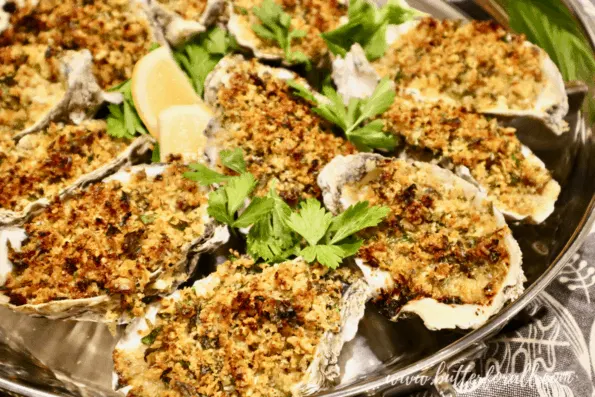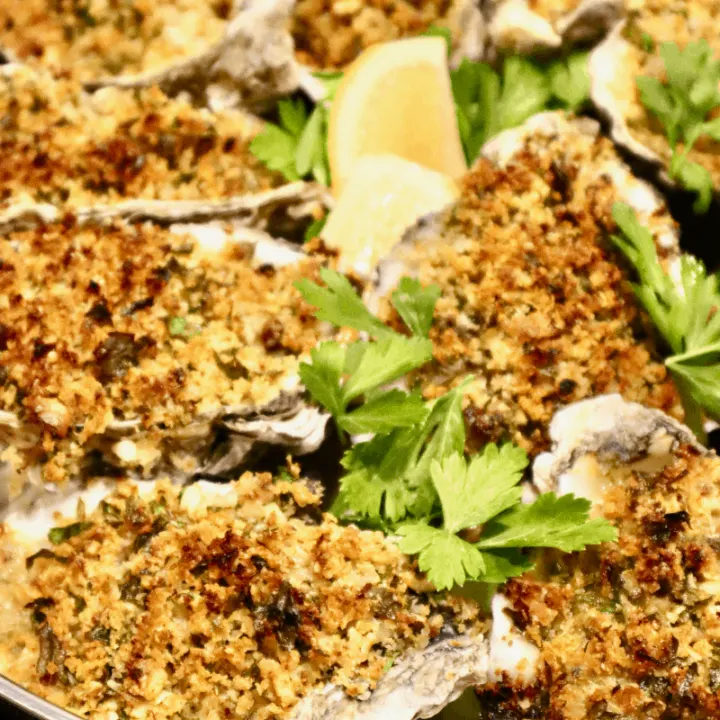 Sourdough-Crusted Oysters Rockefeller
Yield: 12-16 individual oysters

Prep Time: 45 minutes

Cook Time: 15 minutes

Total Time: 1 hour

Rich plump oysters are baked to golden-brown perfection with a savory topping highlighted by buttery sourdough breadcrumbs, Parmesan cheese, shallot, and garlic.
Ingredients
1/4 cup butter
2 cups fresh sourdough breadcrumbs
1/4 cup shallot, minced
3 tablespoons garlic, minced
1 cup flat parsley leaves
1 cup Parmesan cheese, grated
2 teaspoons salt
1 teaspoon pepper
1 lemon, cut in wedges
12 to 16 medium to large oysters, fresh in shell
Instructions
Making the Breadcrumb Topping
In a large frying pan melt the butter over medium-high heat.
Add the breadcrumbs, minced shallot, and minced garlic and stir continuously until the bread crumbs start to toast.
Remove the breadcrumb mixture from the heat and set it aside in a large mixing bowl to cool.
Finely chop 3/4 of the cup of parsley, reserving some nice leaves for garnishing the finished dish.
Once cool, add the Parmesan, salt, pepper, and parsley to the breadcrumbs and mix well.
Preparing and Baking the Oysters
Preheat your oven to 425℉ with a rack in the upper third.
Wash your oysters under cold running water and remove any dirt or sand with a stiff-bristled brush. Set them on a towel to dry.
Shuck all the oysters and detach them completely from their shells. Keep the oyster meat and as much of the oyster liquid in the cup of the shell. Remove any flakes of shell or grit that fell in during shucking.
Set the open oyster cups on a baking dish. If they are tipping over, you can use an oven-safe baking rack, baking salt, or tin foil to keep them upright.
Using a few of the lemon wedges, squeeze a little fresh juice on each oyster. Reserve the leftover lemon wedges for garnishing the finished dish.
Use a spoon to divide the breadcrumbs between the oysters, making generous piles of topping over each open shell. Pat the breadcrumbs down just a touch so they don't crumble and fall off during baking.
Depending on the size of the oysters, bake the dish until the meat is firm and the breadcrumbs have turned golden brown, about 10 to 15 minutes. For smaller oysters you may need to turn the broiler on for the last minute or two to get the desired color.
Serve the oysters immediately with the remaining lemon wedges and fresh parsley.
Barbecue Instructions
Prepare the breadcrumbs and oysters exactly as above. Cook them directly on a preheated barbecue grill until the meat is firm.
Recommended Products
As an Amazon Associate and member of other affiliate programs, I earn from qualifying purchases.