I may receive commission if you purchase through links in this post.


This year I had a nice crop of shelling beans. I tended them carefully while waiting as patiently as possible for them to ripen.
If you are not familiar with shelling beans, you should be! Trust me. The flavor and texture is so superior to dry beans. Shelling beans come in many varieties and many of the dry beans you buy can be eaten AS shelling beans. The trick is not to let them dry! See, shelling beans are just beans that have ripened on the vine but are picked fresh instead of dried. They are plump little beauties who cook in a fraction of the time of dry beans and have a smooth creamy texture. This year I experimented with a variety I had never grown, 'Lazy Wife'. Ha, what a joke! Let me just say that if you are growing your own beans you are in no way lazy! In fact I'm not sure how they got their name because there is nothing lazy about this variety, I found them difficult to shell and prefer the 'Cranberry' beans I have grown in the past. But they were delicious when cooked and they are beautiful like little pearls.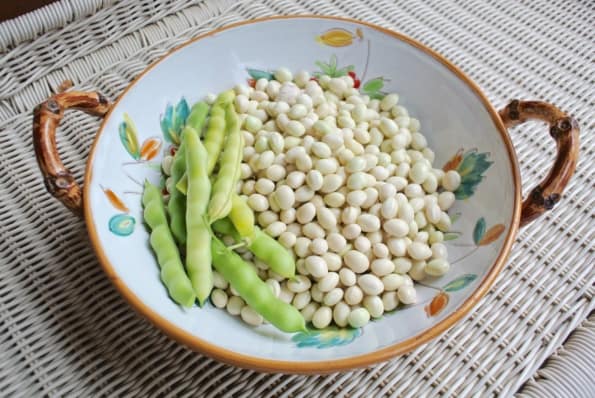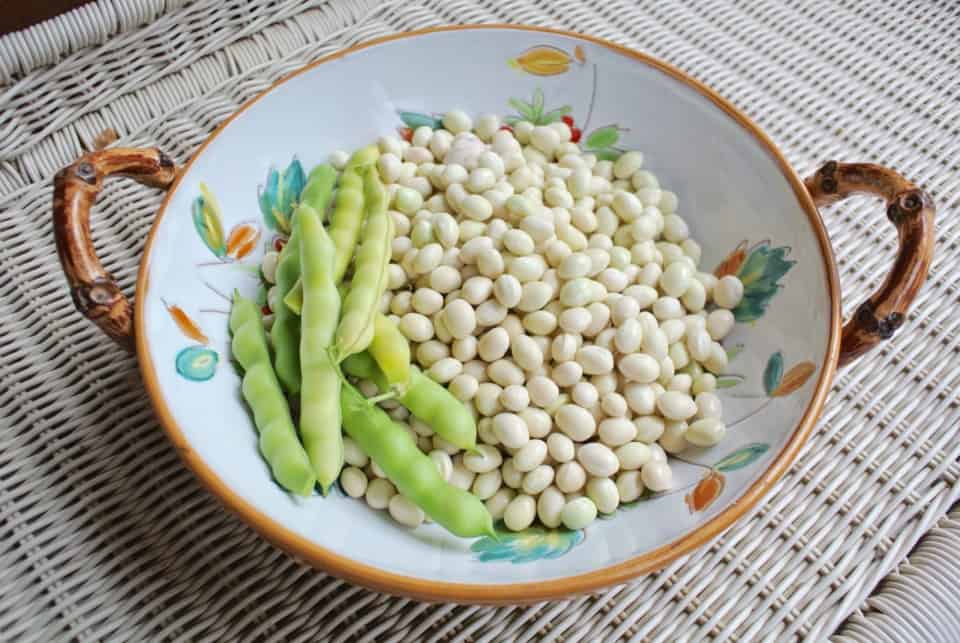 When paired with the fresh pork belly and summer vegetables ANY variety of shelling bean will really shine!
Recipe serves 6-8 people
2 Pounds Shelling Beans
2 Pounds Pork Belly
4 Teaspoons Salt
1 Teaspoon Pepper
1/2 Pound Italian Sweet Peppers (or other bell pepper of your choice).
1/2 Pound Baby Zucchini
3 Sprigs of Fresh Sage
1 Head Fresh Garlic
2-3 Cups of Water
Start by shelling your beans into a large pot by splitting the shell and extracting the beans inside. When the beans have been shelled fill the pot with water and bring your beans to a boil. Cook them on a slow boil for 15 minutes. Add 2 teaspoons of salt and remove from the heat. Let them sit in the salted water for 5-10 minutes before draining them and setting them aside.
In the meantime start preparing the pork by cutting the belly into 1-2″ squares.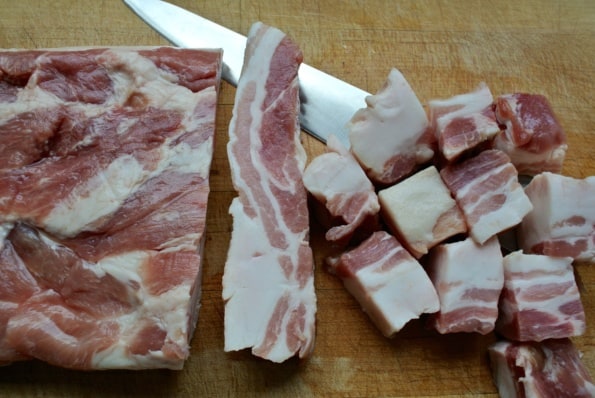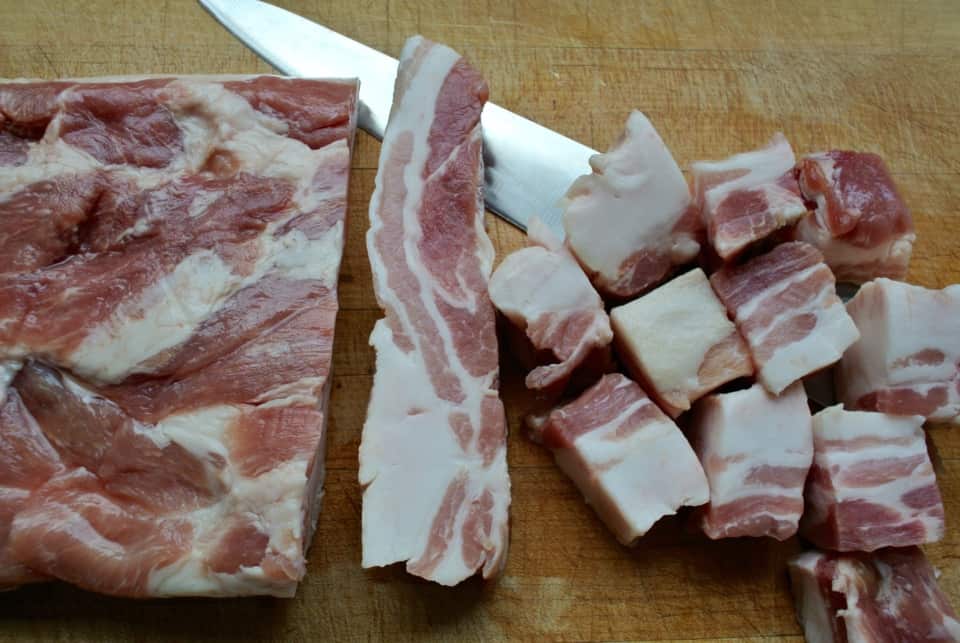 Preheat a heavy bottomed pot over med/high heat. I use a cast iron dutch oven (that you can find in My Shop) with great success! Add the cut up pork belly to your hot pot and cook it until all the sides are a beautiful golden brown.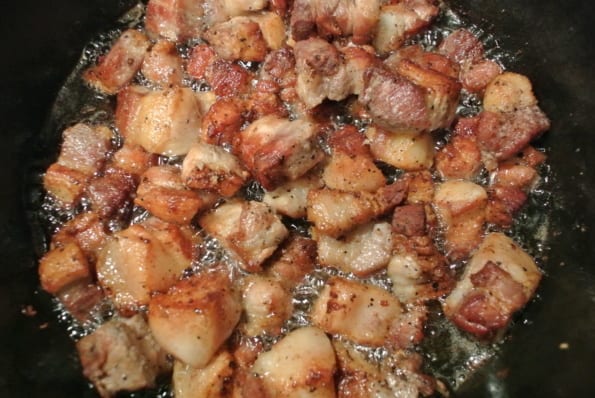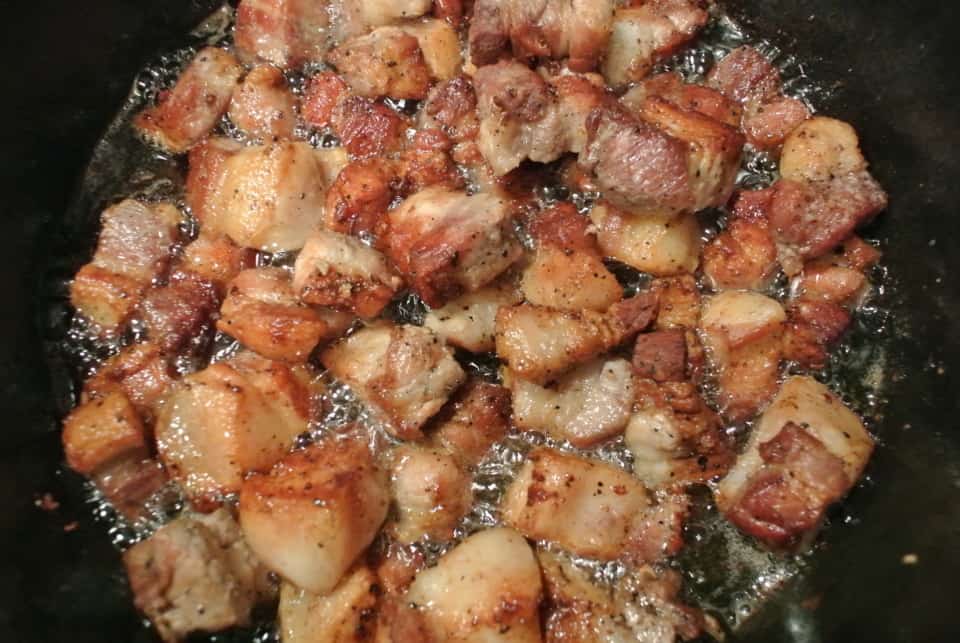 While your pork is crisping remove the leaves from 2 of the sprigs of sage. These will get fried in the pork drippings. When the pork is nice and golden brown remove it from the pot with a slotted spoon onto a plate and set it aside. Add the sage leaves to the hot pork drippings and fry them until crisp.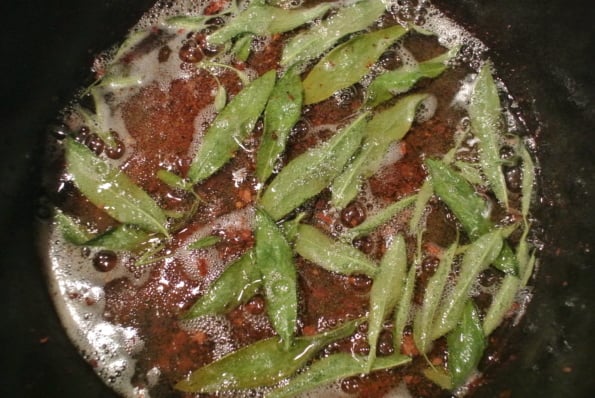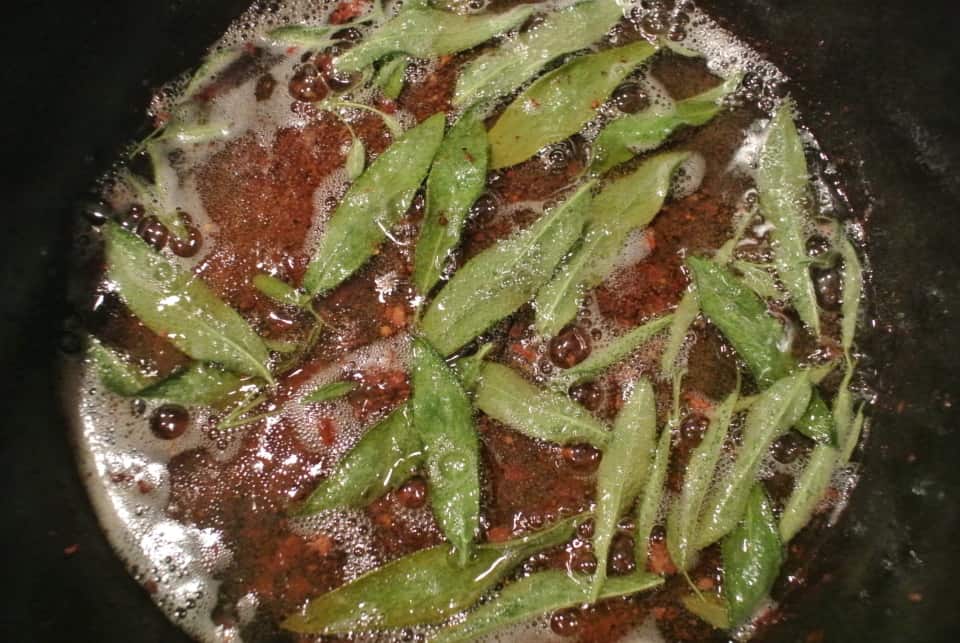 The sage leaves will bubble at first and then the bubbling will slowly subside. When the bubbling stops they are done. Remove them to a paper towel to cool and drain.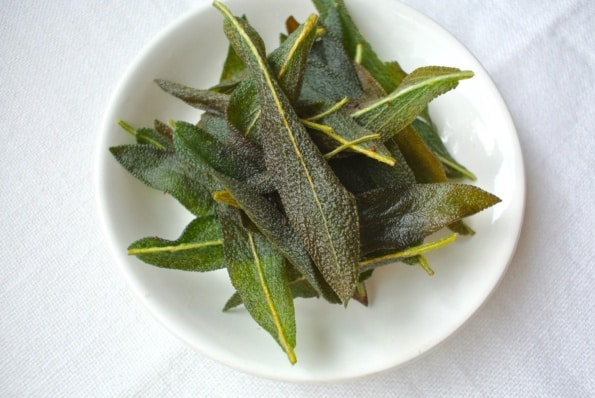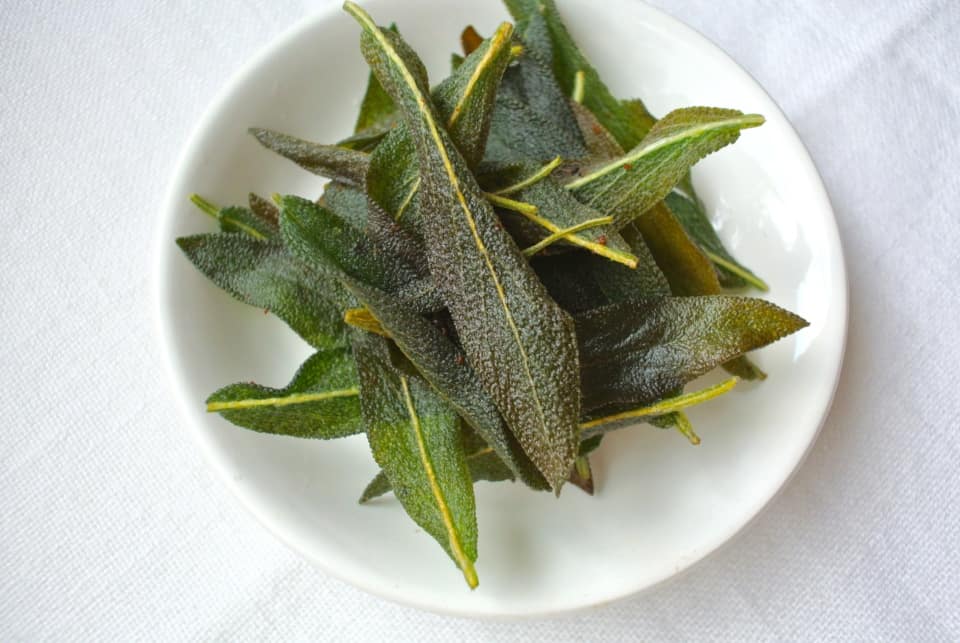 Drain the pork drippings (only the fat, leave all the fond on the bottom of the pot) into a ceramic bowl and set it aside for future use if you wish.
Add the pork back into the pot over medium heat and add 2 Cups of water, the remaining 2 teaspoons of salt and the pepper. Bring this to a boil while scraping the bottom of the pot. Cook for 15 minutes.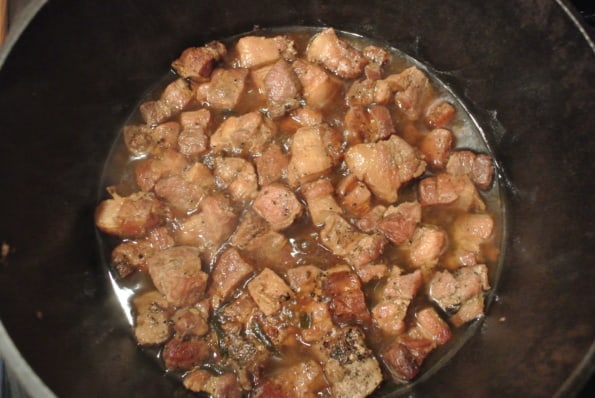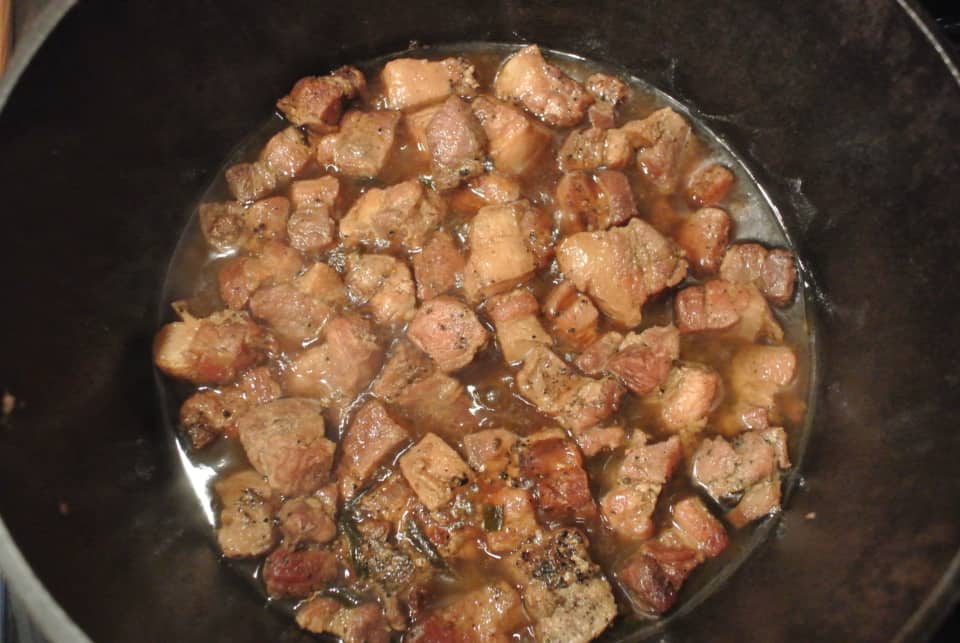 Cut your peppers lengthwise and remove the seeds. Cut you zucchini lengthwise as well and proceed to cut all the vegetables into a nice large dice. Peel and thinly slice the garlic. De-stem and mince the sage. Your prepped veggies should look like this.
Add all the prepped veggies to the pork and stir gently to combine.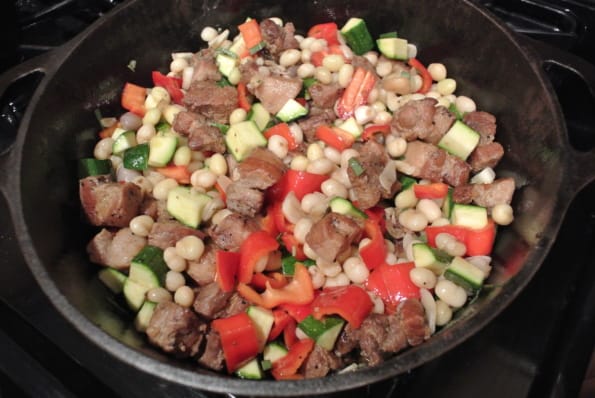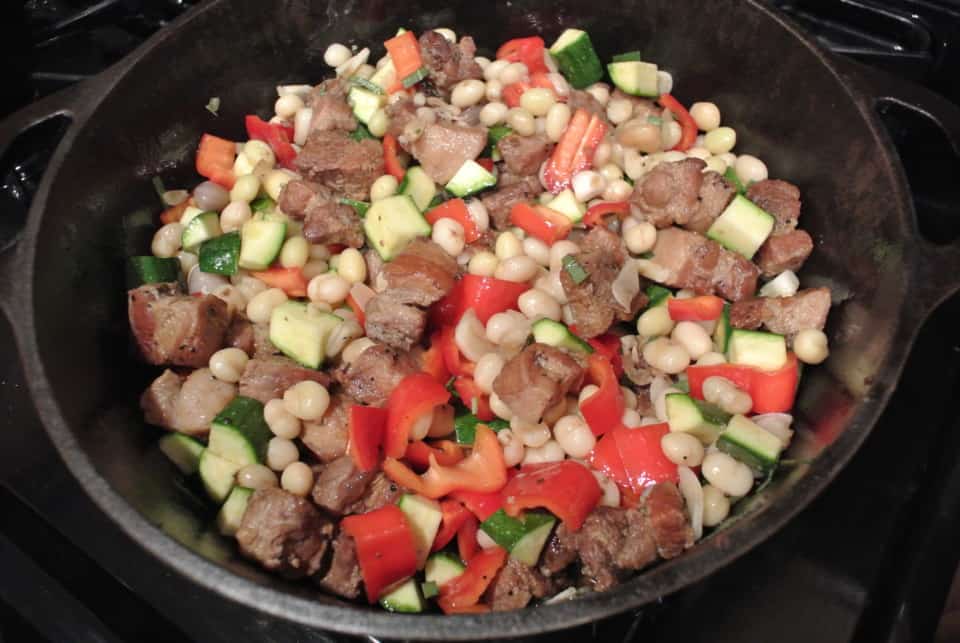 Cook this mixture covered, over medium/low heat for 45 minutes or until the pork is fork tender. If the beans start to look dry before the time is up add up-to 1 more cup of water. When the pork and beans are thoroughly cooked, taste them and add salt and pepper if needed. I didn't need more, but you may. Serve them in a large bowl garnished with the fried sage leaves. Or portion them into individual bowls.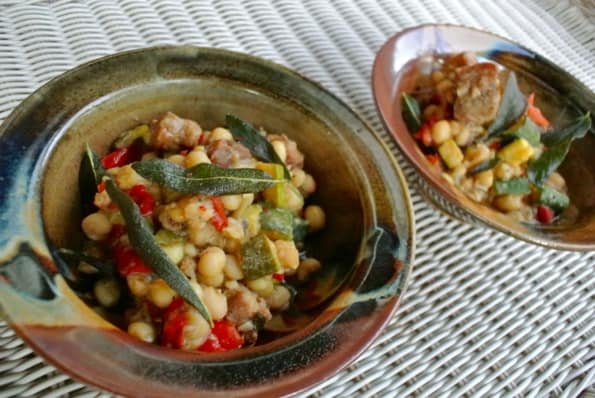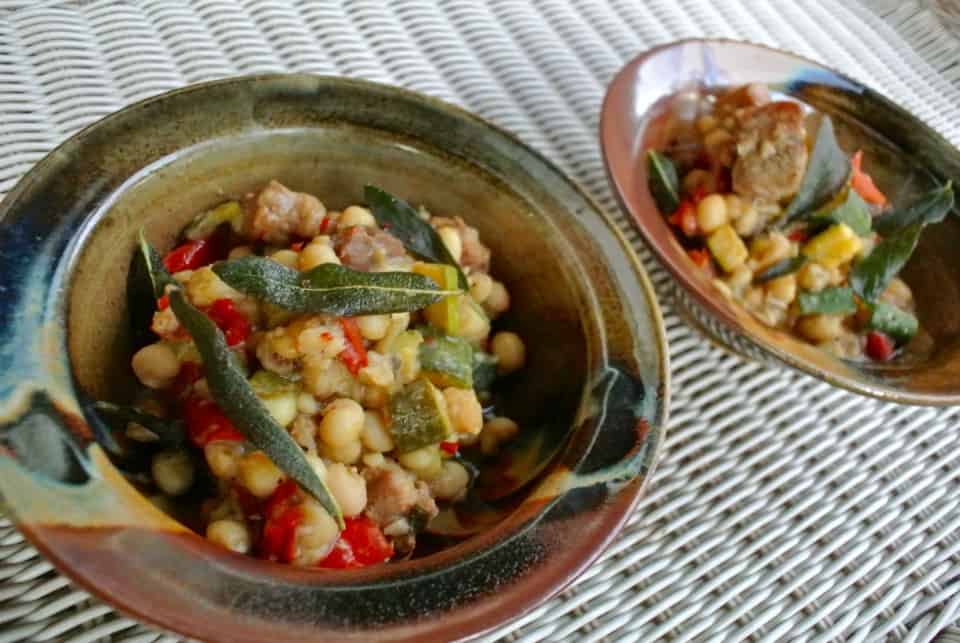 I hope you enjoy this beautiful summer dish!