I may receive commission if you purchase through links in this post.
I've been on a big-time salad kick the last few weeks.
The holidays tend to bog me down with heavy winter foods and starting in January I always crave salad. Not just a weak little side salad — I want a real, meal-sized salad. Salad dressing is one condiment I never buy. It's easy to make from scratch and the possibilities are endless.

Sometimes I want a vinaigrette, other times I want a creamy dressing, and sometimes I want a creamy emulsified vinaigrette. Salad dressings are an easy gateway into homemade staples, so be prepared to be making mayonnaise and fermented ketchup next! I rarely write down my salad dressing recipes but since I started blogging, I am going to try to keep notes on my favorite concoctions. Often times my salad dressing ingredients are just items I already have on hand.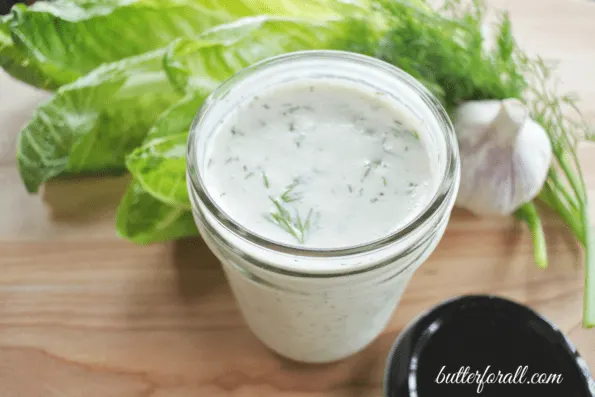 Essential

P

antry

and

F

resh

I

tems

T

o

H

ave

on

H

and

for

G

reat

H

omemade

D

ressings:
Lemons
Apple cider vinegar
Balsamic vinegar
Sherry vinegar
Fresh and dried herbs
Garlic
Capers
Green olives
Anchovies
Sour cream
Plain yogurt
Homemade mayonnaise
Whole grain mustard
Salt, pepper, and spices
Extra-virgin olive oil
Avocado oil
Pumpkin seed oil
Salad

D

ressings

A

re

S

o

S

imple

T

o

M

ake,

E

specially

if

Y

ou

H

ave

the

R

ight

T

ools!
I almost always make my emulsified dressings with a handheld stick blender. Some come with a useful measuring cup that you can also blend in like this one:
This creamy garlic dill dressing is not only great on salad but can be used as a dipping sauce for veggies, or as a sauce for chicken and fish (especially salmon). I'm sure it has many other uses as well. Tell me what you used it for in the comments below!
If you enjoyed this recipe please help me out by sharing it below! And don't forget to subscribe to my blog via email for fresh recipes right in your inbox!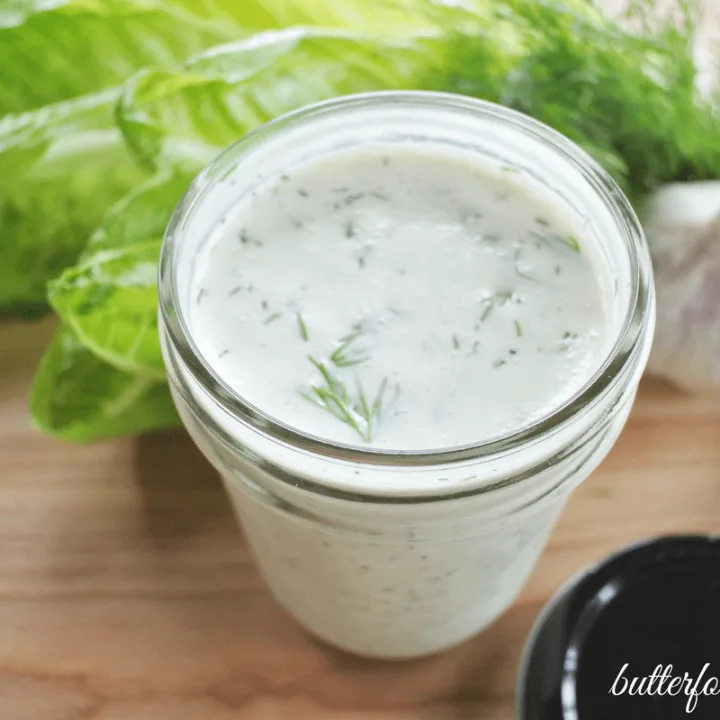 Creamy Garlic Dill Dressing for Salad, Chicken, or Fish
Great on salad but can be used as a dipping sauce for veggies, or as a sauce for chicken and fish (especially salmon)!
Ingredients
1/2 lemon, juiced
1/2 cup sour cream
3 cloves garlic, peeled
6 large fresh dill fronds, stems removed
Instructions
Add all the ingredients to your blender cup and purée on low speed until fully combined! Yep, that's it!!! Use the dressing right away or refrigerate it in a glass jar with a tight-fitting lid for up to one week. A stronger garlic flavor develops over time.
Notes
Recipe yields 1 1/2 cups of dressing.