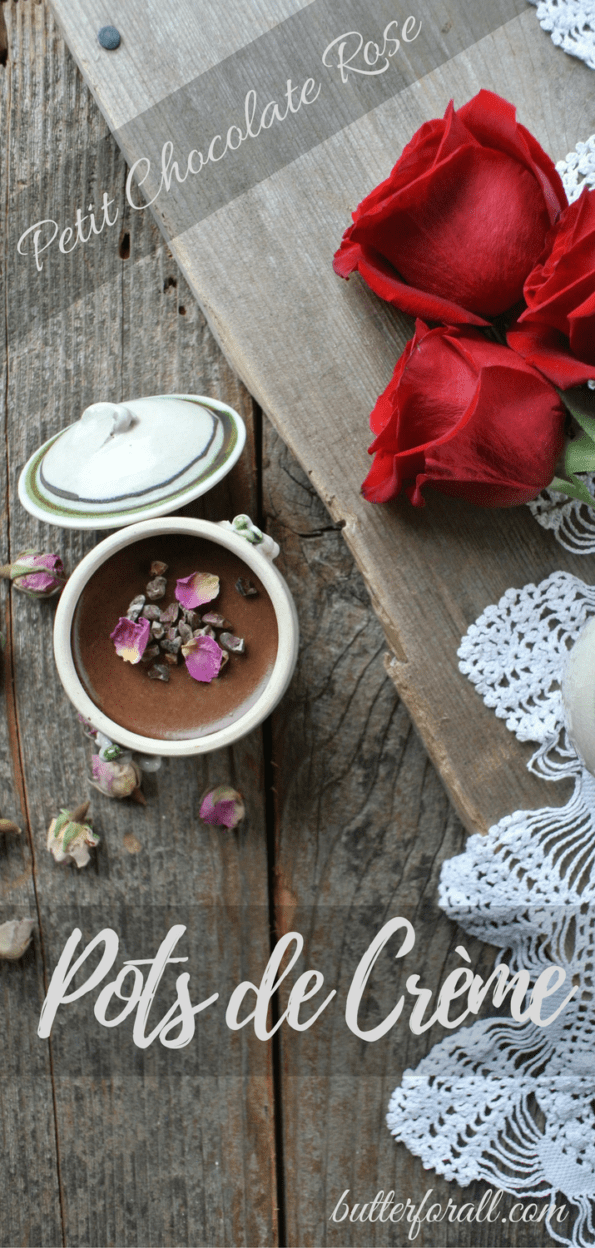 You would be hard pressed to find a dessert that exemplifies love more than these Petit Chocolate Rose Pots de Crème.
They are perfumed with delicate rose and enriched with a deep exquisite 100% dark chocolate. The texture is smooth and melting and lingers on the tongue thanks to a good dosage of cream and egg yolks. And just like all my desserts they are refined sugar free! Maple syrup is used as a wholesome sweetener that adds to the rich velvety lusciousness of this heavenly dessert. The additional garnish of roasted cacao nibs and rose petals to the top adds a nice crunch and pleasant floral contrast. The use of dried rose is detectible and subtle enough that it doesn't overpower but instead adds depth to the chocolate. If you are looking for a dessert that will invoke true love, you have found it!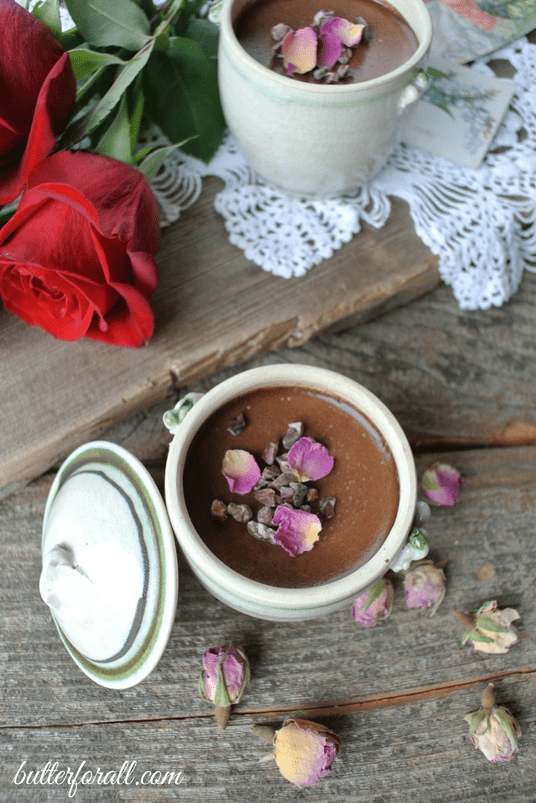 Recipe yields 24 Ounces or (6) 4 ounce Pots de Crème
Because of the richness of this recipe I recommend using small pots or ramekins, no larger than 4 ounces apiece.
1 1/2  Cup Half And Half
1/3 Cup Maple Syrup
1/2 Cup Dried Rose Buds
3 Ounces 100% Chocolate For Baking
6 Egg Yolks
1 Cup Cream
1 Tablespoon Roasted Cocoa Nibs
18 Dried Rose Petals (for garnish)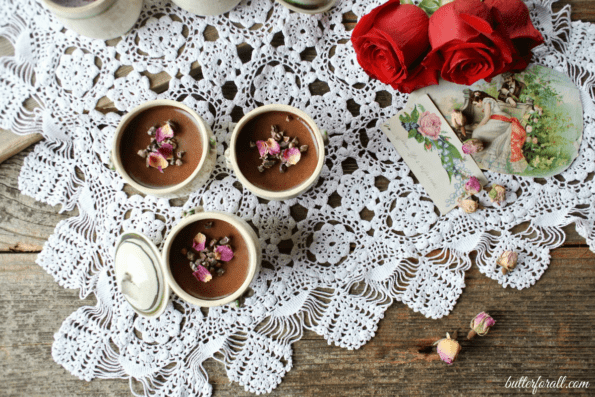 Preheat your oven to 350°.
In a small sauce pan combine the half and half with the maple syrup and roses over medium heat. When the mixture starts to steam turn it down to low and steep for 15 minutes stirring occasionally.
Melt the chocolate in a double boiler or in a very heavy bottom sauce pan over the lowest heat. Once completely melted stir it into the hot half and half. It may take a bit of stirring to dissolve entirely. Remove the mixture from the heat. Add the cream while stirring. Strain this mixture into a clean bowl. Gently squeeze the roses to extract all the flavor.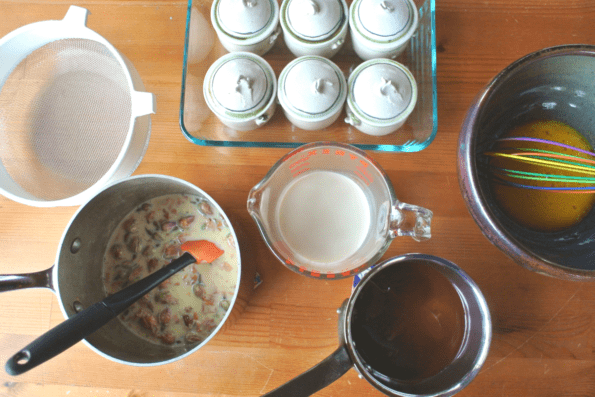 In a separate bowl whisk your egg yolks thoroughly. Slowly add the chocolate mixture while whisking. Once incorporated set this bowl aside.
Place your pots or ramekins in a baking dish and fill them. Add water to the dish to come up the sides of the pots at least half way. If your pots have lids use them or cover the whole pan with foil.
Bake the pots for 35-40 minutes, just until they are set. The center should jiggle but shouldn't be liquid. Remove the foil or lids, remove the pots from the water and let them cool completely undisturbed. If you leave the lids on while cooling water will condense and drip down on the custard.
Once completely cooled you may cover them and put them in the refrigerator to chill.
To serve your exquisite Petit Chocolate Rose Pots de Crème remove them from the refrigerator and top them with a dozen or so cocoa nibs and 3 rose petals apiece.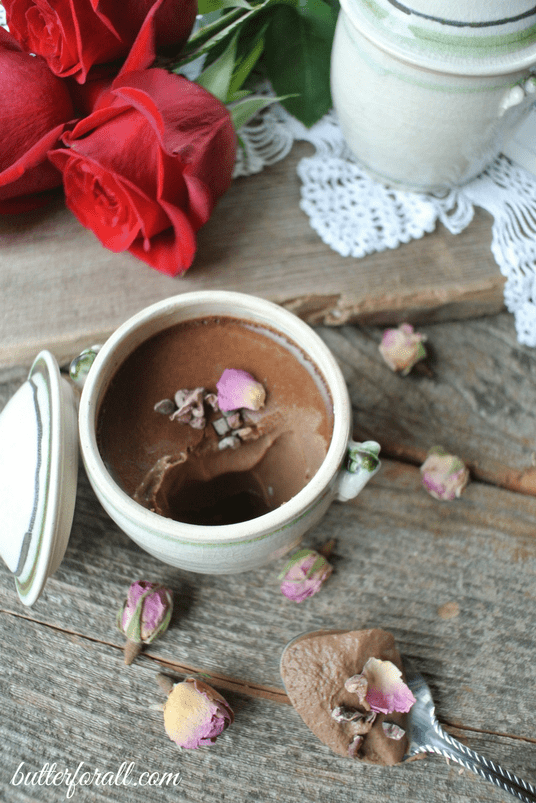 Love this recipe? Subscribe to my blog below and get all my new recipes emailed to you for free!