I may receive commission if you purchase through links in this post.
If you're looking for a fun, healthy treat to bake with your children, then these cinnamon date animal cookies are a great place to start.
My daughter and I had a blast making these together. She loved cutting the shapes and watching them rise in the oven. But the best part was hearing her bring the animals to life with roars and stomps while she was eating and playing with them.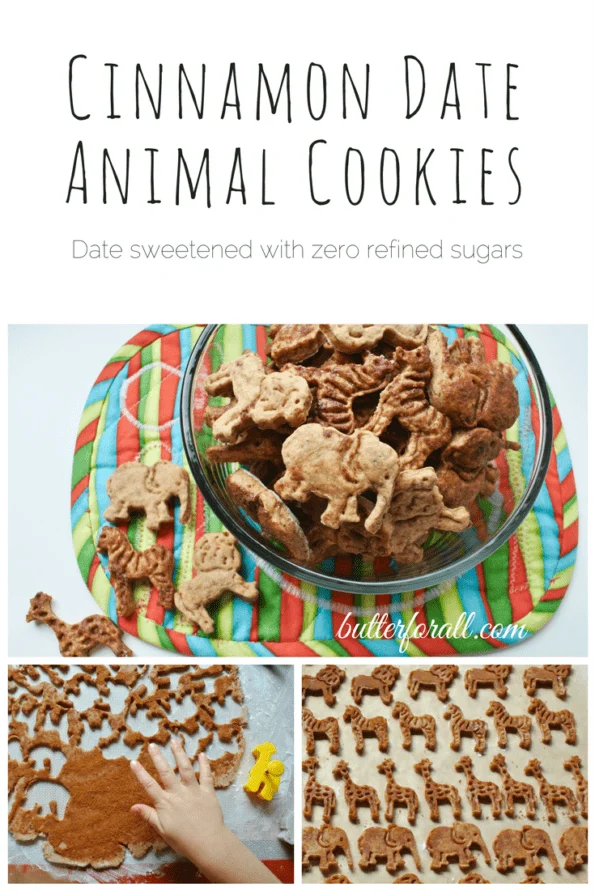 I think it's so important to get kids involved in the kitchen from an early age. It helps them understand how food affects their bodies. It brings them into a relationship with food that is infinitely valuable.
People often forget that what we eat becomes our energy and our building blocks for a healthy body and mind. Getting the children in your life engaged in these processes will help them learn the true value of food. In turn, your children will be less likely to turn up their noses at the dinner you worked hard on. And they will understand and appreciate that hard work.
10 Reasons to Love These Cinnamon Date Animal Cookies
1. This recipe has ZERO refined sugar!
2. The dough is completely mixed using a food processor!
3. It's easy and fun!
4. It's great bonding!
5. Mixing and rolling the dough is easy, the kids can help!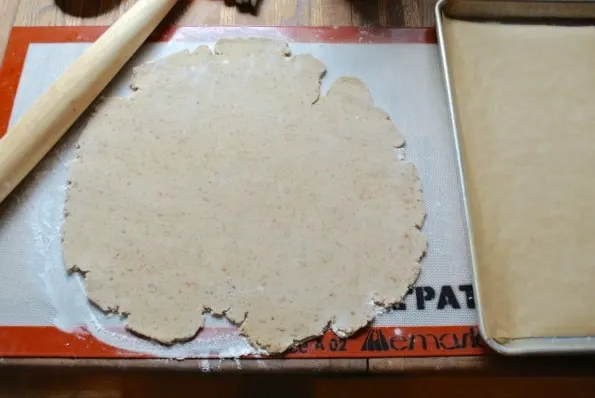 6. The dough gets a cinnamon sugar topping!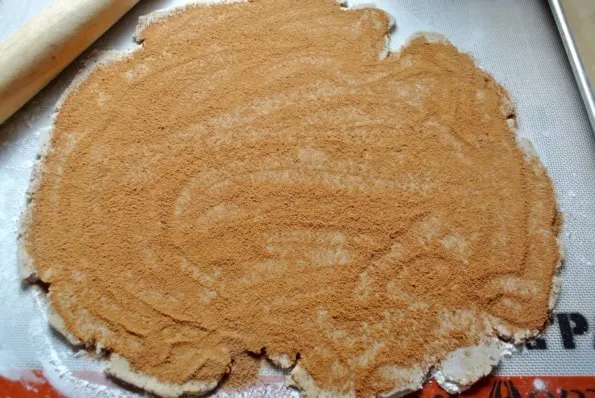 7. Animal cookie cutters are so fun for little hands!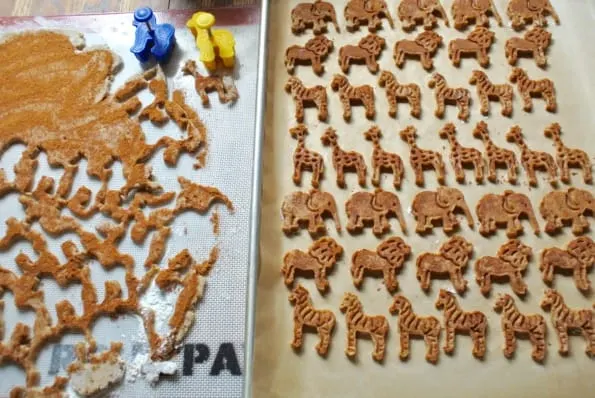 8. These cookies pack and store really well!
9. They are perfect for adventures!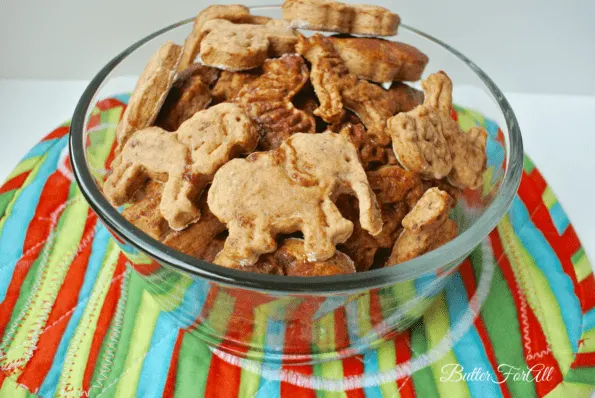 10. The recipe makes at least 60 small animal cookies!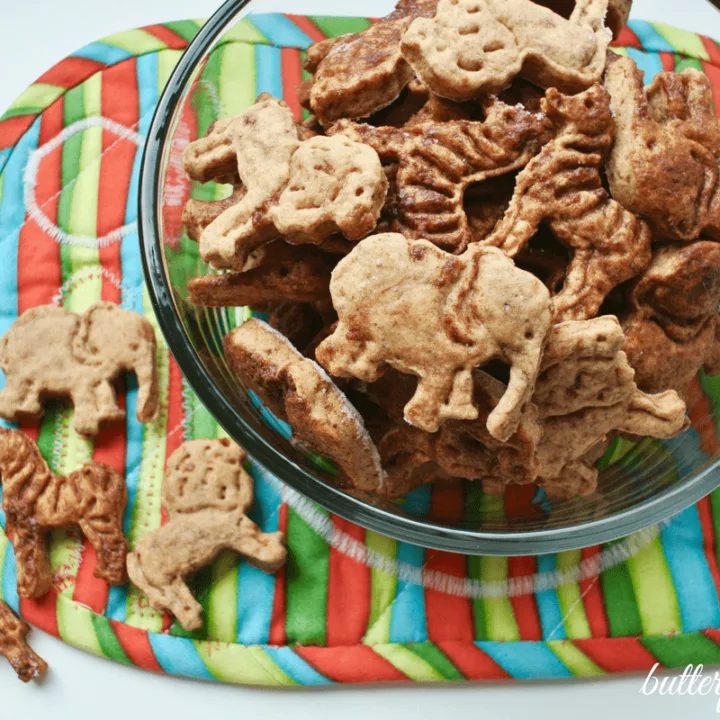 Cinnamon Date Animal Cookies
Total Time:
1 hour
5 minutes
These cinnamon date animal cookies are a fun healthy treat and a great way to bond with children in the kitchen.
Ingredients
2 1/2 cups sprouted whole wheat flour
1/2 pound pitted dates
1 teaspoon baking soda
1 teaspoon cinnamon
1/2 cup (1 stick) butter
1 egg
1 teaspoon vanilla
1/4 cup whole milk
Cinnamon Topping
1/4 cup coconut sugar
2 teaspoons cinnamon
Instructions
Preheat your oven to 325°F.
Line a baking sheet with parchment paper.
Combine the flour and dates in your food processor and process to a sandy texture. Add the baking soda and cinnamon and process again until well combined. Cut up the cold butter and pulse it into the flour mixture until the butter is fully incorporated.
In a measuring cup beat the milk, egg, and vanilla together. Slowly pulse the milk mixture into the dry mixture just until the dough comes together in a soft sticky ball.
Turn out the dough onto a generously floured surface and work the flour into the dough by gently kneading it a few times. If your dough is still sticky use a few more tablespoons of flour.
Divide the dough in half, form two balls and put one ball aside. Dust your surface with flour and roll out the first ball until it's 1/4 inch thick.
Combine the coconut sugar and cinnamon in a small bowl.
Use half of your cinnamon sugar and spread it over the top of the dough.
Using your animal cutters, try to cut out the shapes as closely together as possible.
Arrange the cookies on the baking sheet. Set the dough scraps aside for later.
When the sheet pan is full, bake the cookies for 18 to 20 minutes.
Roll out the second half of the dough and coat it with the remaining cinnamon sugar.
Continue to cut and stamp the other half of the dough while arranging them on a second cookie sheet.
When you have cut out all the animals, collect all the dough scraps and gently press them together. Roll out the scraps and continue to cut as many animals as possible. Note that the scraps will not have a cinnamon topping but they will have a cinnamon swirl!
Bake all your cookies and cool them on the baking sheets. When fully cooled, store all the fun animal cookies you made in airtight containers.
Notes
All-purpose or whole wheat flour can be substituted for sprouted flour if needed.
Recommended Products
As an Amazon Associate and member of other affiliate programs, I earn from qualifying purchases.
Other Cookie Recipes to Try
Grain-Free Honey Nut Cookies Three Ways – Extra Nutty, Soft & Chewy, and Graham Cracker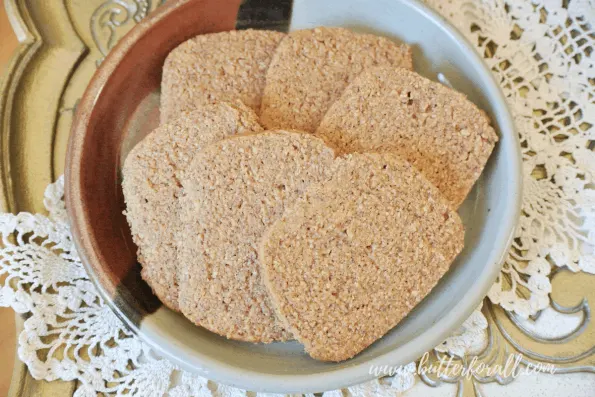 Trail Worthy, Chewy Cranberry Walnut Cookies – Made in Your Food Processor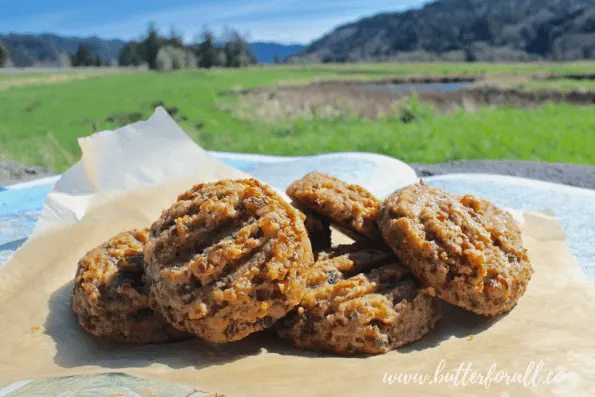 Cranberry Rosemary Shortbread Cookies – Honey Sweetened Sprouted Grains