I may receive commission if you purchase through links in this post.
Sweet potato sourdough pancakes could easily become a staple around here.
My daughter loved them, although I'm honestly not surprised. Sweet potato slathered with organic raw butter was one of her favorite first foods.
Here, the sweet potato adds a natural sweet earthiness and deep flavor to the sourdough. It makes these pancakes more tender and delicate than the chewy sourdough you're probably accustomed to.
Not to mention they are a striking orange color when cooked!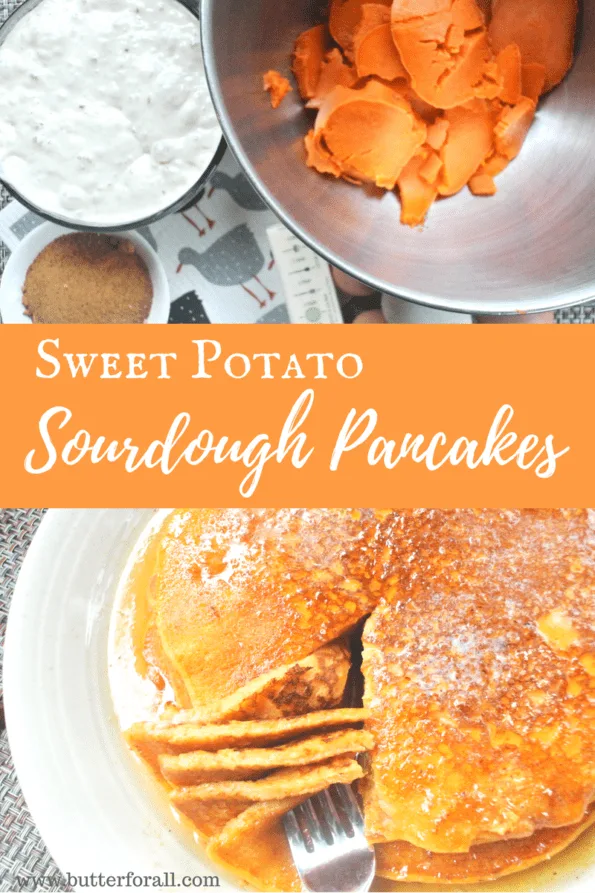 I served these on New Year's Day this year for our family brunch with pastured butter, organic maple syrup, and fresh ground cinnamon and nutmeg. They really started this year off wonderfully! I hope you'll give them a try.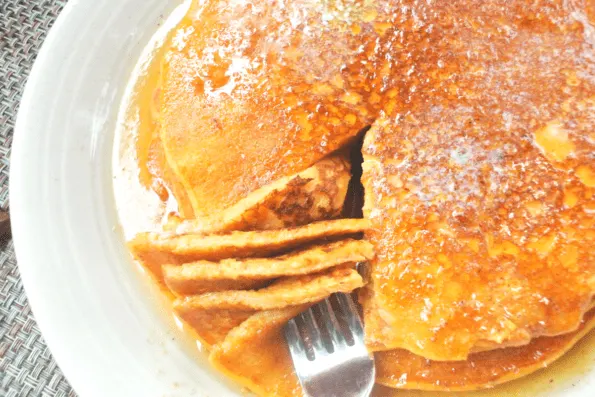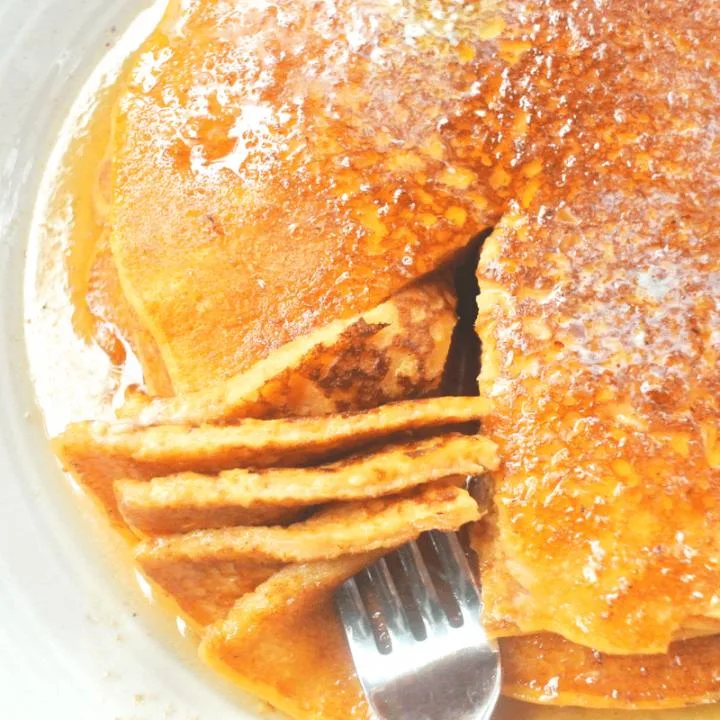 Sweet Potato Sourdough Pancakes
Cook Time:
1 hour
30 minutes
Fermenting Time:
12 hours
Beautiful tender pancakes with an earthy sweet potato flavor. Traditionally fermented for easy digestion.
Ingredients
1 medium sweet potato (around 1 1/4 pounds, I like the Garnet variety for their color)
280 grams (2 cups) organic all-purpose flour
245 grams (1 cup) whole milk
3 pastured eggs
Instructions
The night before, roast the sweet potato at 350°F for 1 hour or until fork tender. Also start your sourdough by combining the flour, starter, and water in a ceramic bowl big enough for expansion. The pancake starter should be very thick. Cover the bowl and let it sit on the counter overnight. Let the sweet potato cool and refrigerate overnight.
In the morning check on your starter. It should be bubbly and happy. Peel and mash the sweet potato. I recommend cutting it in thin coins first to avoid any strings from the fibers that run the length of the potato. I used my Kitchen Aid mixer for the following steps, but a big bowl and some elbow grease will work just as well.
Beat the sweet potato until it's smooth. Add the coconut sugar, salt, and vanilla and beat again. Then add the milk, and melted butter slowly while stirring. When this mixture is fully combined add the eggs one at a time and beat them in well. Once the eggs are incorporated stir in the bubbling sourdough starter just until incorporated. Do not over-mix. Let this batter stand at room temp for 1 hour.
Preheat a seasoned griddle over medium-high heat. Once the griddle is just hot enough to smoke, turn it down to medium and start cooking the pancakes. Cook each cake until golden brown on both sides. Serve with any of the following: pastured butter, maple syrup, raw honey, apple butter, ground cinnamon, and/or nutmeg!
Want To Learn Everything About Sourdough?
Start with this free guide:
Demystifying Sourdough – Everything You've Ever Wanted To Know About Sourdough Starter – Why It's Better For You – And How To Start One