I may receive commission if you purchase through links in this post.
This 12-egg quiche is one of the best ways to use up extra eggs.
It also has the special ability to become breakfast, brunch, lunch, or dinner! In this recipe I pair it with my Ultimate Lard Pie Crust, fresh spinach, and organic white cheddar cheese for a super savory, traditional flavor.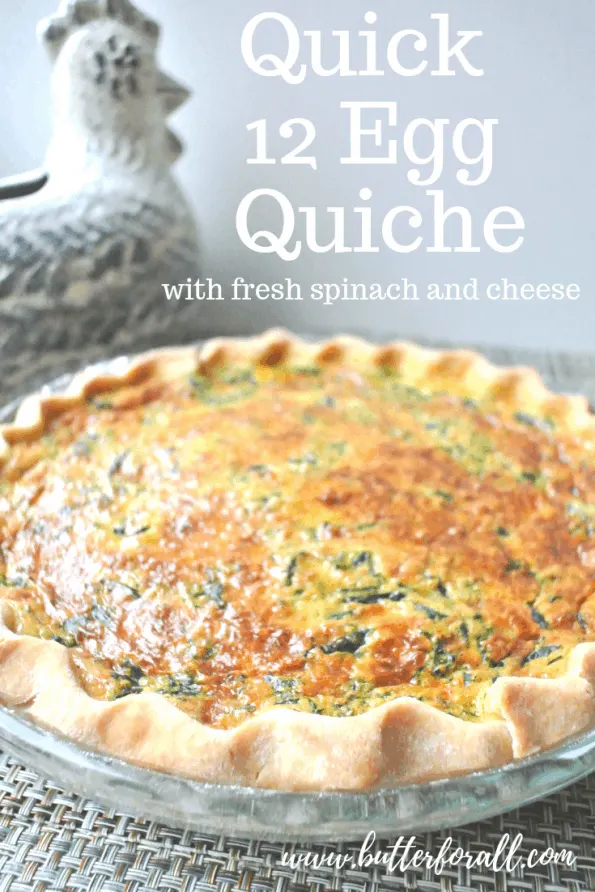 I always like to add some sort of vegetable into this recipe and really the sky is the limit with what you can add. Remember to always par-cook and remove excess water before adding a different vegetable to this recipe. I know from experience this recipe works very well with leftover steamed broccoli. So if you prefer broccoli over spinach then go right ahead!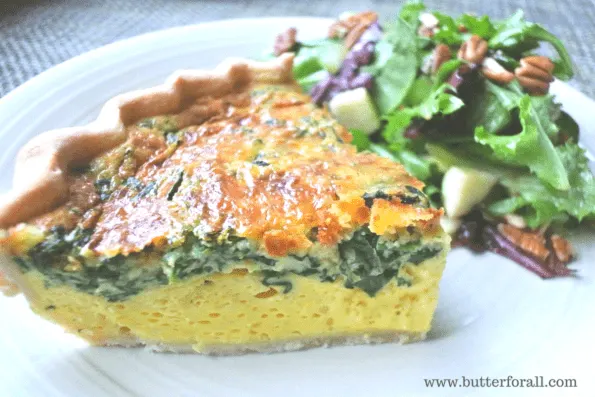 For the Flakiest, Tastiest Quiche Crust, Use My Ultimate Lard Pie Crust Recipe.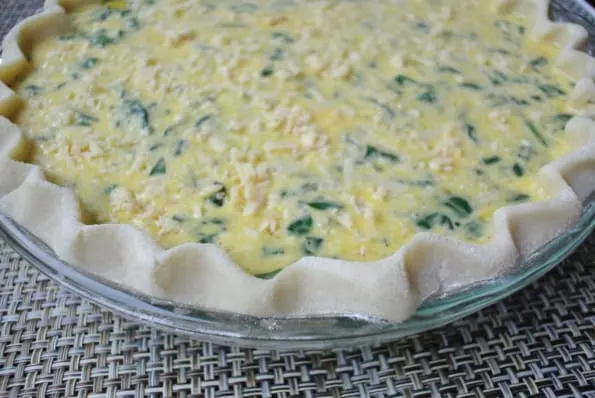 You can serve this quiche warm or at room temperature. Pair it with a side salad or bowl of soup for a filling meal.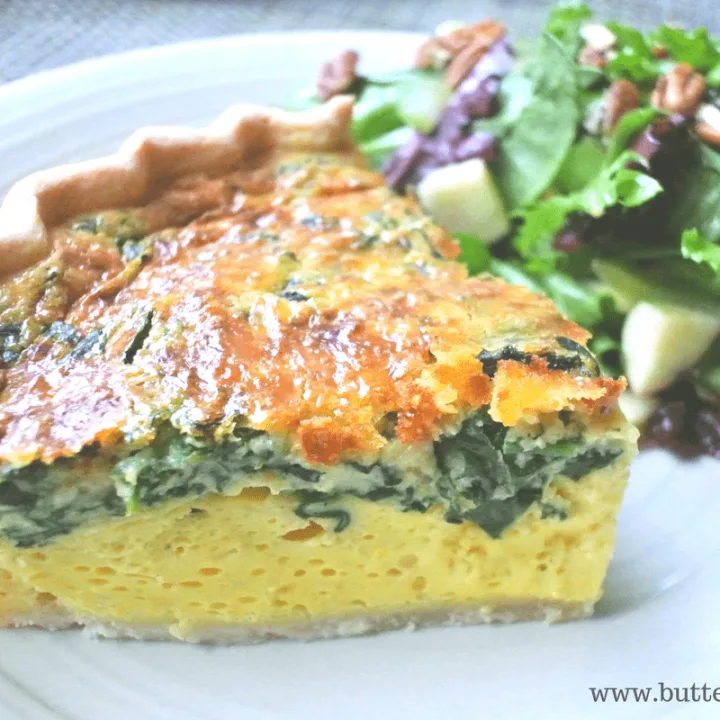 Quick 12-Egg Quiche With Spinach and Cheese
Yield: 12

Prep Time: 30 minutes

Cook Time: 45 minutes

Inactive Time: 2 hours

Total Time: 3 hours 15 minutes

A traditional quiche for breakfast, brunch, lunch, or dinner!
Ingredients
1 Ultimate Lard Pie Crust or pie crust of your choice rolled and formed in a 9-inch pie pan
1/4 pound spinach
2 cloves garlic, minced
12 eggs
6 ounces organic white cheddar, grated
3/4 cup cream
Instructions
Preheat oven to 350°F.
In a skillet over medium heat melt the butter and add the garlic. Sauté the garlic for 1 minute. Add the spinach and continue to cook until the spinach has completely wilted. Remove the pan from the heat and set it aside to cool.
In a large bowl whisk the eggs with the cream, salt, and pepper. When the eggs are well whisked add the cheese (reserve a small handful aside) and cooled spinach. Whisk again. Pour this entire mixture into your prepared pie pan. Sprinkle the top of the quiche with the reserved cheese. Set the pie on the middle rack of your oven to cook.
Bake your beautiful quiche for 45 minutes, then turn the oven off and crack the oven door. Let the quiche cool in the oven for at least 15 minutes. Continue to cool the quiche on the counter after removing it from the oven. Serve the quiche warm or at room temperature. I like mine with a small side of salad as pictured.
A toast to "Good pies and strong beer."-Poor Robin's Almanac, 1695