I may receive commission if you purchase through links in this post.
You know what's nice about Japanese eggplant? They are as easy as they are beautiful!

This purple-hued, thin-skinned beauty is perfectly palatable after a quick stir fry in some healthy oil. The fact that it cooks quickly and doesn't need to be peeled or salted prior to cooking makes it a great weeknight choice.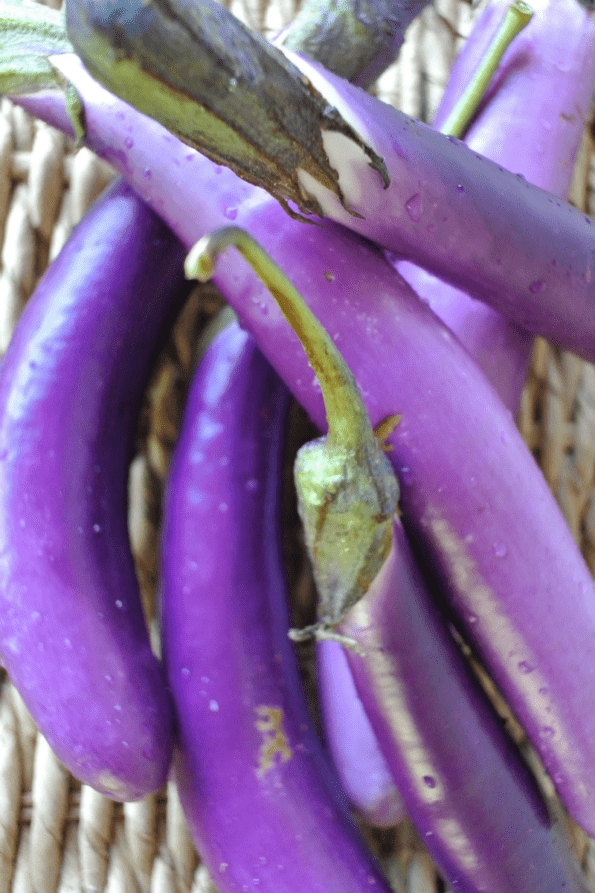 I like to serve my Japanese eggplant stir fry over some freshly sautéed cauliflower rice. If you've never tried cauliflower rice, you should. It takes a lot less time than regular rice and is a great low-carb, grain-free choice.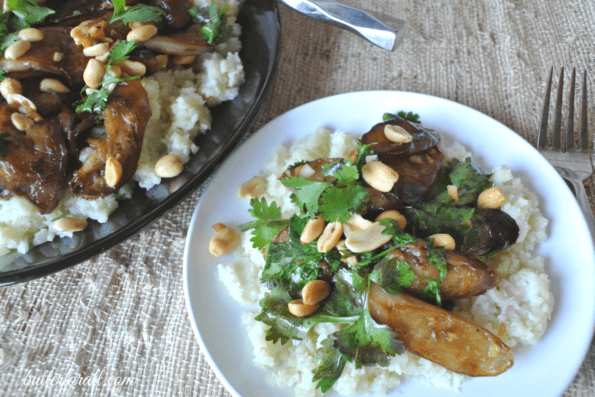 Preparing the Eggplant Stir Fry and Cauliflower Rice.
Recipe serves 6.
For the Eggplant Stir Fry:
6 medium Japanese eggplants
1/2 cup avocado oil (coconut would work well also)
3 cloves of garlic, minced
1 tablespoon minced fresh ginger
3 tablespoons coconut aminos
1 teaspoon salt
1 cup fresh cilantro leaves
1/2 cup roasted peanuts
For the Cauliflower Rice:
1 large head cauliflower (4 to 5 cups riced)
1/4 cup coconut oil
1 teaspoon salt
Wash and dry the cauliflower. To rice it, cut the florets off the stem and either chop them finely or add them to your food processor (half at a time) and pulse them until the size resembles rice. Set the riced cauliflower aside.
Rinse your eggplants and slice them at a 45-degree angle about 1/2 inch thick.
In a large sauté pan or wok add the avocado oil and heat it over medium-high heat. Add the eggplant to the hot oil and fry it on each side for about 4 minutes. When the eggplant is golden brown on both sides add the garlic, ginger, coconut aminos, and salt. Cook for 2 to 3 more minutes. Remove the eggplant from the heat.
In a second large frying pan add the coconut oil and melt it over medium-high heat. When the oil is hot add the riced cauliflower and salt. Sauté the cauliflower for 5 minutes while stirring frequently. The cauliflower will have just become slightly translucent when it's fully cooked. If the cauliflower starts to brown turn the heat down a notch. It's best when it is still a little al dente.
Plate the cauliflower rice on a large serving dish. Toss the cilantro and peanuts into the eggplant and serve it on top of the cauliflower rice.