I may receive commission if you purchase through links in this post.
What should you serve at your next dinner party? This!
This gloriously simple grilled salmon will have all your guests raving.

I served mine with my Thai Basil and Roasted Peanut Slaw.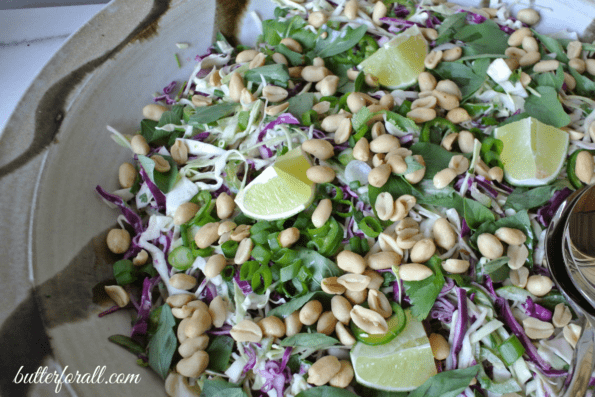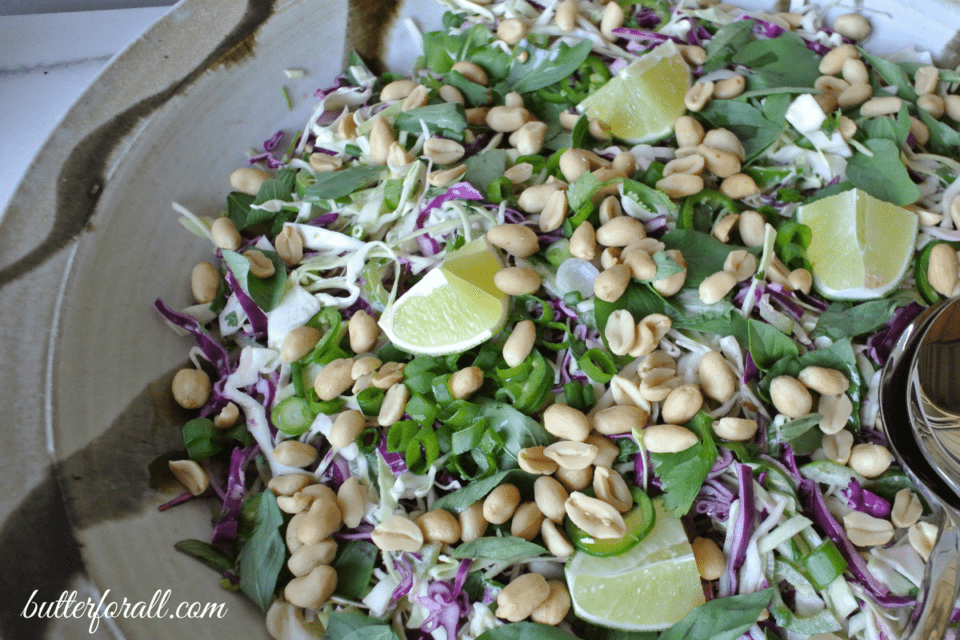 Don't be intimidated to cook salmon on the grill! Once you learn this easy trick you will be mastering grilled salmon every weekend.
It's All About the Fillet.
You want to choose nice sized fillets, about 1 to 2 pounds each. Not too thick and not too thin. They NEED to have the skin on. If you prefer to cut your salmon into individual portions that can be done too, but I like the presentation of the whole fillet.
Preparing the Salmon and the Marinade.
This recipe yields 4 to 6 servings.
2 1-pound wild Chinook salmon fillets (other salmon varieties will work as well)
1 tablespoon sesame oil
3 tablespoons mayonnaise
2 tablespoons coconut aminos
3 large garlic cloves
2 whole green onions
1 tablespoon fresh ginger
2 to 3 sprigs fresh Thai basil
1 teaspoon salt
1/2 teaspoon pepper
Start by gently rinsing your salmon under cold water. Pat it dry with a paper towel or dish towel.
Lightly oil a baking sheet with a liquid high-temperature oil. My choices are sesame, peanut, avocado, or coconut. Lay the fish fillet skin side down on the baking sheet, cover, and refrigerate while you proceed with the marinade.
Mix the mayonnaise and coconut aminos together in a small bowl. Mince the garlic and ginger and add them to the marinade. Slice the green onion as thinly as possible and add it to the marinade. Stir the marinade well.
Remove the fish from the refrigerator and sprinkle it with the salt and pepper, then spoon the marinade evenly over each fillet. Pluck the basil leaves and arrange them on top of the marinade. Return the fish to the refrigerator and let it marinate for at least 30 minutes.
Start the charcoal or gas of your barbecue (alternatively preheat your oven to 350°F). Use enough coals to make a single-layer bed as big as your fish pieces. When they are lighted (we use a chimney) dump them into the barbecue and carefully spread them out into a single layer. Let the coals burn for about 10 minutes undisturbed.
Remove your fish from the refrigerator and carefully lay each piece skin side down on the grill directly over the coals. Do not try to readjust or move the fish. Cover the barbecue and let the salmon cook for 10 to 15 minutes depending on thickness (checking often after the first 8 minutes). Be sure all the air vents are open on your barbecue! You do not need to flip the salmon. It is done when the top flesh is just firm to the touch. Use a large spatula or two to remove the fillets to a large platter for service.