I may receive commission if you purchase through links in this post.
Don't waste a thing when it comes to fire cider.
You went to all that hard work sourcing the best ingredients for your fire cider. Make the most out of it by creating a tangy dry spice blend from the solids that are left behind after straining off the precious liquid.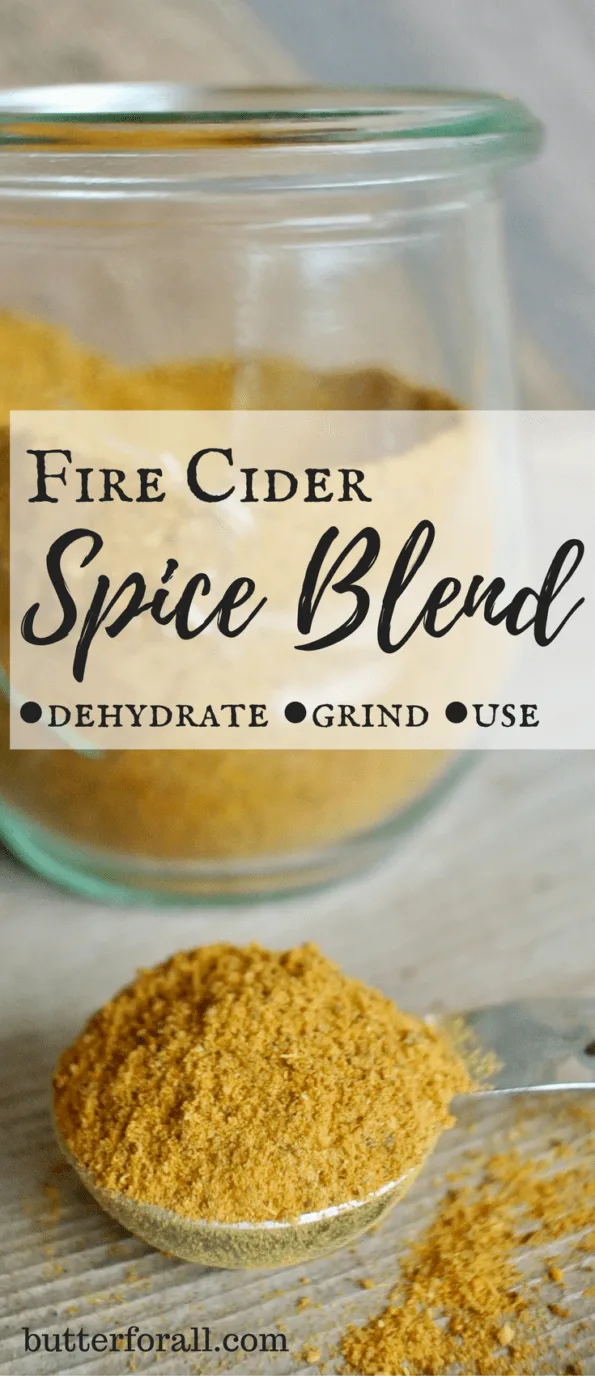 First, Let's Talk About What Fire Cider Is.
Fire cider is a strong infusion made with raw apple cider vinegar, spices, roots, hot peppers, and herbs. It has many medicinal qualities and is used primarily in conjunction with raw honey to boost the immune system, detoxify the body, and ramp up metabolism.
There are many awesome fire cider recipes out there so I'm not going to write another one, but I will suggest you look at these amazing bloggers for inspiration in creating your own signature blend.
Let's start with Studio Botanica, whose author Carol Little was there in the beginning (the '90s) alongside the woman who first shared fire cider with the world, Rosemary Gladstar. Read about Carol's experience and her technique here.
If you head over to Grow Forage Cook Ferment you will find the author Colleen's beautiful interpretation of a fire cider recipe along with some great commentary and photos showing the steps of production.
Next you should check out Holistic Health Herbalist and read Tash's recipe and amazing list of optional medicinal fire cider add-ins.
Happy Mothering has a great recipe for master tonic (another name for fire cider). She includes lots of great information on each ingredient.
Cultured Palate has another master tonic recipe that includes some wonderful, thoughtful writing about how to stay healthy and the medicinal benefits of each ingredient in her recipe.
I Personally Used a Combination of Fresh and Dried Ingredients I Had on Hand. Here Is a Quick Look…
Dehydrated Fire Cider Spice Blend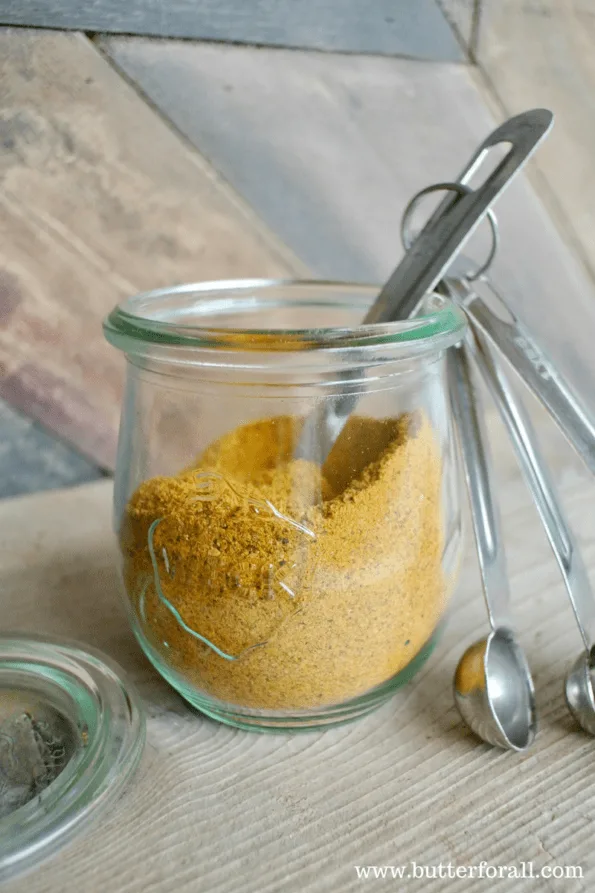 After your fire cider has marinated for a month you will have a potent liquid infusion to use for boosting immunity, ramping up metabolism, and helping your body detoxify.
Once the liquid is strained and safely put away in jars, the leftover solids can be laid out on dehydrator trays and fully dehydrated.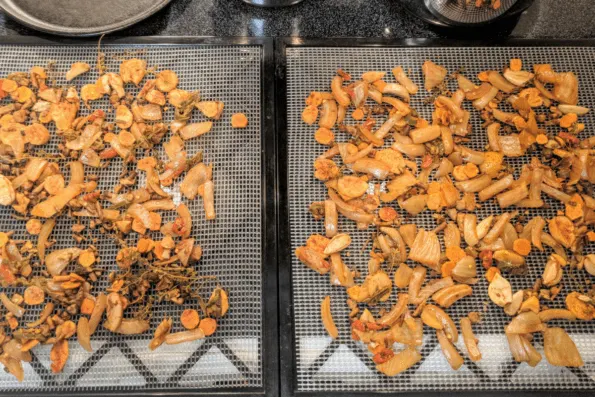 I have an Excalibur Dehydrator that I love. But I've also heard amazing things about this dehydrator.
Dehydrate the fire cider solids until they are completely dry. Depending on the size of the pieces it could take anywhere from 3 to 16 hours. Mine took around 14 hours. As you can see they are fairly large chunks. You really don't want any moisture left in the solids. If not completely dry the moisture will spoil the spice blend.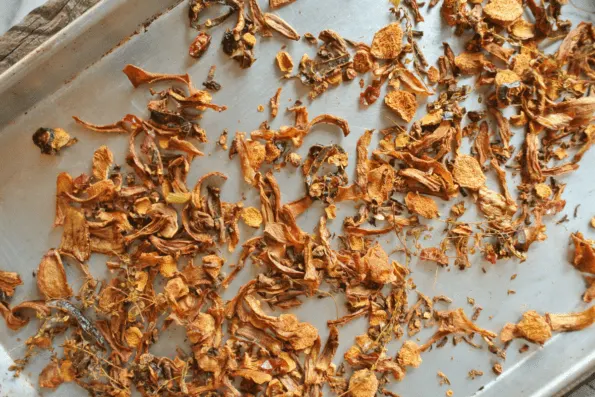 After the spices are completely dry, take them out of the dehydrator and let them cool to room temperature.
Grind the spices a few tablespoons at a time in a spice grinder. I have this model and it's wonderful and powerful!
Store the fresh spice in an airtight jar. I have a fondness for the Weck Jars you see in my photos!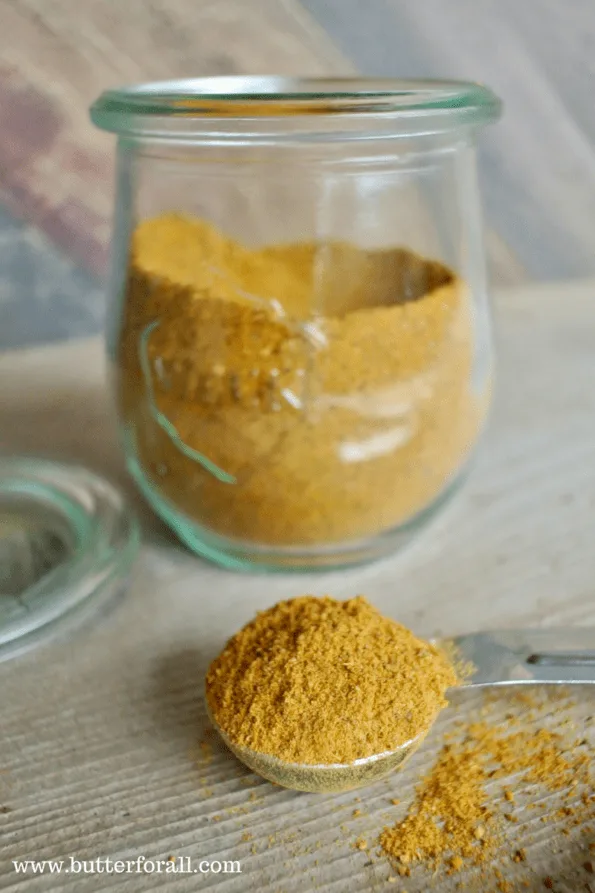 To Use Your Fire Cider Spice Blend:
Sprinkle it on salads or steamed veggies.
Sprinkle it on popcorn for a spicy tangy snack.
Add it to dressings, sauces, and marinades.
Toss it into stir-fry or other Asian-style dishes.
Blend it into curry or soups.
Use it as a dry rub for meats.
Add it to sausage or hamburger meat before cooking.
Use it in my low-carb recipe for Saag Paneer!