Some soups are so easy it's shameful not to make them more often!
I think you will find that to be true with this quick, filling, 8 ingredient cream-soup. It's loaded with broccoli and cauliflower so it's naturally thick and the crispy bacon topping takes it to the next level.
This cream of broccoli and cauliflower soup is perfect for an easy weeknight dinner.
Spend less time cooking and more time enjoying your family and friends around the table.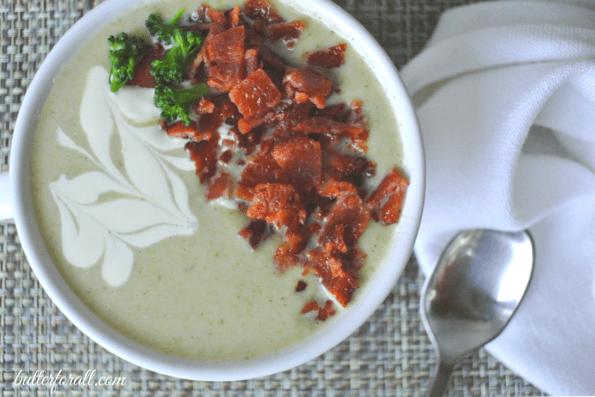 Recipe serves 6-8
1 Large Yellow Onion
1/2 Cup Butter
1 Large Cauliflower Crown
2 Large Broccoli Crowns (about 4 cups chopped)
6-7 Cups Chicken Stock
1 Cup Cream
1 Tablespoon Salt
8-12 Ounces Bacon
Sour Cream For Garnish (optional)
Preheat your oven to 375°.
Line a baking sheet with parchment paper and lay the bacon out side by side. Bake the bacon until it's nice and crispy.
In a large soup pot melt the butter over medium heat. Dice the onion and add it to the butter. Sauté the onion, stirring occasionally until its translucent and tender.
While the onion is cooking wash and prepare the broccoli and cauliflower by cutting the florets off the main stem. The pieces should be roughly the same size so the cook uniformly. Cut up any pieces of tender stem to also add to the soup.
Add the chicken stock to the onions and bring it to a boil.
Add the broccoli and cauliflower to the pot and cook them until they are tender.
Don't for get to check on your bacon! Remove it from the oven and drain the cooked bacon on paper towels. When the bacon is cool roughly chop it and set it aside.
Once the vegetable are cooked remove the soup from the heat use a handheld blender to puree it until it's smooth.  I like this model:
Add the cream and puree the soup again. Add the salt 1 teaspoon at a time, tasting as you go.  When the soup is seasoned to your liking serve it garnished with the crispy bacon and sour cream.