I may receive commission if you purchase through links in this post.
Who doesn't love bacon and shrimp together? They are just one of those perfect flavor combinations that can't get any better… until now.
Creamy Alfredo sauce takes the beloved combo and makes it dreamy to behold. I'd like to dive right into that bowl and roll around.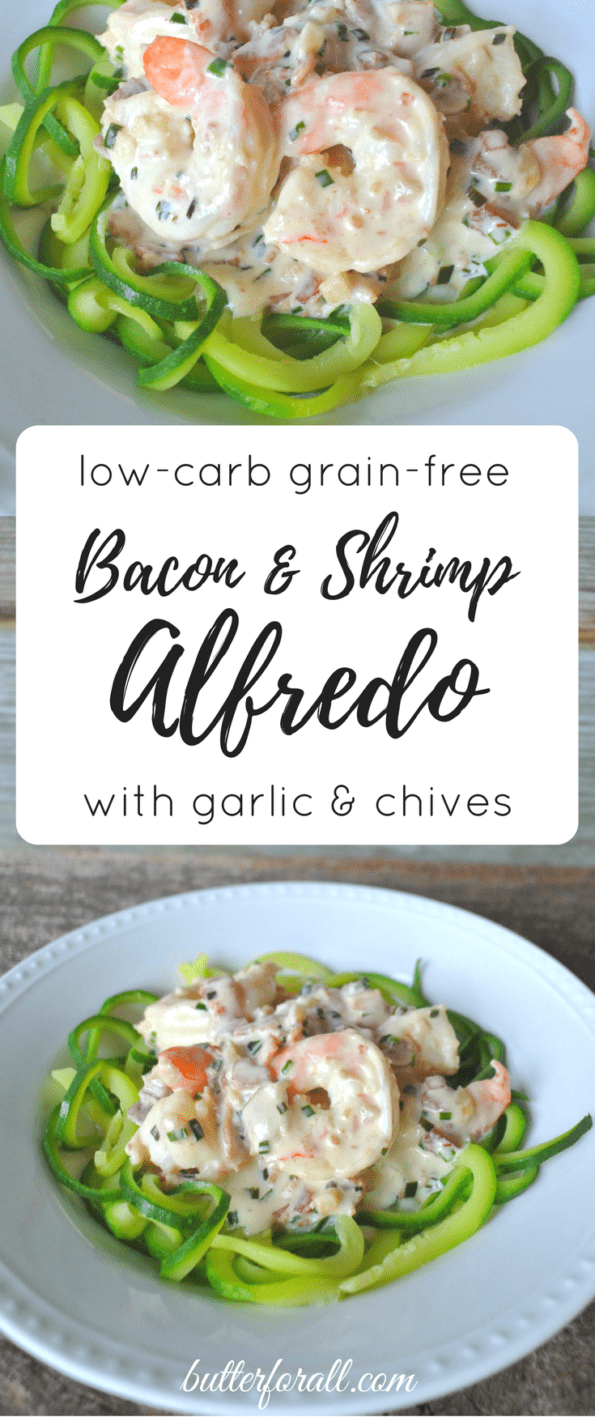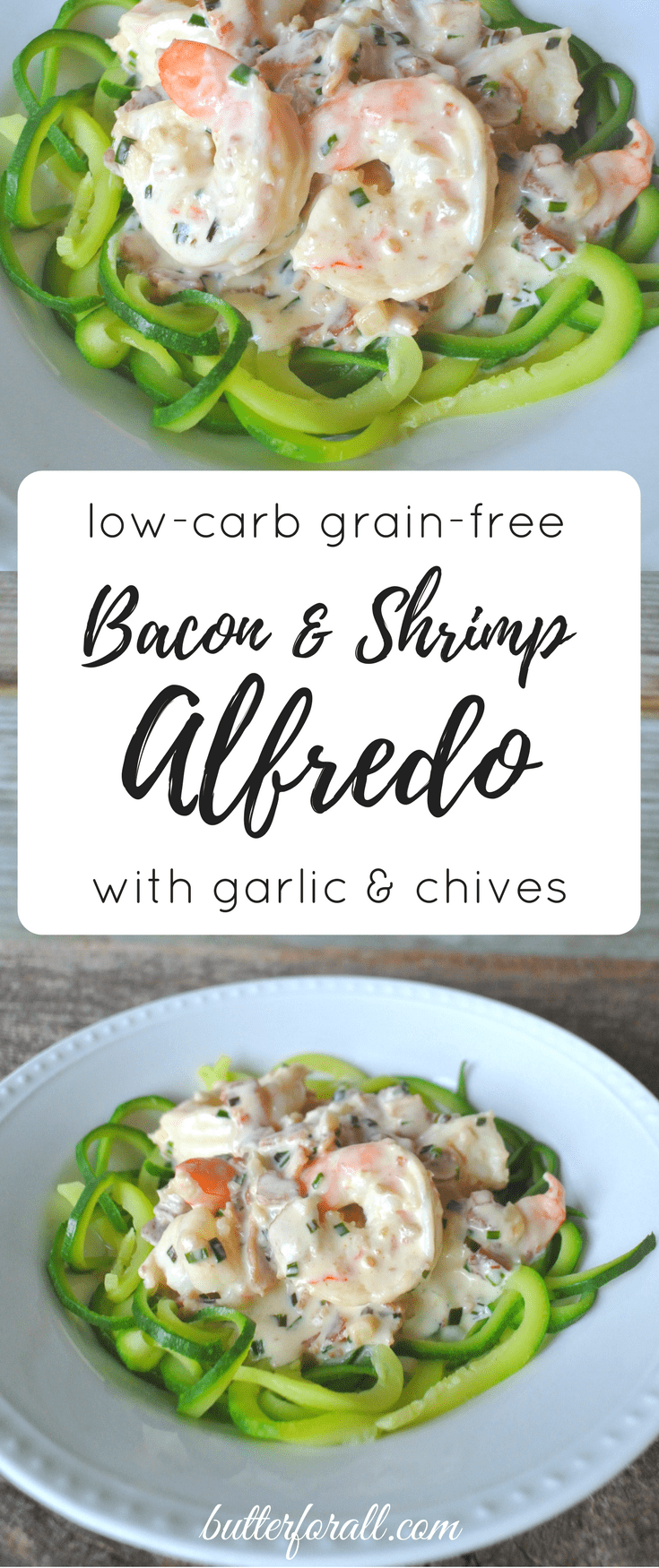 This recipe is so rich and delicious, you won't even think twice about missing the pasta. I'm including my easy method for making zucchini noodles cooked to a perfect al dente.
Sourcing Sustainable Chemical-Free Shrimp.
This is a pretty important part of this recipe. Food plays such an important role in our lives. It connects us not only to the people we share it with but to the environment from which it is harvested. I tend to avoid any imported shrimp, either farmed or wild caught. Often the countries they are coming from do not have the strict environmental or harvesting standards that the U.S. has. In my opinion the better option is wild-caught shrimp from U.S. waters. Look for shrimp that have been caught in small traps and not in the large trawling nets that inherently do so much damage to the ocean floor and other species of marine life. Small traps are a sustainable fishing method often used in small-scale shrimp fisheries off the coasts of Florida, California, or Alaska. Look for packages that specify a small trap or shrimp pot fishing method.
Finding shrimp that are free from preservatives and residual chlorine can be a difficult task. There are a number of chemical preservatives and chlorine dips that are used on most packaged shrimp, even the frozen ones. So carefully look into the company from whom you are purchasing. Read your labels and look out for these preservative chemicals: sodium polyphosphate, sodium metabisulphite, sodium bisulfite, sodium tripolyphosphate, and Everfresh aka Prawnfresh or 4 Hexl Resorcinol.
Because of my interest in this topic I will be writing a comprehensive study of the shrimping industry and industry handling procedures. I have already gathered too much information to include in this recipe post. Please stay tuned for that article! Please also see the sources listed at the bottom of this post for additional reading.
So, Is There a Reliable Source for Clean Unadulterated Shrimp on the Market?
I'd say the options for really clean fresh shrimp are increasingly slim. You may find a fresh catch if you live near the coast and are lucky enough to have a reputable dealer. You might possibly find someone who is growing freshwater prawns in an organic aquaculture environment or you could grow them yourself (something I would LOVE to do one day). Or you can order through a company with a promise of sustainability and clean, chemical-free handling practices. So here is my recommendation for a company that is a true sustainable superhero of the sea:

has a huge list of sustainable and organic foods that they source and handle with pride. Use coupon code VCAF14 to get 10% off any new order!
So Now That We Have Talked About All the Important Stuff, How About a Recipe?!
Recipe serves 4.
8 ounces organic bacon
3 tablespoons butter
2 tablespoons minced garlic
2 tablespoons thinly sliced chives
1 pound cleaned shrimp (I prefer the larger 16 to 20 size with shells removed for easy eating)
1 cup cream
4 ounces cream cheese, cut into small cubes
4 tablespoons grated Parmesan
1 teaspoon salt
1 pound fresh green zucchini, spiralized
Need a Great Spiralizer? Try This One.

Peel and clean your shrimp if necessary. Rinse the shrimp under cold running water and pat dry. Set the shrimp aside.
Get your zucchini ready by making zucchini noodles following the spiralizer's instructions. Set the zucchini aside.
In a large pot get 8 to 10 cups of water on the stove for a boil. Add 1 teaspoon of salt.
Cut the raw bacon into 1/2-inch-wide strips. Cook the bacon in a large sauté pan over medium-high heat. Stir the bacon often and make sure it browns evenly. Cook the bacon just until it is evenly browned. You do not want it to be too crispy. Pour off the excess bacon fat, leaving at least 1 tablespoon behind in the pan with the bacon.
Add the butter, garlic, chives, and shrimp to the bacon and continue to cook over medium-high heat, stirring occasionally. When the shrimp are firm and pink, reduce the heat to low and add the cream cheese, cream, and Parmesan. Slowly melt the sauce together while stirring occasionally. Salt to taste.
Add the zucchini spirals to the boiling water and cook for 2 to 3 minutes. Do not overcook. Drain the zucchini well and make gentle piles of the noodles on your serving plates or bowls. Spoon the shrimp and Alfredo sauce over the zucchini noodles. Serve immediately.