I may receive commission if you purchase through links in this post.
The holidays are fast approaching and it will soon be the season of giving.
Although I support and try to practice a minimalist lifestyle I still need some tools to help me facilitate a slow-food, nourishing kitchen and sustainable home. Here, I have curated a list of my favorite gifts. Some have been given to me, some I have bought for myself, and some are on my own wish list.

Further down the list you will find my top picks for homemade gifts and sustainable gift wrapping ideas!
I urge you to give these truly lasting gifts to your loved ones who are creating a nourishing space of their own. And I also hope you will find something special to inspire your own journey of deeper nourishment and cozy contentment.
Let's Start With My Top 3 Sustainable Kitchen Gifts for 2018!
Stasher bags are the only thing on my list this year. I'm hoping I get enough to replace my need for the occasional plastic ziplock. You have to check out Stasher's collection of reusable silicone storage bags. They are super cool and will make any eco-conscious cook shriek with delight!
I pretty much love all the Klean Kanteen products. They have great kids' water bottles and insulated bottles.
Hydro Flask is making these amazing food flasks that have proven to keep my kid's soup hot for lunchtime! Now we need a few more for the whole family!
I'm still on a huge Bee's Wrap kick. If you've never tried this sustainable alternative to plastic wrap you are in for a surprise. Bee's Wrap is made from organic cotton, beeswax, jojoba oil, and tree resin. It's a pliable wrap that comes in all shapes and sizes. Try the bread loaf size, sandwich wrap, or multi-purpose variety size.
It looks like they have some new cute lunchbox solutions now too!
Now, Get All My Favorite Timeless Gift Ideas
(Click the photos to be taken directly to the products)
My deepest love, sustainable slow food.
Sorry, instant pressure cooker and Teflon pans, you two are NOT on this list.
A KitchenAid Stand Mixer is beautiful and practical.
Get the hottest accessory for your KitchenAid, a Spiralizer that can peel, core, and shred.
Another great KitchenAid add-on is this set of Pasta Roller and Cutters.
Cast iron is indispensable in my kitchen. From steaks to pancakes to baking bread, cast iron can do it all!
Emile Henry makes some of the most beautiful cooking vessels around. Take a look at this Bread Cloche, the dream item for a home baker.
This is the very same Cast-Iron Bread Pan that I use for my sourdough loaves. Love it!
This 16-Quart, Stainless Steel Stock Pot from All-Clad has been on my wish list for a long time.
Know someone who needs to go all-in with a new set of cookware? I can vouch for this durable, beautiful 10-piece set from All-Clad.
I love my double-sided Lodge Griddle. It makes a pancake, bacon, and egg brunch a breeze.
This would be the ultimate splurge. This Wusthof set has 16 pieces of amazing cutlery. The one Wusthof I own was my first knife and still my favorite. (Don't worry, you can buy singles too.)
I own two Boos Blocks and they are the biggest, sturdiest cutting boards you can get. Perfect for someone who cooks a lot.
My Cuisinart is a tool I use almost daily. This 14-cup model is the cat's meow.
These are the gifts that promote the beloved Danish "hygge," a feeling of warmth, love, and coziness.
Nothing compares to dinner by candlelight. Beeswax candles are a lovely way to close the day.
Wooden salad bowls of heirloom quality make a timeless gift.
I'd like to find these beautiful wooden servers in my stocking.
These porcelain cheese markers are so sweet. I have this set and I always get compliments on it. A great gift for an entertainer.
Oil lamps bring light into the darker days of the year and uplift our spirits.

I need a few of these air purifying Himalayan salt lamp votive holders!
These are the eco-friendly home goods that I use and love.
These are the softest Organic Cotton Towels I've ever used and the price is so great!
If you know someone who needs a new pillow I highly recommend the Organic Woolley Down Pillow from Holy Lamb. The support is fully customizable making it the perfect pillow for any sleeping position. The wool fill can be cleaned and freshened in the sunshine and the case can be washed. Expect this pillow to last a very long time!
We recently upgraded all our beds to these lightweight, undyed, Organic Cotton Chenille Blankets. These blankets would make a great gift for someone who is chemically sensitive.
Our favorite eco-friendly kids' gifts.
These large high-quality wooden blocks by BEKA may seem expensive at first but they are heirloom quality and will last through to future generations.
Learning towers are a safe way to get little ones involved in the kitchen.
Musical instruments inspire rhythm, dance and imaginative play.
Gifts for the green thumbs.
This Hori Hori is my favorite garden tool. It does so many jobs and it's easy to handle. A great gift for gardeners, foragers, and explorers.
Take a look at this great Edible Seed Sprouting System, it includes these awesome draining stands! Sprouts are a great way to eat fresh greens throughout the winter.
Organic seeds make the perfect stocking stuffer, in my humble opinion.
This is one of the most beautiful books I've ever seen. Every page is full of gorgeous informative illustrations of wild foods and the recipes to accompany them.
This new release covers all the bases when it comes to heirloom gardening. This book is sure to become a traditionalist's gardening bible.
No garden is complete without a tapestry of flowers. This book will teach us the secrets behind one of the most beautiful private gardens in the Pacific Northwest. And it happens to be right here in my own backyard, Eugene, Oregon.
Need some sustainable handmade gift ideas?
Gingerbread Bath Bombs – The Pistachio Project
Pine Bath Salts for Natural Stress Relief – Learning And Yearning
Goats Milk And Honey Soap – Practical Self Reliance
Homemade Candy Cane Soap – Learning And Yearning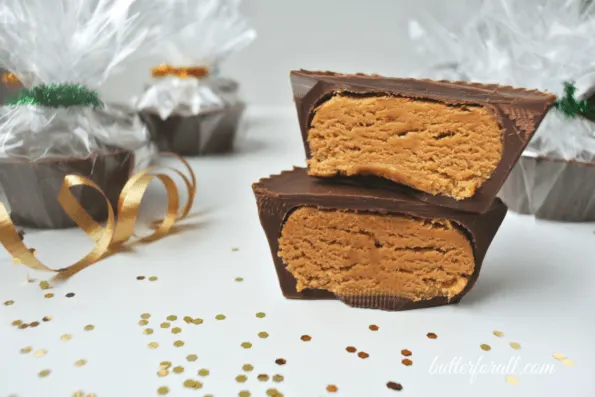 Chocolate Peanut Butter Honey Cups – Butter For All

Sustainable gift wrap ideas!
Greener Gift Wrapping Ideas: Holiday Presents with Less Waste – Attainable Sustainable

Need more ideas?
Head over to my Shop Favorites Page for more sustainable gift inspiration.
Didn't quite see what you're looking for? Try The Handmade and Amazon Marketplace!