I may receive commission if you purchase through links in this post.
This is one of my all-time favorite combinations.
Crisp fennel, roasted beets, crunchy apple, smooth creamy fresh chèvre, and toasty pecans all topped with a tart, tangy, gingery cranberry dressing. The colors in this salad are stunning and the flavors will blow you away.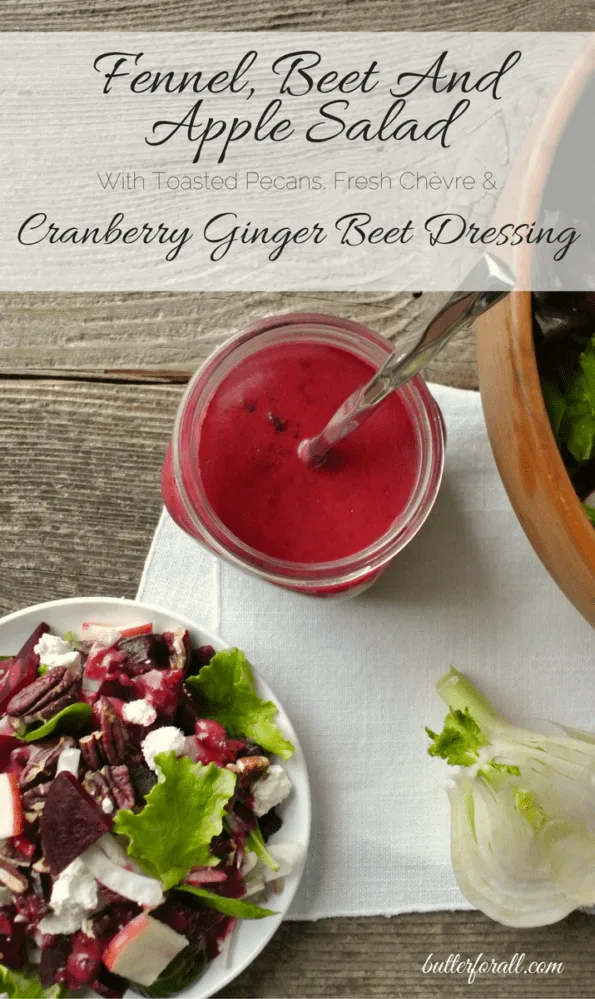 I like to eat as seasonally as I can, so as soon as the first local apples roll into the farmer's market and I get the craving for cranberries this is the salad I turn to. I make it at least once a month during fall and winter and it has even graced my holiday table several times. It can easily be a dinner salad, or serve it as a side to complement a great variety of meals.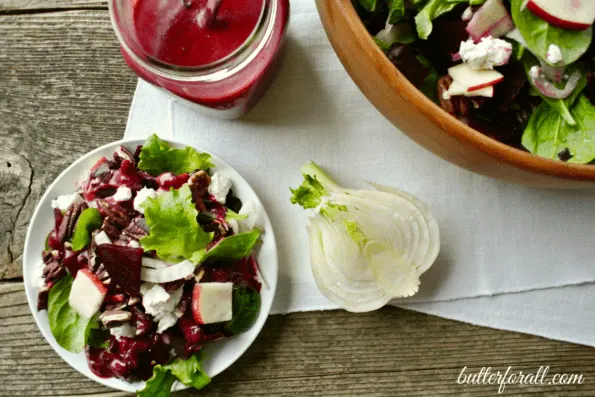 Preparing the Salad
Recipe Serves 4 to 8
For the Salad:
1/2 pound baby lettuces
1 bulb fresh fennel
3 medium beets
1 large apple
4 to 6 ounces fresh goat's chèvre
1 cup toasted pecans
For the Cranberry Ginger Beet Dressing:
1/2 cup dried cranberries (I buy organic fruit-sweetened)
2 teaspoons stone-ground mustard
1/8 cup apple cider vinegar
1 teaspoon salt
1/4 cup beet juice (reserved from roasting the beets)
1 tablespoon fresh ginger
1/4 cup extra-virgin olive oil
Toast and Roast
You will need to prepare a few of the salad items in advance, either the day before or at least several hours before you want to serve the salad. Preheat your oven to 350°F. Toast the pecans on a baking sheet for 10 minutes and then set them aside to cool. Wash the beets and place them in a glass baking dish. Add some aromatics if desired. I used the fennel tops and slices of ginger. Add 1 cup of filtered water. Cover the baking dish and bake for 1 hour or until fork tender. When the beets are done and have cooled enough to handle, pour off the juice and save it for the dressing you will make later.
Pro tip: Peel the beets under cool running water (this keeps your hands from staining) using your thumb to push the skin and remove it. Start at the top end and push the stem off first. This should make it pretty easy to peel the rest of the beet. I also roast extra beets to have on hand for other applications.
Dress It Up
Add all the cranberry ginger beet dressing ingredients to your blender or food processor and whirl them into a beautiful dressing. I like to stop while there are still some chunks of cranberries visible.
Put It All Together
Add the lettuce to a large bowl or make composed salads on plates. Shave the fennel and add it to the lettuce. To shave fennel you will cut the bulb in quarters and starting from the stem end make thin slices working down to the root end. Cut the apple in sixths, slice it thin, and add it to the salad. Cut the beets in quarters and slice them into the salad. Crumble the pecans and chèvre over the top. Serve the salad with the cranberry ginger beet dressing. The dressing is very flavorful, and a little goes a long way. I recommend dressing portions individually and starting with a modest amount.