I may receive commission if you purchase through links in this post.
These spicy pickled vegetables are a huge hit in our house!

Escabeche is the Spanish word for "pickles" and in the Mexican restaurant community they are made with carrots, jalapeños, and onions. This is where my husband and I first had this crunchy, spicy pickled side dish. They are usually served as a side to tacos, fish, or hot plates. And although they are commonly made with vinegar I've been traditionally fermenting them for the last several years. I actually like them a lot more when fermented. They taste fresh and tangy. And they are full of beneficial probiotics!
I flavor my escabeche veggies with garlic and oregano for a classic Spanish flavor profile. The veggies are very adaptable and you can add others if you prefer, for example cauliflower and bell peppers would make good additions. All the veggies that ferment with the jalapeños will become nice and spicy but with the mellow smoothness that only fermentation can achieve.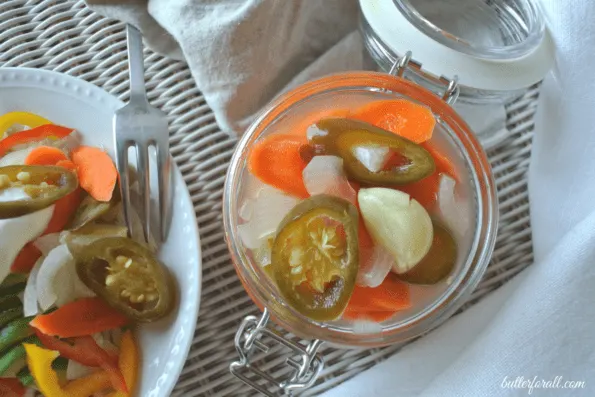 Preparing the Pickles Escabeche
Recipe yields 2 quarts of pickles.
8 to 10 large organic carrots
5 large organic jalapeños
1 small organic white onion
1 whole bulb fresh organic garlic
2 tablespoons organic dried oregano leaves
3 tablespoons sea salt
6 cups filtered water
Prepare two quart jars by washing them in hot water and rinsing them well. Alternatively use one half-gallon jar.
Wash and peel the carrots. Slice them at a 45-degree angle about 1/3 inch thick. Add the carrots to a large mixing bowl.
Wash the jalapeños and slice them whole at the same angle and thickness. Add them to the bowl with the carrots.
Peel the onion and cut it in quarters. Slice each quarter into 1/3-inch sections and add them to the bowl.
Peel the garlic cloves by gently crushing each one and removing the husk. Crushing the garlic slightly will help release the flavor. Add the garlic cloves to the bowl.
Toss all the veggies together until they are evenly mixed.
Add 1 tablespoon of oregano to the bottom of each clean jar.
Fill each jar with the veggies fitting in as much as possible without crushing them. I like to hold the jar almost flat and slide the slices in. Give the jars a little jiggle to settle the veggies and add more if room is available. Fill the jars only to the neck.
Mix the salt and water together to form a standard brine of 3.5% salinity. Pour the brine over the veggies just until they are covered.
Add a fermenting weight and pickle pipe to each jar before screwing on a ring lid. I use the Mason Tops brand and I love the way they work!
Leave the jar out at room temperature for 14 to 21 days. The veggies will start to bubble and ferment quickly. After 10 to 14 days you can start to test the pickles to see if they are fermented enough for your liking. Once they are, remove the pickle pipe and weight and transfer them to the refrigerator with a tight-fitting lid. They will keep in cold storage for at least 6 months, although don't expect them to last that long!
Some of our favorite ways to eat them are on salads, nachos, fish tacos, or grilled meats. Enjoy!