I may receive commission if you purchase through links in this post.
There are a lot of opportunities to go sustainable in the kitchen!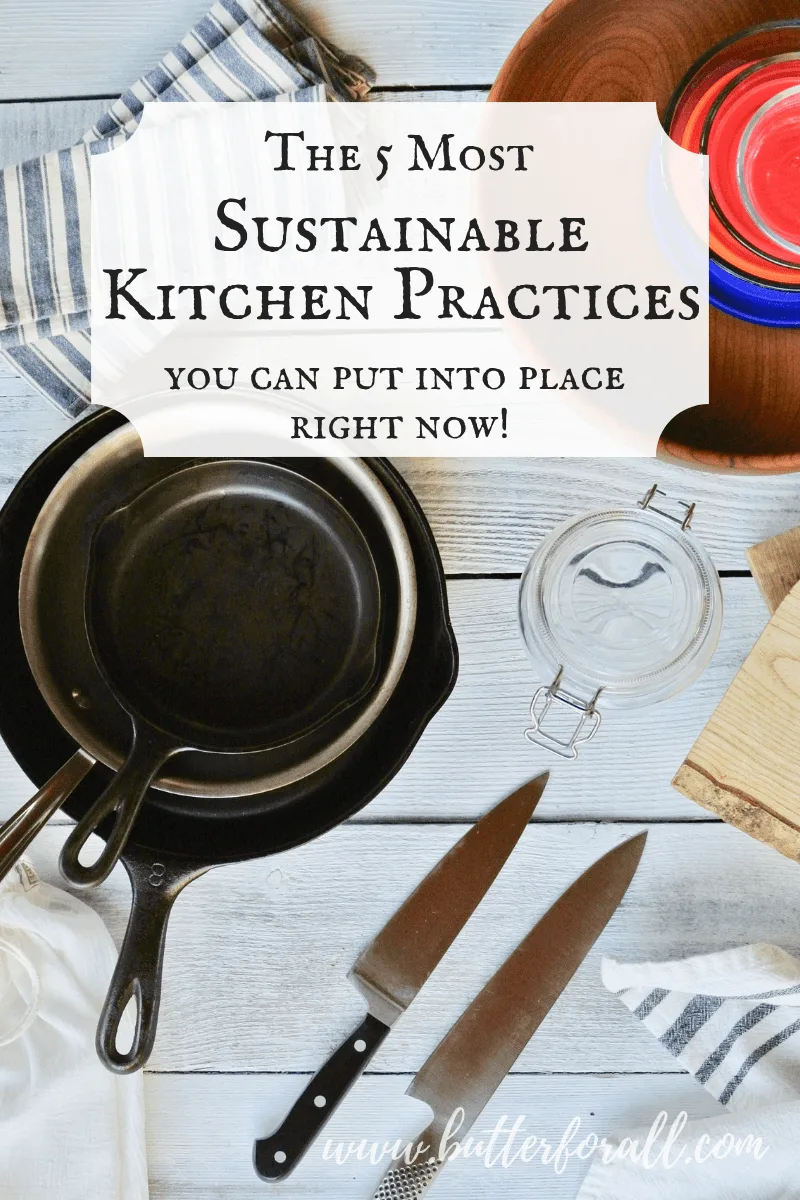 This is one place where we can take environmentalism into our own hands by buying sustainable products that will last many years if not many lifetimes. I have spent 10 years slowly transforming my kitchen into a greener, more eco-friendly space. I still have some work to do but these are the main categories I started with. Ditch the plastic kitchen crap and invest in tools that look as good as they feel!
Cast iron
comes in all shapes and sizes. From pots and waffle irons to griddles and muffin cups, it takes the number one spot on this list. If you care about the environment and want to reduce consumption of unsustainable products then cast iron
is going to be your best friend.
Non-stick coated pans and bakeware will eventually break down, chip, crack, and wear away. Sure they make cooking eggs a breeze but is it worth the cost to the environment? Once a coated pan is worn down it virtually becomes unusable and un-recyclable. Look at the shelves full of used coated pans in any thrift store and you will see that nobody wants those poor, lonely, beat-up pans. So they will eventually end up in a landfill where the chemicals that were once leaching into your food will continue to leach slowly into the earth.
On the opposite side of the coin you have cast iron
. If a nice, vintage cast-iron
pan graces a thrift store shelf it will be snatched up almost immediately. Why? Because that vintage pan has already seen a lifetime of use and will continue to prove a perfect cooking vessel for generations to come!
Get a great deal on a Lodge cast-iron bundle!
Cast Iron Is Better for Your Health!
Instead of leaching harmful chemicals into your food, cooking with cast iron
will provide you with an easy way to supplement your food with iron, an essential mineral to the human body.
A good quality cast-iron
pan can easily last way past your own lifetime and become an heirloom for your future generations. When cast iron
is properly taken care of, it can be just as non-stick as the surface of a coated pan. By taking a little extra time to take care of cast iron
you are investing in your own health by means of slowing down and enjoying the cooking process from start to finish. You are also taking care of the one and only Earth we have to live on by reducing your consumption of unsustainable products that are made in ways harmful to the environment.
And I must mention that the Dutch oven is now my favorite way to bake sourdough!
Any chef will tell you that a knife is THE most important tool in their kitchen. There are a lot of really good-quality knives
on the market and just like everything else on this list the quality is what matters. Good-quality knives
can be maintained with a sharp edge that won't split, crack, or chip and can be kept for generations.
When I was just starting my cooking career at 17 years old, I invested in a good-quality knife for about $100. Guess what? I still have that knife 25 years later and it's still my favorite. Here is the exact knife that I invested in.
As with everything else on this list, good-quality knives
are an investment. They are a tool that you will learn to use with pride and precision. They will set your cooking apart by allowing you the grace and control that only a really good-quality knife can.
When you invest in good-quality knives
you are buying items that you will probably never have to replace. Good-quality knives
can easily be sharpened at home with a whetstone and kept sharp with a honing blade. There are also professional knife sharpeners that can keep a fine edge on your blade and usually don't break the bank. Ideally you should sharpen your knives quarterly but the time frame will vary depending on use.
Stainless steel pots, baking sheets, pans, and flatware are a perfect way to stay sustainable in the kitchen. Stainless steel is a great heat conductor, it cleans up easily, and it will last for many years, especially if you invest in a high-quality brand.
You can get so many sustainable stainless steel items. A few of my favorites include reusable straws, ice cube and popsicle molds, measuring cups and spoons, bowls, this roasting pan, stock pots, lunch boxes, and these beautiful tools!
Food Grade Stainless Steel is an alloy metal, meaning it is composed of three different elements. One of these elements is chromium, which helps keep stainless steel stain- and corrosion-resistant. The second, carbon, is the backbone of stainless steel; it keeps stainless steel hard and strong! And lastly nickel, the most controversial element because it can cause allergic reactions to sensitive groups. Most people will not have a reaction to the amount of nickel found in high-quality cookware but if you have an extreme nickel allergy you will want to invest in stainless steel that has the lowest concentration of nickel. In extreme sensitivity cases look for stainless steel in the foodservice grades 430, 440, 13/0 to keep your exposure to nickel as low as possible. Or to be on the safe side, avoid stainless steel altogether.
Please see sources below for more information on the composition and different grades of stainless steel.

Adding high-quality wood or cotton products to your kitchen is a great way to invest in natural and biodegradable materials. While they will last a long time with proper care, they will also decompose naturally if they are ever disposed of!
Butcher blocks, wooden spoons, wooden serving bowls, wood utensils, wood bread boxes, and serving boards make beautiful and sustainable gifts or additions to your natural home.
To care for your wooden products use a sustainable and eco-friendly beeswax treatment.
Organic cotton shopping bags, produce bags, kitchen towels, napkins, and paperless towels are the best choices for removing paper and plastic from the green kitchen.
Glass storage containers are a great choice to replace plastic. Although they have plastic lids that are not my favorite, the Pyrex collections still make this list for the simple fact that all these storage systems are so convenient. Not only can you bake food in the glass dishes but you can store in them and freeze in them too! From casserole dishes, to storage containers, mixing bowls, storage sets, and measuring cups, Pyrex has been around for a long time and their glass products last!
If you are looking for some beautiful and functional glass storage, serving, and canning solutions then definitely check out the Weck Jars.
You can never go wrong with good ol' Mason and Ball jars for storage, canning, and fermenting!
My Top 3 Sustainable Kitchen Gifts of All Time!
Ditch the zip-style plastic bags!
Stasher bags are the only thing on my list this year. I'm hoping I get enough to replace my need for the occasional plastic ziplock. You have to check out Stasher's collection of reusable silicone storage bags. They are super cool and will make any eco-conscious cook shriek with delight!
Ditch the plastic water bottles!
I pretty much love all the Klean Kanteen products. They have great kids' water bottles and insulated bottles.
Hydro Flask is making these amazing food flasks that have proven to keep my kid's soup hot for lunchtime! Now we need a few more for the whole family!
Ditch the plastic wrap!
I'm still on a huge Bee's Wrap kick. If you've never tried this sustainable alternative to plastic wrap you are in for a surprise. Bee's Wrap is made from organic cotton, beeswax, jojoba oil, and tree resin. It's a pliable wrap that comes in all shapes and sizes. Try the bread loaf size, sandwich wrap, or multi-purpose variety size.
It looks like they have some new cute lunchbox solutions now too!
Want To Learn Everything About Sourdough?
Start with this free guide:
Demystifying Sourdough – Everything You've Ever Wanted To Know About Sourdough Starter – Why It's Better For You – And How To Start One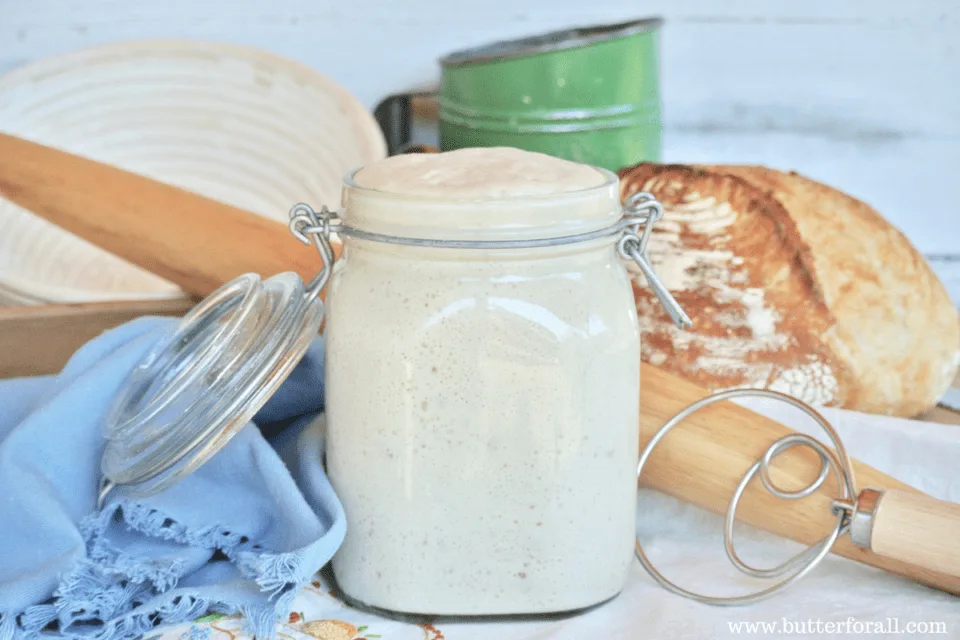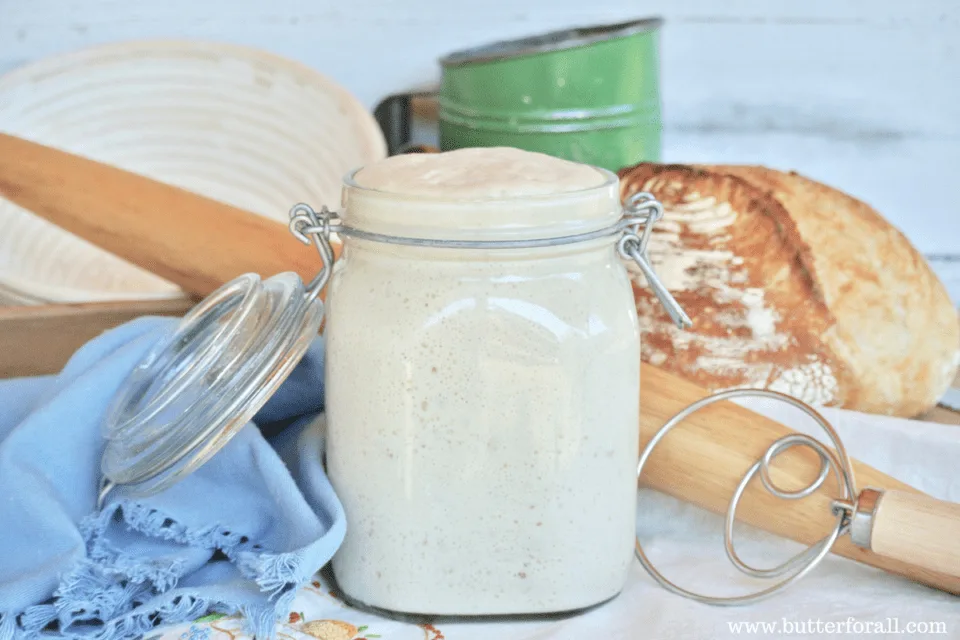 pSources:
Webrestaurant Store – What are the Different Types of Stainless Steel? We explain.
Diversified Metals – Understanding The Different Types Of Stainless Steel.