Print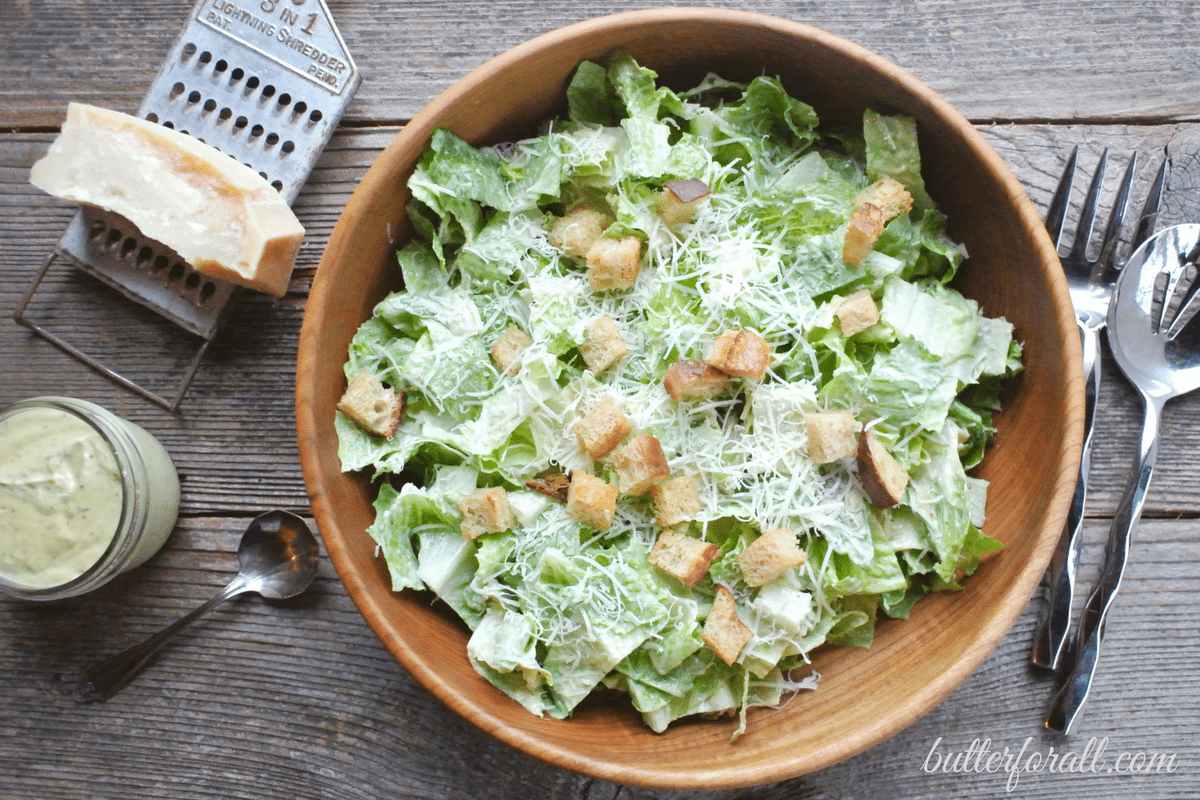 Classic Caesar Dressing
Recipe yields 1 1/2 cups dressing. Enough for 9 large dinner salads or up to 18 side salads! This dressing keeps well under refrigeration.
1

Pastured Egg Yolk

1

Tablespoon

Whole Grain Mustard

5-6

Cloves

Fresh Garlic

2

Tablespoons

Freshly Grated Parmesan

1 1/2

Ounces

Anchovy Fillets

about 2 tablespoons worth

1

Tablespoon

Apple Cider Vinegar

1/2

Lemon

juiced

1

Teaspoon

Salt

1/2

Teaspoon

Freshly Ground Black Pepper

1

Cup

Extra Virgin Olive Oil
In your blender cup add all the ingredients except the olive oil. I have found that I make the best dressings with the least amount of effort using the Kitchen Aid 2-Speed Hand Held Blender which comes with a handy measuring blender cup to blend in and 2 speeds for total control. I love this blender for smoothies and soups as well!!!

On low speed blend the ingredients until they are completely liquified and smooth. Slowly drizzle in the olive oil while running the blender. Move the blender arm in a slightly circular motion while mixing from the bottom up and back down again. Make sure the oil is emulsifying evenly and completely. When all the oil is combined gently stir the dressing with the blender arm while giving it one final mix on low speed.

Add the finished dressing to a clean jar with a tight fitting lid and refrigerate it until you are ready to use it. I make a batch of this dressing and eat it over a week or so.
To Make The Croutons
Take several thick slices of good quality rustic bread like Sourdough, Ciabatta or Pugliese and cut them in small cubes. Toss them lightly with olive oil and a little salt and toast them in your oven at 325° for 30 minutes. Let them cool and use them right away or store them in a sealed container for future use.
To Assemble A Caesar Salad
Find tight fresh heads of organic romaine lettuce. Peel off any discolored or old looking leaves. Starting from the root end remove and discard the first 2 inches by slicing horizontally through the entire head. Continue to slice the entire head that way. Wash the cut lettuce and spin it dry. Add the cut lettuce to a salad bowl, add the dressing and toss it to combine evenly. You will use about 1/2 cup of dressing for every 3/4 pounds of lettuce. 3/4 pounds of lettuce will make 3 extra large dinner salads.

Grate (lots of) fresh Parmesan over the top of the salad and add croutons to taste. Add more freshly ground pepper and a squeeze of fresh lemon if you desire.