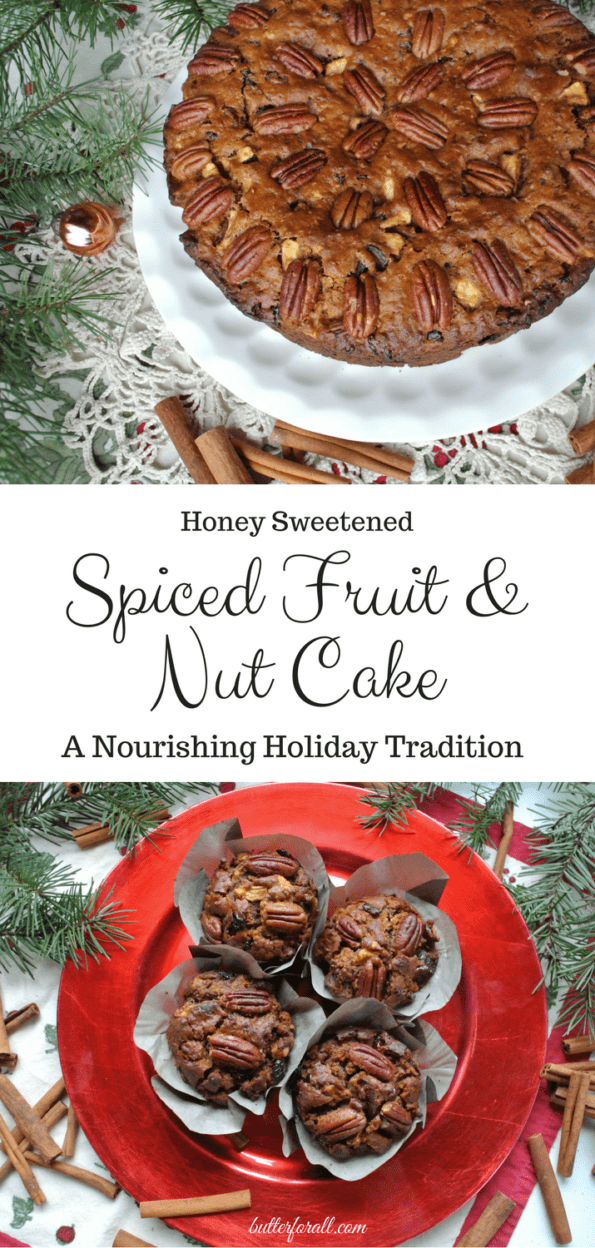 To fruit cake or not to fruit cake?
When you taste this cake it's hard not to realize why people have been making fruit cakes for centuries. Naturally sweet and packed with the healthy nuts and fruits of the season, it eats more like a full meal than a cake.  A piece for breakfast is certainly not out of the question. Most people squirm at the idea of fruit cake but often they are thinking of the cheap sugary cakes that are full of preserved fruit in sickening colors. It makes me squirm too. I was on a mission this year to write a recipe that would make my ancestors proud. I used organic fresh and dried fruits and freshly toasted nuts along with a bunch of warm winter spices. This cake is dense, moist, sweet and chewy with a crunchy nutty toasted exterior. I'm really happy with the result and I hope you get a chance to make it this year. Let's start a healthy, nourishing, wholesome, seasonal tradition together.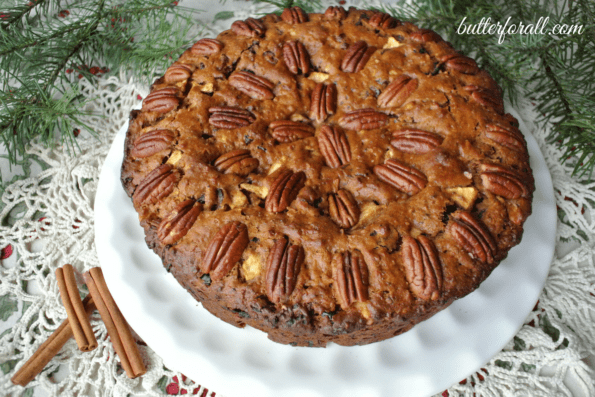 This recipe yields 1 large 9″ cake or 12 individual cakes. Serves 12+
1 1/2 Cups Pecan Halves
1 Cup Walnut Halves
2 Cups AP Flour
2 Teaspoons Baking Powder
2 Teaspoons Baking Soda
1 Tablespoon Cinnamon
1 Teaspoon Ground Ginger
1/2 Teaspoon Ground Cloves
1 Teaspoon Ground Nutmeg
1/4 Teaspoon Salt
2 1/2 Cups Fresh Dates (about 3/4 pound)
1 Cup Butter Plus 1 Tablespoon For Greasing (room temperature)
1/4 Cup Honey
4 Large Eggs (room temperature)
1 Tablespoon Vanilla
Zest of 1 Orange
1 Cup Dried Cranberries (preferably unsweetened or fruit sweetened)
1 Cup Dried Plums
2 Fresh Apples
Preheat your oven to 350°. Spread the pecans and walnuts on a baking sheet and toast them for 10 minutes. Set the nuts aside to cool. Grease your cake pan or prepare you baking cups and set them aside as well.
Turn the oven down to 325°.
In your food processor combine the flour, baking powder, baking soda, spices, salt and 2 cups of the dates. Reserve 1/2 cup of dates for future use. Process these ingredients until the dates become sandy and there are no noticeable pieces.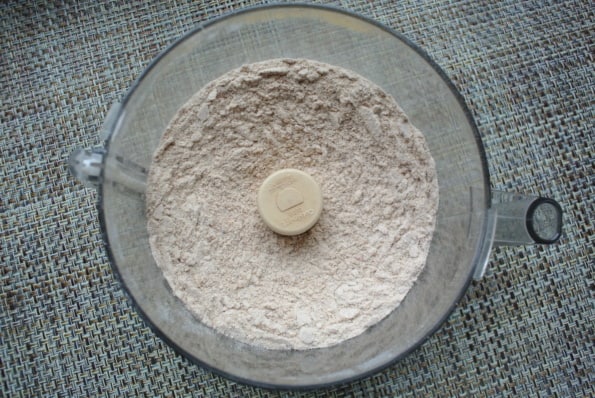 Next prepare the dried and fresh fruit and the nuts. Peel and dice the apples, dice the plums and the reserved dates and zest the orange. Add the cranberries and set the prepared fruit aside. Carefully pick out 36 nice looking pecans and set them aside for the top of the cake. Break up the rest of the nuts with your fingers. Set the nuts aside.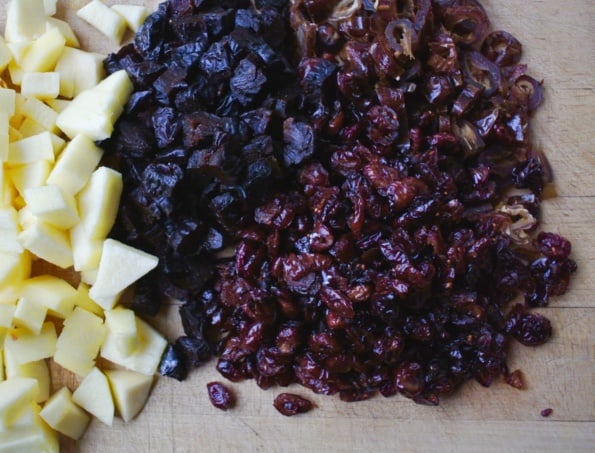 In your stand mixer with a paddle attachment or in a large bowl combine the butter and honey and cream it until it's smooth. Add the vanilla and the eggs one at a time while beating each one in and scraping down the sides of the bowl between additions.  Add the flour mixture and stir gently to combine. Be careful to not over mix at this step. When the flour is incorporated add the prepared fruit, orange zest and the broken nuts. Stir gently to fully combine. Evenly spread the cake batter into your prepared pan and smooth the top. Gently decorate the top of the cake with the reserved pecans.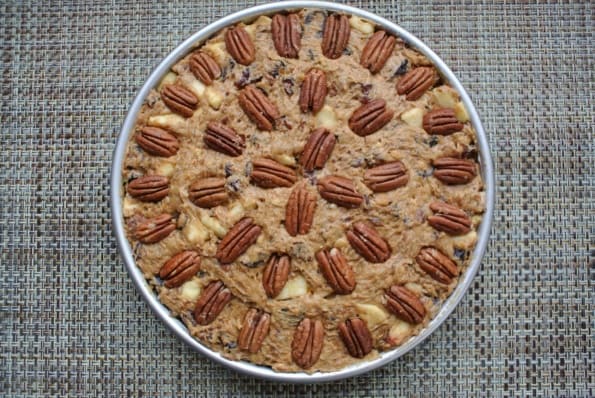 Bake your beautiful cake for 55-60 minutes at 325° or until a toothpick inserted into the center pulls away clean. Alternatively bake the smaller individual cakes for 30-45 minutes depending on size. I like to use the big parchment paper cups that look elegant, festive and beautiful when given away as seasonal gifts.